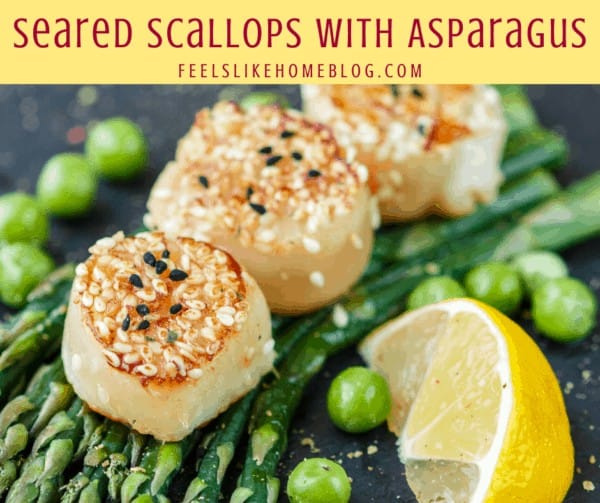 Scallops and asparagus are a terrific combo in this flavorful weeknight meal, and the white wine butter sauce in this simple and easy recipe is creamy, low calorie, and low carb. Good for keto and paleo diets.
When I was a teenager, I loved seafood.
But then, in my freshman year of college, I stopped eating all meat and became a vegetarian for over ten years.
When I started eating meat again (at the insistence of my doctor), I hated seafood. I couldn't handle the fishy taste, and all of it had a fishy taste to me.
Fast forward ten more years, to the weeks and months following my bariatric surgery. I discovered that seafood, specifically shrimp and scallops and crab, have insanely high levels of protein with very few calories. That was all I needed to know to be convinced to give them another try.
I rediscovered a love of seafood, though I am still not too crazy about most fish (especially the fishy ones).
Now, I eat shrimp and scallops at least once or twice a week. Scallops especially are expensive, but I suck it up for the sake of the low calorie protein.
And, also, they taste amazing.
When we were on our Disney cruise last year in December, I had amazing scallops at dinner the first night. Knowing that the waiter would be able to bring me a different meal if I asked, I requested the scallops again on the second night of the cruise. He brought them for me.
On the third night of the cruise, someone else at my table requested the scallops, and they were not available. She was sorely disappointed and told him about it.
On the fourth night of the cruise, our waiter showed up at our table with two enormous bowls overflowing with seared scallops. He carried at least 2 pounds of scallops in each hand, 4 pounds of large, succulent, buttery scallops, all for our table of 8 (3 of whom were small children with no interest in scallops).
He brought us those same huge bowls, overflowing with scallops, every night for the rest of the cruise. We never, ever let them throw the leftovers away, filling coffee cup after coffee cup full of scallops and storing them in our mini fridge.
The fridge was packed by the end of the cruise, and we carried all that fabulous seafood off the ship and into Disney World for our 3-day stay after the cruise.
I ate scallops at every meal for free in Disney World for 3 days, and I even had enough left still to eat in the airport and on the plane the day we flew home and for 2 more days after we got back. (I did not listen to the "throw it out after 3 days" leftovers rule, and I did not get sick.)
Those scallops were AMAZING.
We have tried to recreate those decadent pearls with little success, but this recipe comes close.
We have also discovered that the source of the scallops matters, and it matters a great deal. For a while, we were buying our scallops at Wal-Mart, but then we discovered that, while they are a nice size with a pretty nice texture, those Wal-Mart scallops have an acidic tang to them that scallops really shouldn't have.
We have found nicer (though much more expensive) ones at other local grocery stores.
So I would encourage you to give scallops a try, and sear them according to the instructions below. If you don't love them, then there is no hope for you at all. I'm sorry.
You may also like these other seafood recipes:
Recipe