The best healthy taco dip is a delicious recipe with cream cheese, black beans, garlic, and taco seasoning. Spicy but not hot, it has a lot of flavor. This healthy version tastes just as good as the original Pampered Chef Touchdown Taco Dip but with a fraction of the fat and calories.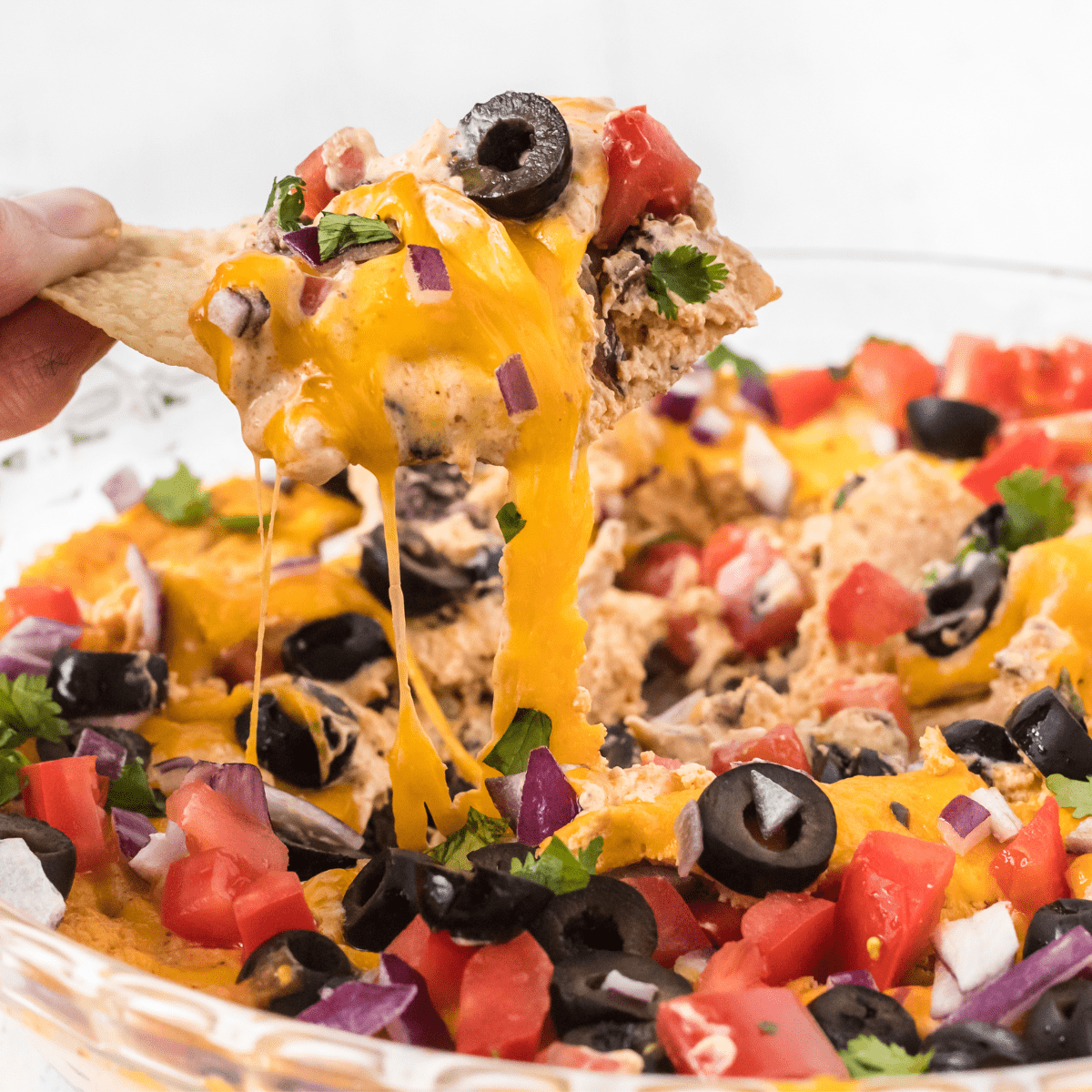 When I was a Pampered Chef consultant around 2001, one of my go-to recipes was Touchdown Taco Dip. I made it - and loved it - so much that I soon started making it for dinner.
Not really having any concept of calories or food limits, I would eat three-quarters of the rich, full-fat taco dip for a meal. It tasted SO good and filled me up, so I assumed it was okay.
Fast forward to post bariatric surgery Tara, and I knew better than to make my old favorite. It calls for full fat cream cheese and sour cream and refried beans.
But I was hungry for the dip one day and so set out to make a healthier version that I could reasonably eat.
Note that I still cannot eat ¾ of the pan and think I'm within my calorie limits. We need to eat a reasonable portion here.
Anyway, I did some substituting and came up with a dip that my whole family devoured, but has under 200 calories for a serving. I can live with that.
We eat our Touchdown Taco Dip with scoop-shaped tortilla chips, preferably baked if we can find them. I've never tried it, but I think the dip would also be good with cheese-flavored rice cakes.
Why this is the best hot taco dip recipe
My hot taco dip recipe makes a vegetarian dip with no ground beef, so there is no grease to dilute the sour cream/cream cheese layer.
This recipe uses just a few standard pantry ingredients, so you probably already have everything you need to make it.
Touchdown Taco Dip is microwaved instead of being baked in the oven, and all the ingredients are already cooked, so it takes less than 15 minutes to throw together from start to finish.
This is an easy layered dip. You'll put down the beans first, then the seasoned cream cheese layer, and then top it all with shredded cheese and taco toppings. The layers make it fantastic!
What you'll need to make the best hot pizza dip
See the printable recipe card at the bottom of the page for measurements and nutritional information.
EQUIPMENT
Pie plate - I prefer to make this dip in a deep dish pie plate, but you could use a medium-sized baking dish of any shape. An 8x8 or 9x9 or an 8-inch or 9-inch round pan would also work.
Garlic press - I use a garlic press to mince the garlic because it makes the pieces of garlic so small. If you have to, you could mince the garlic with a sharp knife, but you're going to end up with noticeable pieces of raw garlic that way, whereas you would not with a garlic press.
Electric mixer - This is optional, but using a hand mixer to combine the cream cheese and sour cream makes it lighter and puts more air into it, so the finished dip is easier to scoop.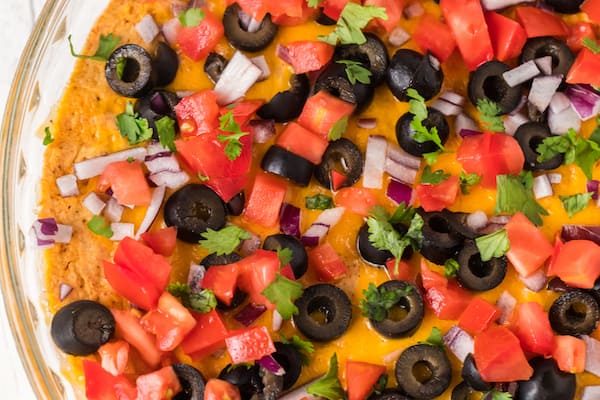 INGREDIENTS
Black beans - The black beans are the foundation of hot taco dip. You'll mash them with a fork. The original Pampered Chef recipe calls for a can of refried beans, but I prefer the texture and flavor of whole black beans even though it adds an extra step (that being mashing the beans).
Cream cheese - I prefer to use low fat cream cheese or neufchâtel. It tastes just like the original, high fat version, but it lightens the recipes pretty significantly.
Plain Greek yogurt or sour cream - Again, I use Greek yogurt because it lightens the recipe and tastes just like sour cream. You won't notice a difference in the flavor between a dip made with Greek yogurt and one made with sour cream, especially because you're adding taco seasoning and garlic to it. But you can of course use sour cream if you prefer that.
Taco seasoning - This link will take you to my homemade taco seasoning recipe which is made from chili powder, cumin, paprika, sea salt, and a few other common pantry spices. It takes about two minutes to measure and mix everything, and it is so much better than the stuff you buy in a jar in the grocery store. Once you've made your own taco seasoning, you'll never buy it again.
Fresh garlic - Feel free to use more or less garlic to suit your personal preference.
Shredded cheddar cheese - What would taco dip be without a gooey layer of melted cheese?
Plum tomato - You could use any tomato really, and I personally leave the tomatoes out when I make taco dip because I hate raw tomatoes. I left them in the recipe because Touchdown Taco Dip, the Pampered Chef recipe this is based on, calls for them.
Red onion - Same with the tomatoes. Touchdown Taco Dip uses diced red onion, so I left it in, but I don't put it on my taco dip when I make it for myself and my family. Sometimes I throw a few chopped green onions on top. I like that better than the red onion.
Fresh cilantro - I love fresh cilantro, but if you don't like it, leave it off.
Black olives - Same as the tomato, onion, and cilantro. I personally love black olives and put them on my hot taco dip, but if you don't, feel free to leave them off.
How to make Touchdown Taco Dip from The Pampered Chef
Drain and rinse the black beans and pour them into a round or square 10-inch baking dish. Mash the beans with a fork.

Soften the cream cheese in the microwave by heating it in 30 second intervals. One or two should be enough to soften it without cooking it.
Mix the cream cheese, Greek yogurt, taco seasoning, and garlic in a small bowl with an electric mixer. Alternately, you can stir them together with a sturdy whisk. Spread over top of the mashed beans.

Sprinkle with shredded cheddar cheese.

Microwave for 5-7 minutes or bake in the oven at 350º for 20 minutes, until the dip is bubbly and the cheese is melted.

Top with diced tomatoes and onions, sliced black olives, and snipped cilantro - or nothing at all. It's delicious both ways.

Cook's tips for the best layered taco dip
Make sure you soften the cream cheese. You can either let it sit on the counter for an hour or so or you can microwave it on low power for 30-40 seconds. If you don't soften the cream cheese, you will end up with lumps of unblended cream cheese in your dip.
If you use an electric mixer to combine the sour cream/cream cheese mixture, it will have more air in it, and that will make it easier to scoop.
You can prep this up to 2 days ahead and cook it right before you want to serve.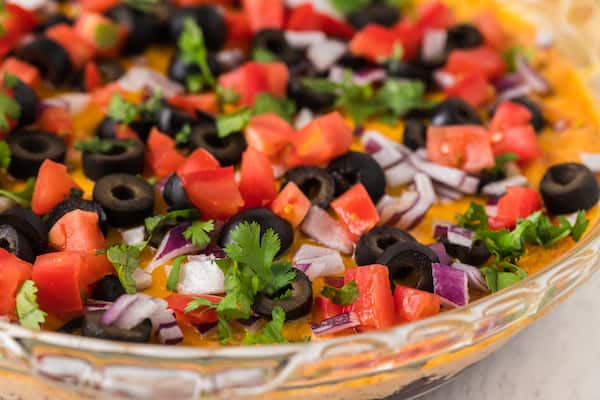 Variations of hot taco dip
You can add whatever your favorite taco toppings are to this recipe including shredded lettuce, diced bell peppers, diced avocado, jalapenos, or green chilis.
You can also mix some salsa in with the cream cheese layer or add a layer of salsa after the dip has been cooked. You can also add a layer of guacamole if you want to.
As stated above, you can make this recipe rich and decadent by using full fat cream cheese and sour cream or lighten it using neufchâtel and Greek yogurt or do some combination.
You can replace the mashed black beans with refried beans or mash another type of bean.
I like to use shredded sharp cheddar, but you could use Monterey jack, colby jack, pepper jack, or a Mexican or taco blend of cheese.
If you want to make this dip heartier, you can add a layer of ground beef or turkey. Brown one pound of meat in a medium skillet with a tablespoon or two of taco seasoning. Drain and pat the meat dry with paper towels, then add it on top of the mashed beans. Top with the seasoned cream cheese mixture as the recipe directs.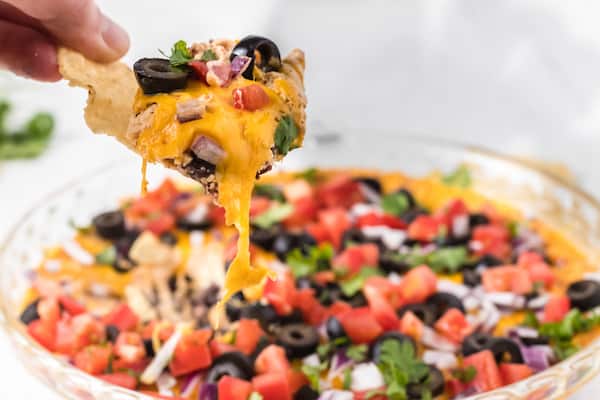 Storing leftover hot taco dip
Let the hot taco dip cool off to room temperature and then transfer to an airtight container and store in the refrigerator up to 3-5 days. Alternately, you can wrap the baking dish tightly with plastic wrap and store it in the fridge that way.
To reheat the dip, if it's in the original baking dish, you can just pop it back in a 300ºF oven for 10 minutes. If it's been transferred to a container, I would put a single serving in a bowl or on a plate and microwave it.
Check out these other delicious dips while you're here:
Recipe