How to make the best spicy baked brie recipe with apricot jam - This super simple and easy recipe is the perfect sweet and savory appetizer for Thanksgiving, Christmas, or any occasion! Includes almonds or pecans as a topping.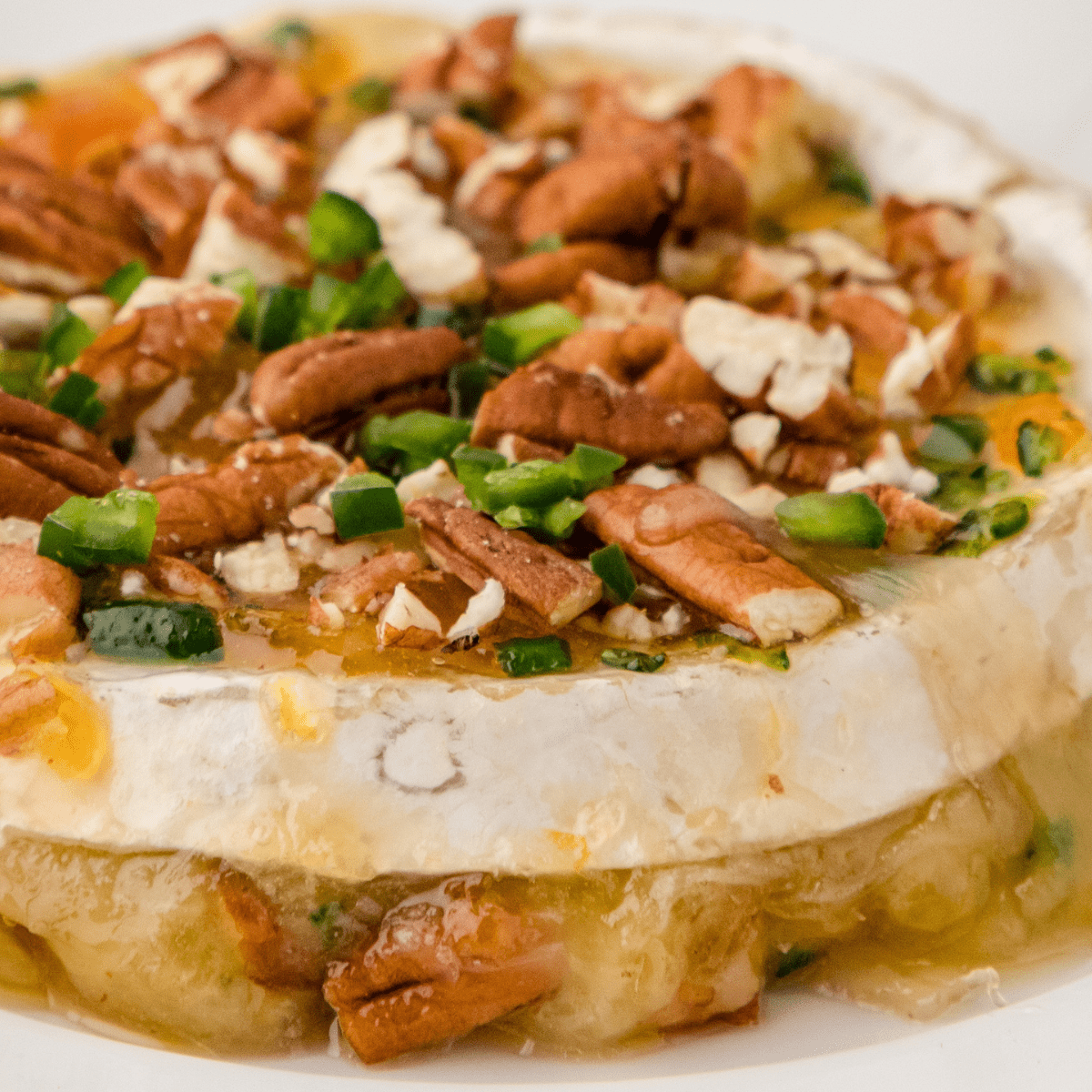 When I was in high school, I taught French to fifth graders two years in a row. There was a program at my high school that sent upper-level language students to do some after-school enrichment at the elementary school. We were responsible for lesson planning, activities, and materials. It was a neat experience.
I thought it would be fun to share some French food with the kids, so I bought a round of brie, cut it into wedges, and served it. It was terrible; we all thought so.
Most of the children spit it out into the trashcan.
I choked mine down, but it tasted like nail polish remover. I never ate brie again.
And then, I found this recipe in one of my cookbooks from The Pampered Chef, and I was intrigued enough to give it a shot.
The first time, I made it for a family get-together. At least if it was lousy, I could convince my family to eat it and wouldn't have to feel guilty about throwing food away.
The result was so delicious that it was gone before dinner even started. It's got a creamy texture and the flavor is almost sweet. It's been often requested every family meal since, and I imagine that I'll be making it for Christmas dinner this year.
Or maybe for Christmas Eve.
Or maybe for both.
Don't plan on having leftovers.
What is brie cheese?
Brie is a soft cheese that comes from Seine-et-Marne, France. It's usually made from cow's milk or goat's milk. It's a soft, creamy cheese with an edible white rind. It has a strong (unpleasant in my opinion) flavor, but after it's cooked, it becomes sweet and almost fruity. It's so amazing cooked.
Working with jalapeño peppers
All hot peppers contain capsaicin oil; it's what makes them hot. This oil burns your tongue, and it will seriously burn your eyes, nose, and other soft, tender parts if it comes in contact with them.
When I was in college, I once cut up a jalapeño pepper without wearing gloves or washing my hands. It was hot outside, and there was no A/C in my dorm, so I wiped the sweat off my face around my mouth and nose. Within a few minutes, my face was burning with the fire of a thousand suns. It was awful.
The only thing I could think to do to relieve the burning was to spray my face with sunburn relief spray, so I did.
There is a reason that stuff says DO NOT INGEST. I don't know why I didn't foresee this, but the spray went up my nose and in my eyes and made my entire face and throat numb.
I had an anxiety attack and called poison control, and they told me to relax and that I probably wouldn't have to go to the ER or die. They said to wait to see if the numbness went away, which it eventually did, and I learned my lesson about hot peppers.
So learn from my nonsense and either wear disposable gloves when handling the hot pepper or wash your hands very thoroughly right after handing it with an oil-dissolving soap like Dawn dish soap (hand soap will likely not be good enough).
And, for the love of all that is holy, don't touch your face, neck, or ears, and especially don't wipe your butt until after you have washed the capsaicin away.
What you'll need to make spicy baked brie with apricot jam
EQUIPMENT
INGREDIENTS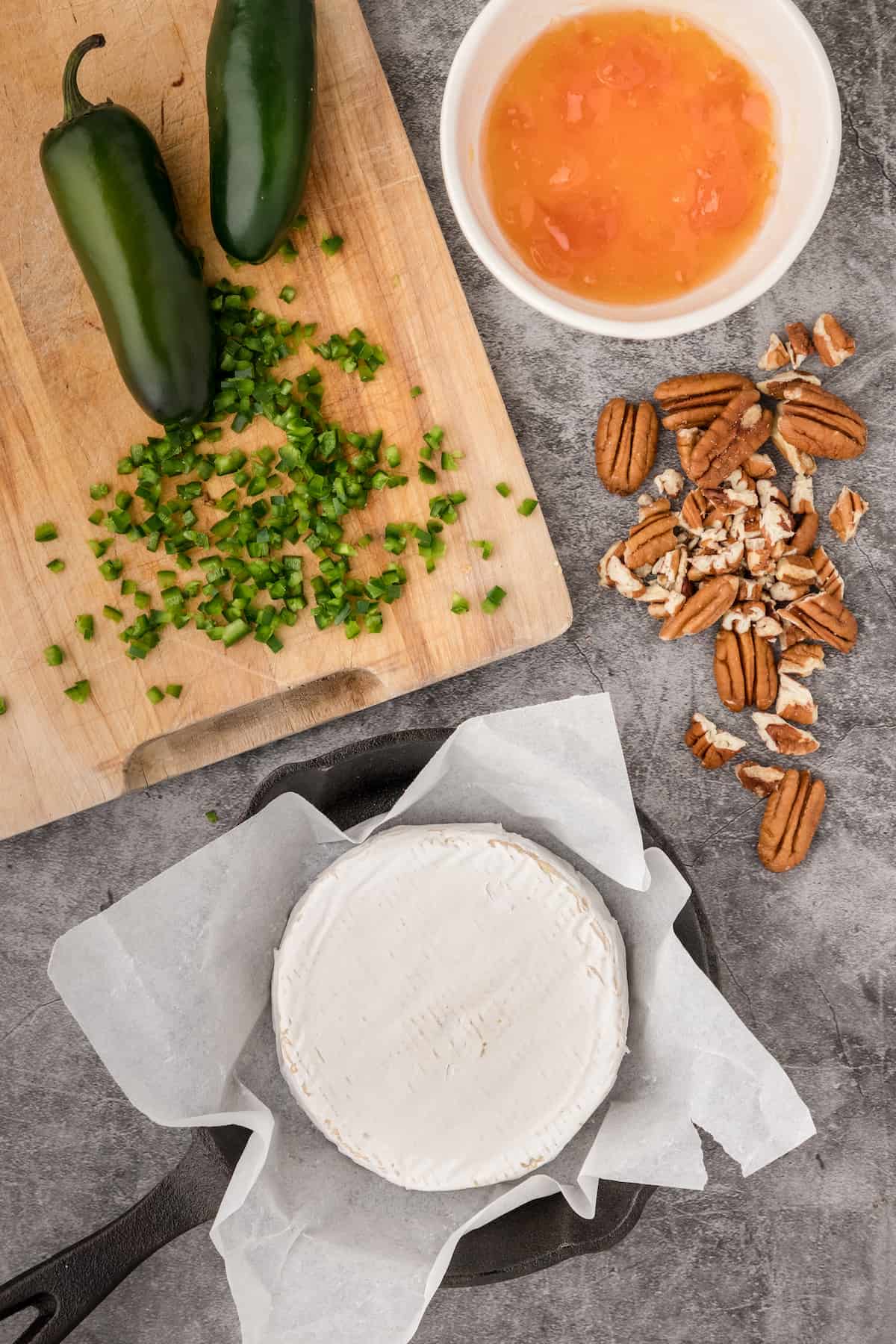 See printable recipe card below for measurements.
Chopped pecans or almonds - These give the finished dish a really nice crunch. If you have an allergy, you could use peanuts or pistachios, but it would taste quite different.
Jalapeño pepper - I suggest using a fresh jalapeño, but you could use jalapeños from a jar. If you want to reduce the spice considerably, you could also use diced green chilies from a can.
Apricot jam - Peach will also work very nicely.
A wheel of brie at room temperature - Brie cheese comes with a white rind on the outside. It almost looks like white mold, but it isn't. It is supposed to be there, and you will eat it. Don't overanalyze it. Just unwrap the plastic, cut the round in half, and fill with your yummy sweet and spicy jam mixture.
Dippers - I prefer Ritz crackers, but you could use Triscuits or any cracker really. You could also use a sliced baguette or crostini.
How to make spicy baked brie with apricot jam
Preheat oven to 425º.
Cut the jalapeño pepper in half with a sharp knife. Remove the stem, seeds, and the white membrane from the inside of the pepper. This will remove most of the heat without losing the flavor of the pepper. Finely chop the remaining pepper flesh.
Combine jam or preserves and chopped jalapeño pepper.

Slice the brie in half horizontally.

Place the bottom half in a small baking dish or small cast iron skillet. I don't recommend a baking sheet because the cheese will get oozy and could make a mess.

Spread half of the preserve mixture over the bottom half.

Sprinkle with nuts.

Place top half of brie on top of the nuts. Spread remaining preserve mixture over the bottom half, then sprinkle with remaining nuts.
Bake 10 minutes or until brie is just beginning to soften.
Serve warm. Spread melty cheese on crackers or bread of your choice.
Tips for the best baked brie
You will want to use a wheel of brie, not a wedge of brie. A wheel gives you more surface area to cover with the jam mixture. A wedge will work, but you won't be able to use as much of the jam.
There is no need to buy expensive brie. A round from your grocery store, Sam's Club, or Costco will work just fine and will taste amazing.
Don't overcook the cheese. As soon as the edges start to soften and ooze, you'll want to remove it from the oven.
Allow the brie to rest for 5 to 10 minutes before serving. It will set back up a bit and will cool slightly. Hot cheese will burn your tongue!
Variations
Baked brie is often wrapped in a shell of puff pastry to keep the melty cheese inside. You can easily do the same with this recipe. First thaw the puff pastry on the counter for 30-40 minutes. Then unfold the dough, place the bottom of the wheel of brie in the center, and proceed as directed in the recipe. When finished with the layers, wrap the excess pastry up over the top of the cheese, one corner at a time, brushing each piece with egg wash (that's just an egg, beaten well, and brushed over the top of the pastry), before folding the next corner up. Then bake until the pastry is golden brown. You may need to adjust the temperature of the oven according to the instructions of the dough.
You can use raspberry jam, fig jam, or peach preserves in place of the apricot jam. Or, jalapeño jelly! I'm going to try that next.
You can mix a tablespoon or so of fresh rosemary or fresh thyme into the apricot jam mixture.
You can replace the jalapenos with fresh cranberries. I would recommend cutting the cranberries in half first.
Do you have to remove the rind from brie before cooking?
You do not. The rind is edible, and you can't even taste it when you eat the melty cheese. The rind helps keep the cheese in its shape after it's baked, so there is a good rason to leave it on.
If you really feel that you must remove it, you can cut it off with a very sharp knife while the cheese is cold.. But I just leave it on, and no one has ever complained.
Storing leftover baked brie
I can't imagine you will have leftovers, but if you do, simply store them in an airtight container in the fridge for 2-3 days. I don't recommend freezing baked brie. You can eat leftovers cold or reheat in the microwave or oven until the cheese is melty.
Check out these other awesome appetizers while you're here:
Recipe