Buffalo chicken dip is the perfect easy appetizer to take to any potluck or party! This buffalo chicken dip recipe is simple, quick, and easy with only 5 ingredients and can be made in the microwave, oven, Instant Pot, or slow cooker! All of your favorite buffalo chicken wings flavors but in an easy to eat cheesy chicken dip!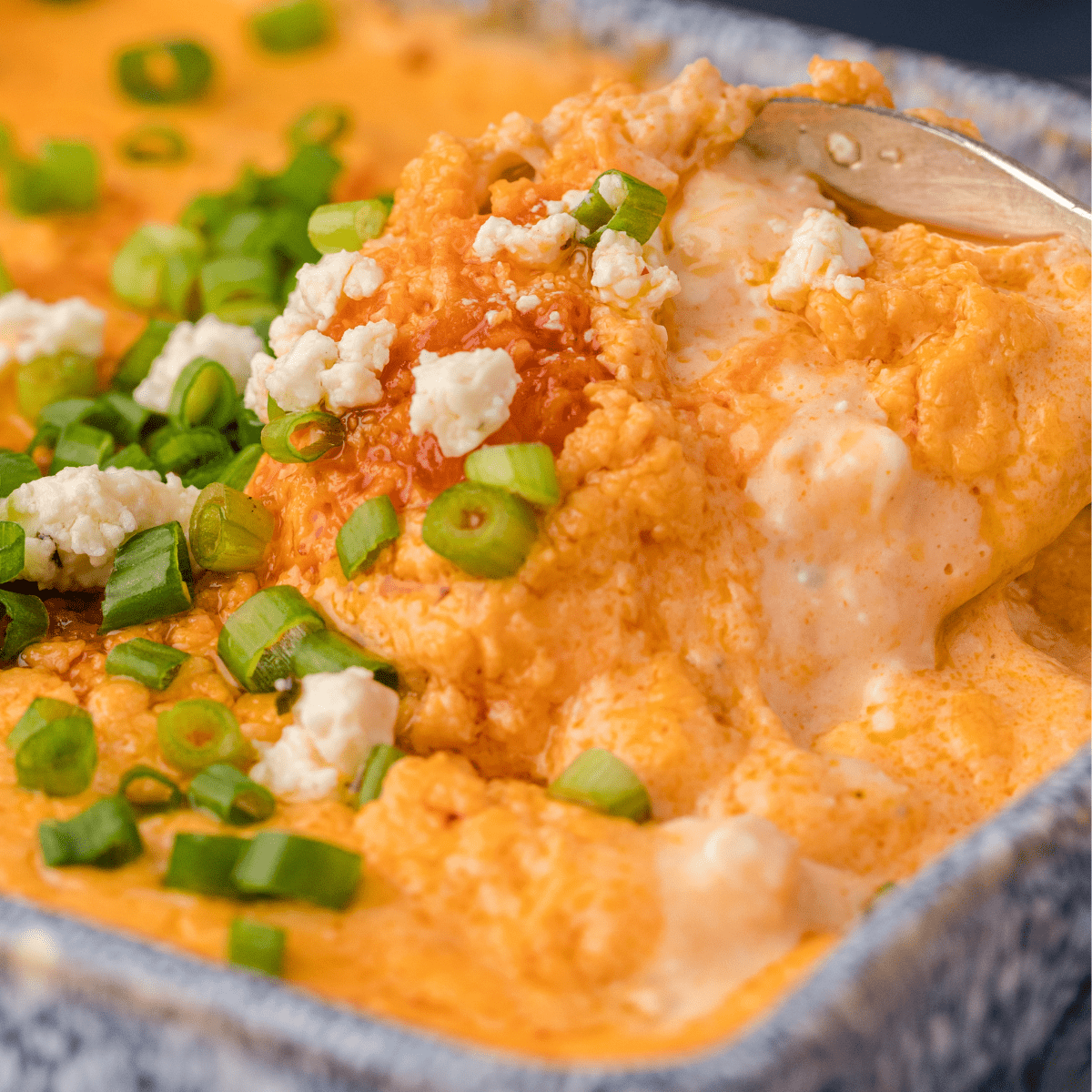 I love Buffalo Chicken Dip.
The spicy buffalo wing sauce juxtaposed with the creamy salad dressing renders me incapable of walking away from the table whenever it's served.
It's a sickness, I think.
The first time I shared a recipe for Buffalo Chicken Dip, I shared my coworker's instructions. She uses whole chicken breasts and shreds them before making the dip.
We aren't quite that put together around here, so when we need shredded chicken, we use canned. I buy white premium chunk chicken breast at the grocery store, and I shred it myself after draining the liquid.
This particular creamy dip recipe is so mild that my kids beg to have it for dinner. It's by far their favorite meal, probably because we have it like twice a year.
I wrote the recipe below the way I like it, still very mild but with a little zing. When I am making it specifically for my children, I double everything except the RedHot buffalo sauce, so effectively making it ⅙ of a cup of hot sauce in the recipe below. There is still plenty of hot sauce flavor without the heat, and that's what my kids really like.
Even making it that way, every single time, one of the girls says, "Wow, you made this a little hotter than normal this time," and I laugh silently because it. always. gets. said. even though I use the exact same recipe and measure carefully every time.
Kids, I tell ya. They're a mess.
Why this is the best easy buffalo chicken dip recipe
Frank's buffalo chicken dip is super easy. Mix the ingredients together and bake.
It can be baked in the oven, in the microwave, or in a crock pot. This buffalo chicken dip recipe is extremely versatile and could not be any easier.
It uses canned chicken which makes the prep take literally less than 5 minutes.
You can adjust the level of heat to your preferences. We use 3 parts ranch to 1 part buffalo sauce, but you can use more or less hot sauce as your taste and family enjoy. We keep ours mild for the kids but our neighbors kick theirs up and use 1:1. Theirs is crazy hot!
What you'll need to make the mild version of Frank's RedHot Buffalo Chicken Dip
Ingredients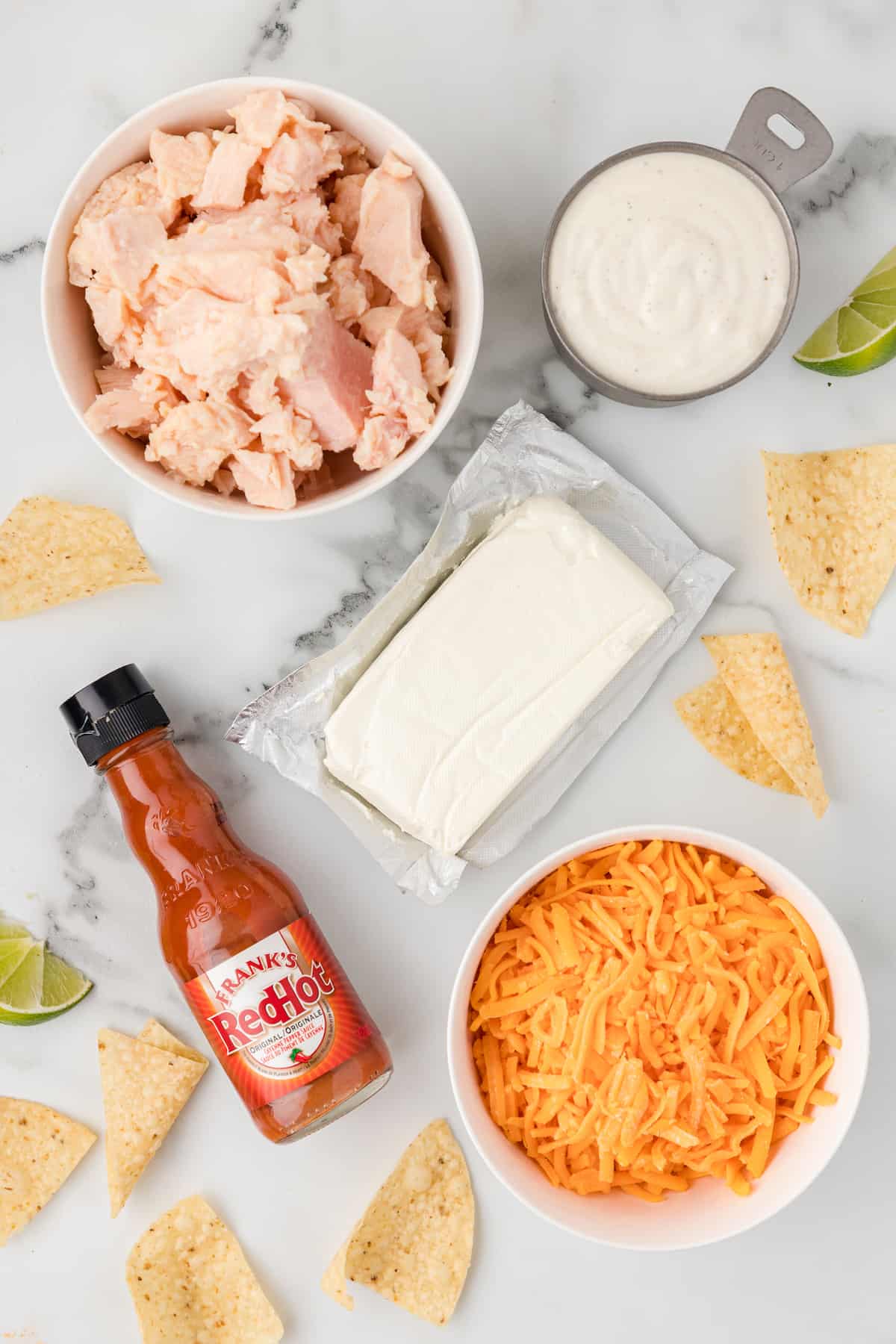 Low-fat cream cheese - You can use full fat if you want to, but there is no appreciable difference in this recipe between that and the healthier neufchâtel version.
Frank's RedHot Sauce - My recipe below suggests ⅓ cup of hot sauce, but you can use more or less to taste. I prefer Frank's RedHot Original Cayenne Pepper Sauce, but I've also used Frank's RedHot Buffalo Wing Sauce. They're both good and give the dip a kick of heat.
Ranch dressing - I generally suggest making your own ranch because it tastes out of this world, but in this recipe, you can get away with using bottled ranch if you want to.
Boneless skinless chicken breast, drained and shredded - I use a large can of shredded chicken because it's super easy, but you could certainly use 18-20 ounces of boneless skinless chicken white meat (cooked to an internal temperature of 165ºF) and shred it yourself or buy a rotisserie chicken and shred that.
Shredded cheddar cheese - I like the cheddar, but you could substitute colby jack or monterey jack if you like that better.
Tortilla chips or crackers - To serve. You could also use veggies or crostini.
How to make mild Buffalo Chicken Dip
Soften the cream cheese by placing it on a plate in the microwave for one minute.

Add the softened cream cheese, Frank's Red Hot sauce, and ranch dressing to a large bowl and combine ingredients until smooth.

Stir chicken into cream cheese mixture and ½ cup of shredded cheese.

Place mixture in a shallow 1-quart baking dish. (If I'm doubling the recipe, I make it in a 9x13 deep baking dish instead.)

Sprinkle with remaining cheese.

Bake according to preferred method below.

Garnish with parsley, blue cheese crumbles, sliced green onions or chives, or a drizzle of ranch salad dressing or sour cream.

Serve with tortilla chips, crackers, crostini, or cut up vegetables such as celery sticks. I like to put the dip in the center of a tray with carrot and celery sticks and chips all around it. Or do like my kids do and just eat it with a spoon.

Microwave directions
Microwave for 8 minutes or until hot and bubbling.
Carefully remove from the microwave and garnish as directed above.
Oven directions
Before softening the cream cheese, pre-heat oven to 350ºF.
After assembling the dip, place pan in the preheated oven for 20 minutes or until hot and bubbling.
Carefully remove from the oven and garnish as directed above.
Slow cooker method
Cut the cream cheese into cubes and add to the crock of a small slow cooker.
Top cream cheese with shredded chicken, hot sauce, ranch dressing, and ½ cup of shredded cheese.
Cook on the high setting for 90 minutes or the low setting for 3-4 hours.
Stir all ingredients together and top with remaining shredded cheese. Cook on high for an additional 15-20 minutes or until cheese is melted. Garnish as directed above.
If you're looking for instructions to make Frank's RedHot Buffalo Chicken Dip in the Instant Pot, head over here.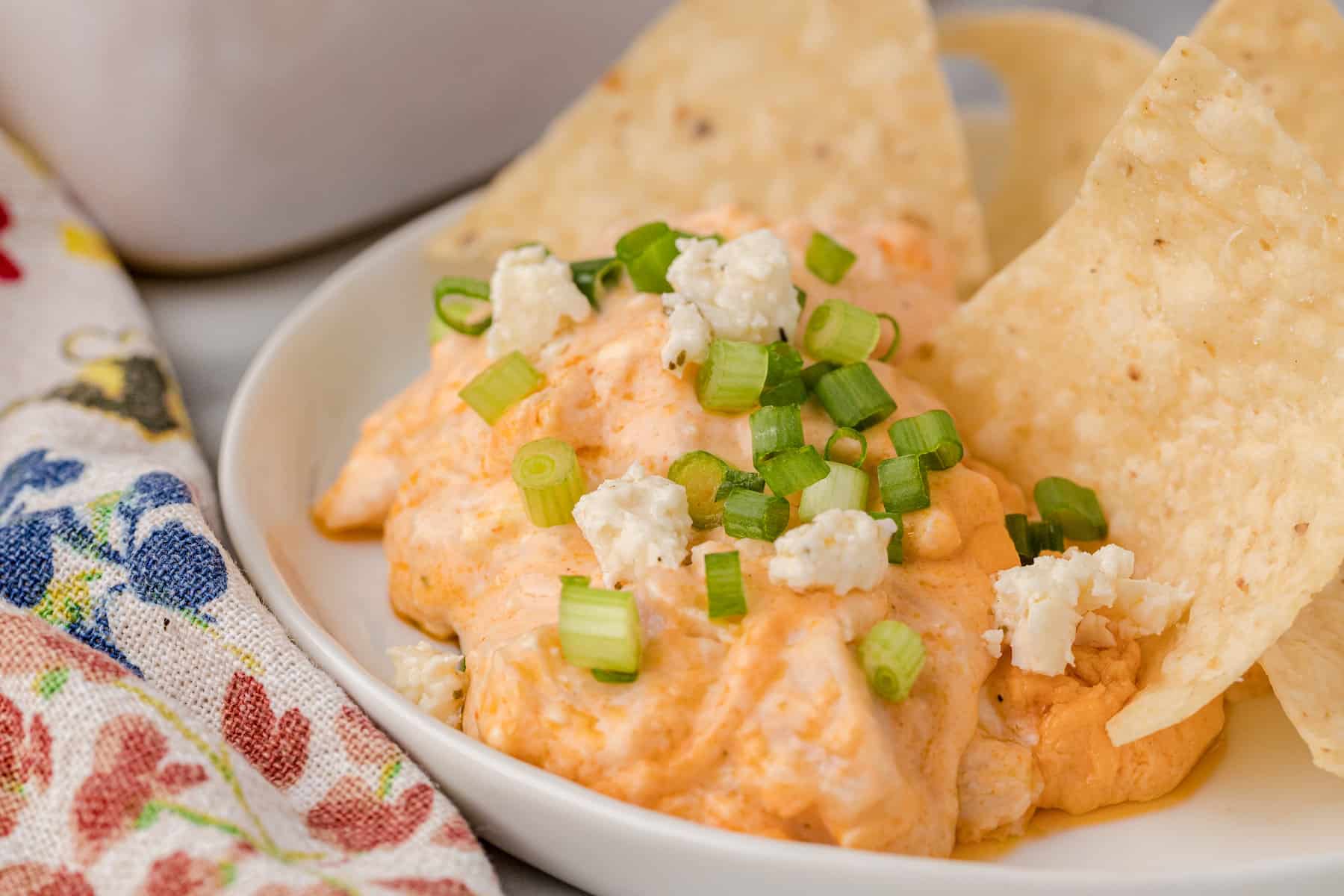 Buffalo chicken dip variations
This is not a sponsored post, but I am brand loyal for this recipe and always use Frank's RedHot Sauce because I think it has the best flavor. Feel free to use whatever hot sauce you prefer, but do start with less than you think you'll need and add a little bit at a time, tasting often, until you have your desired level of heat.
Try mixing shredded cheddar with shredded mozzarella cheese.
Replace the ranch dressing with blue cheese dressing. Or replace half of the cheddar with blue cheese crumbles.
I have kept the ingredients to a minimum, but you could add any of the following to make the good dip taste even better:
1-2 tablespoons of garlic powder
1-2 tablespoons of onion powder
½ tablespoon of black pepper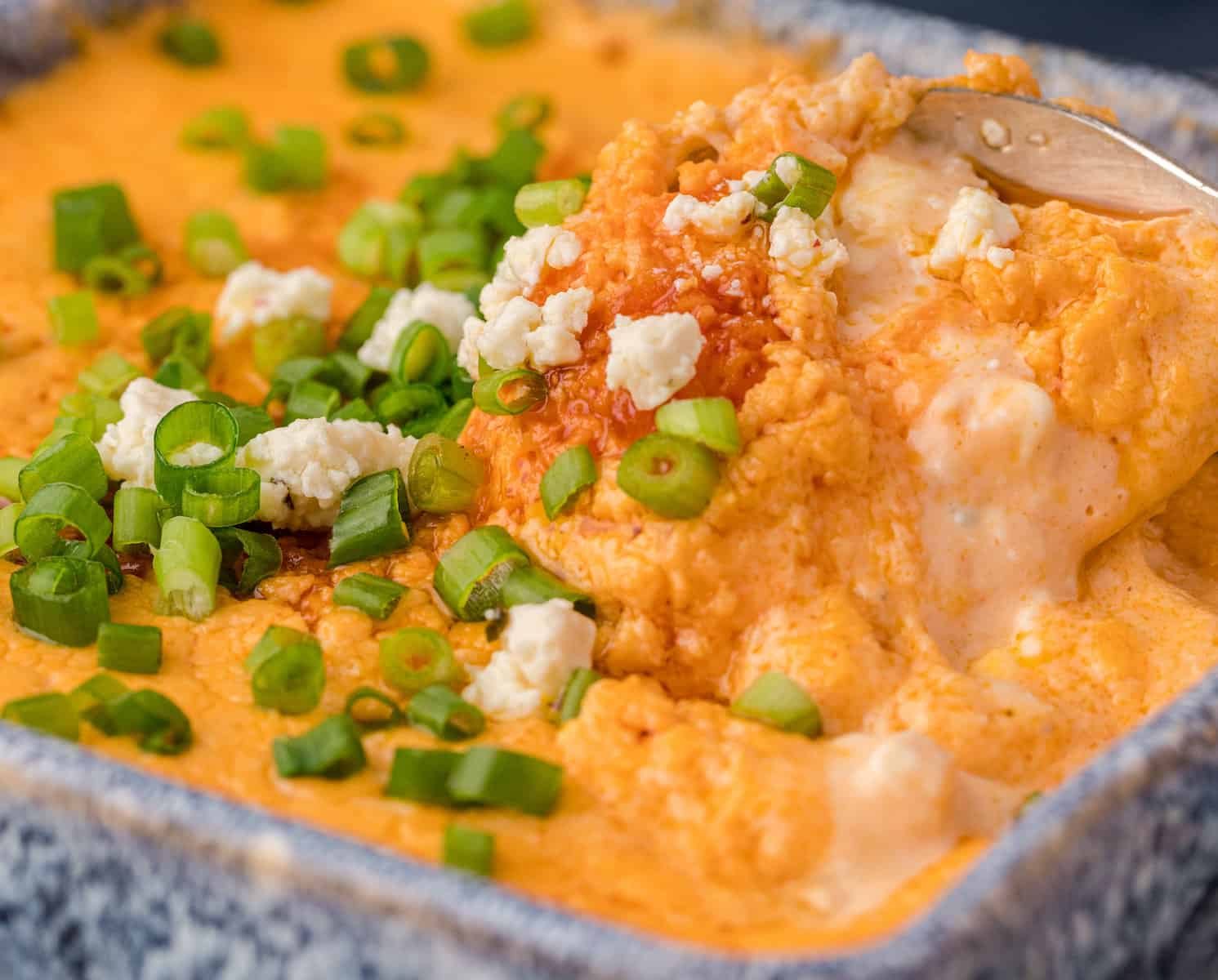 What to do with leftover mild buffalo chicken dip
Store leftovers in an airtight container in the refrigerator for up 5 days. Reheat dip in the microwave for a 30 seconds to a minute or until hot.
Try these other amazing dips & appetizers
Buffalo chicken dip is a family favorite at my house. In fact, we eat it on all the major holidays and occasions, for a late night snack, and every time we have to take a dish to a potluck or party. This is our go-to recipe because it has a whole lot of buffalo wing flavor, but it's so mild that even kids can partake.
Recipe
I was not compensated, and I received nothing free in exchange for posting this recipe and information. I just like the dip.