Cream Cheese Garlic Dip has three different cheeses and lots of roasted garlic. It's all the flavors of your favorite Garlic Bread in a delicious appetizer dip made from cream cheese and sour cream with no mayonnaise.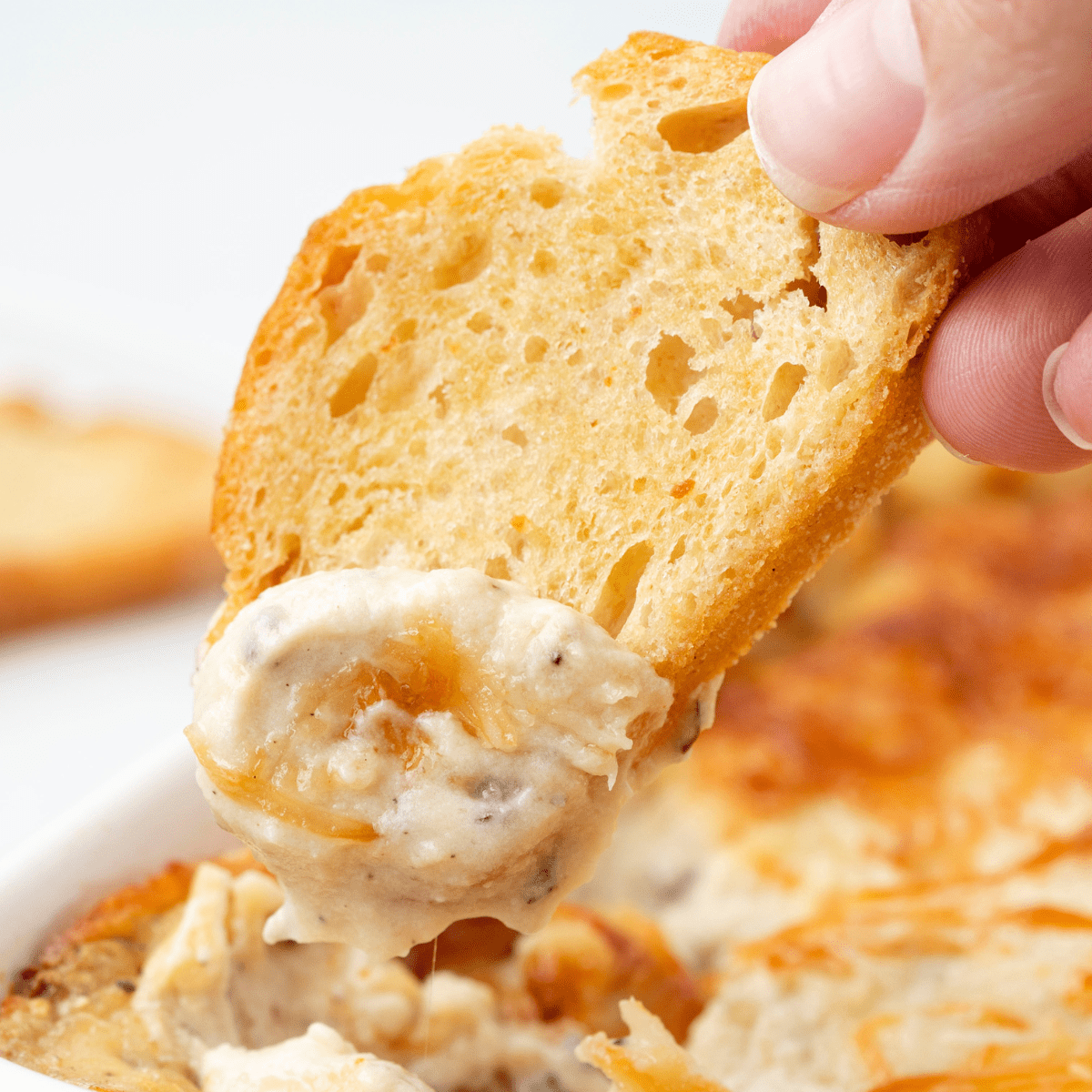 Why this is the best garlic dip recipe
Cheesy garlic dip uses a handful of very simple ingredients that you probably already have on hand.
You're going to roast the garlic which makes it super sweet and creamy. There won't be any of that sharp garlic bite that comes from raw garlic.
This recipe is so easy! Roast the garlic, mix the dip, and bake. That's it!
There's no need for a blender, food processor, or mortar and pestle. Because you roast the garlic until it's soft and creamy, you can break it up with a hand mixer or a spatula. Easy peasy!
What you'll need to make cream cheese garlic dip
EQUIPMENT
This is a fairly simple appetizer recipe, so you'll need a small baking dish, a mixing bowl, a rubber or silicone spatula, and measuring cups and spoons. I used an electric mixer to break up the garlic and mix the dip, but you could manage that with the spatula if you had to.
Because you'll be roasting the garlic prior to making the dip, you'll also need some aluminum foil and a baking sheet.
INGREDIENTS
See printable recipe card at the bottom of the page for measurements and nutritional information.
Heads of garlic - Please note that this is NOT 4 cloves of garlic but 4 heads or bulbs of garlic, a total of maybe 40 cloves or so. You're going to roast the garlic, so it will develop a pleasant, sweet flavor before you add it to the dip.
Olive oil - You need this to roast the garlic. If you don't put a little olive oil on the bulbs before you roast them, they will dry out.
Sour cream - You can substitute plain Greek yogurt if you prefer a lighter dip.
Cream cheese - You'll need the cream cheese to be room temperature. If it's cold, place it on a microwave safe plate, and zap it for 20 seconds at a time until it's soft enough to mix.
Fresh parsley - This adds something to the dip, but if you have to, you can leave it out. You can also substitute green onions or chives.
Salt - Regular old table salt will be fine, but if you prefer sea salt or another type, you can use it.
Black pepper - You can use any kind of pepper.
Shredded mozzarella cheese - I've never tried it, but I imagine that you could substitute almost any shredded cheese and get great results.
Grated Parmesan cheese - Please note that this is NOT the powdery shelf-stable Parmesan cheese from a can but is instead the refrigerated slivers of cheese that you will find in the dairy section of the grocery store. It matters. The powdery stuff will not work in this recipe.
Cayenne pepper - Want a little heat? Add ¼  teaspoon of cayenne pepper to the cream cheese mixture. (I generally do not do this because my kids don't like spicy foods.)
How to make cheesy garlic bread dip
Preheat oven to 400°F.
Cut the tops off the garlic bulbs and place them in the center of a piece of aluminum foil.

Drizzle the oil over the bulbs. Try to get oil evenly over each garlic clove.

Wrap the foil up around the oily garlic bulbs. Place the packet in the preheated oven for 45 to 55 minutes until the garlic is golden.

Unwrap and allow the garlic to cool to the touch.

In a medium bowl, beat together the sour cream, cream cheese, parsley, salt, and pepper until well combined.

Squeeze the garlic into the bowl.

Use a hand mixer to blend the garlic with the cream cheese mixture.
Transfer the mixture to an oven-safe dish.

Sprinkle the mozzarella and Parmesan cheeses over the top of the cream cheese garlic mixture in the baking dish.

Bake the garlic dip for 20 minutes until the cheese becomes golden. Alternately, you can microwave the whole thing for 8-10 minutes. (If you microwave the dip, the cheese will sill melt but will not turn golden brown.)

Can you make roasted garlic dip without baking it?
Yes, you can. I recommend baking cream cheese garlic dip in the oven for 20 minutes as this melts and crisps the cheeses that you'll put on top.
You can also microwave the dip. In that case, microwave on high for 8 to 10 minutes (depending on the wattage of your microwave, it may need a couple of minutes more). The cheeses will melt and get nice and gooey, but they will not get brown and crispy as they would in the oven.
If you don't want to cook the dip at all, you can use it at room temperature. I would recommend omitting the mozzarella and Parmesan cheeses on top and just serving the roasted garlic cream cheese mixture.
Do you really have to roast the garlic before making cream cheese garlic dip?
Yes, you do. Roasting is a necessary step because otherwise the garlic cloves will be hard and the pungent flavor of raw garlic is way too strong. You won't enjoy it at all. If you're trying to rush and don't want to take the time to roast the garlic, you can use 3 teaspoons of garlic powder to taste, but the dip will not be as good.
Can you garlic from a can or jar to make garlic dip?
Can you? Well, I guess you technically could.
However, it will taste bad. I promise, you will not like it. Garlic from a jar is not roasted and has a tangy taste and the familiar sharp bite of raw garlic. You will not want to eat your dip.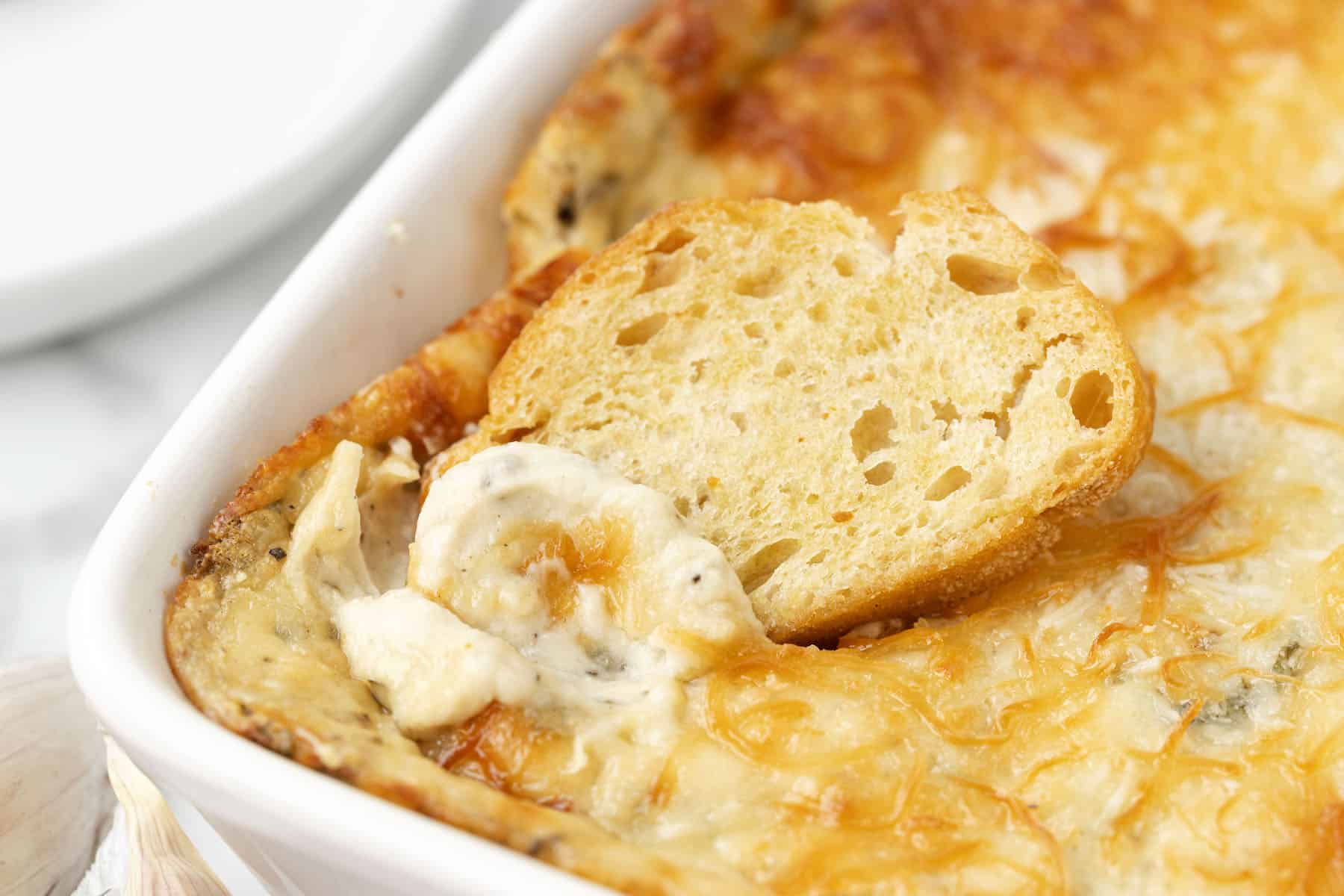 What should you serve with this garlic dip recipe?
I prefer to serve cream cheese garlic dip with crostini or crackers, but you can eat it with pita chips, bagel chips, homemade potato chips, pretzels, or raw veggies like carrot or celery sticks, cucumber rounds, red pepper slices, asparagus spears, or broccoli and cauliflower florets.
Where do you find crostini?
Most grocery stores sell crostini in the bakery section near the fresh-baked bread. It normally comes in a bag, all sliced and toasted and ready to eat.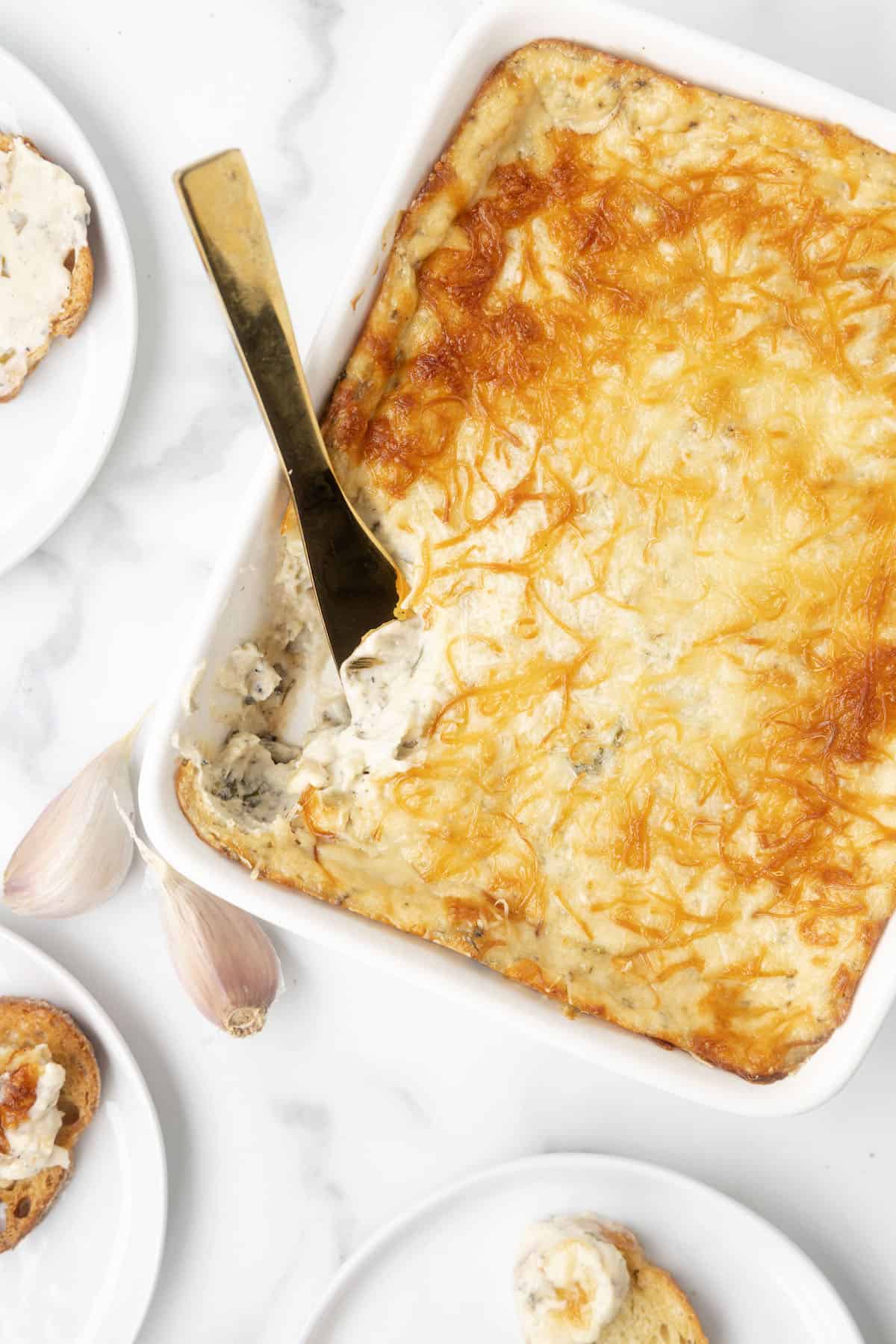 Can you make crostini at home?
You sure can! Take a baguette and slice it about ¼ to ⅓ inch thick. Brush the tops of the slices with olive oil and bake them in a 400°F oven for 5 to 8 minutes, or until golden brown and crunchy. You can rub the top of your crostini with a clove of raw garlic cut in half to give them extra garlic flavor.
Can you make garlic dip without mayonnaise?
Yes, you can. My recipe uses only cream cheese and sour cream. There is no mayo and no eggs, so it is safe for people with an egg allergy.
Is garlic dip the same thing as garlic butter?
No, they are very different.
Garlic dip is made from cream cheese and sour cream, along with a whole lot of roasted garlic. It's thick and creamy and can be spread with a knife.
Garlic butter is butter (usually melted) with fresh garlic mixed in. It's a thin liquid that can be brushed onto bread, pizza crusts, and potatoes.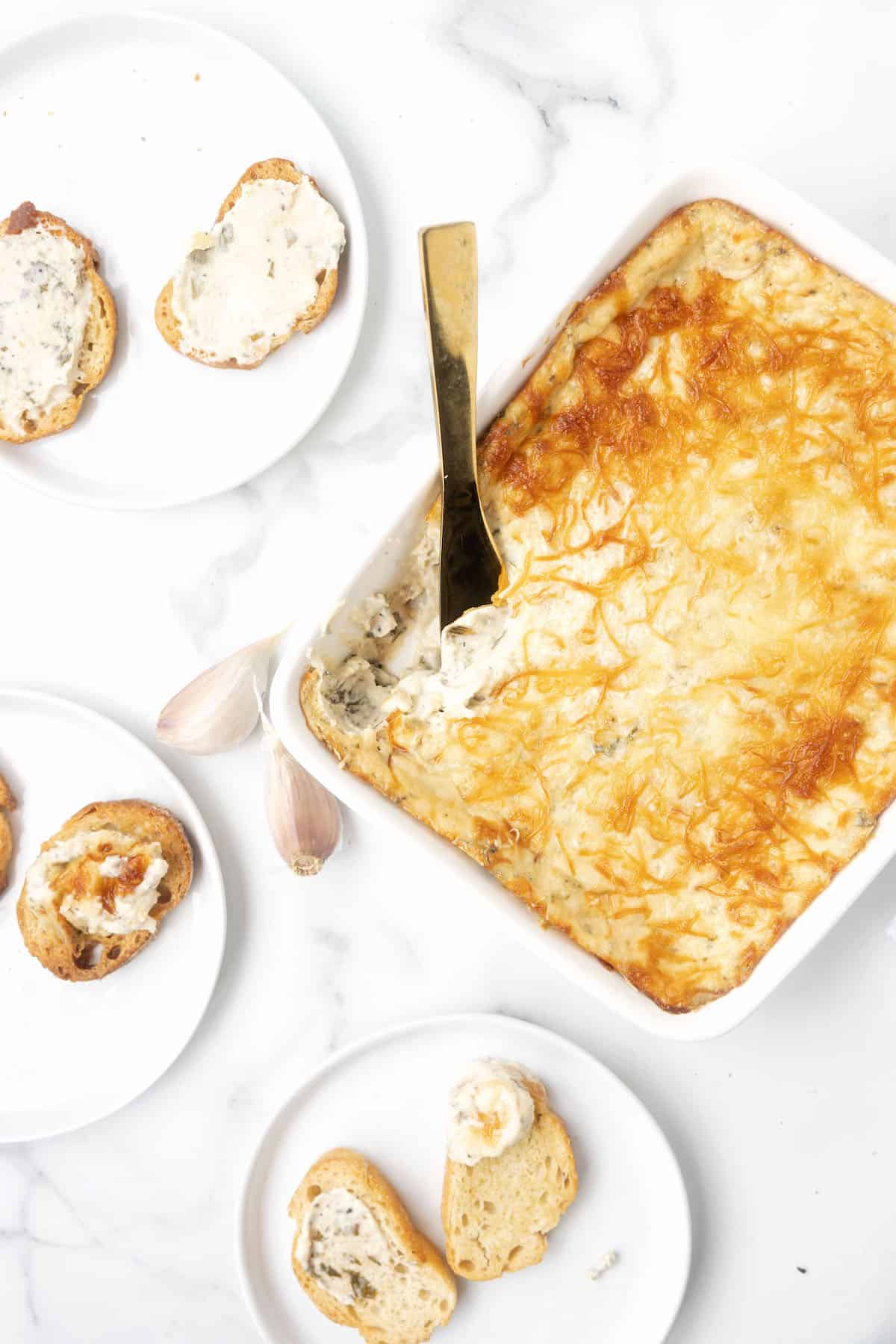 What else can you do with cream cheese garlic dip?
Of course you can serve this dip as an appetizer, and it's amazing. But you can also use it as a sandwich spread or baked potato topping. I've even heard of people spreading it on burgers, steak, or salmon filets.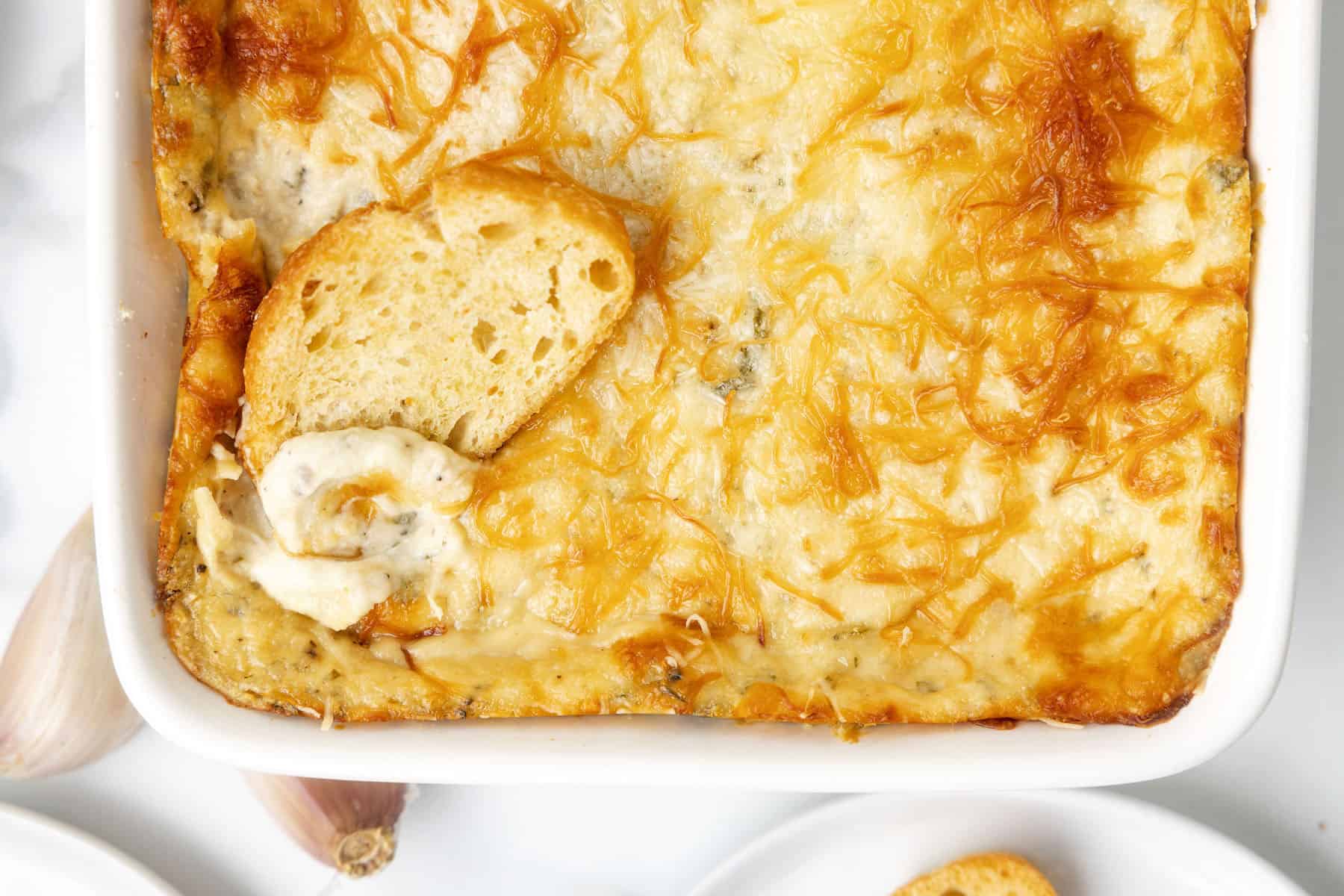 Can you make garlic dip ahead?
Yes. This dip is great served hot, straight from the oven, but it's also great at room temperature. Feel free to make it a few hours to a day ahead, but I would cover it and refrigerate if making it more than 4-6 hours ahead of time. To serve, pop it back into a 350ºF oven for 10 minutes or until bubbly.
Storing leftover cream cheese garlic dip
Store any leftovers in an airtight container in the fridge for up to 5 days.
Try these other delicious dip recipes while you're here:
Recipe