This is the best ever Red Lobster copycat Pina Colada dipping sauce! Just a few simple ingredients go into this copycat version of the popular pineapple coconut dipping sauce served at Red Lobster. Goes great with coconut shrimp, chicken, or even fish tacos!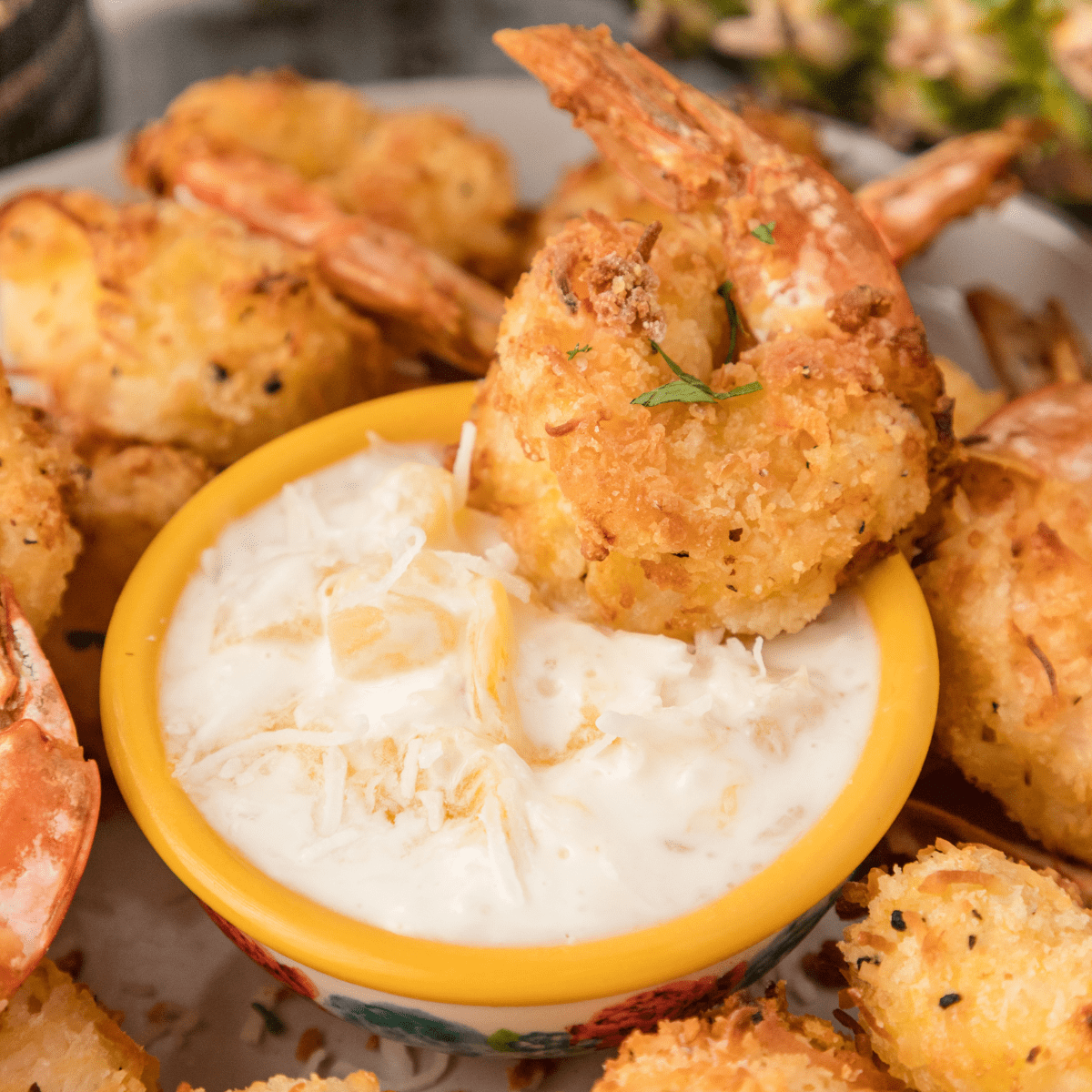 My favorite entree at Red Lobster is, by far, coconut shrimp with pina colada dipping sauce. I always ask for extra sauce.
A few months ago, I figured out how to make a copycat of Red Lobster's famous coconut shrimp in my air fryer (so it's practically fat free!!!), but I hadn't yet perfected the pina colada sauce. That took a little longer.
Well, friend, I have perfected my coconut shrimp sauce. This comes out exactly like Red Lobster's, and I am delighted with it.
Why this is the perfect fried coconut shrimp dip
It takes less than 5 minutes to make!
With only 6 ingredients, this is a simple recipe, but it has a lot more depth and a richer flavor than those recipes you may have seen with just 3-4 ingredients.
You can buy piña colada sauce on Red Lobster's website, but it is loaded with preservatives and sugar, and this version is much healthier - and tastes just as good!
It's awesome on coconut shrimp (of course), but also great for steamed or buttered shrimp, chicken tenders, potato chips, grilled chicken skewers, fish tacos, and lots of other foods too.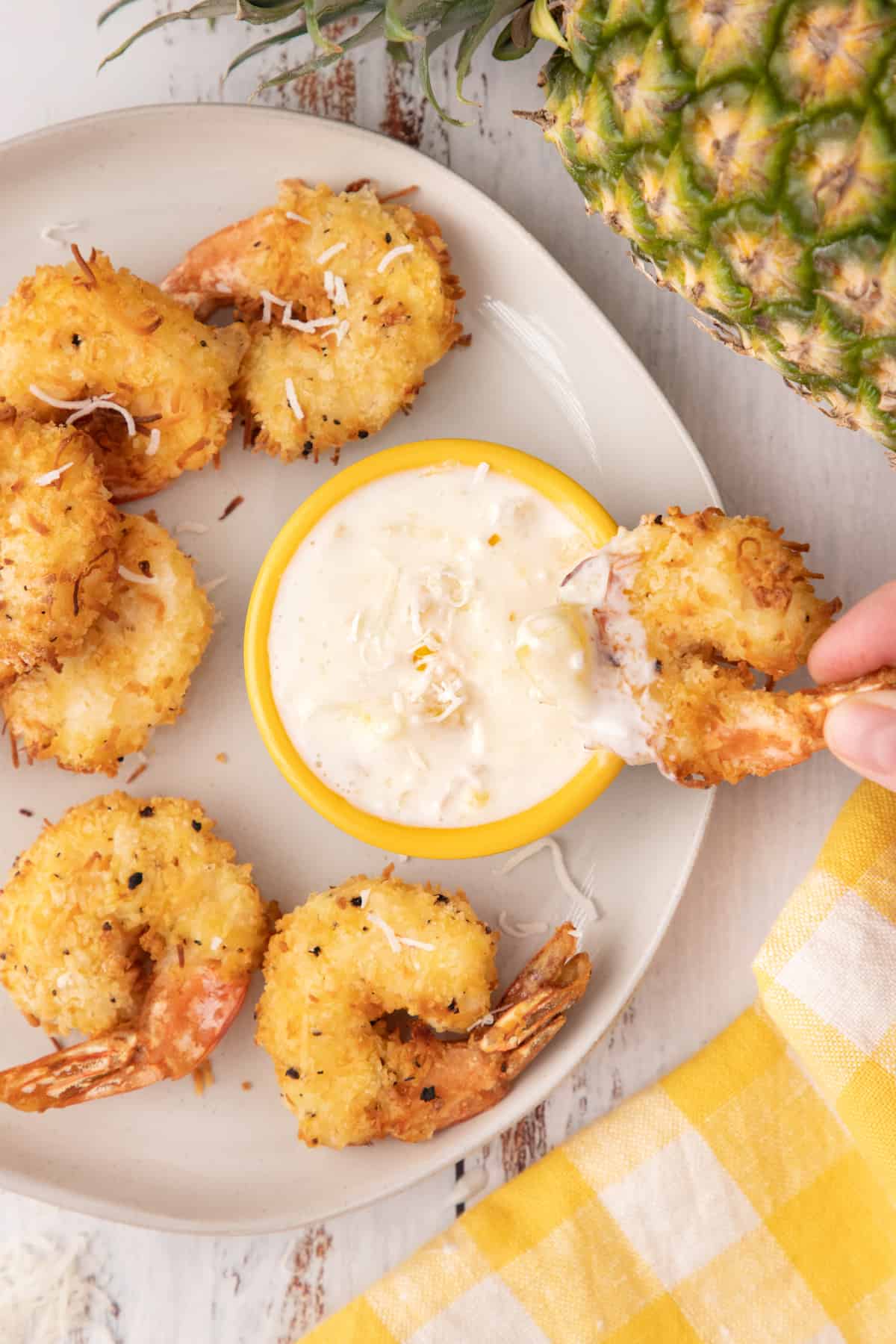 What you'll need to make Red Lobster Pina Colada Dipping Sauce
Equipment
You'll need a small mixing bowl and a rubber spatula, along with measuring cups. I recommend using a citrus juicer for the lemon, but you could roll it on the counter (firmly) and then cut in half and squeeze with your hand if you had to. You won't get as much juice out, and you should probably measure to make sure you have enough if you do it that way. (You might need two lemons if you don't have a juicer.)
Ingredients
Sour cream - You can substitute plain Greek yogurt for the sour cream, and the flavor will be the same. Greek yogurt has less fat and more protein than sour cream. You can also use plain yogurt or even vanilla flavored Greek or regular yogurt in this recipe.
Piña colada mix - You'll use the non-alcoholic version of pina colada mix (unless you want boozy dip which would also be okay I suppose, but very different from the Red Lobster version).
Crushed pineapple - Make sure you drain the pineapple or your dip will be liquid. I really like the texture you get with crushed pineapple. I would not recommend tidbits or chunks because you wouldn't get pineapple in every bite.
Shredded coconut - I used unsweetened coconut, but if you only have sweetened, go ahead and use it anyway. You can also use coconut flakes if you have them, but the pieces are a bit bigger. (I'd probably pulse those in my food processor a few times to make the pieces smaller.)
Fresh lemon juice - You'll use the juice of one medium lemon. Please, for the love of all that is holy, do not use lemon juice out of a bottle. Buy a lemon and squeeze it yourself. They cost less than a dollar a piece.
Powdered sugar - I once tried to leave this out, thinking that the drink mix should be sweet enough. But the dip wasn't as good without it. There's not a huge amount of sugar, and you will miss it if you leave it out.
How to make the best Red Lobster Piña Colada Sauce recipe
Combine sour cream and drink mix in a mixing bowl, and gently whisk together. Do not use an electric mixer, and do not over mix by hand as it will cause the sour cream to break down and make sauce too thin.

Drain the crushed pineapple completely and fold that and the coconut into cream mixture.

Sprinkle the powdered sugar over the coconut mixture.

Gently stir in lemon juice.

Cover and store in the refrigerator. I prefer to make this an hour or two before serving to let the flavors blend in the fridge.

How to store leftover piña colada sauce
Keep piña colada sauce in an airtight container in the refrigerator. It will keep for 3-4 days. I don't recommend freezing the sauce.
Serve Pina Colada Dipping Sauce with these recipes:
Recipe