These BBQ chicken enchiladas are going to be your family's favorite because they're loaded with chicken smothered in sweet BBQ sauce and spicy enchilada sauce and topped with generous amounts of cheese.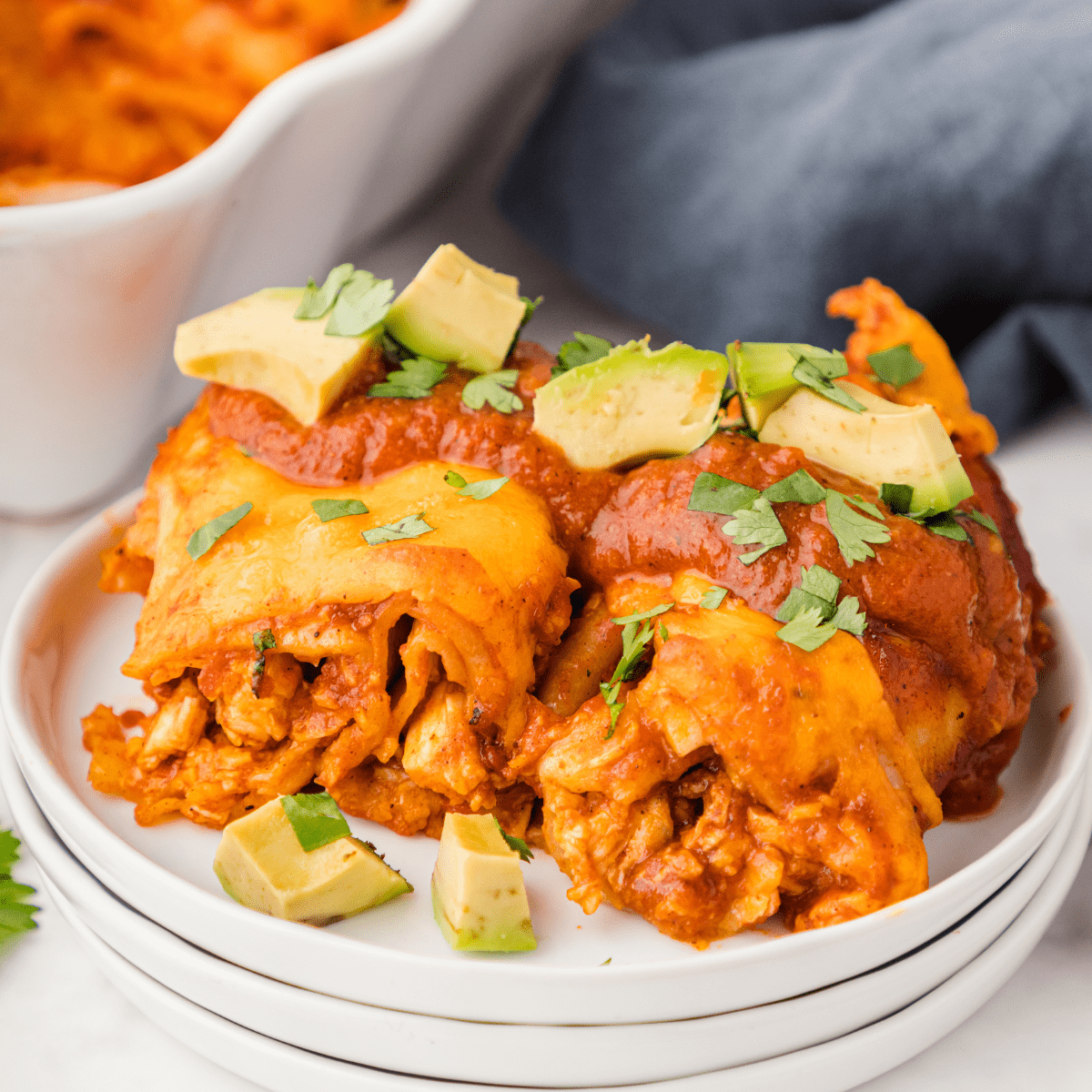 While I was writing a blog post recently, Joe asked me what we should have for dinner. It was late in the day, and we needed something quick and easy.
I suggested BBQ chicken enchiladas, knowing that we had everything required. Joe thought they sounded good, too, so he got to work.
And then he realized that we didn't have any enchilada sauce, only taco sauce.
Rats. The recipe was already started.
Instead of bagging the whole thing (my mouth was watering for BBQ chicken), I found a recipe for enchilada sauce on AllRecipes.com. Fortunately, we had everything we needed for that recipe, so Joe's enchilada preparation continued.
When those enchiladas came out of the oven, they were gorgeous.
Then we tasted them.
These were the most delicious enchiladas I have ever eaten, and I really like enchiladas.
At first, I wasn't not sure if I was absolutely starving or if they were that amazing. I ate the one (one!) that was leftover for lunch on Sunday, and they really were that amazing.
Oh my goodness delicious. The sweet BBQ sauce flavor combines with the slight spice of the enchilada sauce for a whiz bang explosion in your mouth. These enchiladas are the real deal.
What you'll need to make the best barbecue chicken enchiladas
Equipment
You'll need a baking dish to make this recipe. I prefer a deep 9"x13" but any rectangular dish will work. You'll also need a garlic press or sharp knife to mince the garlic by hand, as well as standard measuring cups and spoons.
Ingredients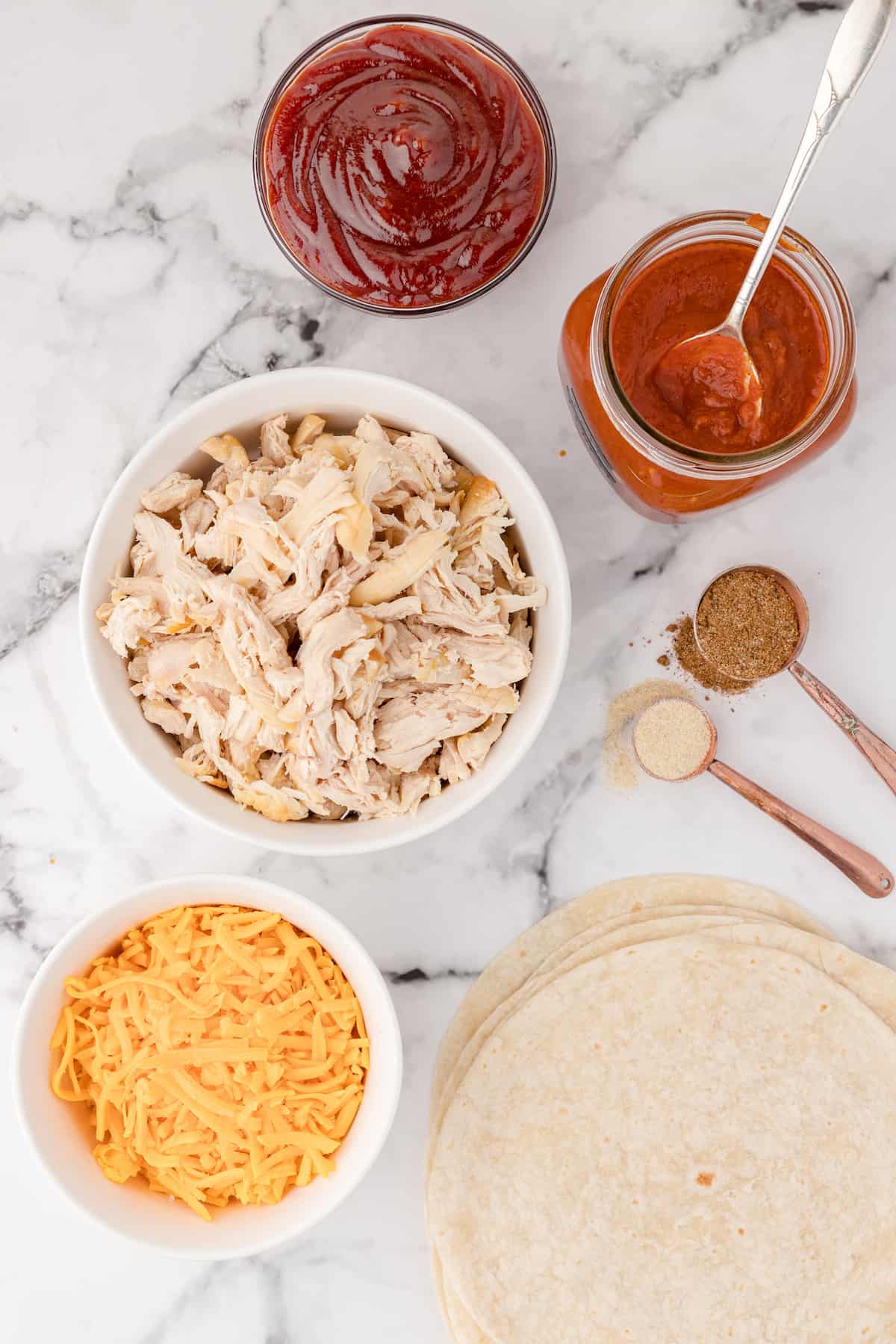 See recipe card at the bottom of the page for all measurements and additional ingredients notes.
Red enchilada sauce - see recipe linked here or use a 28-ounce can of commercial sauce, but really - why would you let someone else season your enchilada sauce when making it is so quick and easy?
Barbecue sauce - you could also make this from scratch, but we use a bottle from the store. Sweet Baby Ray's is my favorite brand. (Not sponsored, I just like it.) One thing to note is that BBQ sauce, especially commercially prepared BBQ sauce, is loaded with sugar. If you're trying to cut back on sugar, you could try a sugar-free BBQ sauce from the store or this recipe, but keep in mind that it is not going to taste the same as the stuff with sugar in it. Personally, I plan for the sugar in my day and use the regular BBQ sauce because I think it tastes 100% better than the sugar-free.
Shredded chicken - You can use chicken from a can or 1.5 pounds of boneless skinless chicken breasts or thighs, cooked and shredded. This recipe would be awesome if you had leftover BBQ chicken, and you shredded that, but we've never been so lucky and always end up using chicken from a can because it's easy.
Onion powder - Use a whole sweet onion, chopped and sautéed if you can.(We have a very picky eater who won't tolerate onions in anything.)
Fresh garlic - There is no flavor quite like fresh garlic. Use whole cloves and press them yourself or mince them with a sharp knife. The pre-minced garlic in a jar does not have the same flavor as fresh.
Shredded cheese - a combination of cheddar and colby jack is nice, but you can use Mexican blend cheese, sharp cheddar cheese, or any shredded cheese you like. Except maybe not mozzarella. That might be a little weird. But hey, you do you and use the cheese you like.
Salt and pepper, to taste
Flour tortillas - fajita size is best. If you're gluten-free (or just prefer them), you could also corn tortillas with good results.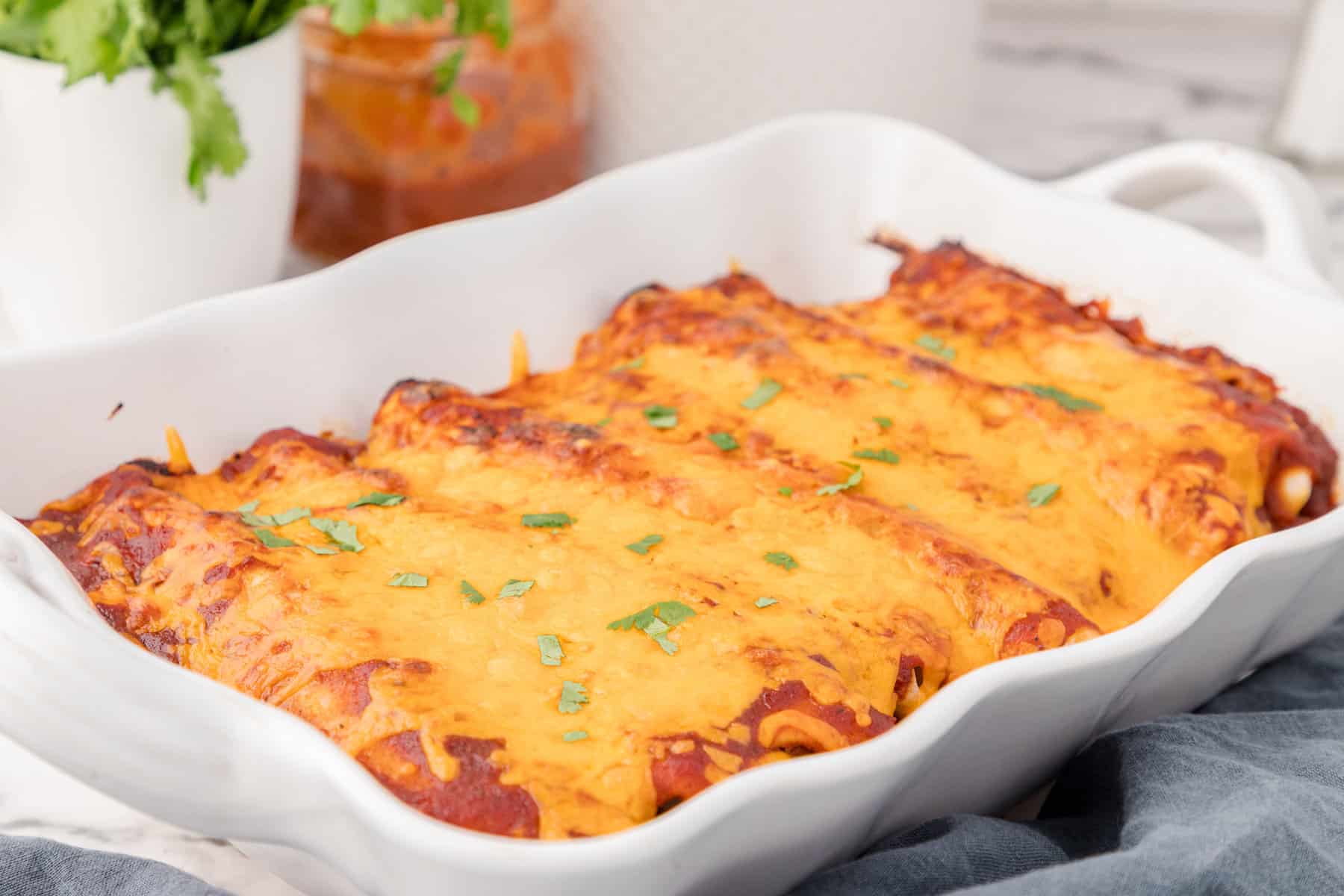 What about the enchilada sauce?
This recipe includes homemade enchilada sauce. You can, of course, use a can of pre-made enchilada sauce, but it will not be as flavorful or delicious as the homemade. I promise.
The homemade enchilada sauce takes about twenty minutes to prepare with oil, flour, chili powder, ground cumin, chicken broth, tomato sauce, and a few other spices, and it will make your enchiladas so very delicious.
We like the homemade sauce so much that we never buy the canned stuff anymore. Only homemade will do around here.
How to make the best BBQ chicken enchilada recipe
Preheat the oven to 350ºF.
Mix the BBQ sauce with the enchilada sauce in a small bowl.

Remove ½ of the BBQ enchilada sauce and pour over the shredded chicken.

Sprinkle BBQ seasoning, onion powder (or onions), and about half of the shredded cheese over and mix thoroughly.

Spread a spoonful of BBQ enchilada sauce in the bottom of a 9x13 pan.

Using a measuring cup or scoop, add ⅓ cup of the chicken mixture to a tortilla, spread out, and wrap. Repeat with other 7 tortillas.
Spoon the rest of the BBQ enchilada sauce over the top of the enchiladas, then sprinkle with the rest of the shredded cheese.

Cover with aluminum foil and bake for 20 minutes. Everything is cooked, so you're just crisping up the tortillas and melting the cheese.

Variations of BBQ chicken enchiladas
These enchiladas are amazing as is, but you could try any of the following variations to give it a little something extra:
Mix in corn kernels, black beans, or diced tomatoes with the chicken.
Sauté up some diced onion and diced bell pepper, and mix that in with the chicken.
Top the whole thing with pico de gallo or diced tomatoes, diced onions, and diced jalapeños after it comes out of the oven.
Use corn tortillas in place of flour tortillas (this is a perfect gluten-free option - also be careful and make sure you get a gluten-free BBQ sauce and use gluten-free flour when you make the enchilada sauce).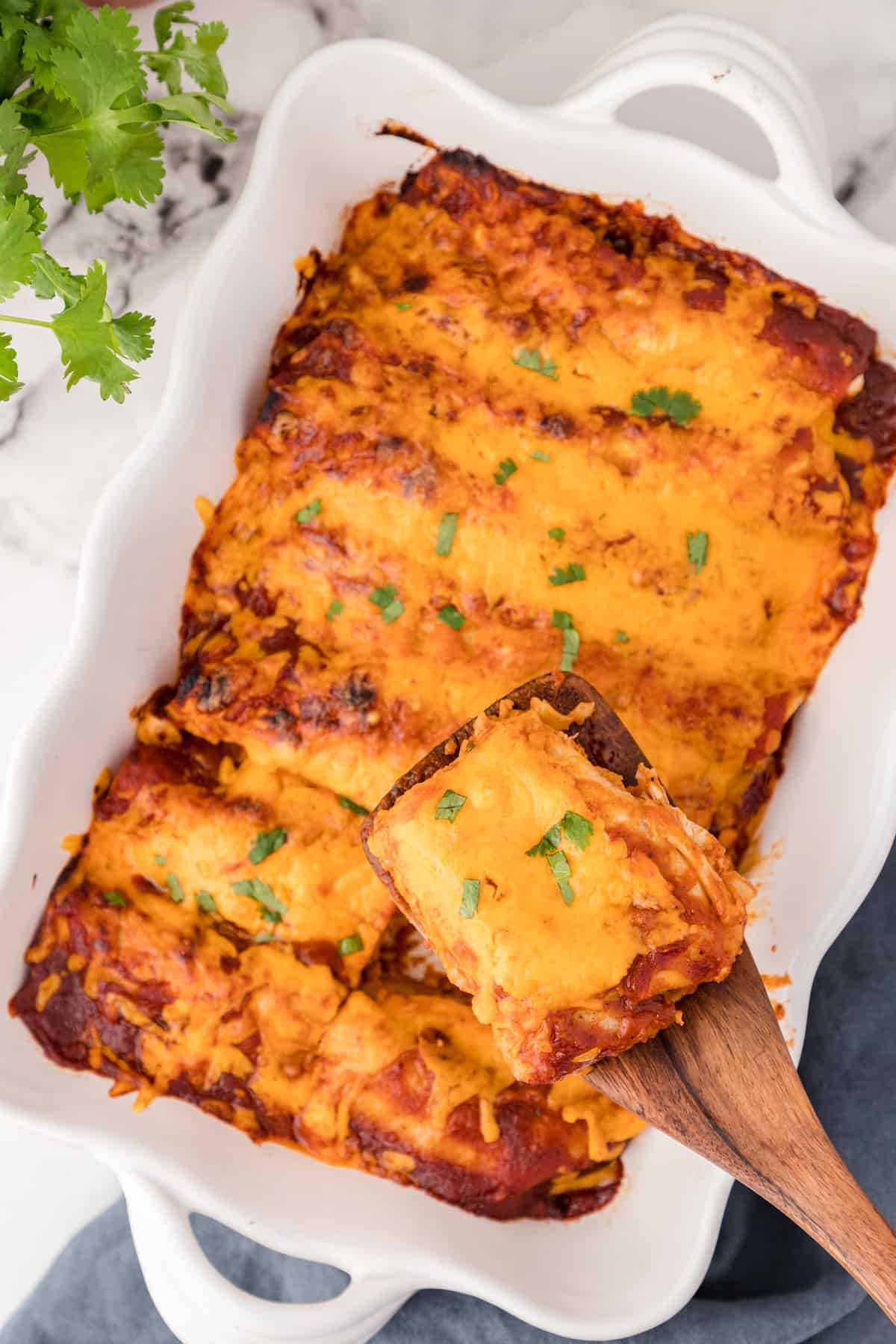 How to store leftover BBQ chicken enchiladas
Keep the enchiladas in an airtight container in the refrigerator for up to 5 days.
I've never tried freezing them, but I imagine you could. I would recommend wrapping the enchiladas in plastic wrap then aluminum foil, then putting the whole package into a plastic freezer bag or airtight container. They should keep about 2-3 months in the freezer. Thaw overnight in the fridge before popping into the oven at 350ºF for about 15 minutes. The tortillas will likely be a little soggy from being frozen, but the enchiladas should taste just fine. You may want to have a little extra enchilada sauce mixed with BBQ sauce to refresh them before you put them into the oven. (Enchilada sauce freezes really well, check out that recipe for those instructions.)
How to make BBQ chicken enchiladas low carb and bariatric-friendly
To make this recipe bariatric-friendly, I measure out 4-5 ounces of the filling and top it with the BBQ enchilada sauce and shredded cheese, then microwave it until warm. After it's heated, I sprinkle it with diced avocado and eat it just like that. I don't eat the meat that's been wrapped in a tortilla.
To make this recipe low carb (and another option for bariatric eating), use a sugar-free BBQ sauce and wrap the enchiladas in zucchini sliced thin (and parboiled so they're pliable) or another low-carb wrap of your choice. They're not going to get crispy if you use zucchini, but they should stay wrapped pretty well.
Try these other Mexican-inspired dishes while you're here:
Recipe