This easy beef enchilada casserole recipe comes together quicker than traditional enchiladas and makes a perfect weeknight dinner. Thanks to homemade enchilada sauce, this ground beef enchilada lasagna tastes amazing!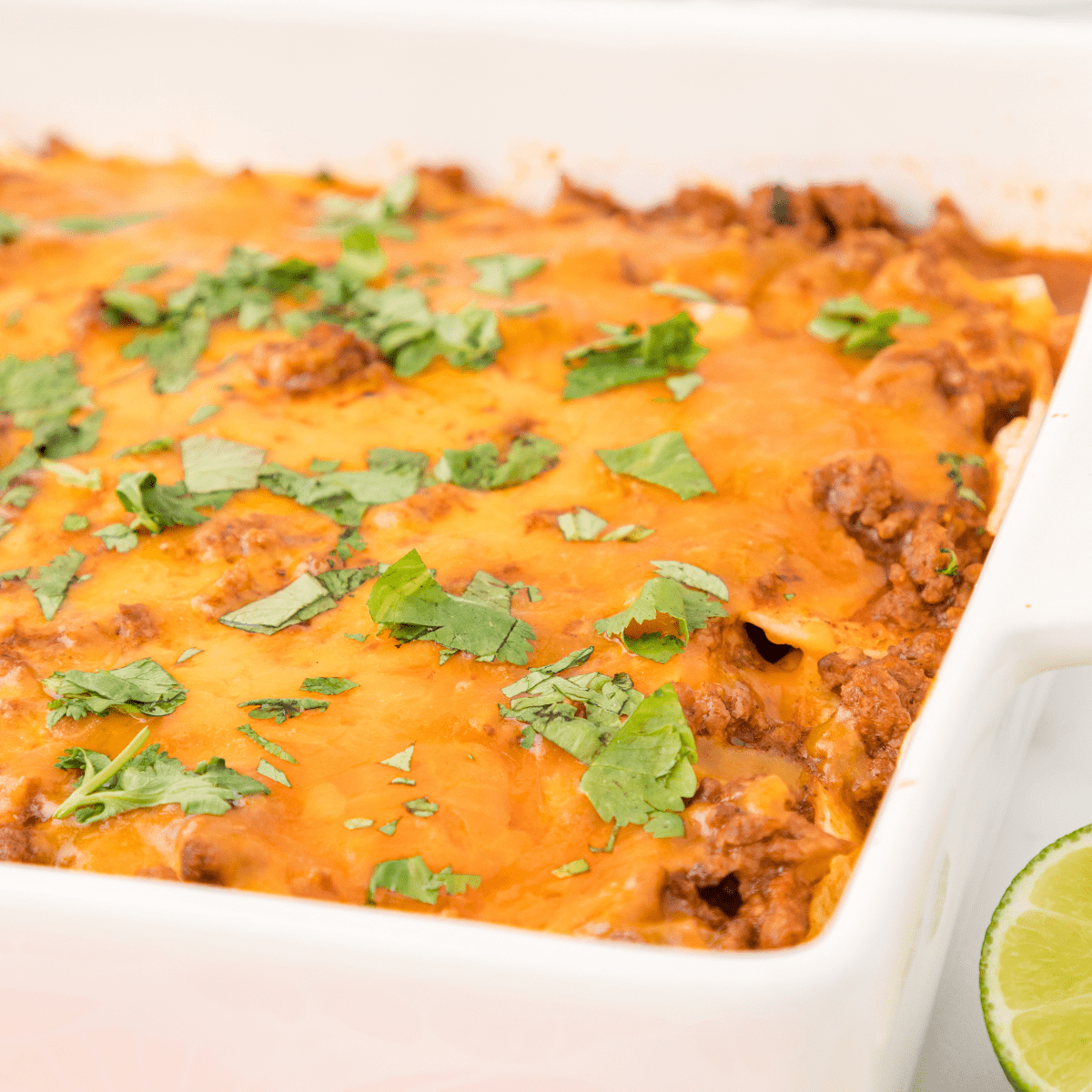 This recipe is another in our challenge to try a new dish every week. Since getting started, we have tried some awesome new recipes - and some duds. We started with a cookbook from The Pampered Chef called 29 Minutes to Dinner. It's really fantastic; if you go to a cooking show, you should consider it.
In case you're wondering, I bought it myself and have had no contact with any representatives from The Pampered Chef, except when I myself was a consultant 20 years ago.
Anyway, that is the first cookbook I grabbed from my cookbook hoarding collection, so our first few new recipes have come from it. We took this recipe to our friend's house for dinner. After the 4 of us ate, then helped ourselves to seconds, there were no leftovers. I had a second piece instead of dessert. No kidding.
Why you're going to love beef enchilada casserole
There is so much great flavor in this recipe! The taste of the homemade enchilada sauce is so bright and flavorful when combined with the fresh cilantro, ground beef, and shredded cheddar cheese.
This casserole is hearty with plenty of ground beef, cheese, and tortillas. It makes a perfect dinner when paired with some Mexican rice, black beans, or a light salad.
This recipe is quick and easy to put together with ingredients you probably already have in your pantry.
The steps in this recipe are super simple - way easier than traditional enchiladas. Brown the ground beef, pour in the sauce, and layer it in a dish. Even kids can do it!
What you'll need to make beef enchilada casserole
EQUIPMENT
8x8 inch baking pan - If you use a metal pan, you'll have to bake the casserole in the oven. If you use a ceramic or stoneware casserole dish, you can microwave it as the instructions suggest.
INGREDIENTS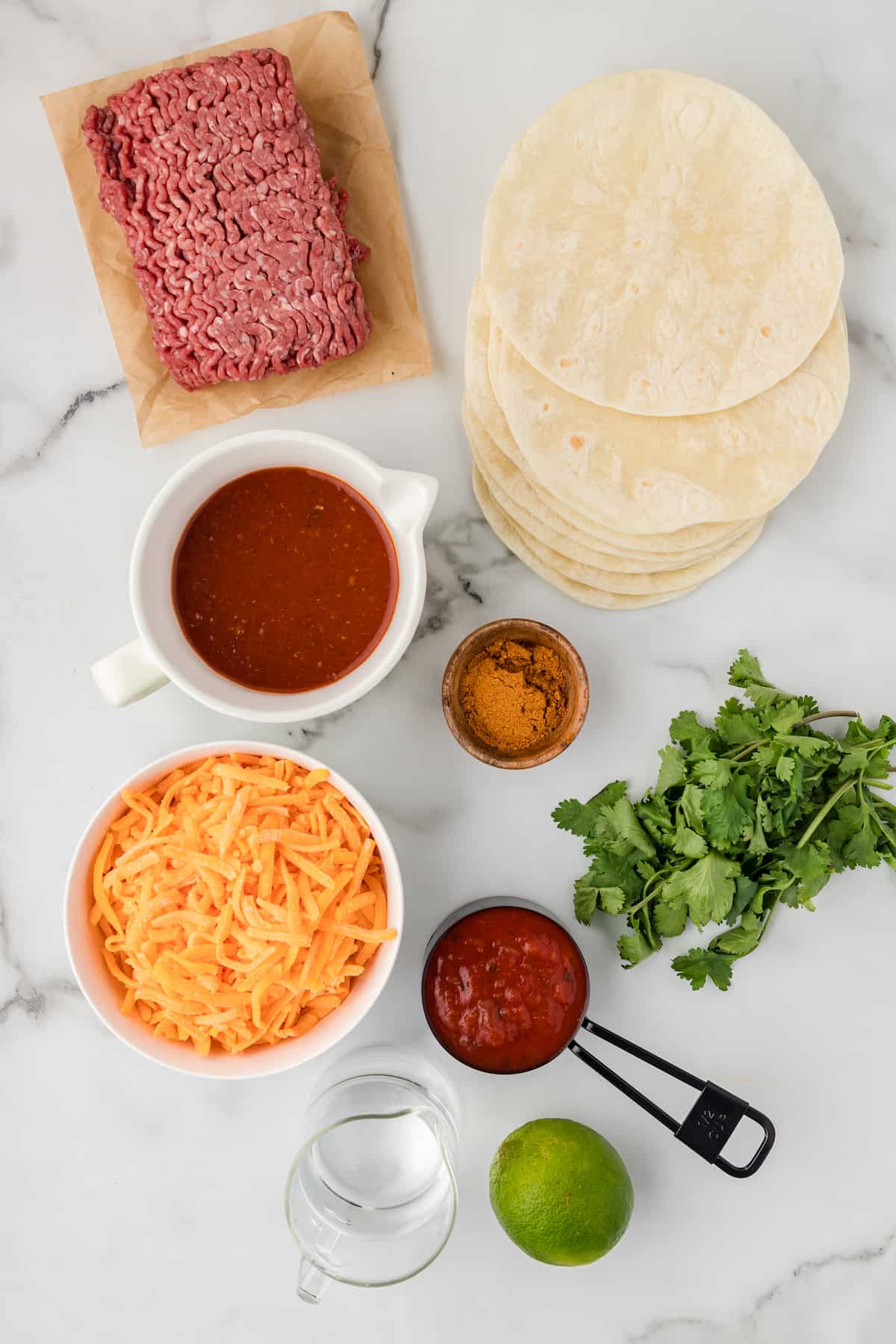 You can find all the measurements on the printable recipe card at the bottom of this page.
95% lean ground beef - I prefer 95% lean ground beef because it has the fewest calories and does not typically require draining. If you prefer to use a fattier ground beef, feel free to do so. Just know that the nutritional information in the recipe card are calculated with 95% lean meat.
Taco seasoning - I prefer homemade. You can get my recipe at the link. It uses chili powder, cumin, paprika, onion and garlic powder, oregano, and red pepper flakes.
Red enchilada sauce - I prefer homemade. You can get my recipe at the link. It uses flour, vegetable oil, chili powder, cumin, tomato sauce, chicken broth, fresh garlic, onion powder, salt, and cayenne pepper.
Both my taco seasoning and enchilada sauce recipes contain a decent amount of garlic, so I don't recommend adding additional garlic to the recipe. If you're not using homemade spices and sauce, you may want to add a couple of cloves of fresh garlic to the ground beef about one minute before you add the enchilada sauce and water.
Water
Thick and chunky salsa - I use medium heat because I think it gives the recipe a nice amount of spice. But you can use mild or hot instead, if you prefer.
Flour tortillas - The original recipe called for corn tortillas, but I prefer flour. If you're gluten-free or just prefer the corn flavor, use those instead. I suggest that you cut the tortillas into 1-inch strips.
Fresh cilantro, snipped and divided - Dried cilantro has no flavor. You need to use fresh.
Shredded Cheddar cheese - I buy shredded cheese in a bag from the grocery store even though I know that freshly shredded cheese melts and tastes better. Use whatever makes you happy.
Sour cream - You can use plain Greek yogurt instead of sour cream if you prefer.
Lime wedges - Don't leave the lime out. Fresh lime juice is what makes this casserole sing.
How to make beef enchilada casserole
In a large skillet, cook the ground beef and taco seasoning over medium-high heat for 8-10 minutes or until beef is no longer pink.

Add the enchilada sauce, water, and salsa to the beef. Stir to incorporate the water into the sauce and beef.

Bring to a simmer then remove from the heat. (Simmer means to keep it bubbling slightly with small bubbles but not boiling with big bubbles.)

Arrange one-third of the tortilla strips over the bottom of a round or square baking dish.

Top with one-third of the beef mixture.

Add one-third of the cheese. Sprinkle a tablespoon of cilantro over the cheese.

Repeat layers two more times.

Microwave the casserole on high for 3 to 5 minutes or until the cheese is melted. (That's not a typo. It really only takes a couple of minutes.)

Garnish with remaining cilantro.

Serve with sour cream and freshly cut lime wedges.

Variations on enchilada casserole
There are lots of ways to adjust this recipe to suit your family's preferences.
You can add black beans to the ground beef.
You can add chopped onion and/or chopped bell peppers to the ground beef.
You can add a can of diced tomatoes to the ground beef.
You can swap out the cheddar and use Mexican blend or monterey jack cheese.
You can swap out the ground beef and use ground turkey or ground chicken (or even ground pork) instead. Or even a combination.
You can top the finished casserole with chopped avocados, black olives, diced tomatoes, green onions, diced jalapeños, or even shredded lettuce.
If you're short on time, you can use commercially prepared taco seasoning and enchilada sauce, but the flavor will not be as good.
What to do with leftovers
Beef enchilada casserole tastes best when it's fresh, but if you have leftovers, you can cover them in foil or transfer to an airtight container and keep in the fridge for up to 3-5 days.
The tortillas will soak up the enchilada sauce as it sits, so you may want to pour a little extra overtop when you reheat it.
Check out these other awesome Mexican-inspired recipes
Recipe
What does bring to a simmer mean?
Simmer a food means that you cook it in a liquid that's just below its boiling point. You might see occasional bubbles, but it's not actively forming steam.