How to make the best healthy chicken enchiladas recipe - It's so quick, simple, and easy! Uses shredded chicken and a red sauce to bake the best authentic enchiladas!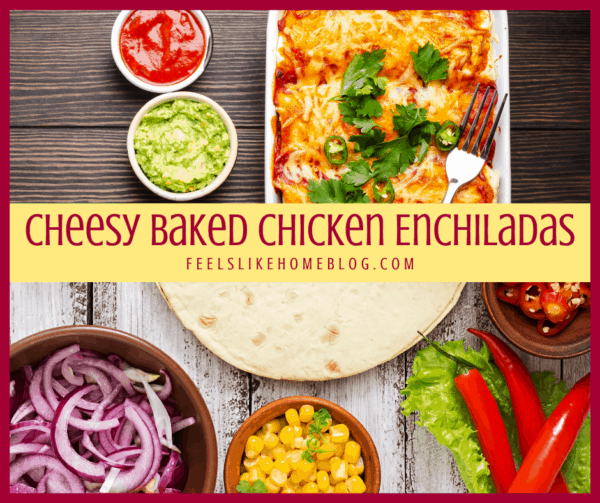 This is crunchy on the ends! It's like eating chips! Grace announced last night at dinner.
Joe had surprised us with a new recipe, something we'd never tried before, cheesy baked chicken enchiladas.
I was dubious about eating enchiladas at this point of my pregnancy (because I have a lot of heartburn and indigestion) but the enchiladas were delicious.
I was excited to eat them again for lunch the next day; I don't get excited about much these days.
Except ice cream. I still get excited about ice cream.
And eggnog.
Anyway, these enchiladas were tasty, and Joe said they were easy to make.
This recipe came from a cookbook called Dollars to Donuts: Comfort Food and Kitchen Wisdom from Route 66's Landmark Rock Cafe. It's full of my kind of recipes: simple, healthy, comfortable. We cook from it often; the original recipe came from that cookbook.
How to make the best healthy baked chicken enchiladas
Preheat oven to 400º.
In a large bowl, prepare the filling by gently mixing shredded chicken, onion, all but 2 tablespoons of the cilantro, ½ cup salsa, lime juice, salt, and pepper.
Spread ½ cup salsa over the bottom of a 9x13 baking dish OR spritz the bottom of the dish with cooking spray.
Divide the filling between 8 tortillas, forming it into a line down the center. Roll the tortillas around the filling, and place the enchiladas seam side down in the prepared baking dish.
Cover the rolled enchiladas with remaining salsa and cheddar cheese.
Bake until the top is golden brown and bubbly, about 30 minutes.
Sprinkle with reserved cilantro and serve with sour cream.
Recipe