A BLT salad loaded with fresh lettuce, crispy bacon, bright tomatoes, crunchy croutons and homemade lemon mayo salad dressing is exceptional. This is the best simple & easy salad! Enjoy it as a delicious lunch or a hearty side dish.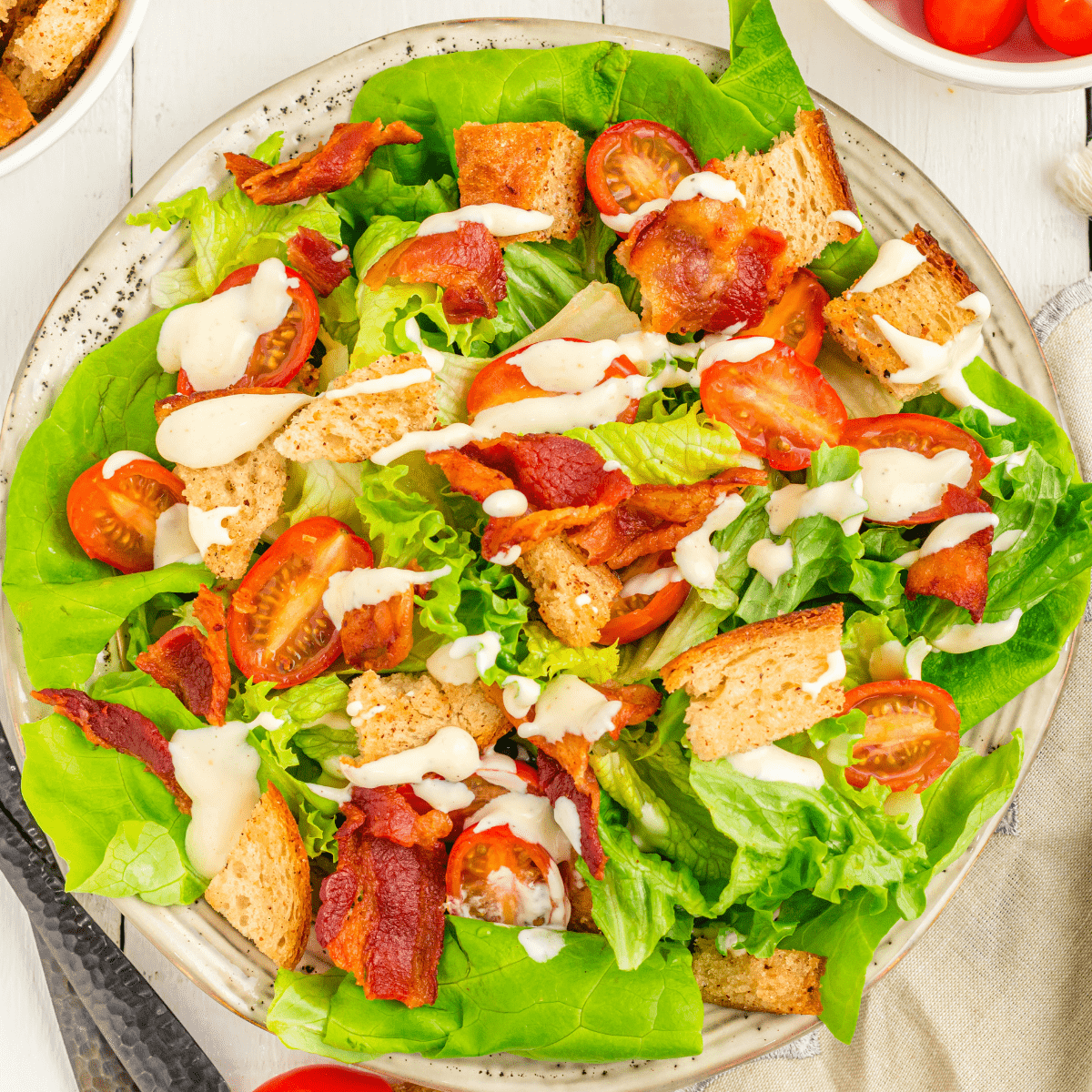 This BLT Salad has all the flavors of the classic BLT sandwich with more greens and less bread, and who doesn't like that?
The homemade lemon mayo salad dressing is a cross between a rich aioli and a creamy dressing, and a few dollops are all that's needed to complement this delicious salad with some garlicky zing!
As an added bonus, homemade bacon rye croutons take this salad to the next level.
BLT Salad Serving Size
This salad, as written, makes enough for 2 large entrée salads or 4 smaller side salads.
The homemade lemon mayo dressing recipe makes about half of a cup which I personally think is enough for 2 large or 4 small salads. If you prefer your salads to be saucier, double the dressing and adjust the nutritional information accordingly.
What you need to make a BLT salad
This salad is very easy, right? Just bacon, lettuce, and tomato!
Well, almost.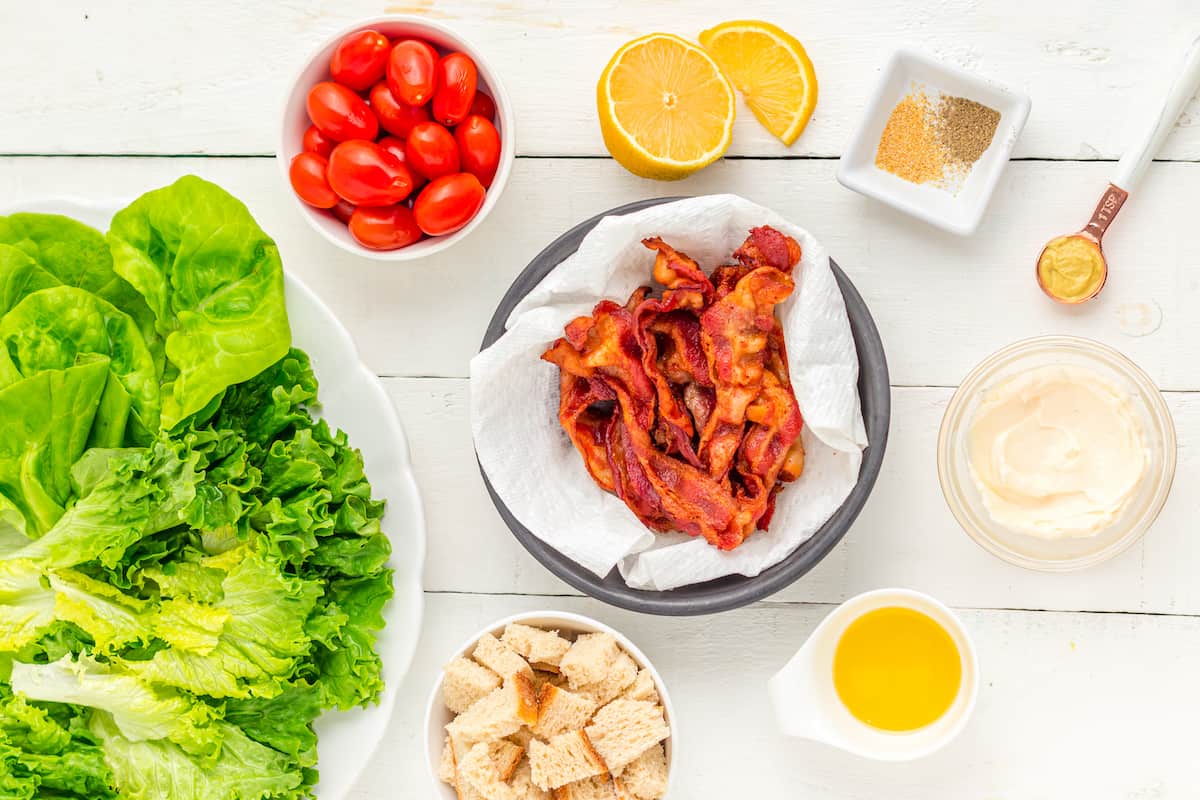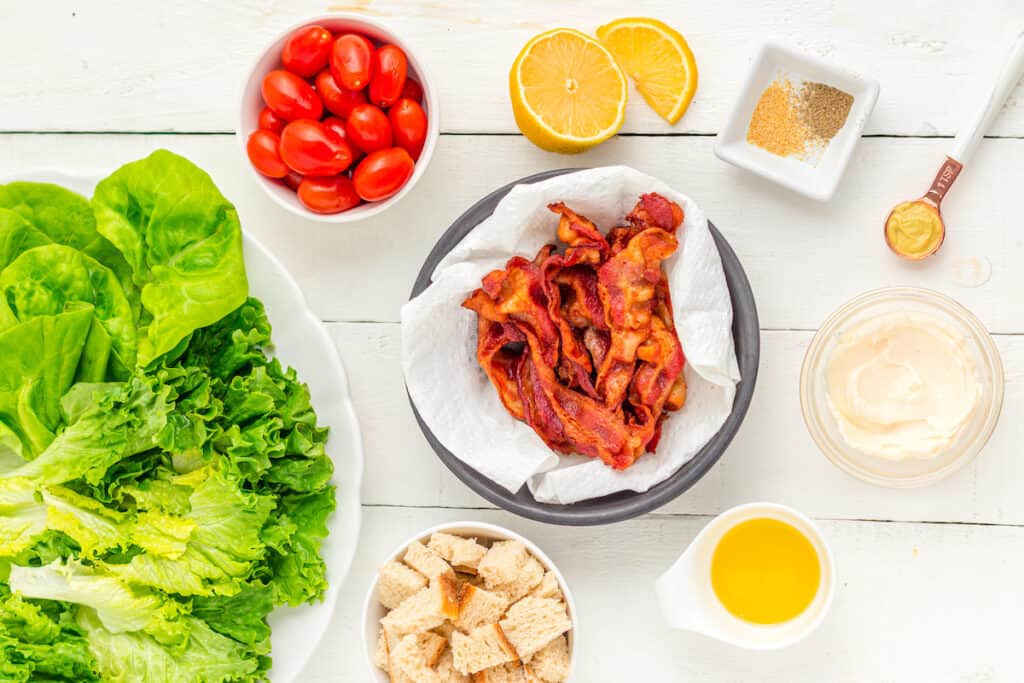 Salad ingredients:
Butter or Boston lettuce
Romaine lettuce
Bacon
Rye bread
Grape or cherry tomatoes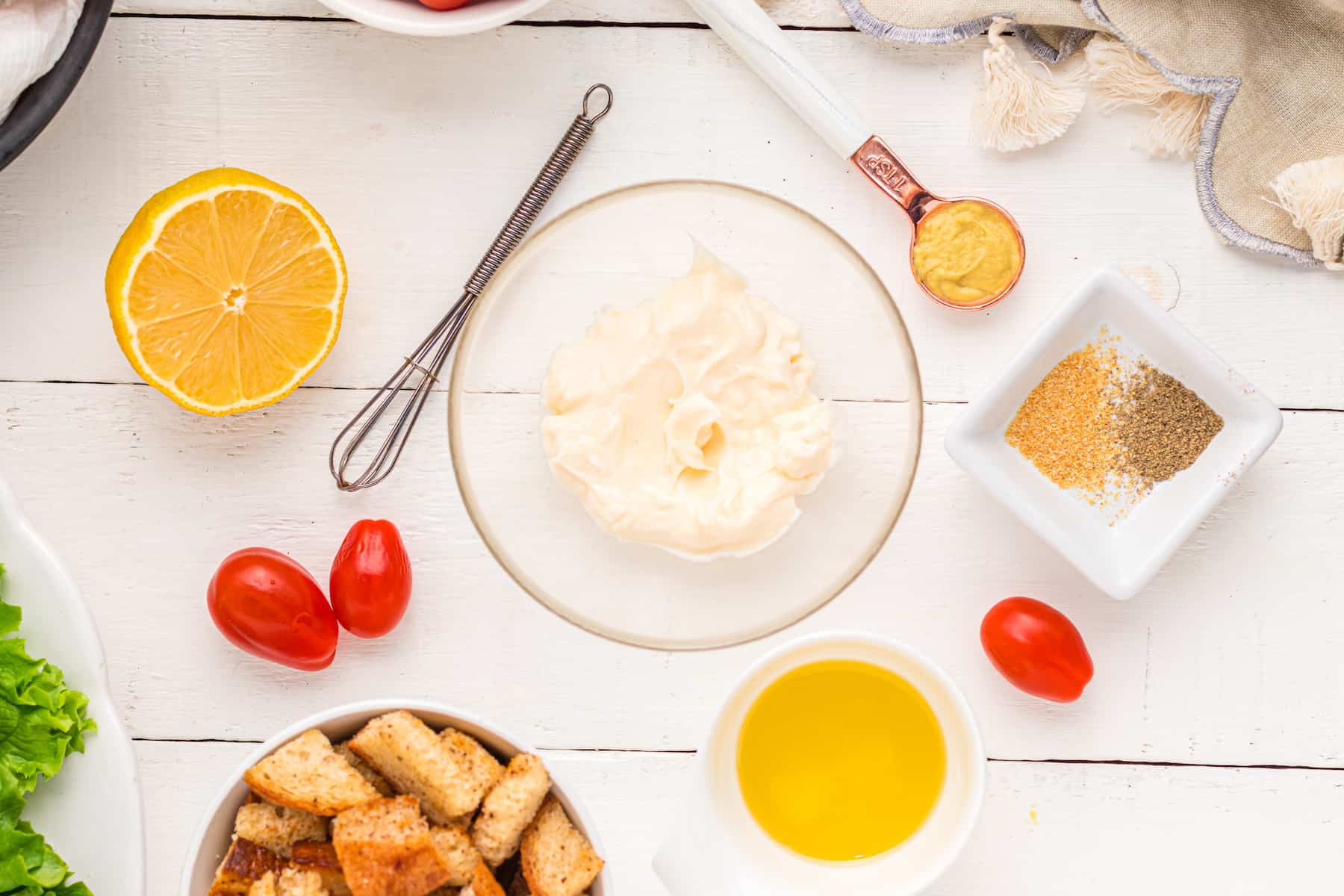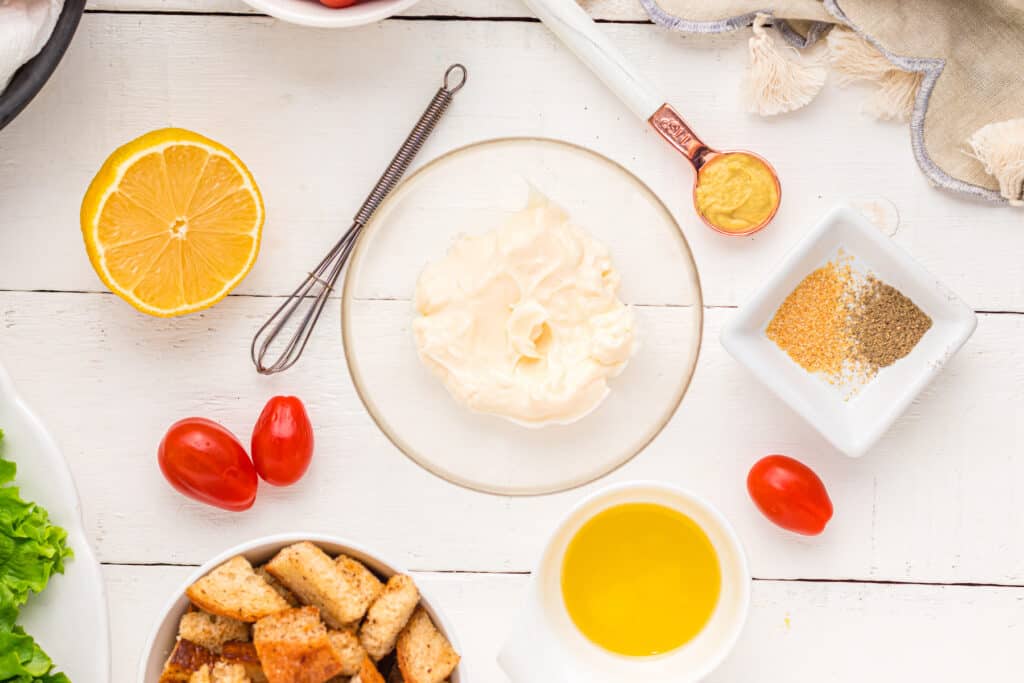 Homemade salad dressing ingredients:
Mayonnaise - I personally always use light mayo, and I think the dressing is wonderful. But you do you, and use full fat if you want.
Fresh lemon juice - That stuff that comes in a plastic bottle or in a plastic lemon is an abomination. Buy a lemon for 80¢ and squeeze fresh juice. It makes a huge difference.

Olive oil
Dijon mustard - You can use any spicy mustard, but I think dijon is the best in this recipe. I don't recommend plain yellow mustard.

Salt - The recipe calls for just a wee bit, but don't skip this or your dressing will taste flat. Also, you should taste the dressing before you serve it. If it seems like it's missing a little something, add another ⅛ teaspoon of salt.
Black pepper - freshly ground if possible, but pre-ground is okay too.
Required equipment:
You will have to use lettuce in your salad. (Um, doesn't that go without saying?)
You will have to wash the lettuce for your salad. (Again, doesn't that go without saying?)
If you wash the lettuce and do not dry it, your salad will be soggy and gross, and the dressing will get diluted, and you will not be happy with my amazing recipe.
Therefore, you must either dry each lettuce leaf with a paper towel or kitchen towel (?!?!) or use a salad spinner to remove the water.
It's up to you really, but I have a salad spinner, love it, and use it all the time. It's also good for drying berries and cherry and grape tomatoes after washing.
How to make the homemade salad dressing
Anytime you are making a homemade salad dressing, you will want to prepare it as early as possible so that flavors can blend in the refrigerator, even up to the day before. This is not absolutely necessary because the dressing will taste good even if made just before serving, but it will have a much richer and more robust flavor if you let it sit an hour or more before dressing your salad.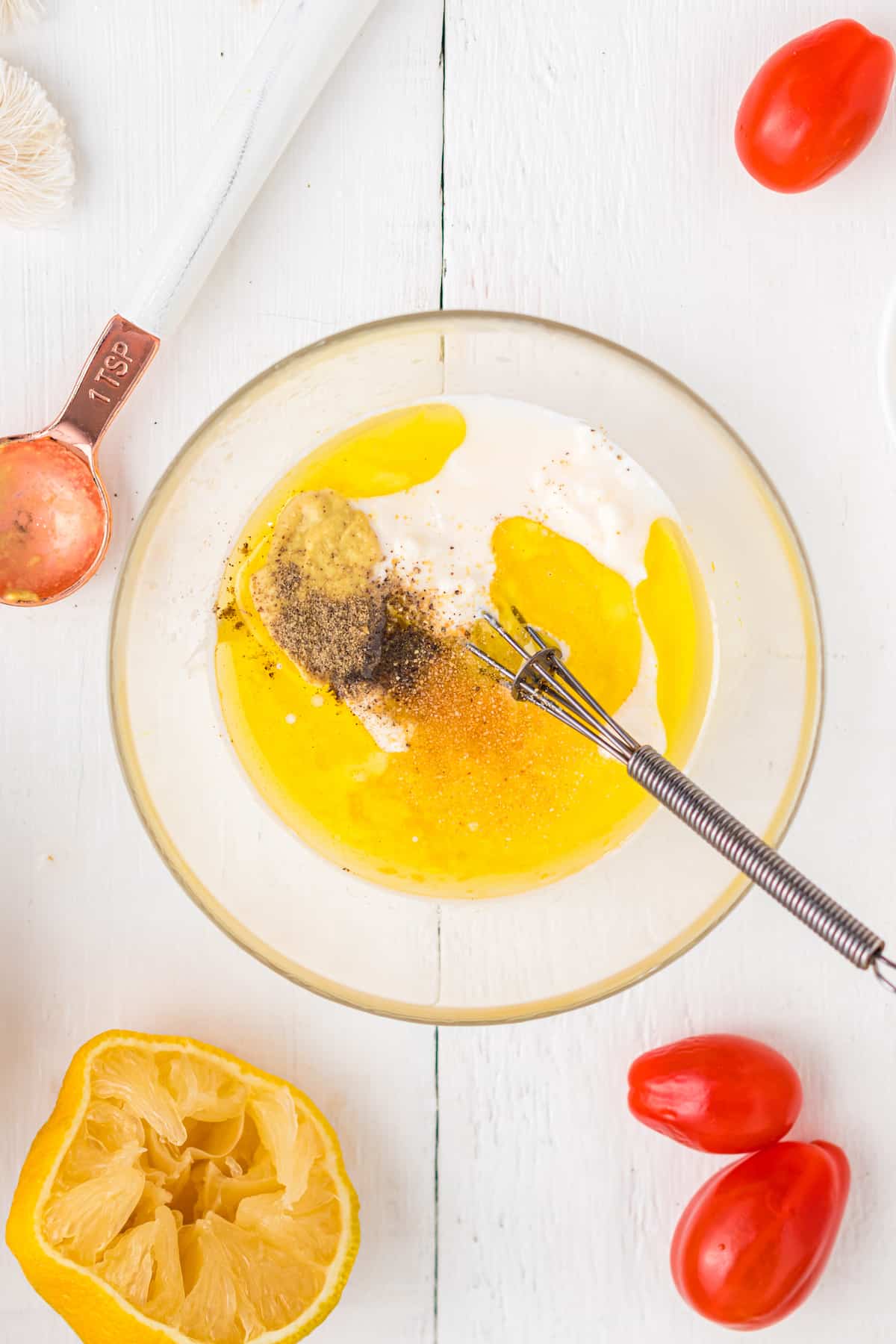 To make the dressing, simply add all the ingredients (mayonnaise, lemon juice, olive oil, Dijon mustard, garlic powder, salt, and pepper) together in a small bowl or mason jar. Refrigerate until ready to use.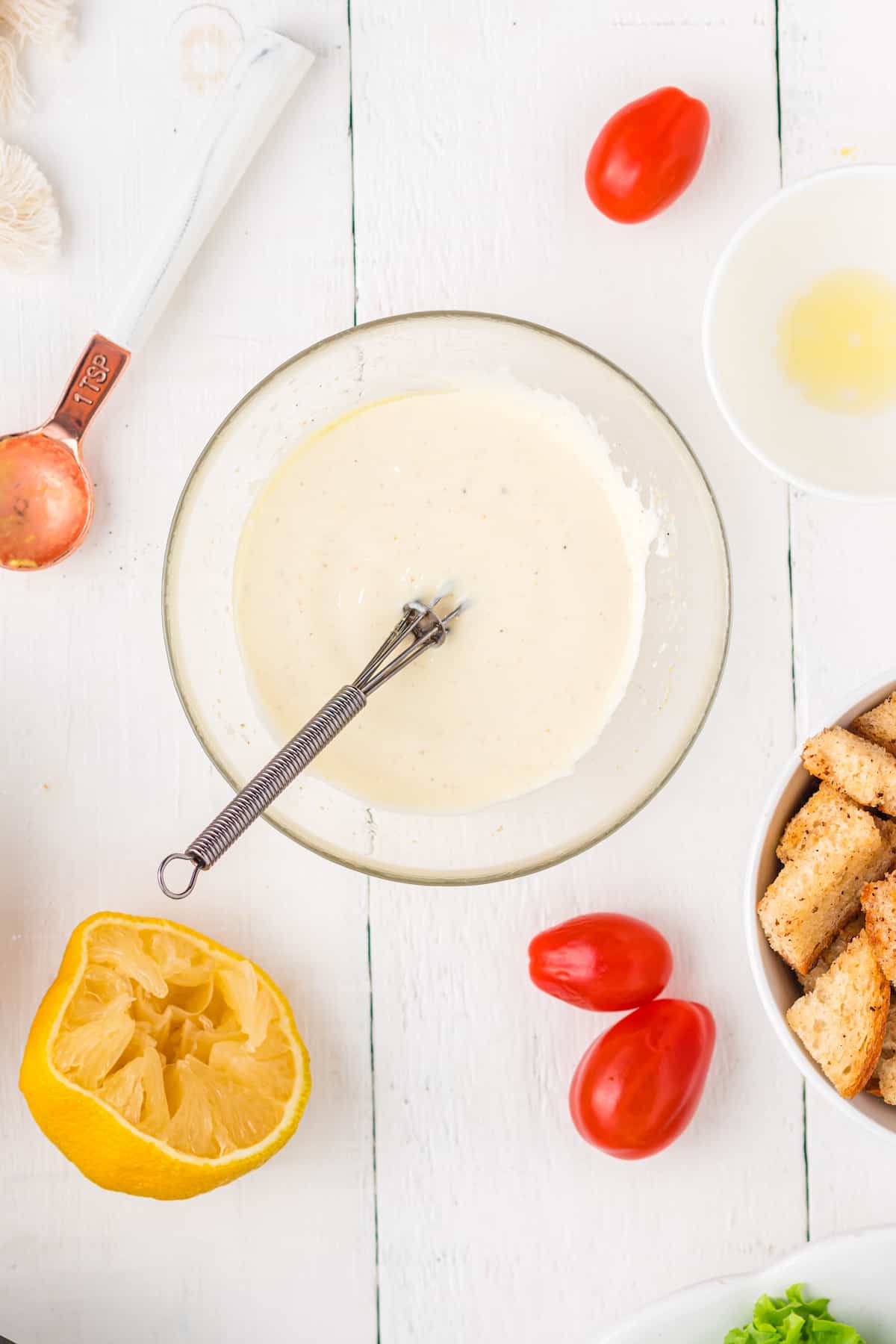 How to make the BLT salad
Step one: cook the bacon. Cook the bacon using your preferred method until evenly brown on both sides.
If cooking the bacon in a skillet on the stovetop, it should take about 6 minutes per side.
An easier and cleaner way to cook bacon is to line a baking sheet with aluminum foil, line the bacon up in a single layer, and bake it for 14-15 minutes at 400ºF, flipping halfway through.
Regardless of how you cook the bacon, you will need to reserve 2 tablespoons of bacon grease for the croutons.
Chop cooked bacon, place in a small bowl, and set aside.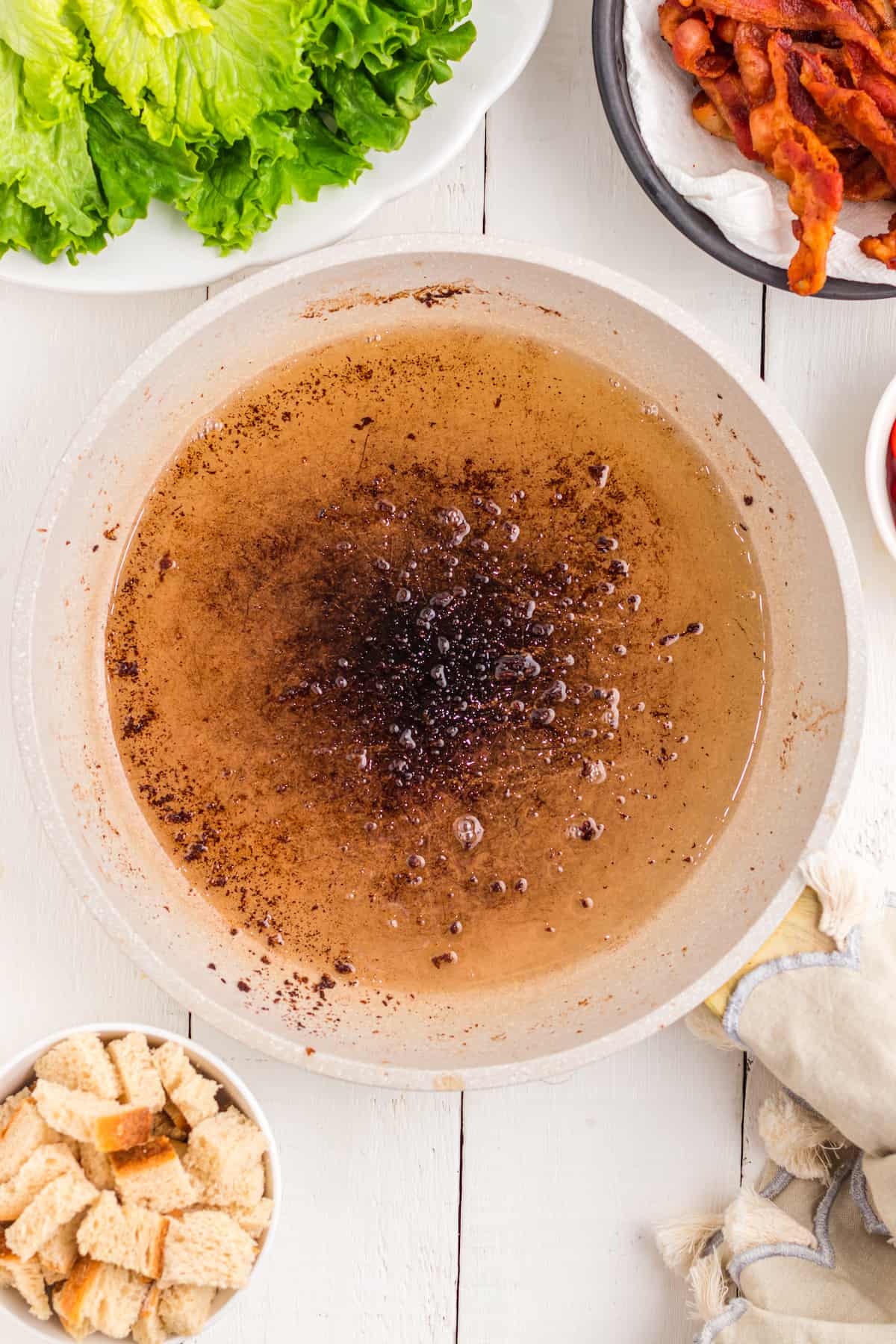 Step two: cook the croutons. Heat 2 tablespoons of bacon grease in a large skillet (can be the same one you used for the bacon, if you cooked it on the stovetop) over medium heat.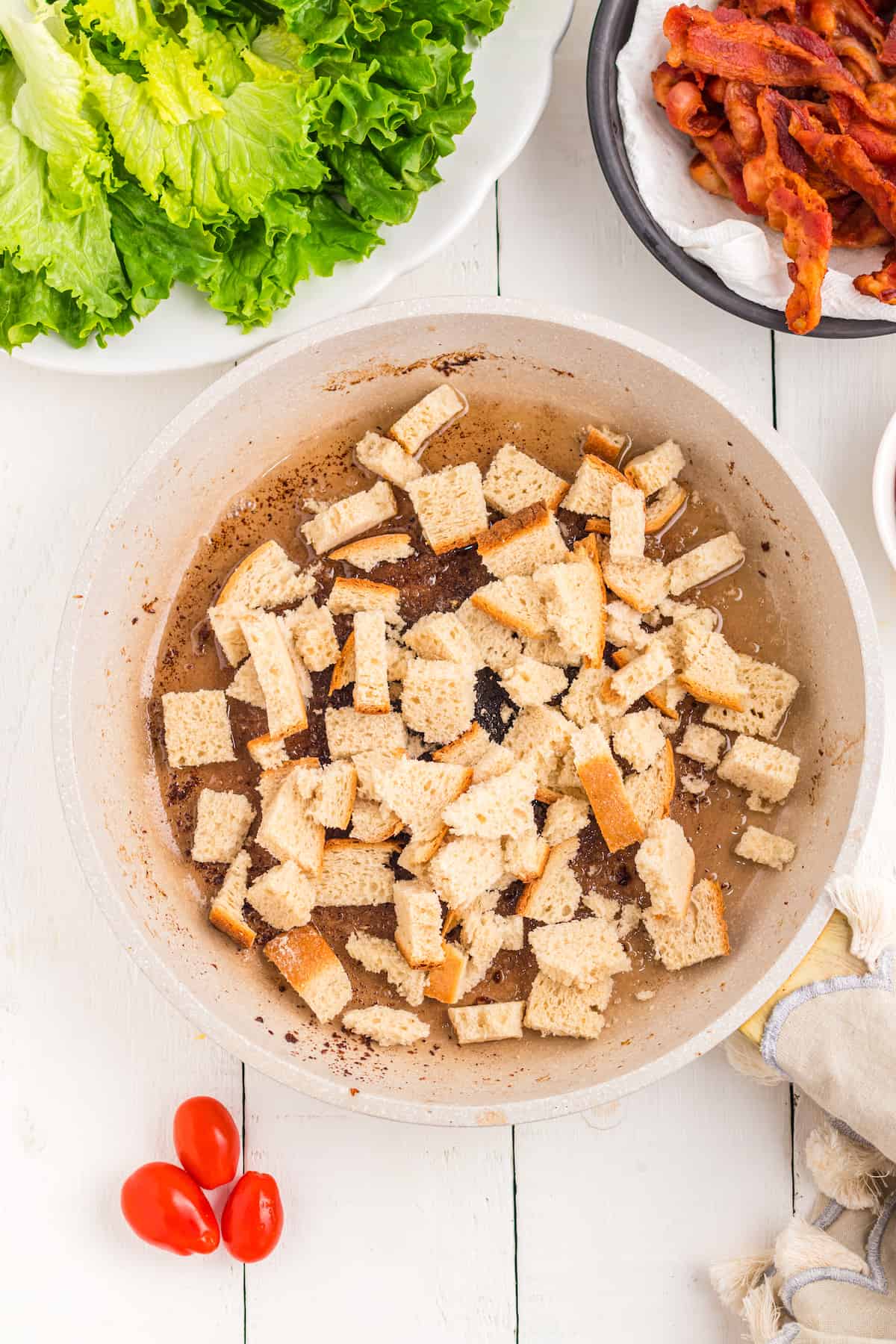 Add the chopped rye bread and cook for 3-4 minutes or until crispy on all sides.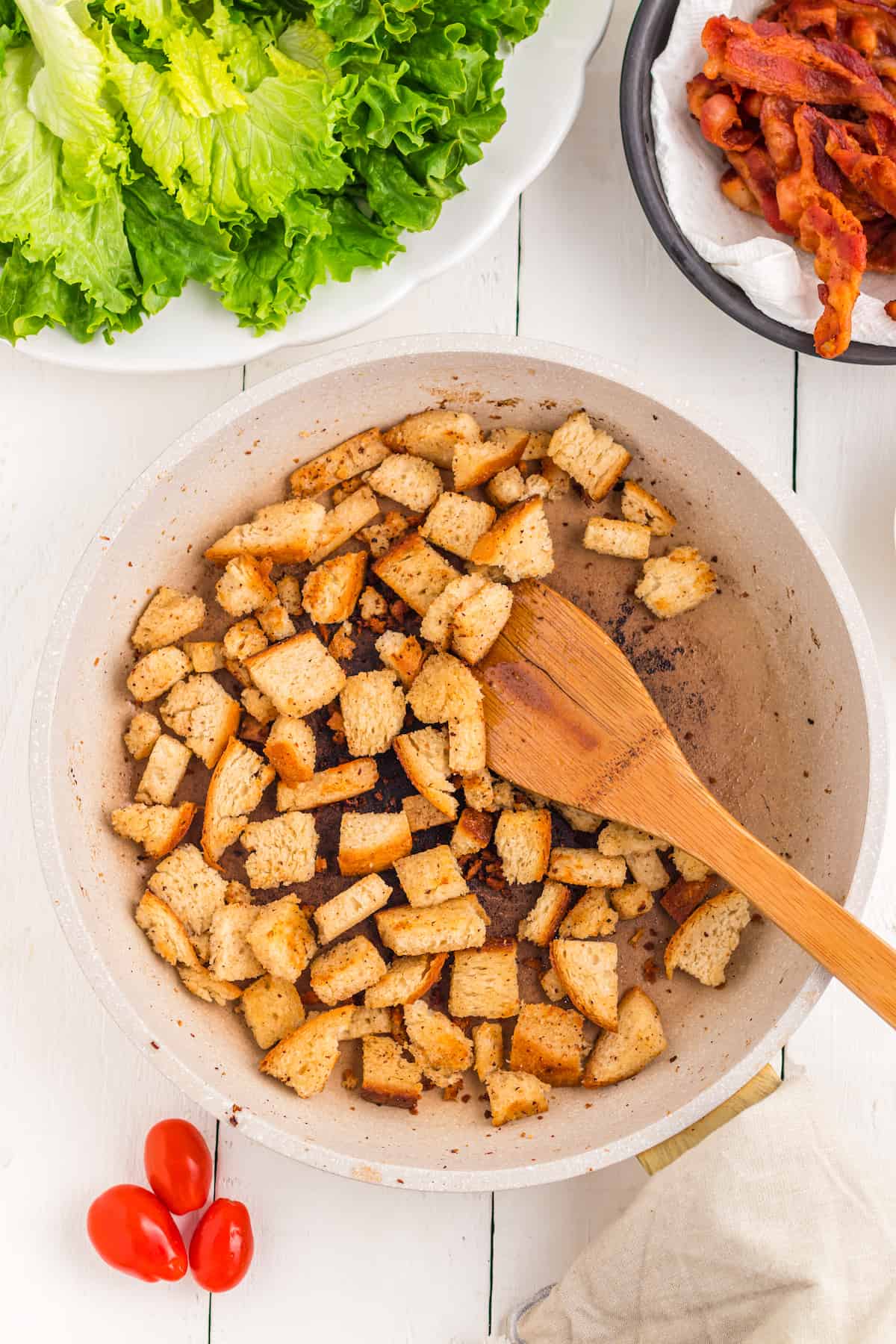 Season with salt and black pepper, then transfer to a large bowl and set aside.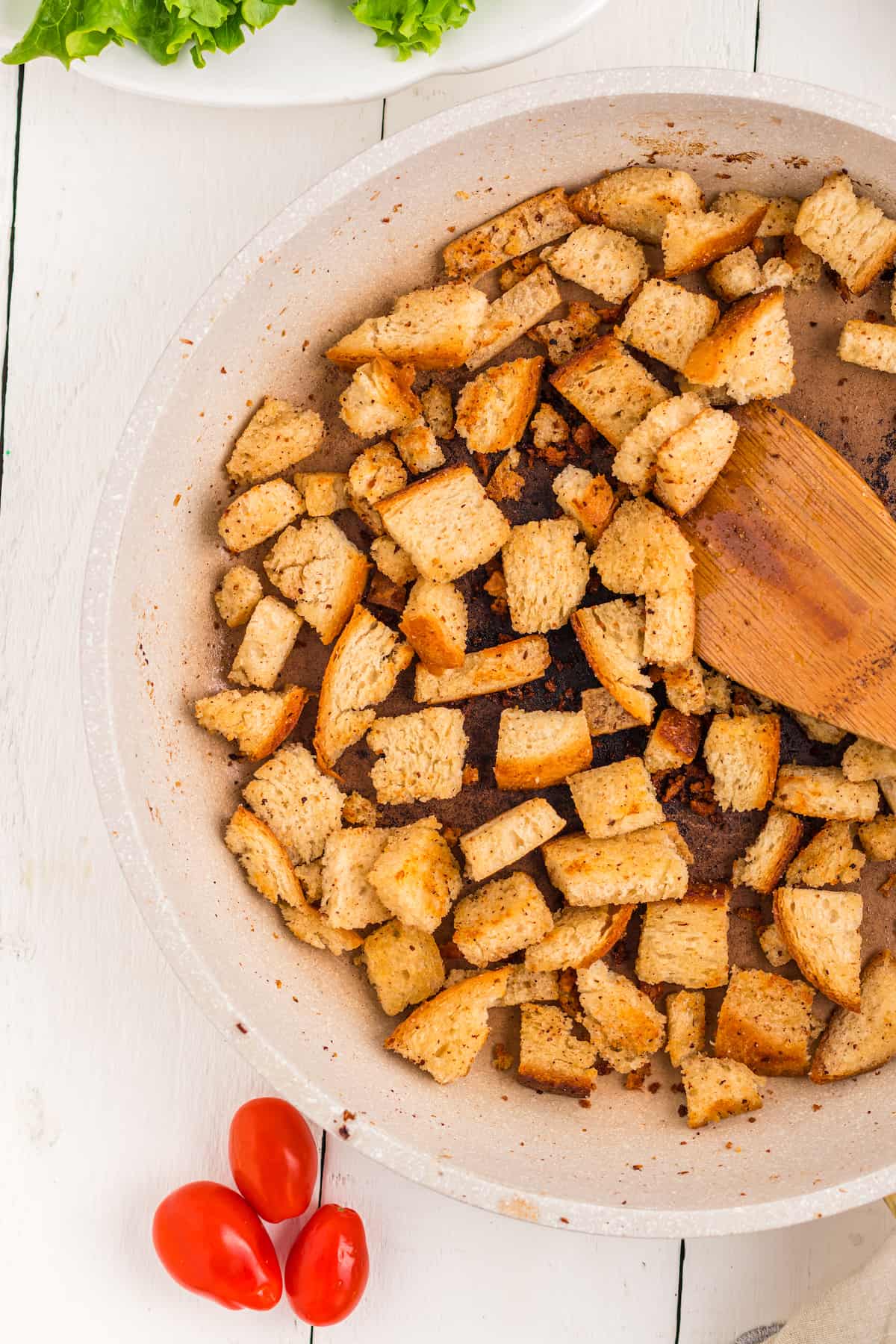 Step three: prep the tomatoes. Slice the grape or cherry tomatoes in half, add to a small bowl, and set aside.
Step four: prep the greens. Wash and dry salad greens using a salad spinner. Tear into bite-sized pieces and divide onto 2 large or 4 small plates or bowls.
Step five: assemble the salad. Divide chopped bacon, croutons, and tomatoes evenly among the dishes.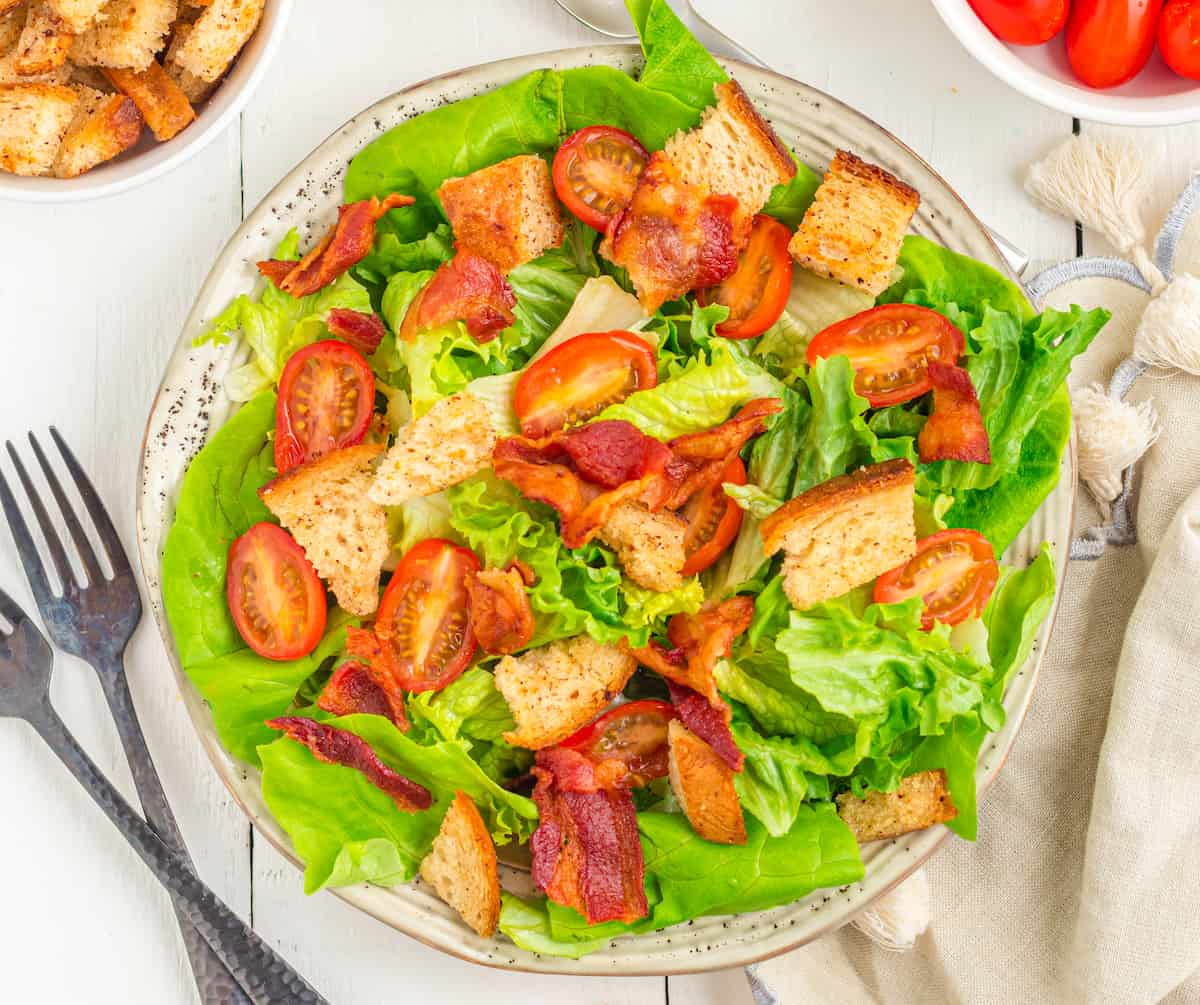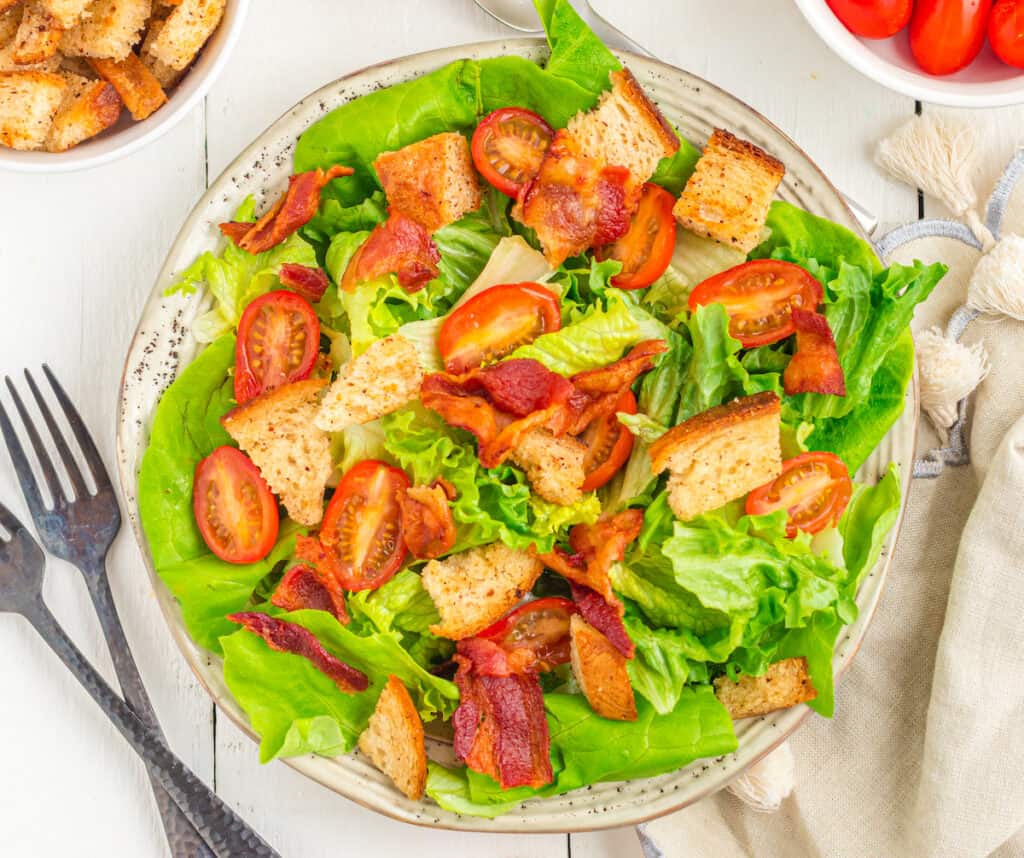 Step six: dress the salad. Top the beautiful salad with a few dollops of dressing just before serving.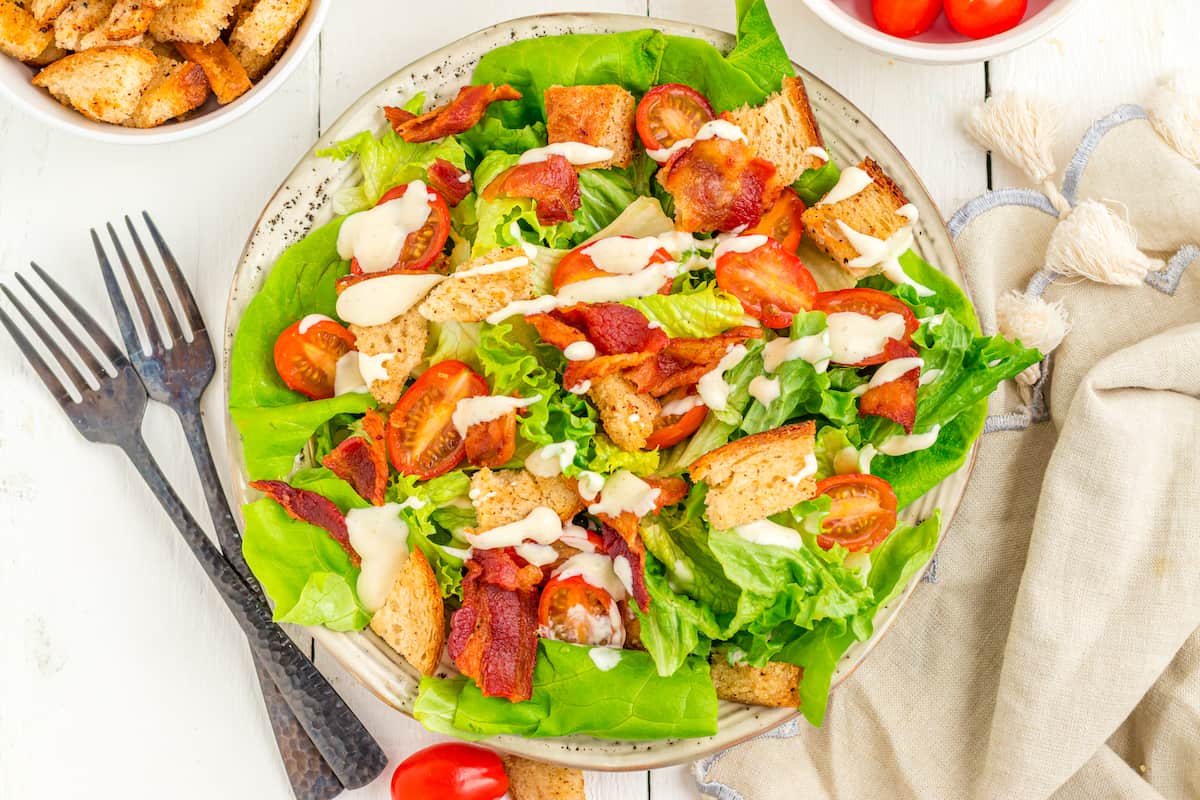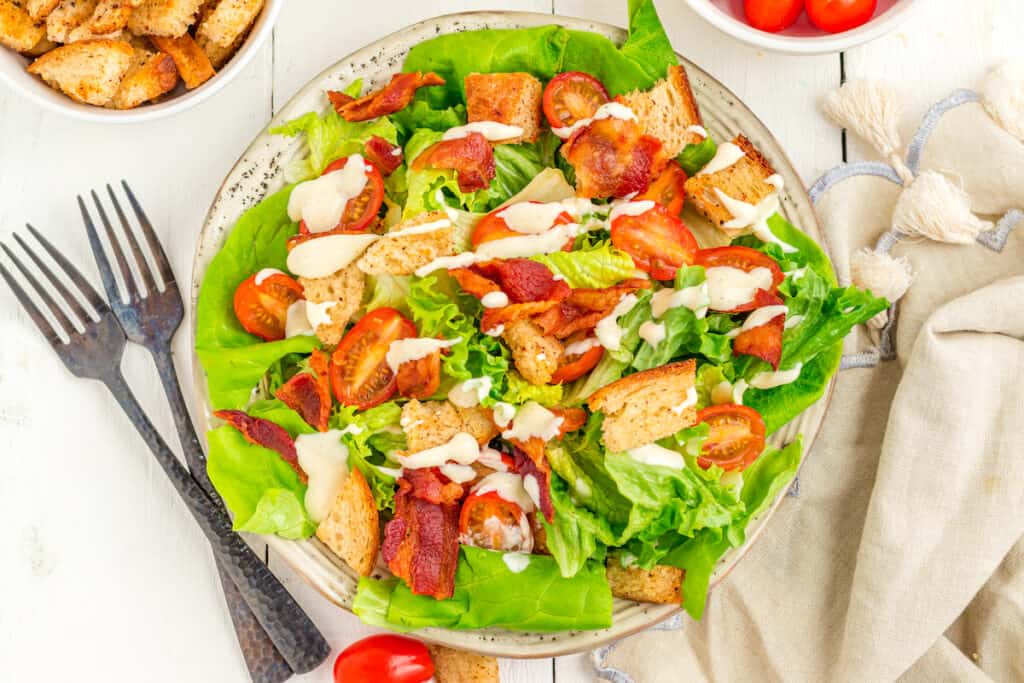 BLT Salad Variations
Dressing variations: This salad is also wonderful with homemade ranch, Chef Tim's sweet balsamic vinaigrette, or even blue cheese dressing.
Salad additions: You can add a handful of any or all of the following for delicious variations on this BLT salad:
Sliced cucumbers
Sliced avocado
Chopped celery
Shredded carrots
Shredded cheddar cheese
Blue cheese crumbles
Cooked rotini pasta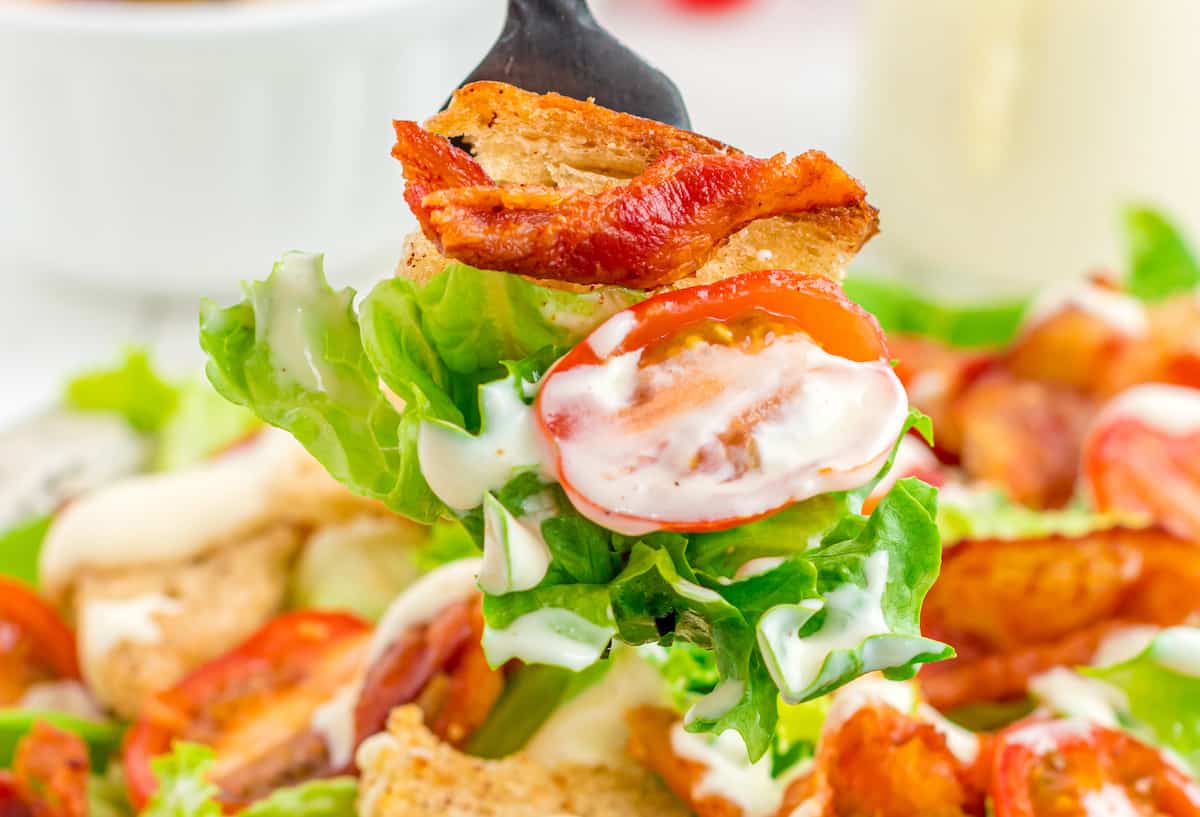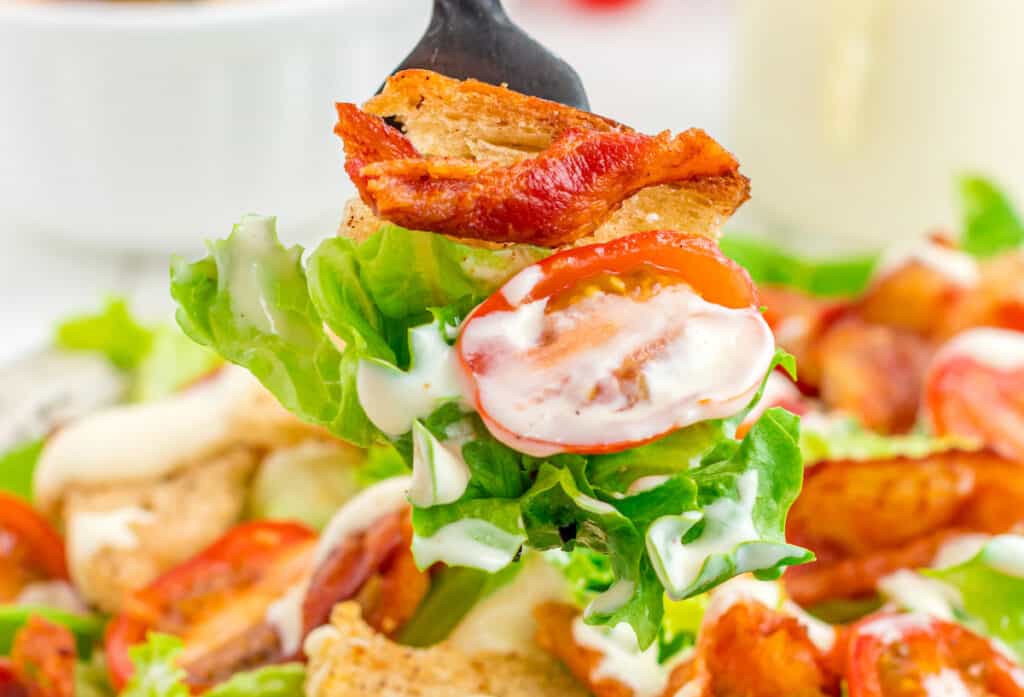 Storing leftover BLT salad
Don't expect to have any leftovers, but if you do, here's how to store them:
Do not assemble the salad before storing! Keep the bacon, tomatoes, croutons, and lettuce separately in airtight bowls in the fridge. (The acidity of the tomatoes will wilt and sour the lettuce.)
The croutons will get soggy in the fridge. This is unavoidable unless you let the croutons sit out in a zippered plastic bag on the counter (which you maybe could do, but I prefer to err on the safe side and keep them in the fridge). To crisp them back up before serving a second time, toss them on a baking sheet in a 250º oven for 15 minutes.
Store dressing leftovers in an airtight jar (such as these mason jars) in the refrigerator for up to 5 days.
Try these other delicious salads while you're here:
Recipe