This easy homemade Jamaican Jerk Seasoning Mix recipe is filled with a blend of spices that create a complex and bold flavor for beef, pork, chicken, fish, and vegetables. It's sweet, spicy, and irresistible!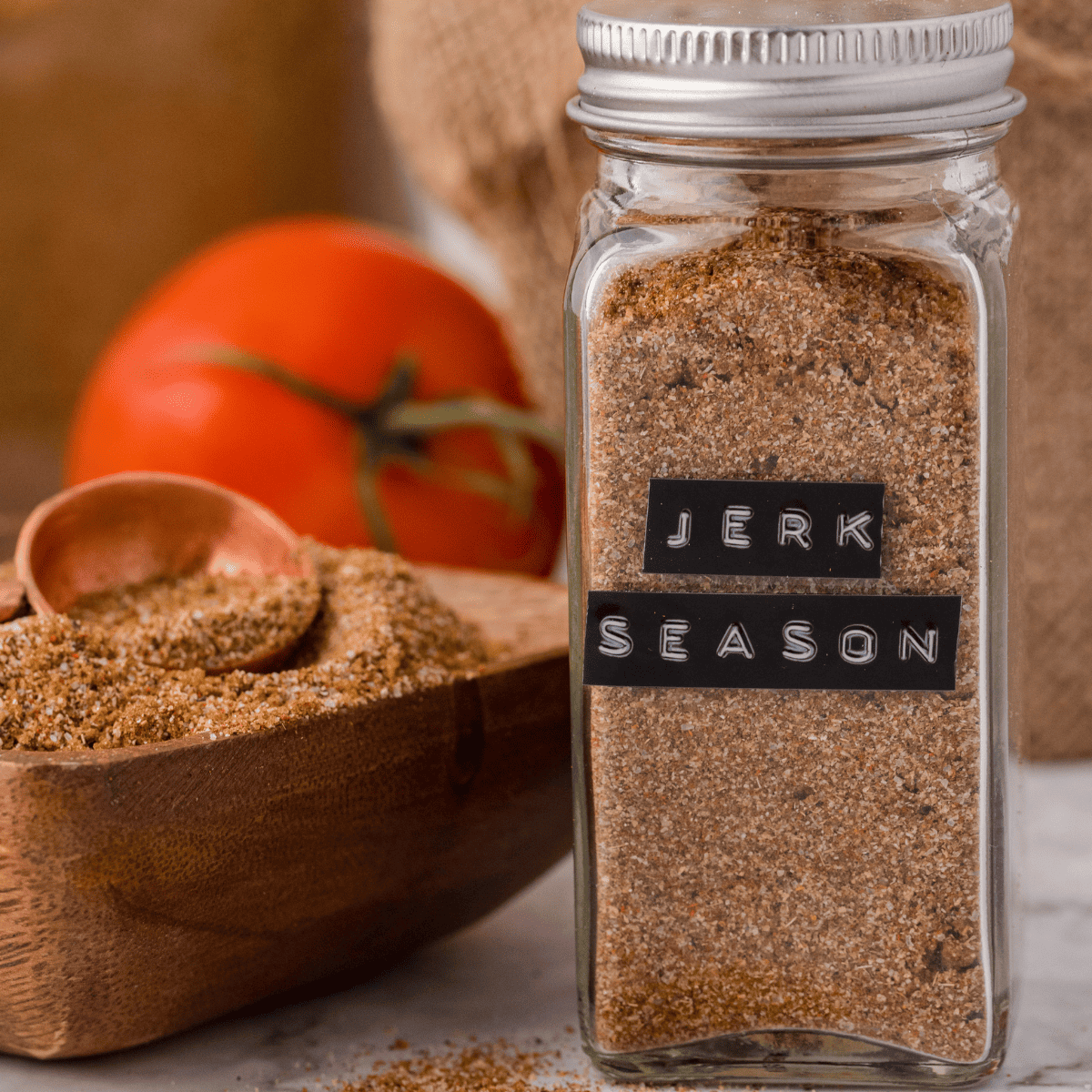 What is Jamaican Jerk Seasoning?
Jamaican Jerk is a style of cooking from Jamaica (but used throughout the Caribbean) more than it is a specific blend of spices. However, the spices in this recipe are the spices you would use to make a Jamaican Jerk dish.
Jamaican Jerk cooking means that you rub a hot and spicy dry seasoning mix over the meat of your choice, or sometimes you might marinate it in the spice blend and oil.
Jerk seasoning is packed with aromatic onion and garlic powders, smoky-sweetness from smoked paprika, earthiness from dried thyme, nuttiness from allspice and cinnamon, and a touch of sweetness from brown sugar. Typically, the blend includes powdered habanero or scotch bonnet peppers, which I have left out of my mix in favor of a tiny bit of cayenne. I like my food to have a lot of flavor, but I don't want it to make my nose run and my tongue burn!
Why this is the best homemade Jamaican Jerk Seasoning Recipe
It's made of simple herbs and spices that you already have in your pantry. There is nothing weird or exotic here.
It takes less than five minutes to throw together. Easy peasy!
It has a lot of ingredients - twelve altogether! I know that sounds like a lot, but the combination of all the spices together makes this seasoning mix out of this world good. It's complex and rich and spicy and SO GOOD. You can't get this depth of flavor from a recipe with only four or five ingredients. It's just not possible.
You control the spice! Jamaican Jerk is notoriously burn-off-your-tastebuds spicy, but when you make the blend yourself, you can make it flavorful without a lot of heat. Or pile on the hot peppers and make it as spicy as you can stand. It's totally up to you!
You can use this spice blend in the same way you'd use any seasonings. Sprinkle a tablespoon or two on a pound of ground beef while you're browning it. Sprinkle it over a dish of steamed vegetables or some seared seafood or a bowl of white or brown rice. Mix it with sour cream and use that to top a baked potato. Use it to make these Jamaican Jerk Chicken Sheet Pan Nachos.
You can also add 2-3 tablespoons of this spice blend to a scant half cup of olive oil to make a marinade that is out of this world good!
This recipe is easier, healthier, and cheaper than a store bought Jamaican Jerk Spice Blend. Making your own Jerk Seasoning gives you complete control over its flavor, eliminates MSG, anti-caking agents, and other additives. Plus, it tastes so much better than store-bought.  It can also be less expensive.
What you'll need to make this Jamaican Jerk Seasoning Blend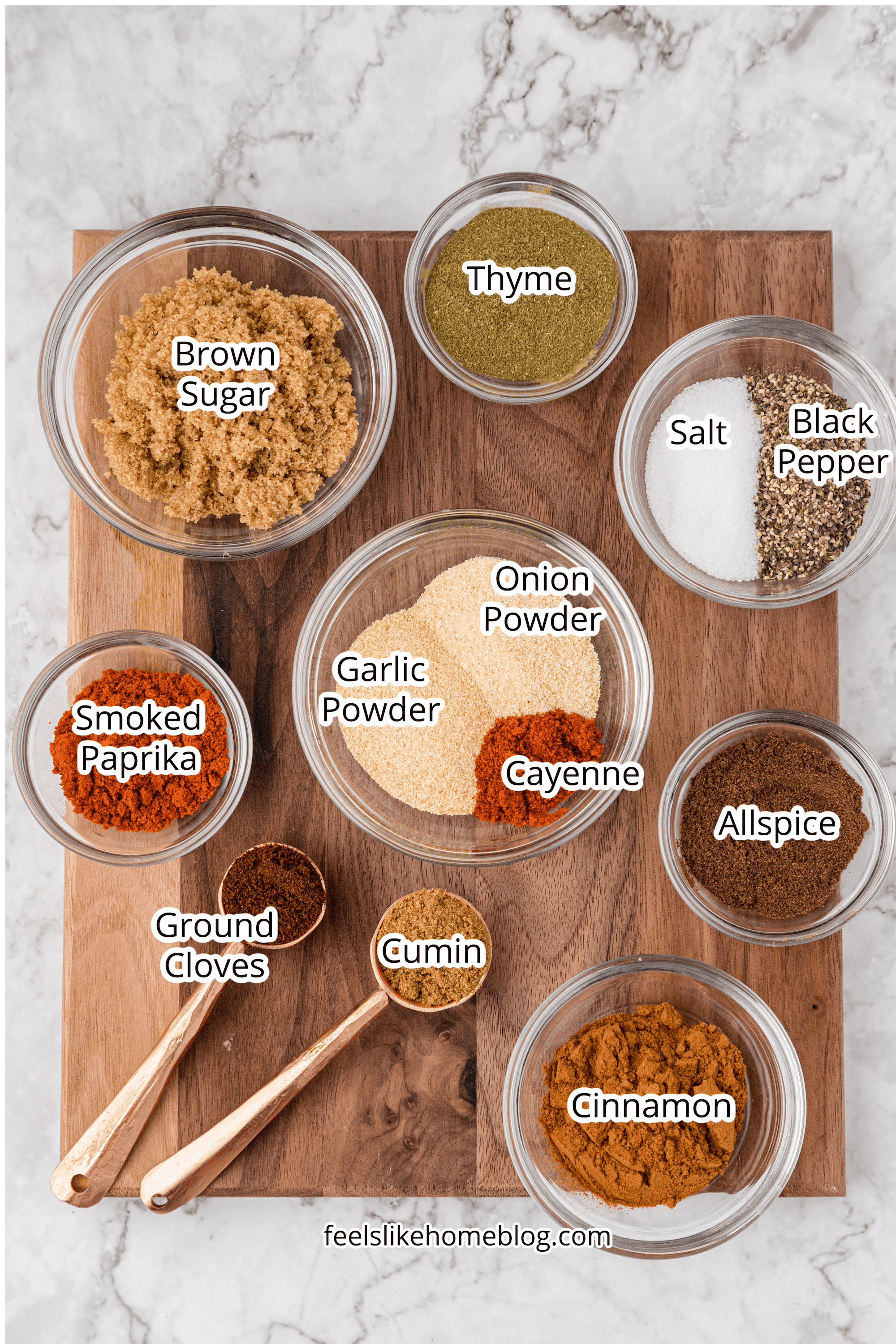 See printable recipe card at the bottom of the page for measurements and nutritional information.
Brown sugar
Ground allspice
Salt
Black pepper
Cayenne pepper - Feel free to use more or less, according to your heat tolerance. Jamaican Jerk Seasoning is traditionally on the hotter side, but since you're making it at home, you can make it as spicy or as mild as you prefer.
Onion powder
Smoked paprika - You can substitute sweet paprika (which is normally just labeled "paprika" as opposed to "smoked paprika"). It will change the flavor but will still taste good.
How to make Jamaican Jerk Seasoning
Measure all ingredients into a small bowl.

Mix well with a fork or mini whisk.

Store jerk seasoning mix in an airtight spice jar away from heat, moisture, and light.

Can I use less salt in this Jamaican Jerk Seasoning Blend?
Yes, you can use less salt or even leave the salt out altogether. It enhances the flavors but is not absolutely essential.
How do you use this Jamaican Jerk Spice Blend?
If you're using it dry, drizzle your meat with olive oil then rub 1-2 tablespoons of the jerk seasoning into each 1 pound of meat, poultry, or fish.
For ground beef or turkey, sprinkle 1-2 tablespoons per pound over the uncooked meat prior to browning.
You can also sprinkle it over vegetables, beans, or rice (to your flavor preference) or mix it with sour cream for a topping for baked potatoes or nachos. Taste often and use your tongue as your guide on how much to use.
How can I use this spice blend to make a Jamaican Jerk marinade?
It's easy to make a Jamaican Jerk Marinade. Simply whisk together 2 tablespoons Jerk Seasoning, 2 tablespoons olive oil, the zest and juice of one lime, and 1 tablespoon reduced sodium soy sauce. Use for 1 to 1 ½ pounds of protein. Marinating time depends on the protein, 30 minutes or less for seafood, longer for poultry or red meat.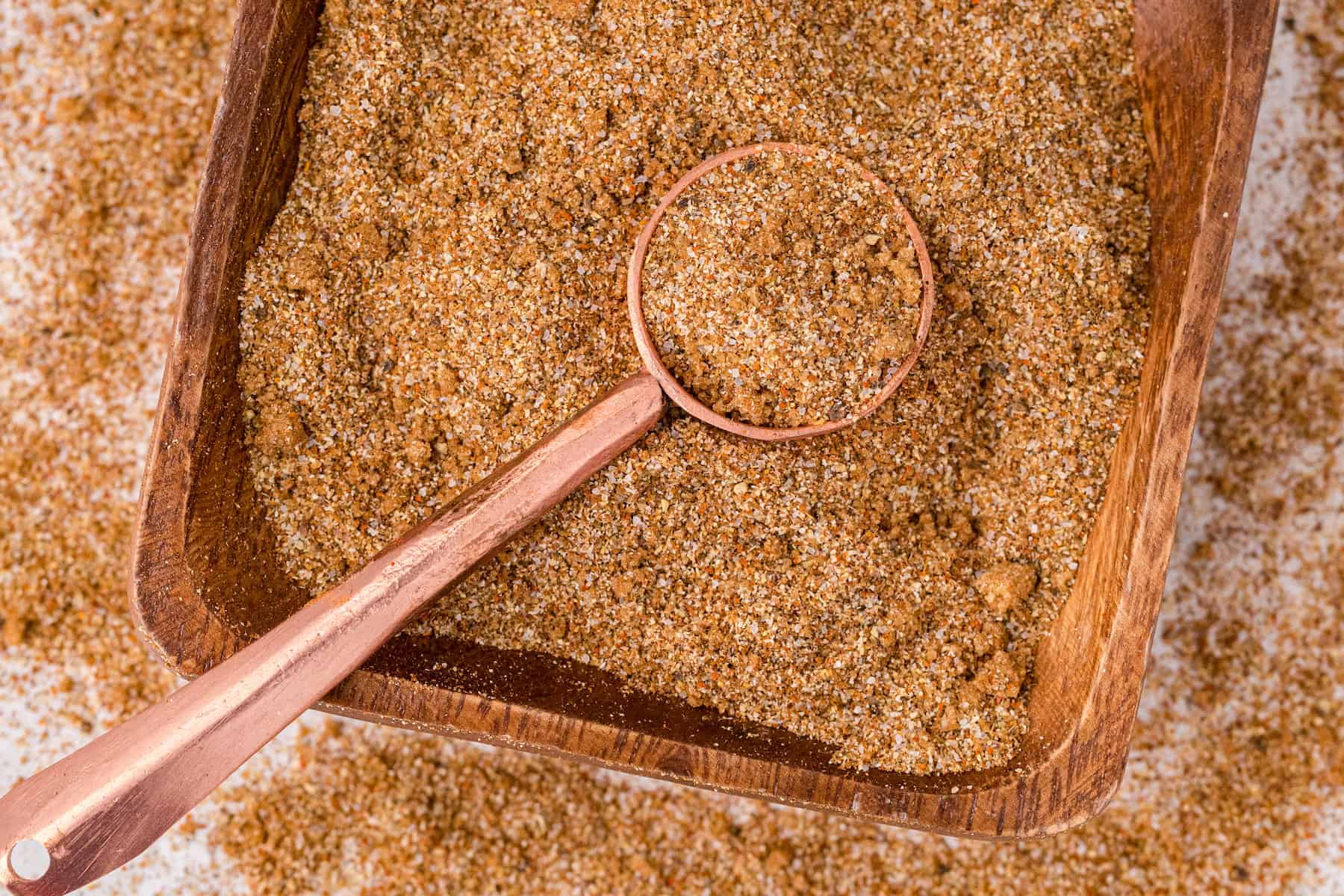 Is this Jamaican Jerk Seasoning Blend gluten-free?
Mine is, but be sure to check the labels if you have an allergy. Not all brands are the same.
Is this Jamaican Jerk Spice Blend vegan?
Yes, this spice blend is vegan.
How long will this Jamaican Jerk Seasoning Blend last?
If stored in a dry, dark place like a cupboard away from the stove and sink, this seasoning blend should last a year or so (assuming the spices you used to make it were fresh). You will know when it is starting to lose its flavor because the spices will look drab and dull. If their color has faded, their flavor has probably faded too.
Try these other homemade seasoning blends:
Recipe