Pineapple upside down cake with a delicious caramelized pineapple and cherry topping. This classic dessert is so soft and moist, filled with the perfect amount of pineapple flavor.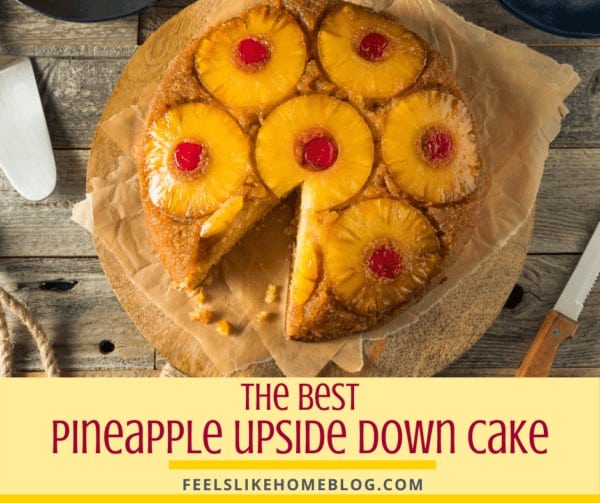 I've been making this pineapple upside down recipe for at least ten years. It started with a recipe from The Pampered Chef, and it has morphed into this over the years.
I made it on Easter, when I found inspiration in a box of yellow cake mix and didn't have enough eggs, and I also made it for Grace's 5th birthday. It was a special request from the birthday girl.
Suffice it to say that I've made it many times, and it has never turned out badly. It comes out soft and moist every single time, and the topping is rich and sweet and drips down over the cake when I turn it.
My mouth is watering even to think about it. Yum!
How to Make the Best Pineapple Upside Down Cake You'll Ever Eat
Preheat the oven to 350º.
Prepare the syrup. In a 12" skillet, melt the butter and brown sugar over low heat, stirring to combine well. Remove from heat.
Prepare the topping. Drain a can of pineapple rings, reserving the juice for later. Arrange the rings over the bottom of the skillet so that they are touching and cover the entire skillet. Place a maraschino cherry in the center of each ring and then sprinkle the whole thing with chopped pecans.
Prepare the batter. Pour the reserved pineapple juice into a measuring cup and add water to make a total of 1 ⅓ cups. Whisk the cake mix, pineapple juice, eggs, and oil in a large mixing bowl until the batter is smooth and well mixed. Carefully pour over the topping in the skillet.
Bake the cake. Put the entire skillet into the oven and bake for 40 minutes at 350º, until a knife in the center comes out clean.
Cool the cake. You are going to flip this cake over onto a platter to make it an upside down cake, but before you do that, you need to let the cake rest. If you don't wait, the entire cake will likely crumble because it is too hot to manipulate. Wait at least 10 minutes with the skillet on the counter or (cool) stovetop.
Flip the cake. When the cake has cooled slightly, place a platter or large plate over the top of the skillet and hold securely while you flip the skillet upside down. You may have to jiggle it a bit, but the cake should just fall out thanks to all that buttery brown sugar on the top.
You should also check out these amazing recipes while you're here: