Skillet pineapple upside down cake with a delicious caramelized pineapple and cherry topping. This classic dessert is so soft and moist, filled with the perfect amount of pineapple flavor.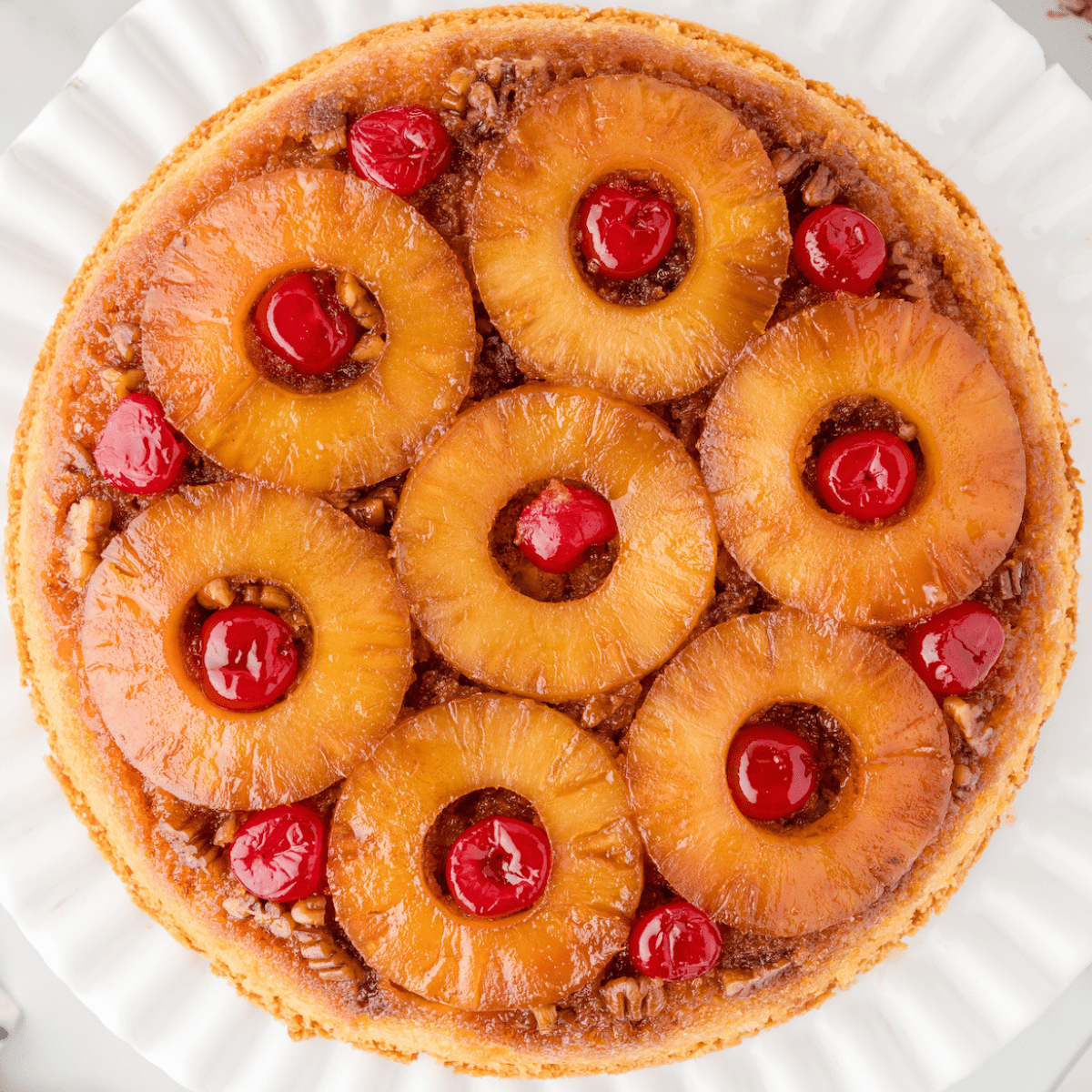 I've been making this skillet pineapple upside down recipe for at least ten years. It started with a recipe from The Pampered Chef, and it has morphed into this over the years.
I made it on Easter, when I found inspiration in a box of yellow cake mix and didn't have enough eggs, and I also made it for Grace's 5th birthday. It was a special request from the birthday girl.
Suffice it to say that I've made it many times, and it has never turned out badly. It comes out soft and moist every single time, and the topping is rich and sweet and drips down over the cake when I turn it.
My mouth is watering even to think about it. Yum!
Why is it called an upside down cake?
The name comes from the way you prepare the cake: upside down! First you make a sweet syrup from butter and brown sugar, then you add the pineapple, cherries, and pecans, then you end with the batter on top.
Then after the cake bakes, you turn the whole thing upside down!
The beauty of this particular recipe is that everything goes into one bowl and is mixed up. There's no sifting, whisking, creaming, folding, or incorporating required. Mix it up with an electric mixer or a whisk and you're done.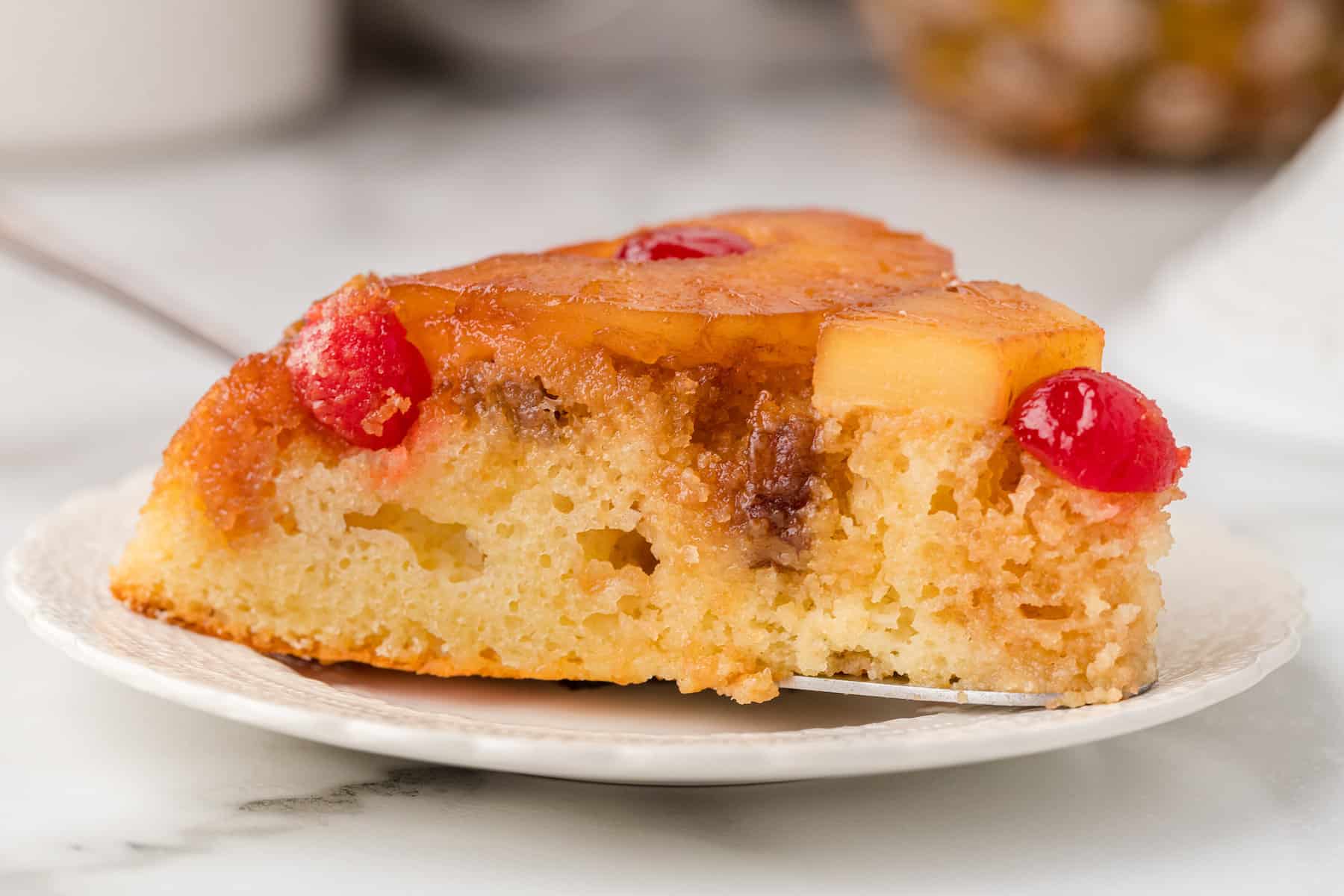 What you'll need to make the best pineapple upside down cake in a skillet
EQUIPMENT
12-inch skillet - Obviously, if you're going to make a skillet cake, you need a large, oven-safe skillet. I prefer stainless steel, but you could also use a cast iron skillet if you have a big one. If you don't have a 12-inch skillet, you could make pineapple upside down cake in a 9-inch skillet, but you'll have to divide the batter and make 2 separate cakes.
Electric mixer - This makes easy work of the cake batter, but if you don't have one, you can use a whisk.
INGREDIENTS
See printable recipe card at the bottom of the page for all measurements.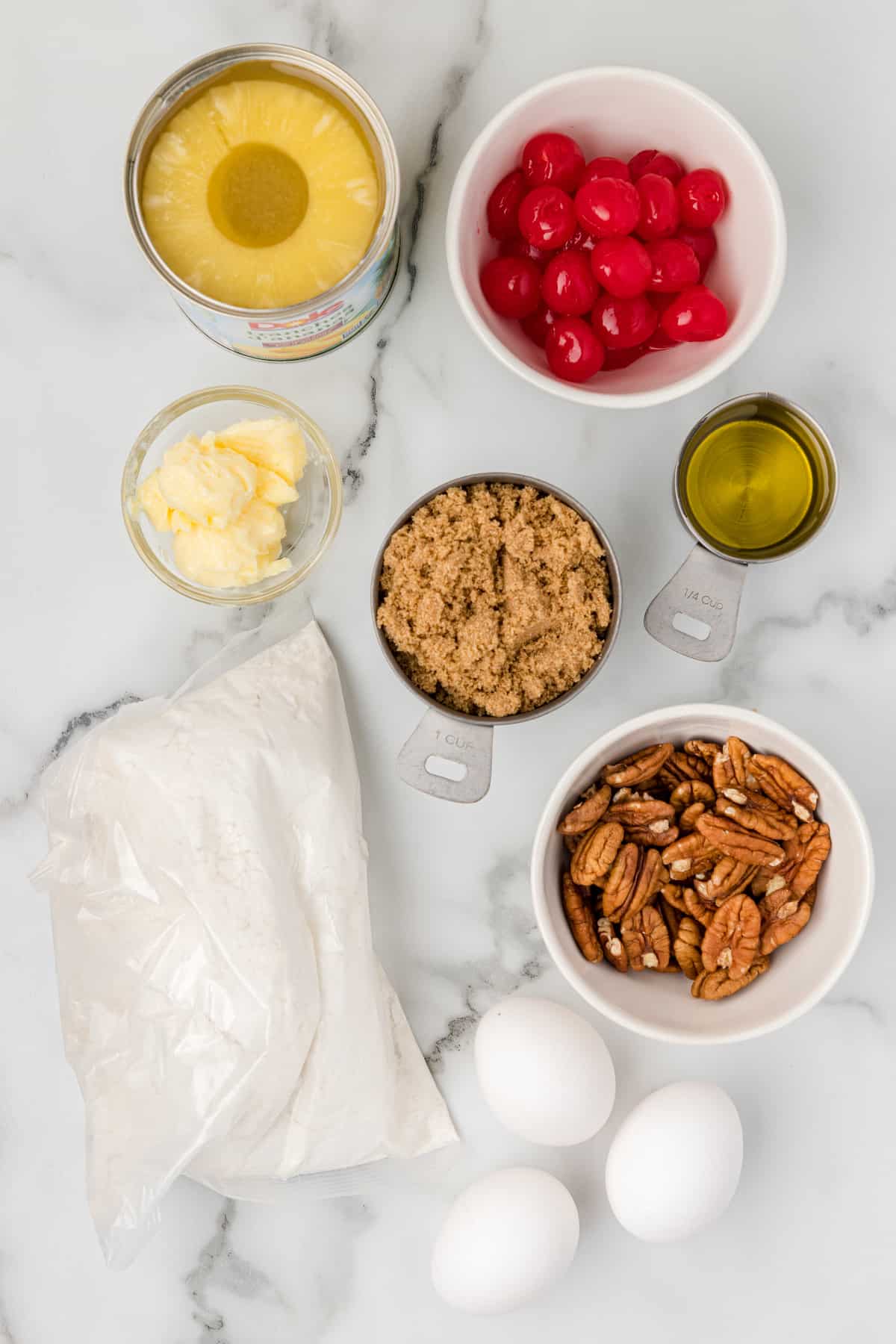 Unsalted butter - You really could use salted or unsalted butter, but generally you want to use unsalted in baking. The cake mix will already have a tiny amount of salt added.
Packed brown sugar - I typically use light brown sugar, but light or dark doesn't really matter.
Pineapple slices - Don't drain the pineapple! You'll need the juice in the recipe. Also, you could use pineapple chunks or even tidbits if you really wanted to. The finished cake will look different but will taste the same.
Drained maraschino cherries - These are like little flavor bombs on the finished cake. You could leave them out if you had to, but why?
Chopped pecans - My kids have had braces for almost 6 years, so we've been leaving the pecans out of our cakes, but they add a little something that is really nice.
Water - You'll need just enough water to bring the pineapple juice (from the can of rings above) to 1⅓ cups.
Yellow cake mix - This is the secret ingredient. Just think of all the measuring and mixing you won't have to do! No need for vanilla, baking powder, flour, sugar, etc. Just open a box of cake mix and be done.
Eggs
Vegetable oil
How to Make the Best Skillet Pineapple Upside Down Cake You'll Ever Eat
Preheat the oven to 350º.
Prepare the syrup. In a 12" skillet, melt the butter over low heat.

Turn the burner up to medium heat and add brown sugar, stirring to combine well. Remove skillet from heat.

Prepare the topping. Drain a can of pineapple rings, reserving the juice for later. Arrange the rings over the bottom of the skillet so that they are touching and cover the entire skillet in a single layer. Place a maraschino cherry in the center of each ring and then sprinkle the whole thing with chopped pecans.

Prepare the batter. Pour the reserved pineapple juice into a measuring cup and add water to make a total of 1⅓ cups. Add the cake mix, pineapple juice, eggs, and oil to a large mixing bowl.

Use an electric mixer on low speed to beat the cake batter until it is smooth and well mixed.

Carefully pour the batter over the topping in the skillet.

Bake the cake. Put the entire pan into the oven and bake for 40 minutes at 350º, until a toothpick or knife in the center comes out clean.

Cool the cake. You are going to flip this cake over onto a platter to make it an upside down cake, but before you do that, you need to let the cake rest. If you don't wait, the entire cake will likely crumble because it is too hot to manipulate. Wait at least 10 minutes with the skillet on a wire rack on the counter or (cool) stovetop.

Flip the cake. When the cake has cooled slightly, place a platter or large plate over the top of the skillet and hold securely while you invert the skillet upside down. You may have to jiggle it a bit, but the cake should just fall out thanks to all that buttery brown sugar on the top.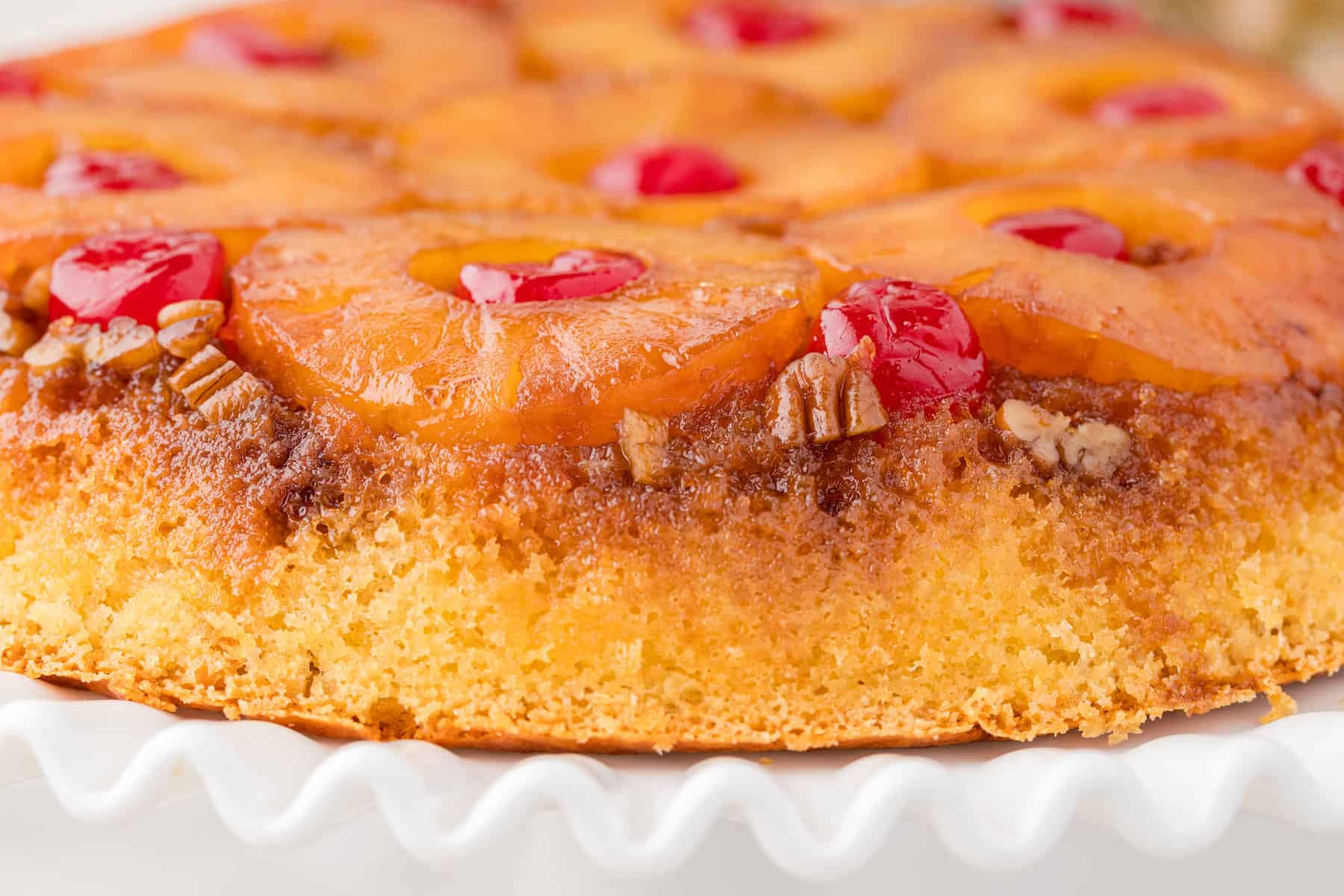 Can I make an upside down cake in a 9x13 pan?
Yes, the instructions are basically the same. For a 13″ x 9″ pan, bake the for 35-40 minutes. You can do the same thing with two 9-inch round cake pans.
If using a cake pan instead of a skillet, you may need to loosen the cake from the sides of the pan with a knife or spatula before inverting.
Can I use pineapple chunks or tidbits instead of slices?
Of course. Use whatever pineapple you want. If you're using chunks, simply arrange them over the butter/brown sugar mixture however you want and sprinkle the cherries around on top.
Tidbits are like chunks only smaller. They work too.
How do you store pineapple upside down cake?
Because this cake is so moist, I like to wrap it in plastic wrap and keep it in the refrigerator. It will stay fresh for about 3 days. I like to place mine in this cake carrier for an extra layer of protection. It makes life so much easier!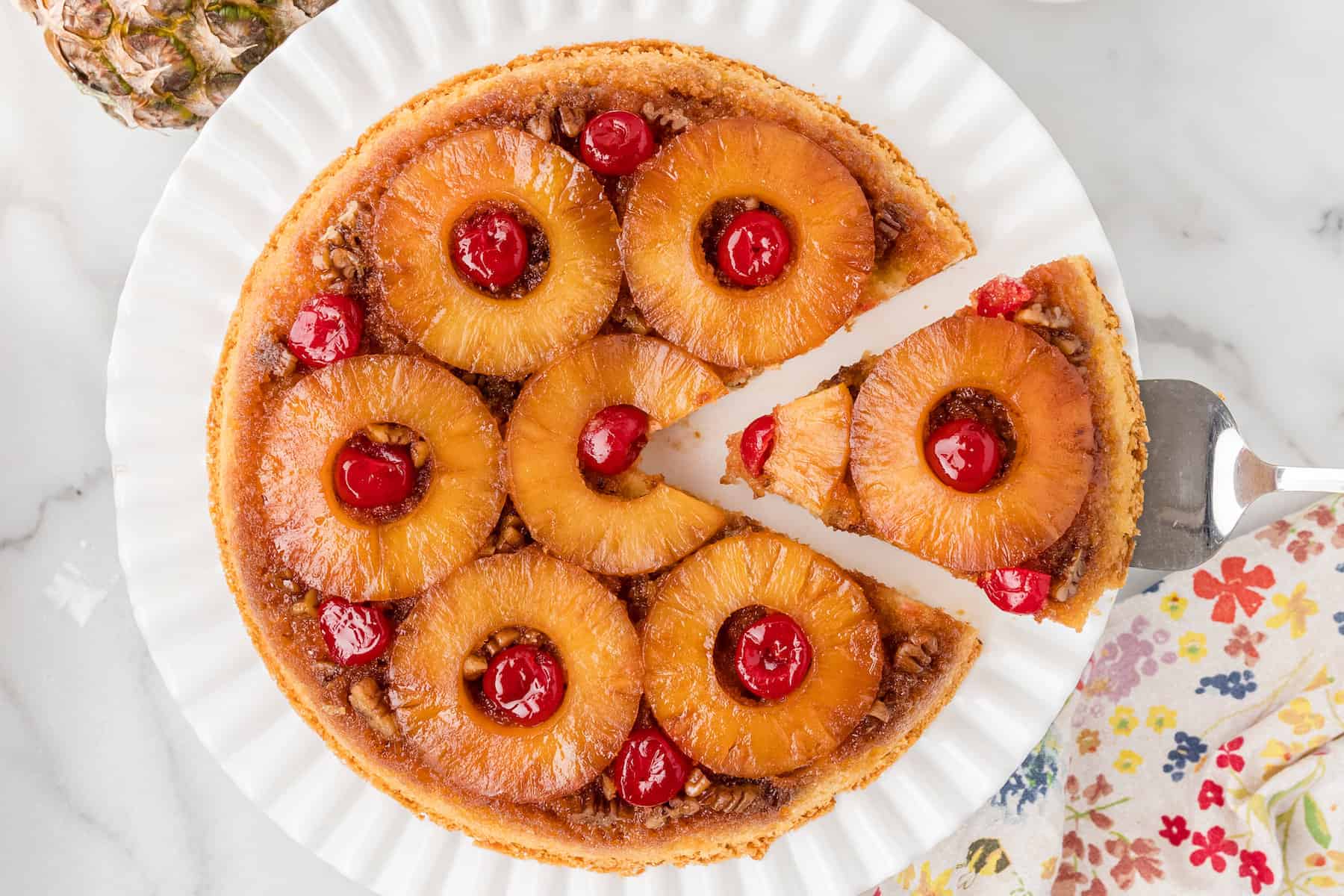 Can you freeze pineapple upside down cake?
You can freeze this cake! Allow it to cool completely to room temperature, and then place on a baking sheet and freeze for about 45 minutes. Remove from the freezer and wrap in plastic wrap followed by aluminum foil.
You can keep the cake frozen for up to 3 months. Thaw in the fridge overnight before serving.
Check out these amazing dessert recipes while you're here:
Recipe