Orange Creamsicle Cake is an easy and refreshing poke cake recipe with orange Jello, orange soda, and vanilla pudding mix. Light and citrusy, this doctored cake mix with orange vanilla frosting is the perfect Dreamsicle cake for summer.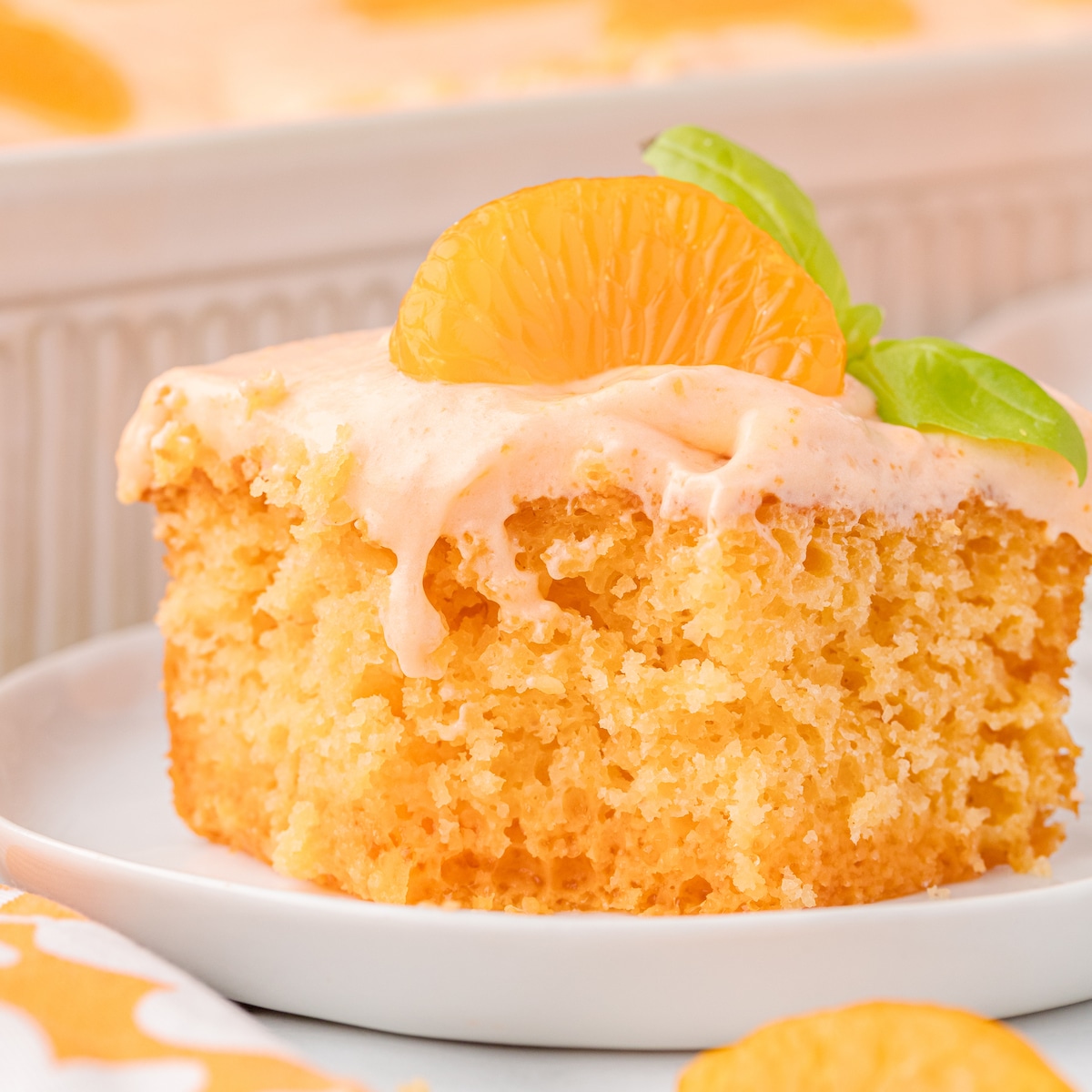 I had this cake in a restaurant once, and I vowed to figure it out.
Figure it out, I did.
I love orange flavors, and this cake is so easy and bursting with bright, light orange and creamy vanilla. You can't go wrong.
Why this is the best orange creamsicle cake recipe
This recipe is simple to put together. It does have a lot of steps, but there are no difficult processes. You basically just mix some things together and pour them into the pan.
This cake has orange soda mixed into the cake batter which gives the cake a bright orange taste that most orange poke cakes are lacking.
The secret to this cake's moist texture is the jello mixture. You're going to poke holes in the baked cake and pour liquid jello right into the holes. It's so tasty and results in a burst of orange in every bite.
What you'll need to make an orange dreamsicle cake
EQUIPMENT
Large bowl - You'll need this to mix the cake mix with orange soda and eggs.
Electric mixer - I prefer to use an electric mixer for the cake batter, but you can do it with a sturdy whisk if that's all you have.
Whisk - Unnecessary if you use an electric mixer.
Silicone spatula - You'll need this to fold in the whipped topping for the cake's frosting.
Deep 9x13 pan - You'll bake the cake in a 9x13 pan.
INGREDIENTS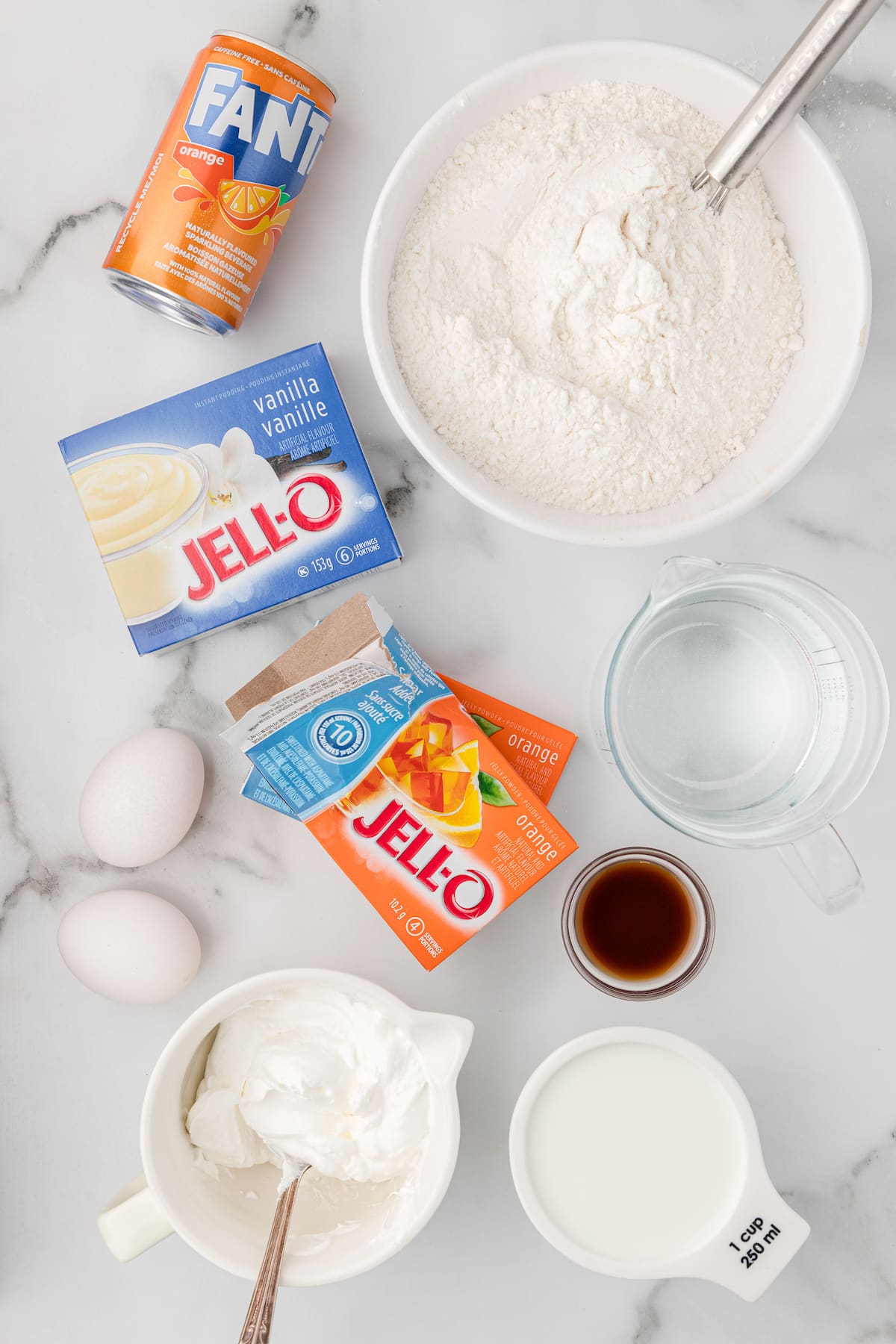 See printable recipe card below for all measurements and nutritional information.
Large eggs
Yellow boxed cake mix - I really like the way a poke cake looks when you use a white cake mix, but I prefer the flavor of a yellow cake mix. Since you're mixing orange soda with the cake mix, you're not going to see the orange poke design anyway, so you might as well use the better tasting cake mix. You can also use a vanilla cake mix or even orange cake mix if you can find it..
Orange soda - This gives the cake such a great flavor! Plus, there's no need for orange food coloring because the soda is already bright orange.
Orange gelatin - You're going to mix up a batch of Jello and pour it over the hot cake so that it soaks in and makes the cake so moist and delicious. But then! You're also going to use a box of Jello in the frosting which makes it so decadent and delicious.
Instant vanilla pudding mix - No Creamsicle would be complete without a vanilla center, right? So we are going to put some vanilla pudding in the frosting for that extra creaminess and the vanilla flavor that makes the cake pop.
Milk - For the frosting. This has to be dairy milk or the frosting will be liquid.
Water - This is to make the jello.
Vanilla bean paste - Or use an equal amount of vanilla extract. I prefer vanilla bean paste because it's made with real, crushed up vanilla beans, and it has. a richer and bolder vanilla flavor. Vanilla extract is an alcohol-based liquid in which vanilla beans have been soaked and then removed. Vanilla bean paste does have a bit of alcohol in it, but when you use it in uncooked dishes like the frosting here, you don't get any of the bitter alcohol flavor that you can if you're heavy handed with vanilla extract.
Whipped topping - You need to use the fake stuff from the freezer section. Whipped cream from a can won't work here. I personally use the generic Cool Whip.
Mandarin orange slices - These are optional, for garnish.
How to make the best easy orange creamsicle cake
Preheat oven to 350ºF.
Add eggs to dry cake mix in a large mixing bowl.

Add orange soda to the cake mixture.

Mix well.

Prepare 9X13 cake pan by spraying with non-stick spray or rubbing pan with butter.
Pour batter into pan.

Bake 20-25 minutes or until a toothpick in the center comes out clean.

When cake is done, poke holes in the cake with fork or wooden skewer. No need to wait for the cake to cool.

Dissolve 1 package of orange jello in 1 cup of hot water. Add 1 cup of cold water, stir.

Pour entire jello mixture over the cake. Refrigerate poked cake for at least 2 hours.

Mix vanilla instant pudding mix and the other pack of dry jello together.

Add milk and vanilla bean paste.

Mix well.

Fold in thawed whipped topping.

Use this mixture to frost the cake.

If desired, decorate the top of the cake with a grid of mandarin orange slices.

Return to the refrigerator until ready to serve.
Orange creamsicle poke cake variations
If you want that traditional stripey poke cake appearance, you can leave out the orange soda from the cake batter and use a white cake mix. If you're doing it this way, I'd suggest using the end of a wooden spoon to make the holes rather than a fork. Make the holes further apart. Your cake isn't going to taste as good because the cake itself won't have an orange flavor. But it will look more impressive. I suppose you could use some orange extract in the white cake, and that would give it some flavor without coloring the cake. That's something to experiment with if you're so inclined.
You can use fresh orange juice or even orange juice from a carton in place of the orange soda.
You can add orange zest to any and all parts of this recipe. It's great in the cake batter and it's also great in the frosting.
If you want to exaggerate the creamsicle flavor, serve this orange cake with a scoop of vanilla ice cream.
I've never done it, but I think you could make this a layer cake. Bake the batter in 9-inch round cake pans lined with parchment paper. Poke the cake as suggested and refrigerate the cake layers for 2 hours to set the Jello. Remove the layers from the pans, and spread frosting on top of one of the layers. Refrigerate for an hour to set the frosting before adding the second layer on top. Once the frosting is firm, add the second layer on top and frost the whole thing.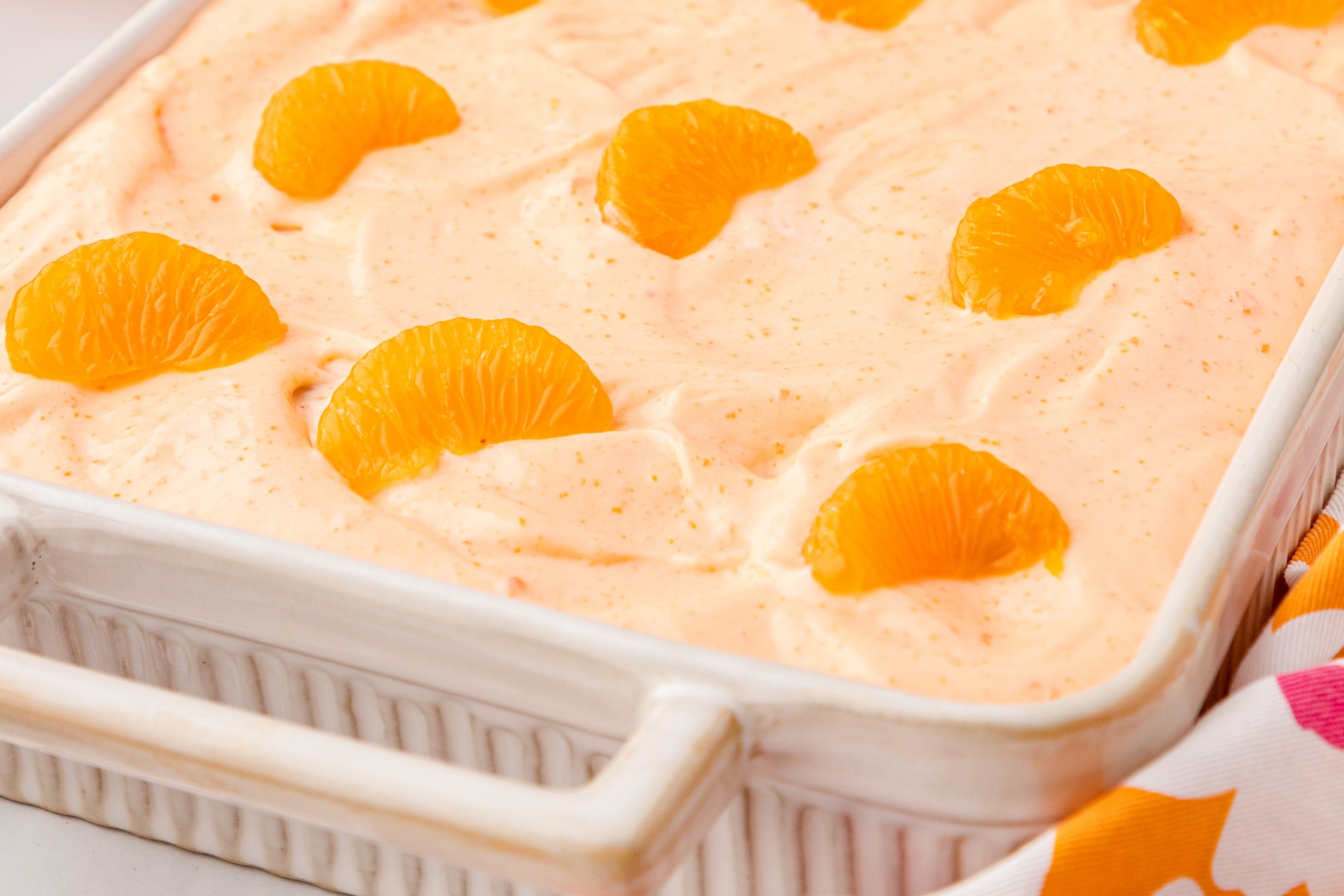 Can an orange creamsicle cake be made gluten-free?
Yes. Just use a gluten-free cake mix. Everything else should already be gluten-free. That said, you should always check the labels to make sure.
Can I lighten an orange creamsicle cake?
Yes. Use sugar-free jello, sugar-free fat-free instant pudding mix, and light Cool Whip.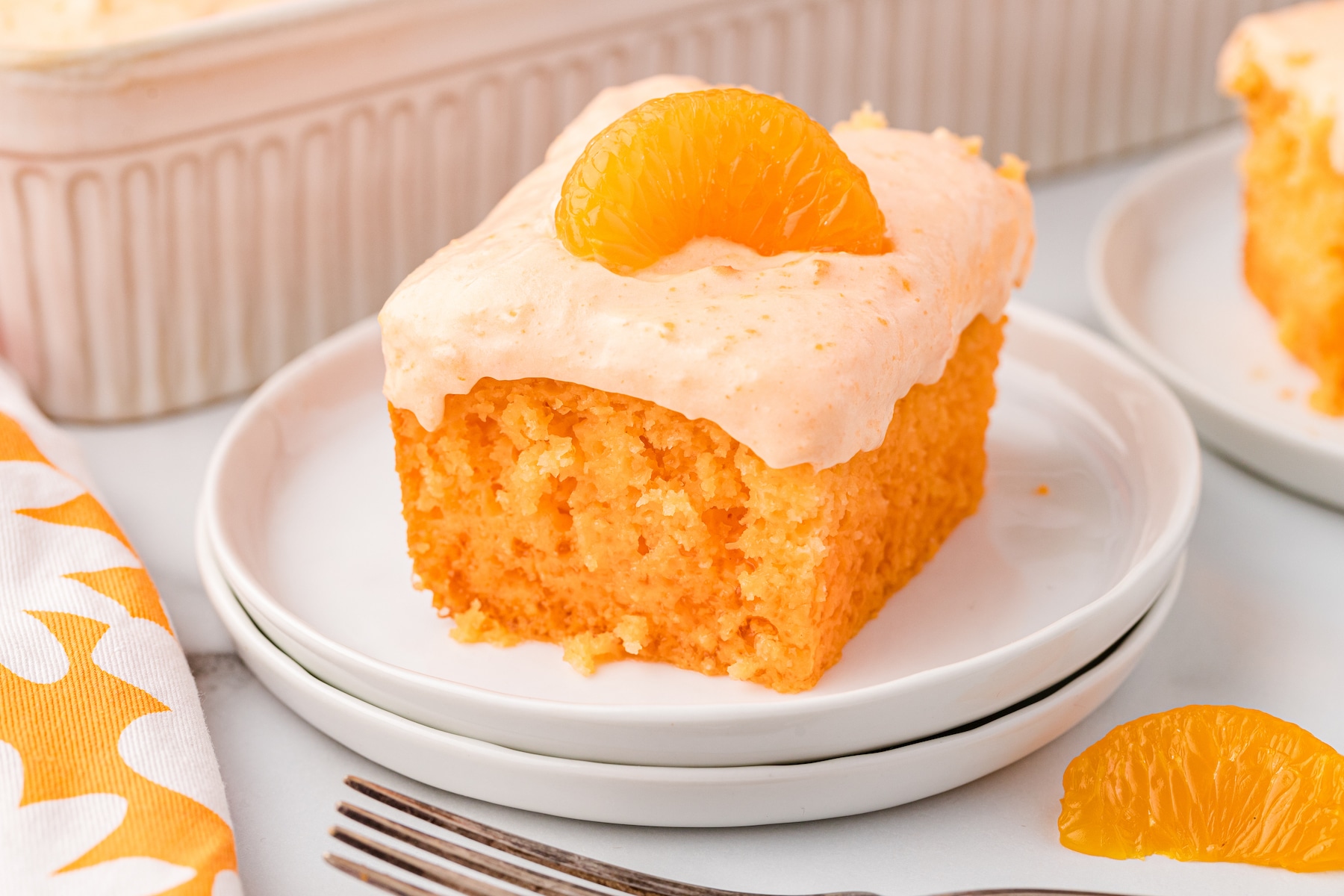 Storing orange poke cake
Because of the jello in the cake and jello and pudding in the frosting, this cake must be stored in the refrigerator. Leftovers will be good for about a week. Keep the cake wrapped tightly with plastic wrap.
I don't recommend freezing this cake.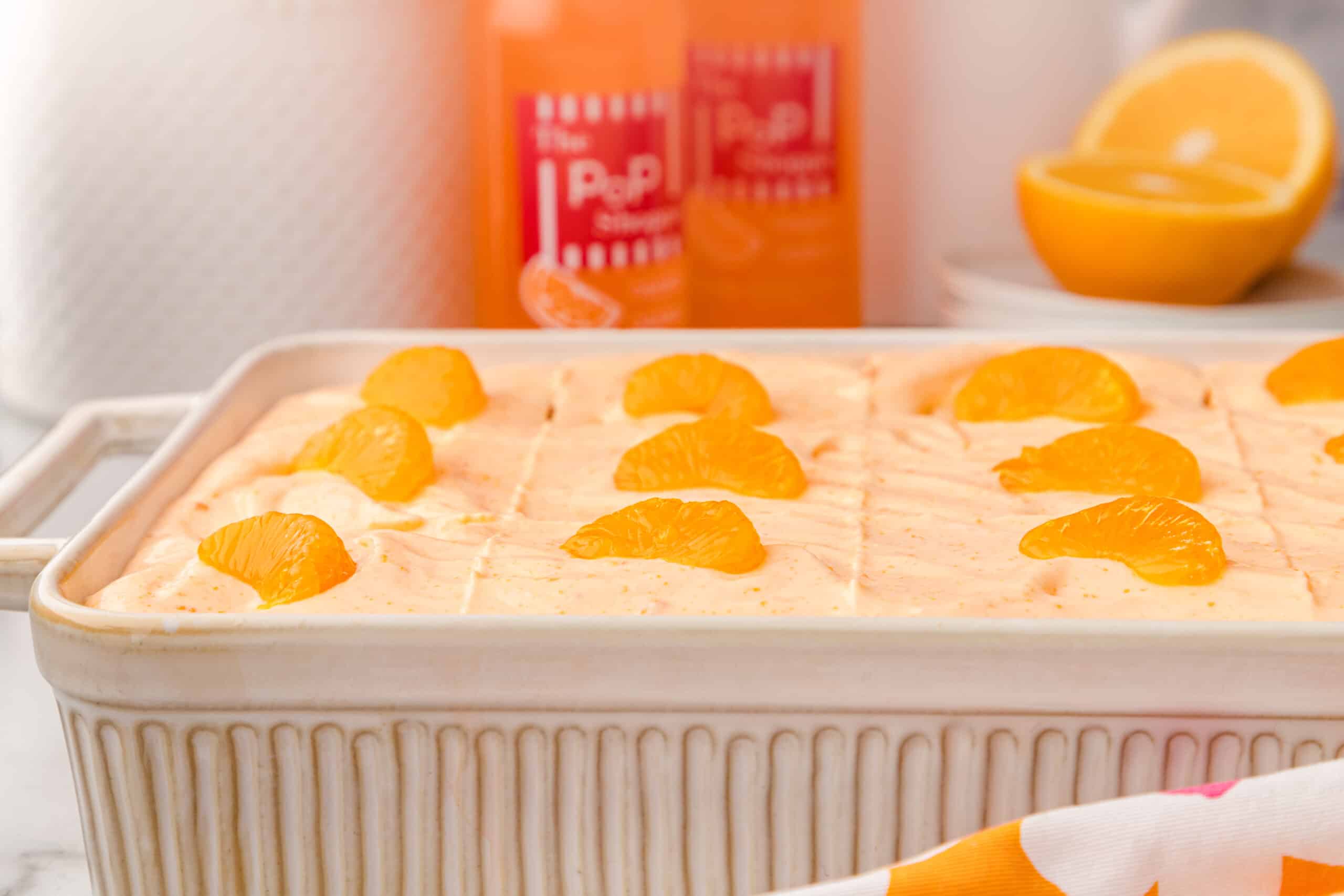 Other poke cake flavors to try
Creamy lemonade - Use lemon jello and lemon-lime soda with lemon or vanilla instant pudding.
Strawberries and cream - Use strawberry jello and strawberry soda with vanilla instant pudding. Top with fresh strawberry slices.
Cherries and cream - Use cherry jello and black cherry soda with vanilla instant pudding.
Peaches and cream - Use peach jello with peach iced tea in place of the soda and then vanilla instant pudding.
Check out these other delicious cake recipes
Recipe