How to make the best easy caramel apple upside down cake. This simple recipe uses a box cake mix with apples, cinnamon, butter, and brown sugar to make a gooey, rich, moist dessert.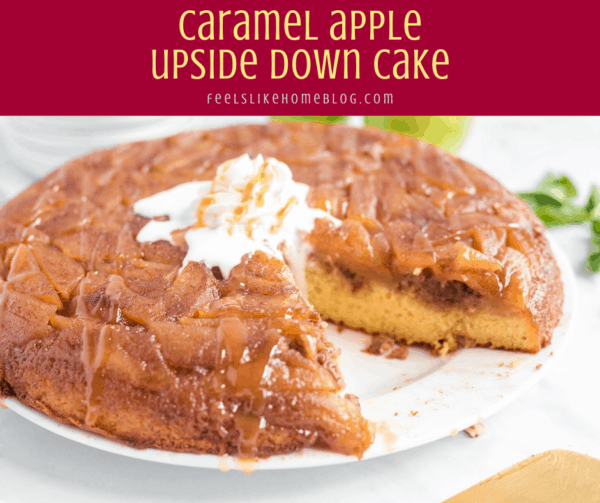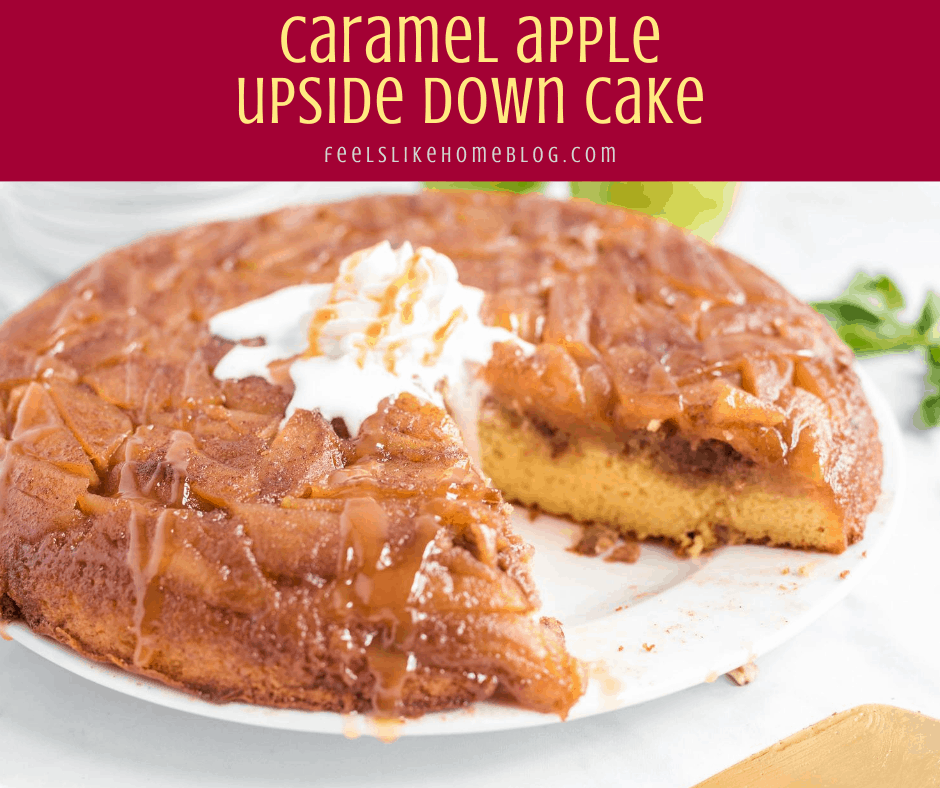 Recently, I was hungry for a pineapple upside down cake and bought the ingredients to make one. Allie, always my little baker, said to me after we put it in the oven, "You know, I don't like pineapple."
It was like she punched me. I couldn't believe she didn't like pineapple, and I was sorry that she went to all the work to make the cake and wouldn't get any of the reward of eating it.
Fortunately for both of us, she tried a piece when it came out of the oven, and she said, "Can we put pineapple on every cake we make? I love it!"
I was thinking of this exchange, and this cake, when I made the one below.
Pineapple upside down cake is still my personal favorite, but Joe loves any dessert with apples, especially our favorite apple crisp and apple pie. His mother passed away very recently, and I was wanting to do something extra nice for him, so I came up with this apple pie upside down cake.
I used Granny Smith apples for this cake because I think they're the best to bake with. They are firm apples and tart which makes them cook up sweet and juicy. I don't know why, but anytime you bake a tart fruit, it comes out sweet and nice. Sweeter apples don't cook up as well. Don't ask me questions about this. It's just the way it is.
If you're at the farmer's market and looking at apples, feel free to use any that are labeled for baking. Farmers know more than I do about apples.
How to make the best caramel apple upside down cake
Preheat the oven to 350º.

Peel, core, and slice the apples into ½" slices or rings.
Melt the butter in a 12" oven-safe skillet over medium-high heat. Add brown sugar and cinnamon and stir until a thick paste is formed.

Add the apple slices and stir frequently for about 10 minutes, until the apples have started to soften and caramelize. Sprinkle with chopped pecans (if using) and remove from heat. Set aside.


In a large bowl, whisk together the cake mix, apple juice, eggs, and oil until well blended. Pour over apples in skillet.

Place the entire skillet in the oven and bake for 35-40 minutes or until a cake tester or toothpick comes out clean.
Allow to cool in the skillet for 5 to 10 minutes on a cooling rack or on the stovetop. Holding a large platter or plate tightly over the skillet, turn the cake over. Slight jiggling may be required, but the cake should fall out of the skillet pretty easily.

Try these other delectable dessert recipes:
Recipe