These are the best simple and easy gluten-free stuffed baked apples. This healthy recipe can be made in the oven or microwave in minutes. Stuffed with granola, sugar, and oats. Whole apples soften and make a perfect side dish or dessert. Delicious with ice cream.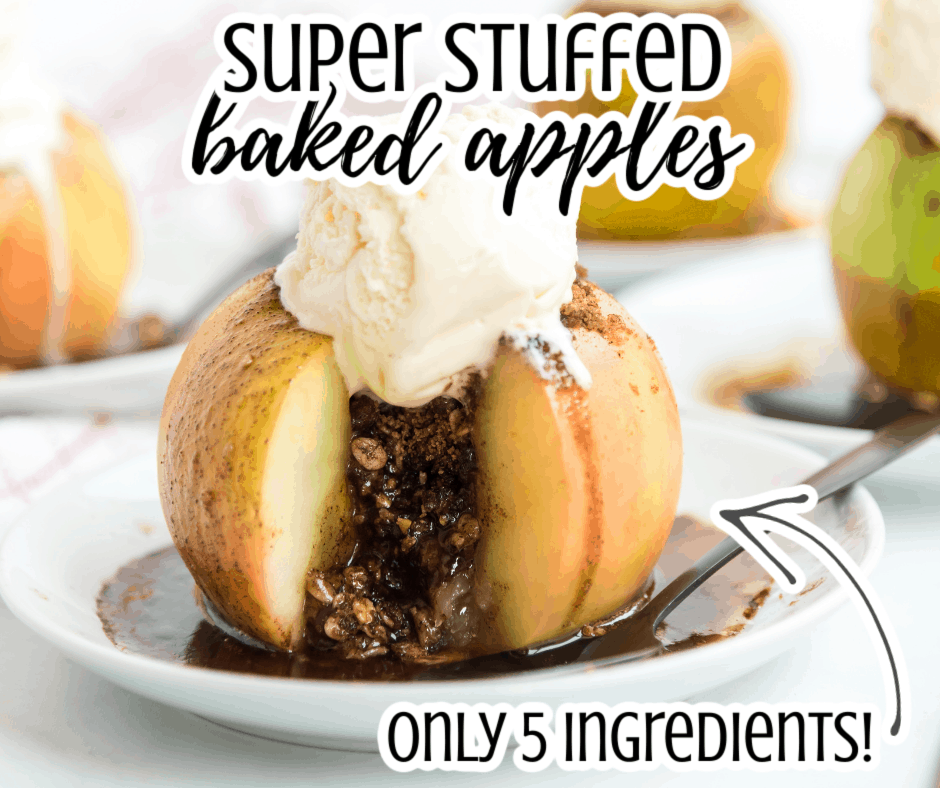 It is apple season! I love apple season.
My favorite variety of apple is honeycrisp, though I really love all the crisp, sweet-tart apples.
We eat dozens of apples during apple season. When they're in season, apples are fresh and juicy and tasty.
I suppose you could say that apples are always juicy and tasty, at least the good ones, but I think they're better during apple season. Everything is better in season.
There are loads of apple orchards in central Pennsylvania, and we buzz from one to another, sampling the fruits of their labor all during the fall.
Most of the time, we use an apple wedger to core and slice the apples. If I'm partaking alone, it ends there or maybe with a smear of peanut butter or Nutella.
If the girls are sharing my apple, I use my favorite peeler to remove the skin and part of the apple flesh. (I remove part of the flesh because I eat their peels, and I like to have a little apple to go with them. Apple skins are good for your colon, and I am not getting any younger.)
Anyway, we eat apples for breakfast, snacks, dinner, side dishes, and many fine desserts.
We eat them for lunch, too, but mainly we cut the apples, wrap them in a rubber band, stick them in zippy bags, and stick them in our lunch bags. (Even homeschoolers have to pack lunches now and then.)
I had a big bag of local apples that needed eating this past weekend, and I remembered my mom making baked apples when I was a little girl, so I thought baked apples would be a nice treat for my girls.
And for me.
I had this big plan to stuff some apples, slightly bake them in the microwave, and serve à la mode. This is what came out of the microwave after the first batch:
Obviously, this batch was not a success.
So I made some adjustments and improved the procedure.
The one thing I always disliked about my mom's baked apples is that part of the core is left in the bottom, so I cut that all out with an apple corer. The juice runs out of the bottom, but then you can spoon it back over the ice cream on top and that just makes it even more delicious.
How to make stuffed baked apples
Core four apples and place them in individual baking dishes.

In a medium bowl, mix together the granola (be careful to get granola that is marked as gluten-free if you need that), cinnamon, and brown sugar. Fill up the center of each apple. Push it down to leave a little well at the top.

Place a cube of butter in the well at the top of each apple.

Spoon a bit more of the mixture over the butter. Smoosh it down and stuff it really full.

Microwave one apple for about a minute, until the flesh is soft.

Top with ice cream and serve hot.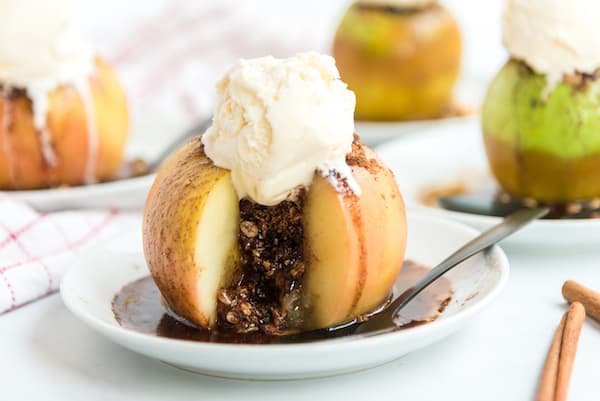 Recipe