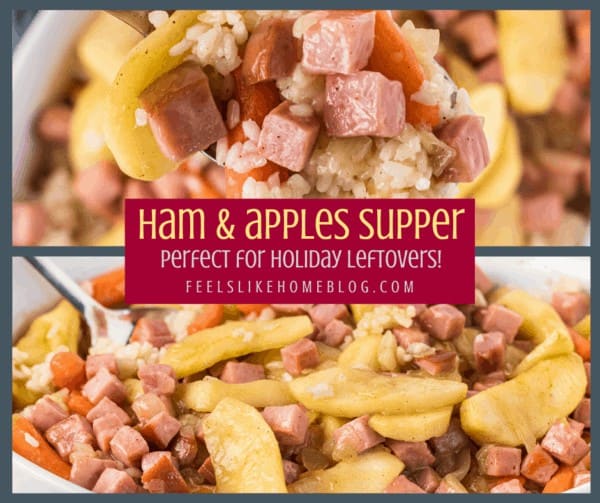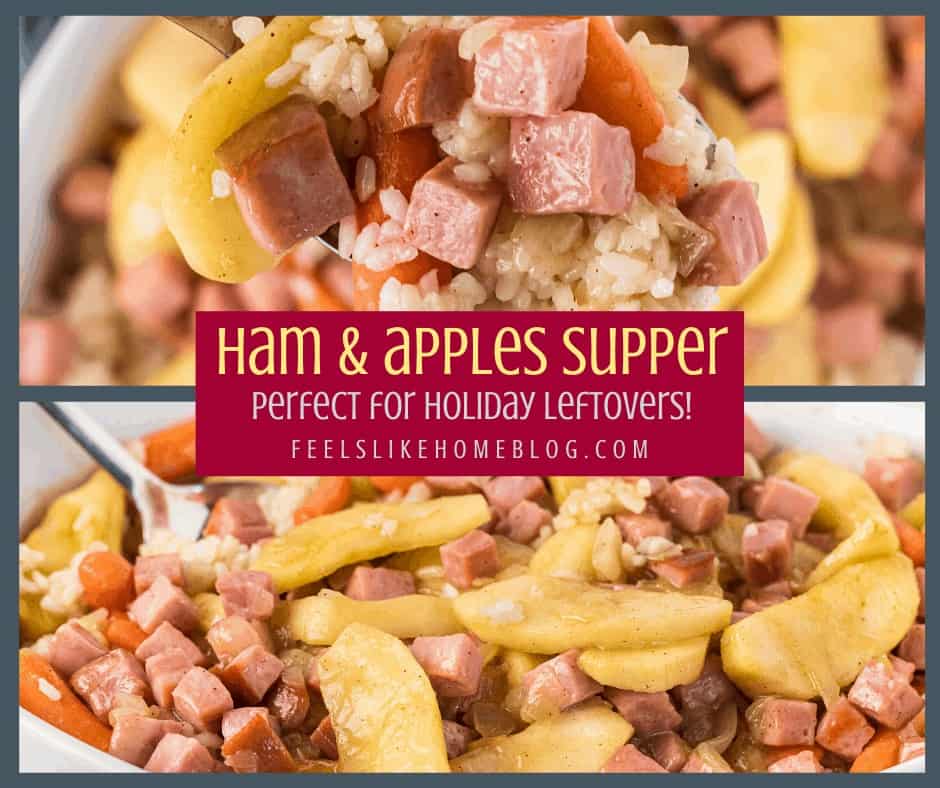 The best simple, quick, and easy, recipe for leftover ham that is healthy! Gluten-free ham and apples with rice and carrots. It's the perfect main dish comfort food for lunch or dinners.
What's the best thing about any big, family meal?
Besides spending time with your nutty family, I mean. (Don't worry. We all have one.)
The best thing isn't having a clean house (for five minutes) or having sleepy, worn out children after an afternoon of togetherness.
They're both nice, but not the best thing.
It's leftovers. I eat leftovers almost every single day for lunch; we intentionally make enough food for two meals each time we cook.
But then after a really big meal, we're still eating leftovers two or three days later.
I sometimes get completely sick of those leftovers.
Unless it's leftover green bean casserole or buffalo chicken dip. I never get sick of those.
Back to my point.
After a recent family dinner, we had a lot of leftover ham. It was a nice ham, but it had gotten a little dry and I was not excited about eating it after the second meal of dry ham and mashed potatoes.
I might have said so, and that led Joe to work some magic.
He found this recipe in the big The Taste of Home Cookbook binder we got for Christmas. We liked this recipe so much that we've had it a few more times with frozen leftover ham. It's awesome.
How to Make Leftover Ham and Apples with Rice and Carrots
This recipe has a lot of steps, but it is easy and comes together quickly.
Prepare the rice. Add the dry rice and carrots to a saucepan. Cook according to rice package directions, using 1 ½ cups apple juice in place of the water.

Heat the ham. Heat a 1 tablespoon of butter in a large skillet over medium-high heat. Sauté onions and ham until ham is lightly browned and onions are translucent. Remove from the skillet and set aside.

Cook the apples. In the same skillet (reduce the heat to medium or medium-low), heat 1 tablespoon of butter. Sauté apples, brown sugar, and cinnamon until the apples are almost tender.

Thicken the sauce. In a small bowl, whisk cornstarch and 1 cup apple juice until it's smooth. Add this to the apples in the skillet. Bring to a boil, cook and stir for 2 minutes or until thickened.

Assemble the dish. Return the ham and onions back to the skillet with the apples and cook until everything is hot and bubbly.

Serve. Serve ham, apples, and onions with sauce over the cooked rice and carrots.

Here are a few other leftover ham recipes that you might enjoy:
Recipe