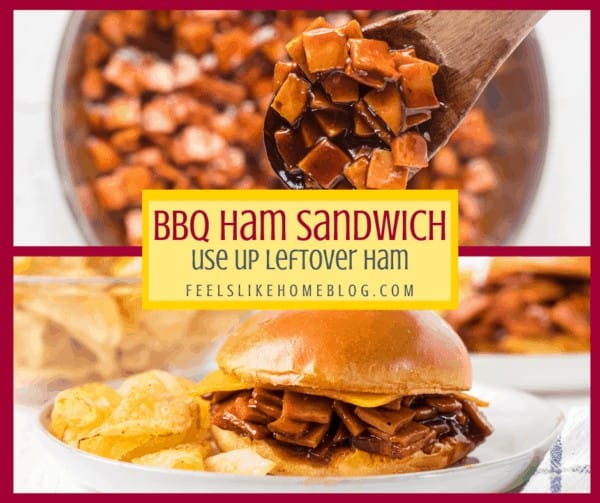 These simple 10 minute BBQ ham sandwiches are a great way to use up leftover ham in a healthy, quick and easy recipe. Or use deli meat for an easy weeknight meal any time!
Many years ago, my mother told me about something she made all the time when I was a little girl - pan fried apples. I don't know what happened, but I have no memory of these apples. It's like my memory is made of cheesecloth and fried apples just dripped away.
I remember telling a pastor at vacation Bible school that my favorite food was pork and sauerkraut, and he laughed.
I remember having cantaloupe and chocolate ice cream for lunch.
I remember sneaking fresh chocolate covered cherries while my mom and Old Grandma made them.
I also remember hot BBQ ham sandwiches. I think hot BBQ ham sandwiches are a local thing to Pittsburgh because Joe had never eaten one until I made them one night for supper. He was impressed. You will be impressed, too.
This recipe is a great way to use up leftover ham after a holiday meal, but you can also use deli ham. If you go that route, get it sliced thick if you can. If you can't, don't worry about it. The sandwiches will be delicious either way.
How to make Pittsburgh style BBQ ham sandwiches
Prepare the ham. You want to make small squares or rectangles, so I guess it's chopped? Cut the ham into thin strips, then cut the strips into little rectangles.

Heat the ham. Heat a big blob of BBQ sauce in large skillet over medium heat. You don't need to put any butter or oil in because the BBQ sauce will prevent the ham from sticking. Toss the chopped ham into the BBQ sauce and add a bunch more sauce on top. Stir the sauce and the ham so that the ham is evenly coated. Continue to heat until the whole thing is a bubbly mess of amazing BBQ aroma.

Toast the buns. While the ham is heating, butter the cut side of the rolls. Toast them on a griddle.
Assemble the BBQ ham sandwiches. Make the sandwiches by topping the toasted bun with a big spoonful or three of the hot BBQ ham, a slice of cheese, and the top bun.

Serve. Serve with potato chips, carrot or cucumber sticks, or a warm bowl of cheesy cauliflower soup or potato chowder.
Try these other leftover ham recipes:
Recipe