This creative and unique apple snack is silly and fun. Kids will love the gummy worm and gobble down the healthy apple with peanut butter as an after-school snack, a bedtime snack, or anytime of the day. It's a new take on an old favorite.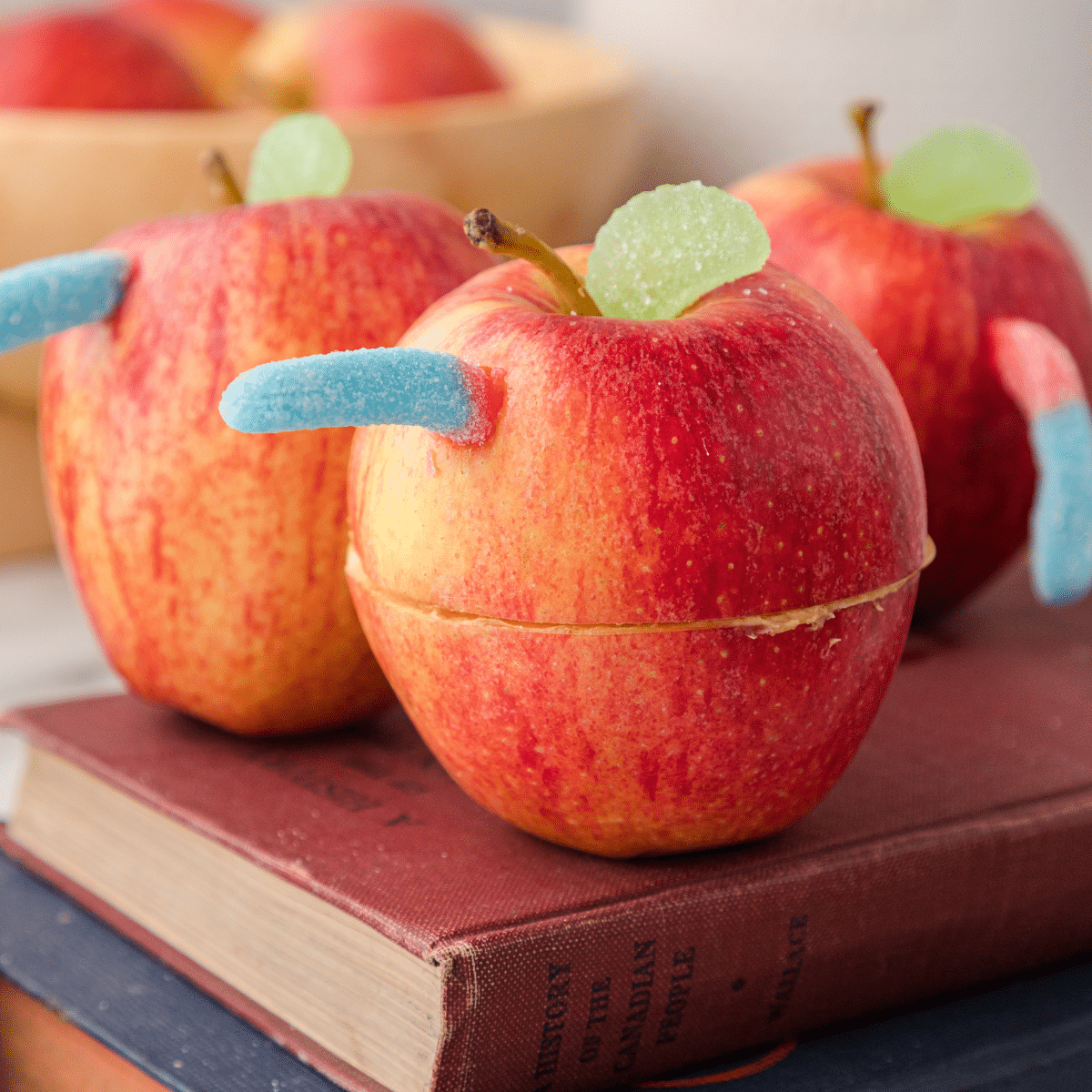 Isn't this an awesome treat? I'd eat this delicious apple snack any day, and I'm not even a kid.
As soon as I saw this easy snack idea, I knew I'd make this fun food for Grace's bedtime snack.
The snack itself is really easy to put together, and it requires minimal ingredients.
The only downside?
When I handed it to 3-year-old Grace, she was – concerned. She didn't know what to think of it. She looked the snack all over, without touching the apple or the worm. I could tell by the look on her face that she was perplexed.
"Is that a silly snack, or what?" I asked, grinning. She looked at me, then back at the apple. "Can you believe I put a gummy worm in your apple? What else is in there?"
With that, she picked it up and opened the two halves, happily telling me that it was filled with peanut butter, marshmallows, and a gummy worm.
In the end, she ate the entire apple, the worm, the marshmallows, and the peanut butter inside.
That's a successful snack in my book.
What you'll need to make a wormy apple snack for kids
EQUIPMENT
Apple corer - I love my apple corer, and I use it frequently. It's basically a long metal tube with a handle at the top, and it allows me to cut out the core of an apple or pear in one smooth motion. If you don't have an apple corer, you will have to cut out the core with a sharp knife.
Sharp knife - This is to cut the apple in half.
Thick straw - This is to cut a hole in the apple for the worm. You can use your sharp knife if you need to.
INGREDIENTS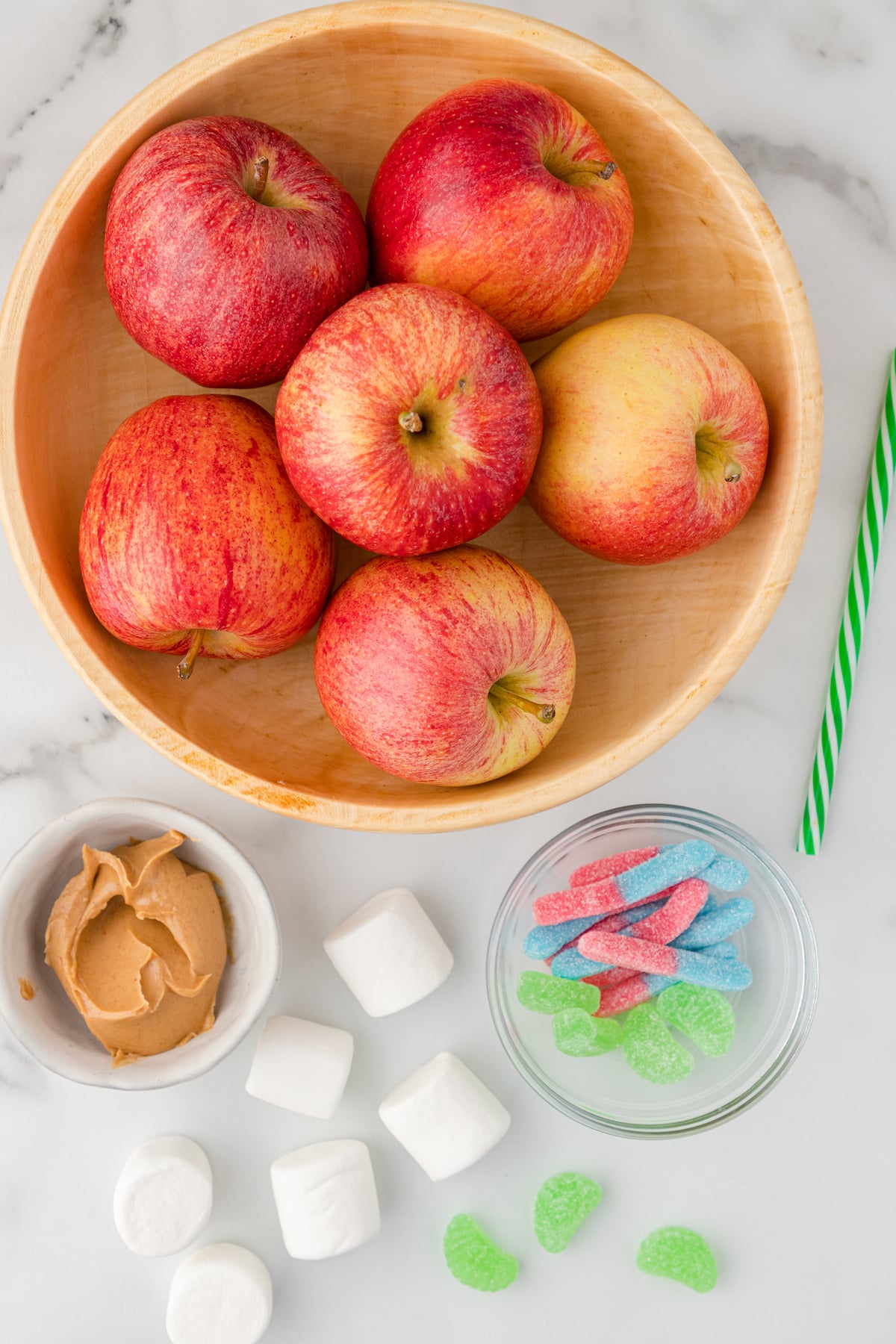 See printable recipe card below for measurements and nutritional information.
Apple - My favorite apples are Cosmic Crisp or Honeycrisp. They're sweet-tart and crisp which is a nice combination. But you can use fujis, galas, or whatever snacking apples you have.
Marshmallow - If you leave part of the core in the apple, you can skip the marshmallow. Its only purpose is to keep the peanut butter from leaking out the top and bottom of the apple.
Gummy worm - This is what makes the apple such a fun and unique snack, so don't leave it out.
Peanut butter - You can use almond butter or really any nut butter here. I like peanut butter, but anything will work. Even Nutella would work, although that would increase the sugar content significantly.
Spearmint leaf - This is optional but makes the finished apple look really cute.
How to make a wormy apple snack
Wash your apple.

Core the apple and slice it in half horizontally. If you're making the snack for older kids, you can leave part of the core in the apple, to prevent the peanut butter from leaking out the top and bottom and to make the apple look whole. But if you're making it for younger kids, you probably want to remove the entire core, including the skin.

Cut a large marshmallow in half horizontally and stuff one half into the top and bottom of the apple. This will keep the peanut butter from oozing out, but is really optional.

Use a heavy duty straw or a sharp knife to cut a small hole in the side of the apple. It needs to be big enough to insert a gummy worm.

Poke the gummy worm into the hole you cut out, leaving just a bit to stick out of the apple.

Fill the remaining center of the apple with peanut butter.

Add a spearmint leaf to the top of the apple (if desired). It's cute, but if your kids don't like them, feel free to leave it out. Stick the two halves of the apple back together and serve.

Does this apple snack work for special diets?
My ingredients were all gluten-free and dairy-free, but I do not believe that they are vegan. If you have an allergy or severe intolerance, you should check the ingredients to ensure their safety for your diet.
More healthy snack ideas
If you like this fun snack, you're going to love these 29 fun fall snacks that kids can make for themselves.
Recipe