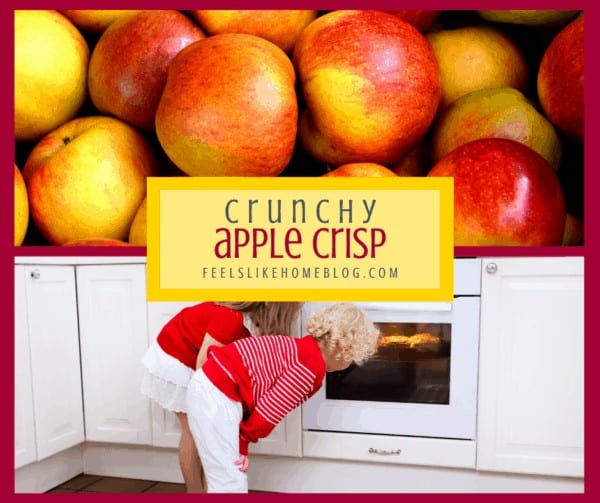 This old fashioned crunchy apple crisp recipe uses simple ingredients and no oats or nuts to make a rich, sweet dessert perfect for any meal.
Food inspires me. I love it. I love reviving the lost food arts that my grandmother and mother practiced years ago. I am full of pride when I freeze or can food to use later on, and the feelings come right back when I pull it out of the freezer or cupboard and serve it.
Last weekend, I bought a bushel of apples. Really, I only wanted a half bushel (to make homemade applesauce), but the whole bushel was a better deal, and I was able to get two different varieties.
I made two batches of applesauce last weekend. I peeled, cored, and sliced apples until I had 6 gallons of them in the freezer for cakes and pancakes later on.
Today, I made crockpot applesauce chicken and apple crisp for my family's Sunday dinner.
And still, I have a full half bushel of apples left. I guess I'll make more applesauce and some apple butter tomorrow, or maybe, I'll make more apple crisp and freeze it. Can you do that, freeze apple crisp?
I think you can, and I'm going to try it.
How to Make Crunchy Apple Crisp
Prepare the apples. Peel, core, and slice 5-7 large apples. Arrange the apple slices in a 9x9 or similarly sized round baking dish and pour water over them. Sprinkle with cinnamon to taste.
Prepare the crust. In a medium bowl, combine the butter, white sugar, and brown sugar. Whisk the flours together and then blend into the dough until it has a paste-like consistency. Spread the crust over the top of the apples in the baking dish.
Bake. Bake at 350 for 45 minutes or until the crust is beginning to brown.
Serve. We like our apple crisp served hot with a scoop of vanilla ice cream.
Here are a few more of my favorite apple recipes:
Recipe