The best pear crisp recipe may look impressive, but is one of the easiest, tastiest fall desserts ever! This warm, cozy pear crisp recipe is also ridiculously easy with just 15 minutes of prep! Serve warm with a scoop of vanilla ice cream.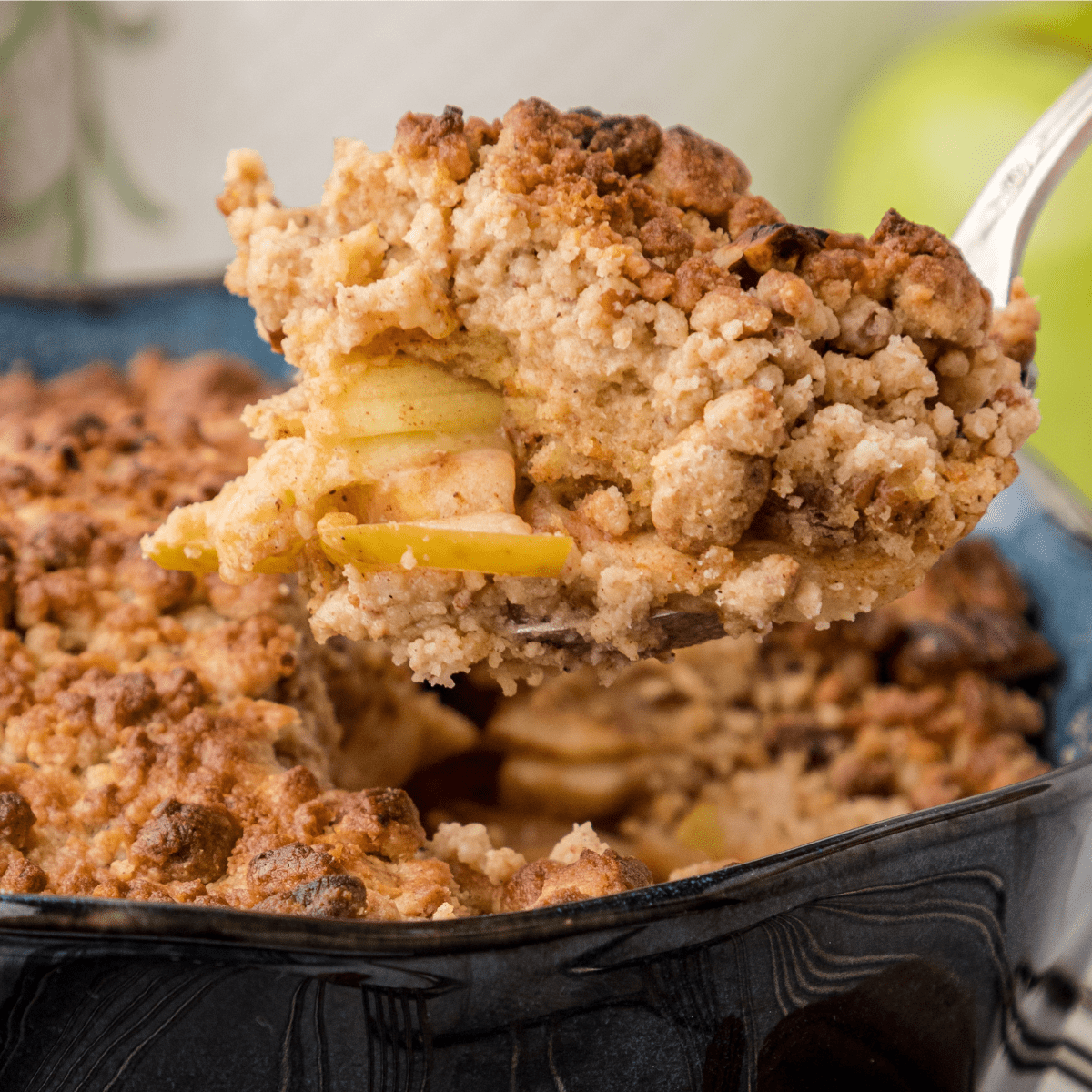 When I was a little girl, we lived across the road from Old Grandma. To visit her, we crossed the dirt road, climbed up a steep bank, and followed the path Grandpa had cut for us through a small field.
Almost to Grandma's house, we passed an old pear tree.
Every fall, we'd pick the pears right off the ground and eat them, juice dripping down our arms and chins.
I still look forward to pear season eagerly, and Allie loves them so much that we planted not one but TWO pear trees in our back yard this spring. I doubt we'll have pears next year or maybe even for a few, but soon, we will be eating our own pears off of our own trees.
This pear crisp recipe is only slightly different from my favorite apple crisp recipe. It's absolutely delicious and comes out perfect every. single. time. The crust has a crumbly and slightly crunchy texture which is so nice with the softer fruit underneath.
What you'll need to make the best pear crisp with cake mix
EQUIPMENT
Vegetable peeler - This makes it easy to get the skin off of the pears. Do you have to peel them? I guess not, but the skins aren't all that pleasant in the finished dish. (I've tried it both ways and vastly prefer to peel them.)
Apple wedger or a sharp knife - Or maybe both. You'll need this to cut the pear into slices.
INGREDIENTS
See printable recipe card at the bottom of the page for all measurements and more information.
Large pears - These will need to be peeled, cored, and sliced into ½-1" thick slices. My favorites are Anjou, Bosc, or Bartlett pears but any firm variety will work. If you have to peel the pears in advance, toss them with a tiny bit of lemon juice so that they don't get brown.
Melted butter - This is how you make the crumb topping that goes over the apples.
Chopped pecans or walnuts - These are optional but give the finished crisp a lovely crunch. You can also use chopped or slivered almonds.
Yellow cake mix - Together with the melted butter, this is the foundation of the streusel topping. Using a cake mix makes it so easy because you don't have to measure anything else.
White sugar - I don't know why you add a tiny bit of sugar to the cake mix, but it was in the original Pampered Chef recipe, so I kept it. You could also use brown sugar if you prefer.
Cinnamon or pumpkin pie spice - This gives the apples a wonderful, sweet flavor. I usually use pumpkin pie spice because it's got a tiny bit of cinnamon, cloves, allspice, nutmeg, and ground ginger already mixed together but plain cinnamon will also work really well.
How to make the best easy pear crisp
Arrange pear slices in a baking dish. Depending on how many pears you've used, anything from a 9x9 to 9x13, round, or oval dish will work or even a similarly sized cast-iron skillet.

Sprinkle 1 teaspoon of spice over pears and toss to coat.

In a medium bowl, combine nuts, cake mix, sugar, and remaining cinnamon. Then pour melted butter in, stirring until well mixed.

Mix well, until crumbly.

Sprinkle crust mixture evenly over the pear mixture.

Bake in the oven at 350 for 40 minutes or until crumb is toasty and golden brown.

Serve hot with a scoop of vanilla ice cream.

A few tips for the best pear crisp:
Grace currently has braces and thus cannot eat nuts, so we have to leave them out right now. It's a bummer because I love them but it still tastes good without.
If you need a gluten-free recipe, you can easily use a gluten-free cake mix and it should come out just fine.
This recipe works beautifully with any kind of fruit. Just fill your pan about ½ way with the uncooked fruit of your choice and top with the crisp topping. Cook until the topping is golden brown and starting to get crispy.
Use the cinnamon only if your fruit choice makes sense with it. I use cinnamon or apple pie spice with apples or pears of course. I do not use any spices with peaches, and I use sprinkle a teaspoon or so of almond extract over my cherries.
What to do with leftover pear crisp
You can store leftovers in an airtight container in the fridge for 3-5 days, however the crust will get soggy. If you want the crust to stay crispy, you'll want to keep the crisp in the original baking dish and cover it with foil. Store in the refrigerator and heat up in a 300ºF oven for 10-15 minutes when you want to serve.
Try these other delicious desserts while you're here:
Recipe