How to make the best apple crisp - This simple and easy recipe with fresh apples, oats, graham crackers, and brown sugar makes a healthy crumble topping that is baked in the oven. Homemade recipe adapted from Pampered Chef's Easy Apple Crisp.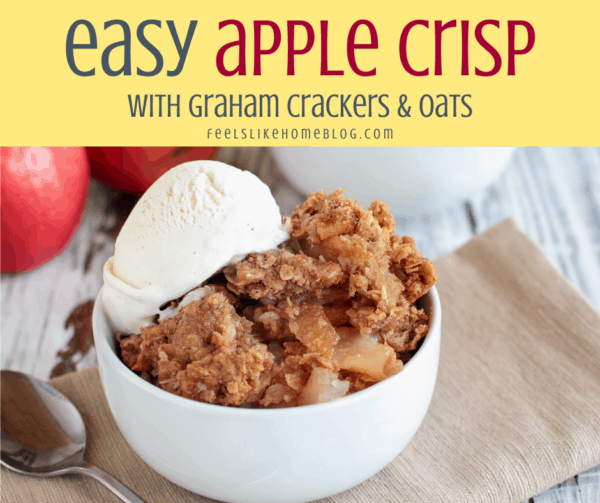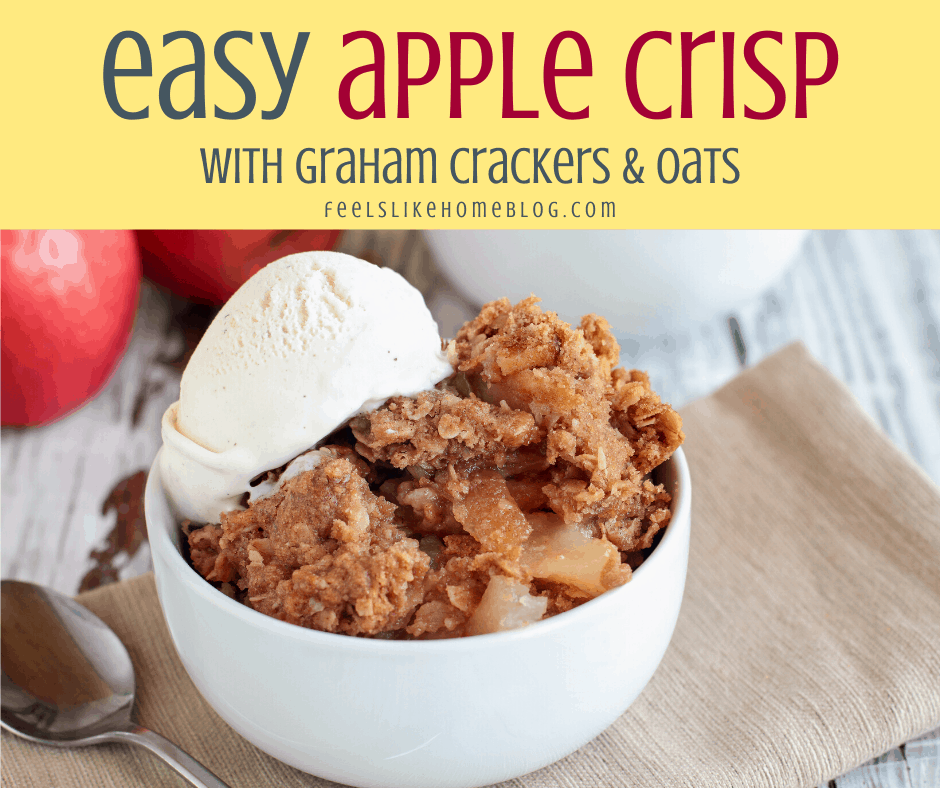 2-year-old Grace loves to cook. You already knew that, right?
The three of us stopped at Wegman's on the way home from day care yesterday, and Grace was in the mood for apples. We picked up one each of six different varieties of apples, plus a few extra miniature apples that I thought would be a perfect snack for little hands.
I was right.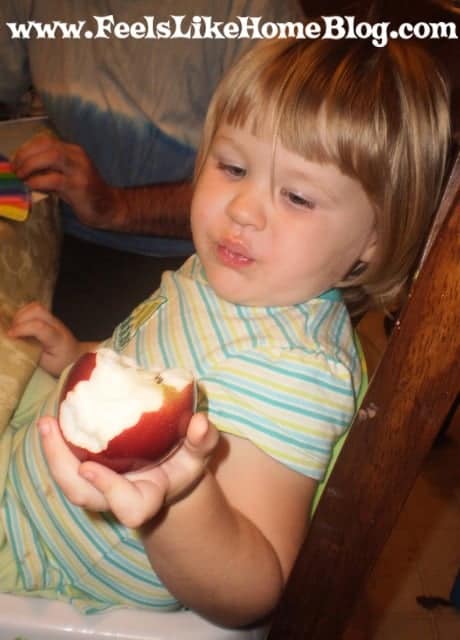 I had been inspired by my good friend whose blog featured a basket of apples craft yesterday. I thought we could bake an apple crisp and then do the craft.
We started out with an old faithful recipe that I made when I did Pampered Chef kitchen shows. I wanted Grace to be able to reach everything, so we prepared the food on the floor and on her stool.
Easy Apple Crisp
First, peel, core, and slice the apples. We chose six different varieties of apples because I like how the flavors blend when the apples are cooked. You could also use six of the same apple, though I don't think it would be as nice.
As you peel, core, and slice the apples, arrange them in a large baking dish.
I have a fancy peeler/corer/slicer contraption, and Grace was able to do it herself. She was so excited that I can't describe it. She turned the crank, cut the apples, and laughed the whole time.
Just as a side note, it bugs me to throw the peels and cores away. I hate wasting food, but nobody wants big pieces of apple peel in their apple crisp. Instead, we collected the peels and cores and fed them to Joe and Gracie's worm colony. As she peeled each apple, she said, This wormie food. or This yummy apples. and put it in the appropriate container.

After the apples are all peeled, cored, sliced, and placed in the baking dish, you can start working on the crust. First, put the graham crackers into a large mixing bowl and crush them. We started with a spoon, but it didn't work very well.

We quickly moved on to our Food Chopper, which made the work quicker, easier, and definitely more fun.

Next, mix in the rest of the dry ingredients. Grace wasn't able to do much of the measuring, but she dumped all of the measuring cups and measuring spoons into her bowl, and she continued stirring to blend it together.


Add melted butter to the crumb mixture, and combine well. This is only one of two steps that I would not allow Grace to help with.
Make sure that the apples are arranged evenly in the baking dish. Try to avoid a mound in the center of the dish. (Do as I say, not as I do!)

Spread the topping overtop of the apples.

The second thing I wouldn't allow Grace to help with was the cooking. The original recipe said to microwave the Apple Crisp for 12 to 15 minutes. I like the top of my apple crisp to get, well, crispy, so I put it into the oven at 400 degrees for 15 minutes after microwaving it. The only problem is that the apples get really mushy this way.

If you like your apples more firm, you may want to cut the microwave time down (or even cut it out all together).
If you don't mind the crust being soft, you wouldn't have to put it in the oven at all.

Serve with ice cream.
Recipe