Baked pineapple casserole is a simple and easy Paula Deen recipe that can be a side dish or a dessert. It's a sweet, creamy, and delicious recipe with eggs, but no cheese and no flour. Great for Thanksgiving, Christmas, Easter, or any special occasion.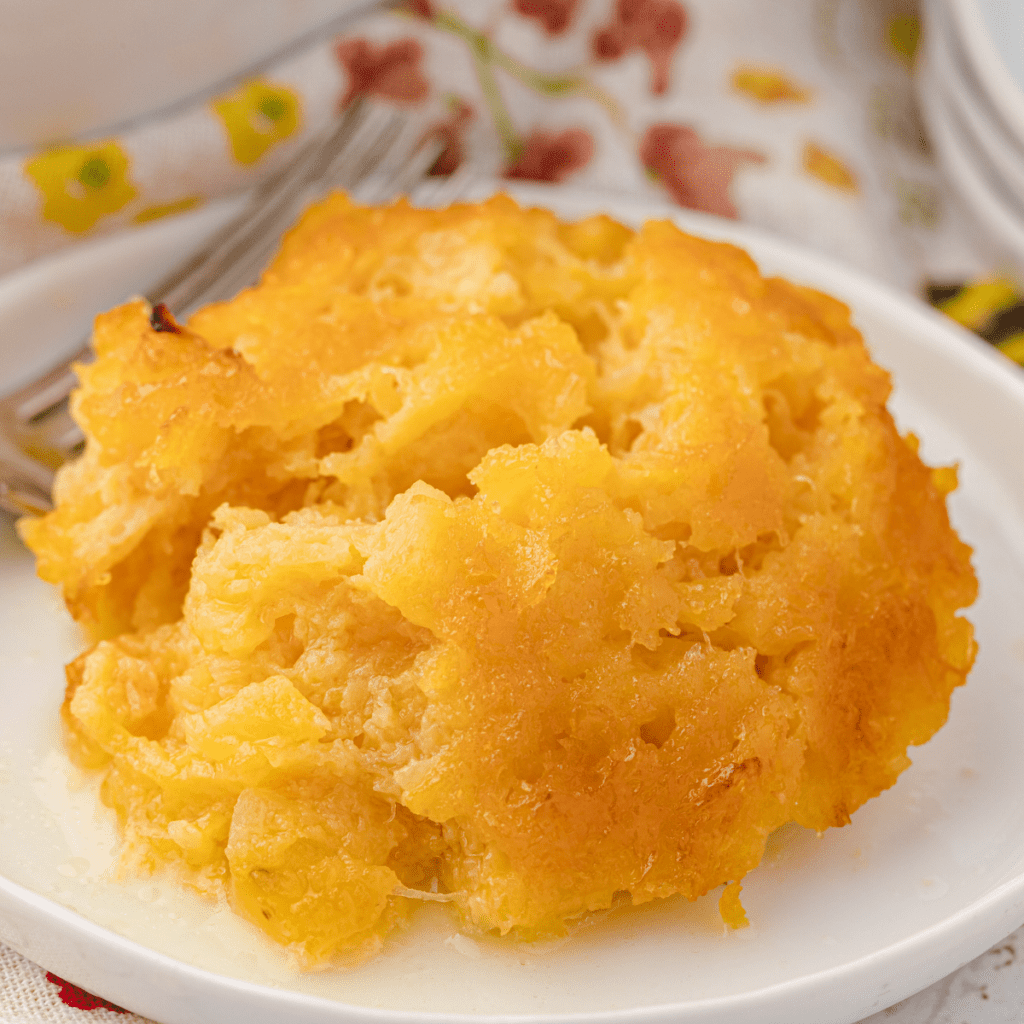 I had never had baked pineapple before my mother-in-law brought this to my house for Easter dinner. She had gotten the recipe from a Paula Deen cookbook that I gave her for Christmas the year before.
Baked pineapple casserole is like eating cake for the main course, very sweet and creamy but light at the same time. The final dish is so decadent and wonderful that it could easily be served as a dessert.
Add a scoop of ice cream atop a warm chunk of this casserole, and you'd have a blissful bowl of deliciousness.
What is pineapple casserole?
After my mother-in-law gave me this recipe, I started doing some research. Pineapple casserole comes in many different forms, all originating in the south. Some contain cheddar cheese, and some contain flour or Ritz crackers. This particular recipe doesn't include either one, making it gluten-free and easily adjusted to be dairy-free as well. (Just use a dairy free butter substitute.)
What you'll need to make the best baked pineapple casserole
Equipment
You will need a 9x9 or 8x10 (pictured) casserole dish, a can opener, and a rubber spatula, along with standard measuring spoons and a mixing bowl. This recipe doesn't require any special equipment.
Ingredients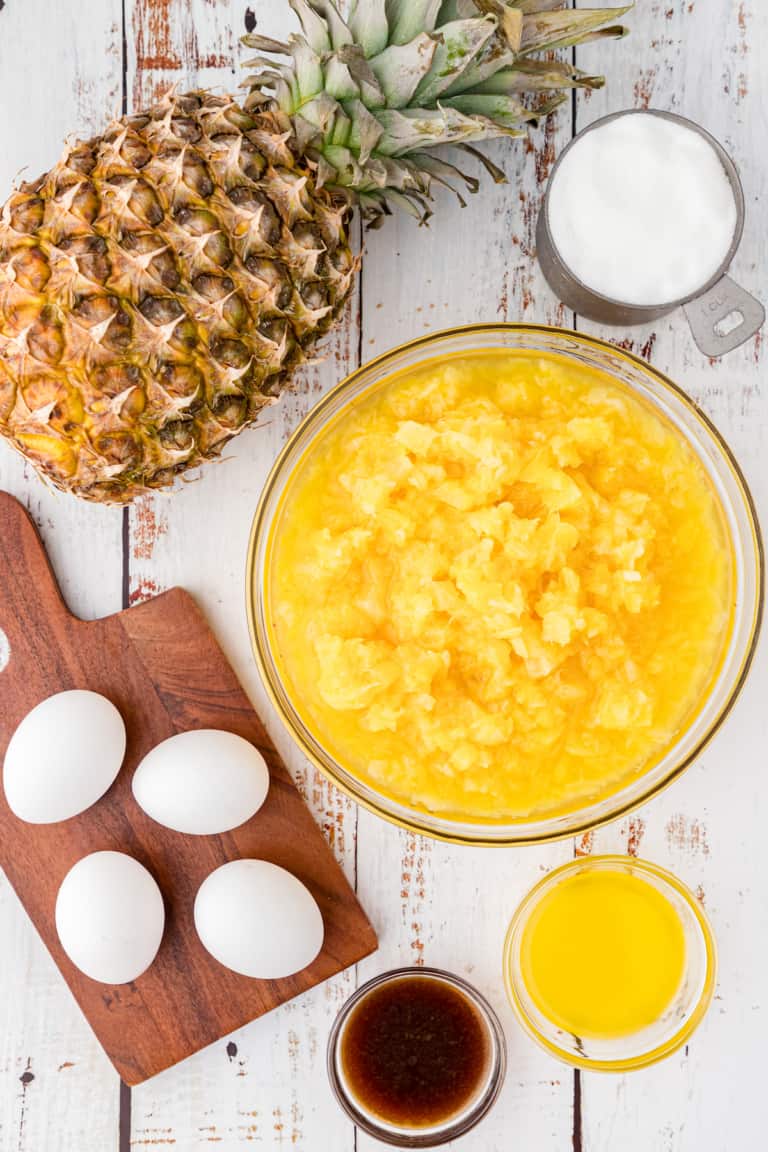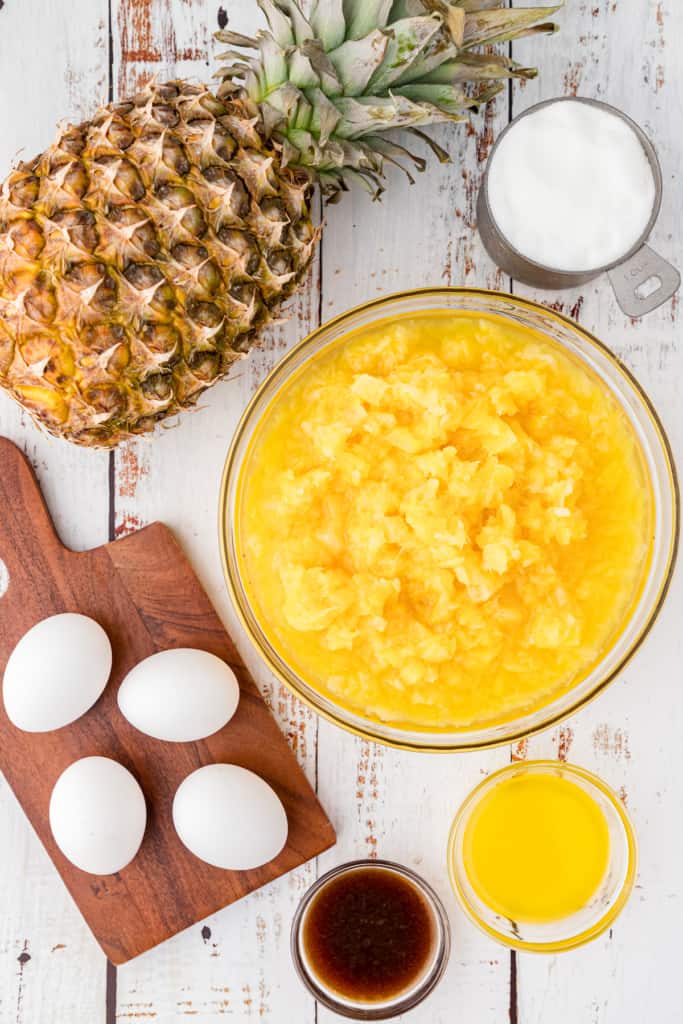 Melted butter - You will use this to grease the pan, and then the remaining butter will go into the casserole.
Crushed pineapple with the juice - I have only ever used canned pineapple. I think fresh pineapple is too acidic for this recipe to come out well. The canned will work much better.
White sugar & Splenda - In order to lighten the recipe a bit, I've replaced half of the sugar with Splenda. You can use any ratio of sweetener to sugar that you prefer, although I think it will taste a little weird if you use all Splenda. You could also use a different sweetener such as brown sugar, stevia, or honey, although you would have to play with the amounts. I've only ever used white sugar and Splenda and can only speak to how the recipe comes out with that combination.
Beaten eggs
Vanilla extract - I have an undying love for vanilla bean paste and use it almost exclusively. However, this recipe requires A LOT of vanilla, and vanilla bean paste is very expensive, so I go ahead and use the extract here.
How to make baked pineapple casserole
This recipe is so easy!
Preheat the oven to 350ºF.

Melt 2 tablespoons of butter. Brush the inside of a baking dish with the melted butter.

Pour whatever butter is left over into a medium bowl. Add in canned pineapple, sugar, Splenda (you can use all sugar if you want, but don't use all Splenda or it will taste weird), water, beaten eggs, and vanilla and stir.

Mix well.

Pour into the prepared baking dish.

Bake for 60 to 70 minutes or until golden brown and a knife inserted in the center comes out clean.

Serve warm. You can add a sprinkle of powdered sugar on top if you think it needs a garnish.
Variations
This recipe can be made with pineapple chunks or pineapple tidbits instead of crushed pineapple.
As stated above, you can use a different combination of sweeteners. I like half Splenda/half sugar, but you could do all sugar or even less sugar and have good results.
If you want a crunchy topping, crush 40 Ritz crackers and combine the cracker crumbs with a half cup of melted butter. Sprinkle the crumbs overtop of the casserole before baking.
For a more traditional southern-style baked pineapple casserole, you could add 2 cups of shredded sharp cheddar cheese with the crushed pineapple. I don't like it this way, but most people do.
You can also mix an 8-ounce block of cream cheese (very soft and slightly whipped) with the crushed pineapple to make a concoction that's almost like a pineapple cheesecake.
Instead of serving pineapple casserole as a side dish, add a scoop of vanilla ice cream and serve it as dessert!
You can make this an entrée by adding 2 cups of cubed ham to the pineapple.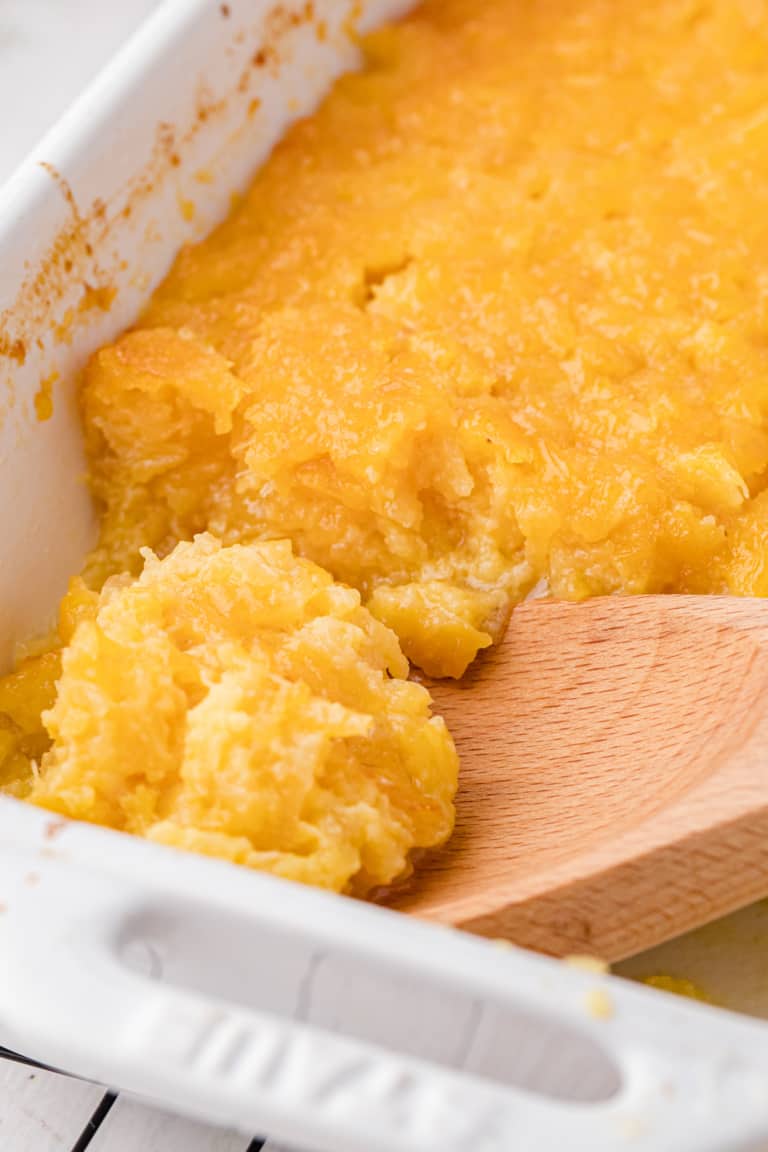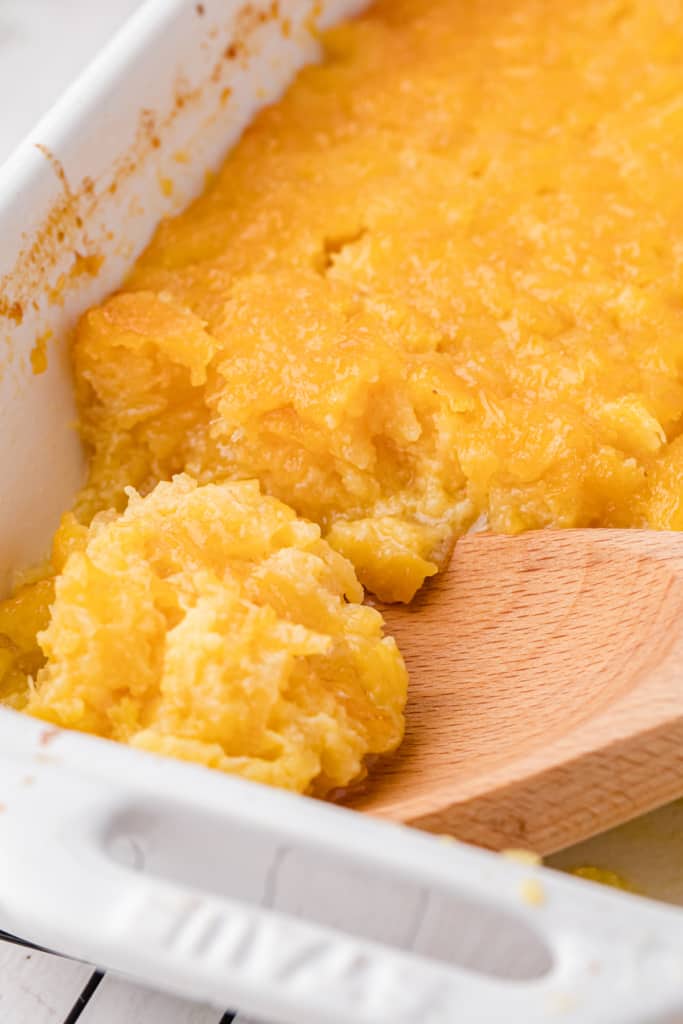 Can I make pineapple casserole ahead of time?
You sure can. Mix everything together and put it in the baking dish. Wrap the dish with foil and refrigerate until you're ready to bake, up to 2-3 days ahead. You don't have to warm it up to bake it, but plan on it taking 10-15 minutes longer to cook completely.
Pineapple casserole is also delicious served at room temperature or even chilled, so you could bake it ahead and put it in the fridge for a couple of days. Make sure to keep it tightly covered.
Should I cover pineapple casserole with foil?
I don't because I like it to get nice and golden brown on top. If yours seems to be getting too brown, it's okay to cover it with foil. Otherwise, I wouldn't bother.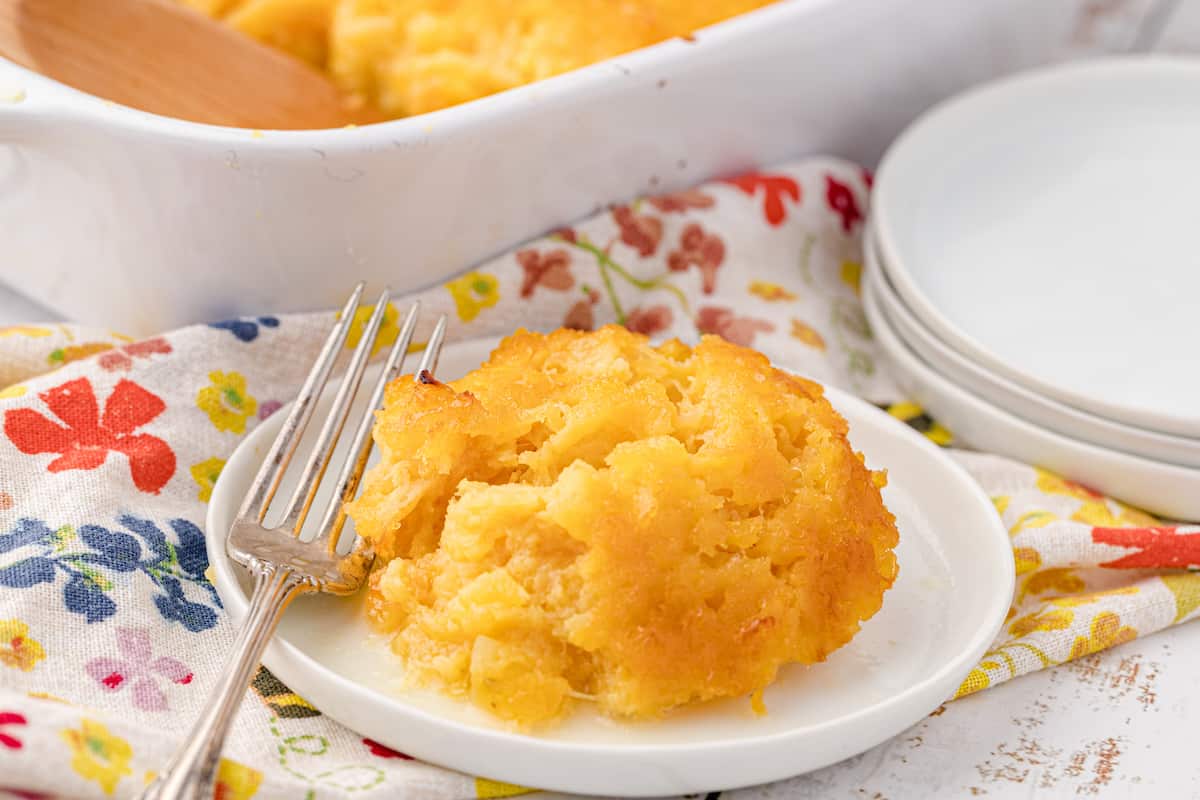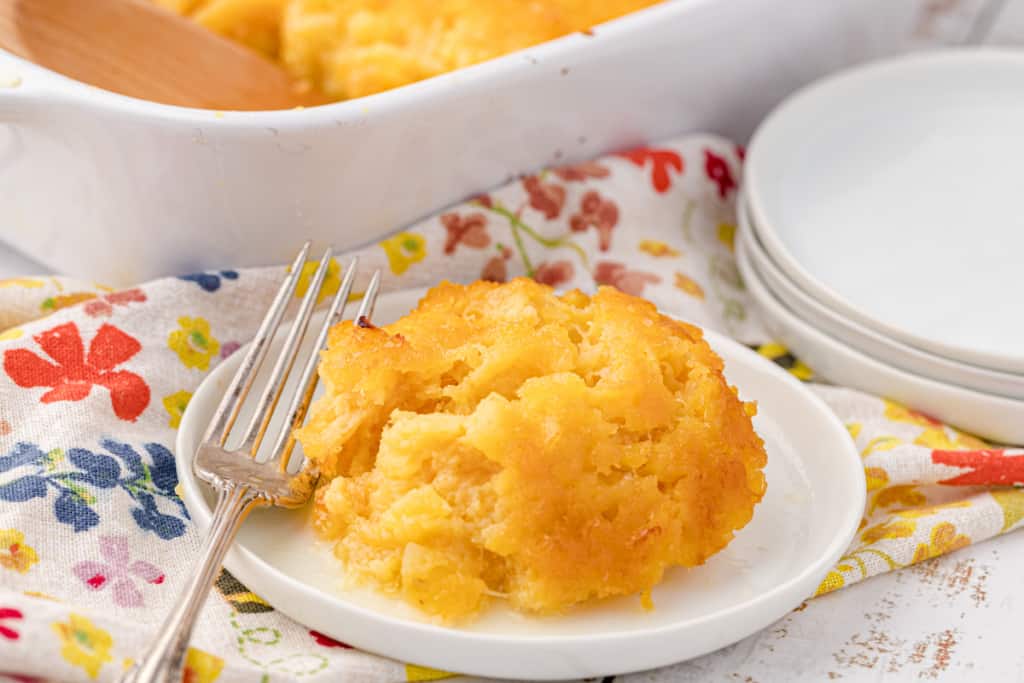 How to store leftover pineapple casserole
Stored in an airtight container, pineapple casserole will keep for about 5 days in the refrigerator.
You can freeze leftover pineapple casserole in an airtight container for up to 2 months. Let it thaw in the refrigerator overnight prior to serving.
Baked pineapple is perfect for Easter dinner
I was introduced to this dish at Easter dinner, so I associate it with that particular meal. I serve it with ham (of course), and a few other family favorites:
To see the full list of my Easter brunch and Easter dinner favorites, check out this list.
Recipe