These dishes are delicious & pretty enough to serve on any holiday table. Includes recipes for appetizers, salads, sides, such as deviled eggs, salad, potatoes, carrots, cheesecake, cake, & more.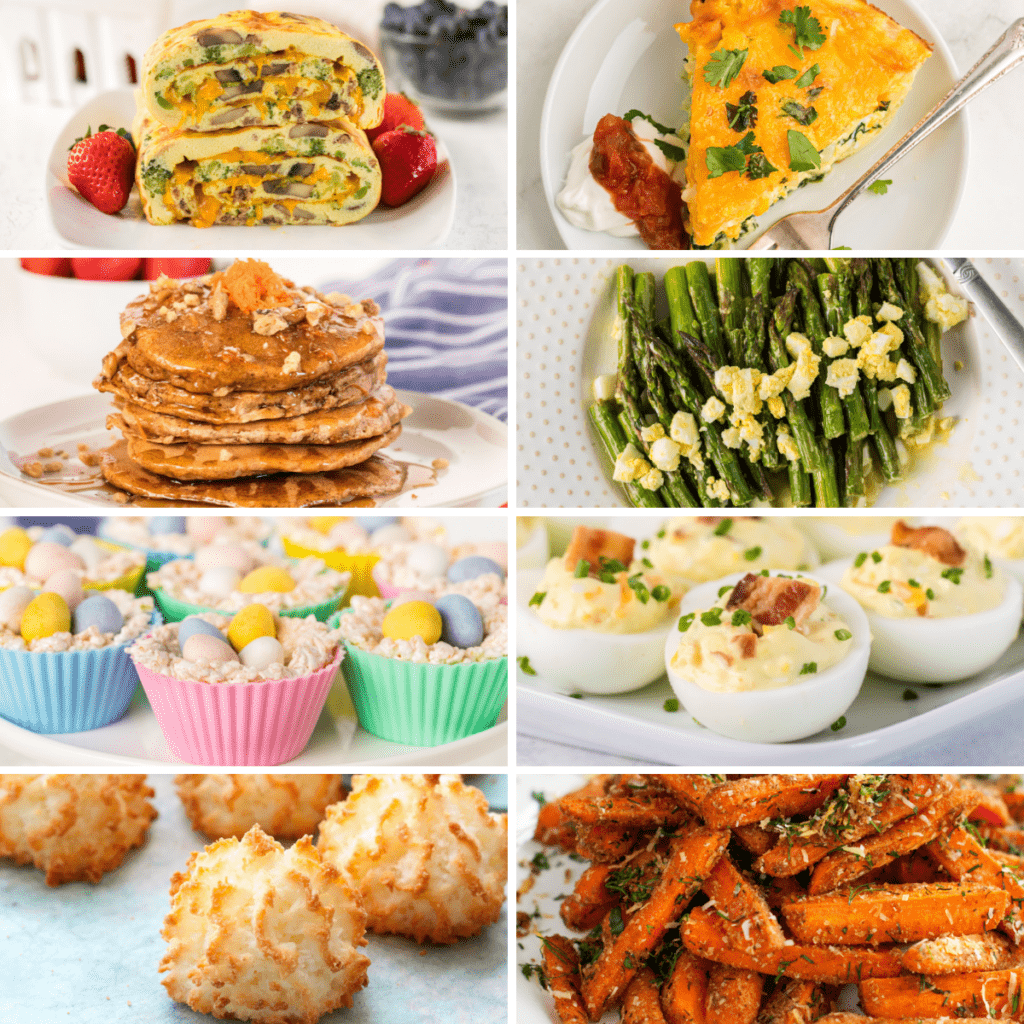 I'm guessing Easter this year will look different than any other Easter we've ever celebrated.
One thing remains the same though, and that is that we will celebrate the resurrection of our Lord and Savior, Jesus Christ. However you choose to celebrate, it will be good and true.
Easter always includes a big meal for my family, and it will be so this year as ever. The girls will do their Easter basket scavenger hunts, then we will enjoy a hot breakfast together, then we will start prepping the big Easter feast which will take most of the morning to prepare. After we eat and clean up, Allie has an online class on Outschool where she is making gnomes out of household supplies, and then after that, if the weather is nice, Joe will hide the girls' Easter eggs full of coins out in the backyard. They will hunt for eggs and beg for him to rehide, which he will probably do several times.
It will be a good day.
I know that you have your own traditions that happen in your own ways, and they are good. Be sure to preserve as many of those traditions as you possibly can this year. It is important to our kids to have some sense of normalcy even in this strange new world.
So food. Food is good. I know I'm sharing these a bit late in the Holy Week, but there's still time to get to the grocery store and make them work.
And every single one is worth the work, I promise you. These are some of my favorite recipes of the whole year. There's nothing like spring food to lighten and brighten your table.
16 Recipes for Easter Dinner
Easter Breakfast or Brunch
Easter Side Dishes
Easter desserts
For Easter leftovers
Let's be honest. I'm not making all of these dishes this year for Easter, and I have never made every one for any single Easter ever. I think this year, we'll be having carrot cake pancakes and bacon for breakfast and ham, egg and asparagus salad, deviled eggs, and baked pineapple for dinner. I haven't decided about dessert, but it will probably be a cheesecake of some sort (maybe not the orange one but one all the same).
We will likely eat all four of the leftovers meals in the days after Easter as I always buy too large a ham and we have leftovers for days. Leftover ham also freezes well, so there's that option.
I hope you and your family have a wonderful Easter even though it is different from what you would like. It can still be a special day. Enjoy it my friend.