Learn how to make the best bacon and leek tart - This recipe uses prepared crusts to make a quick and easy onion tart. Simple food makes the best holiday dinners, lunches, brunches, or suppers.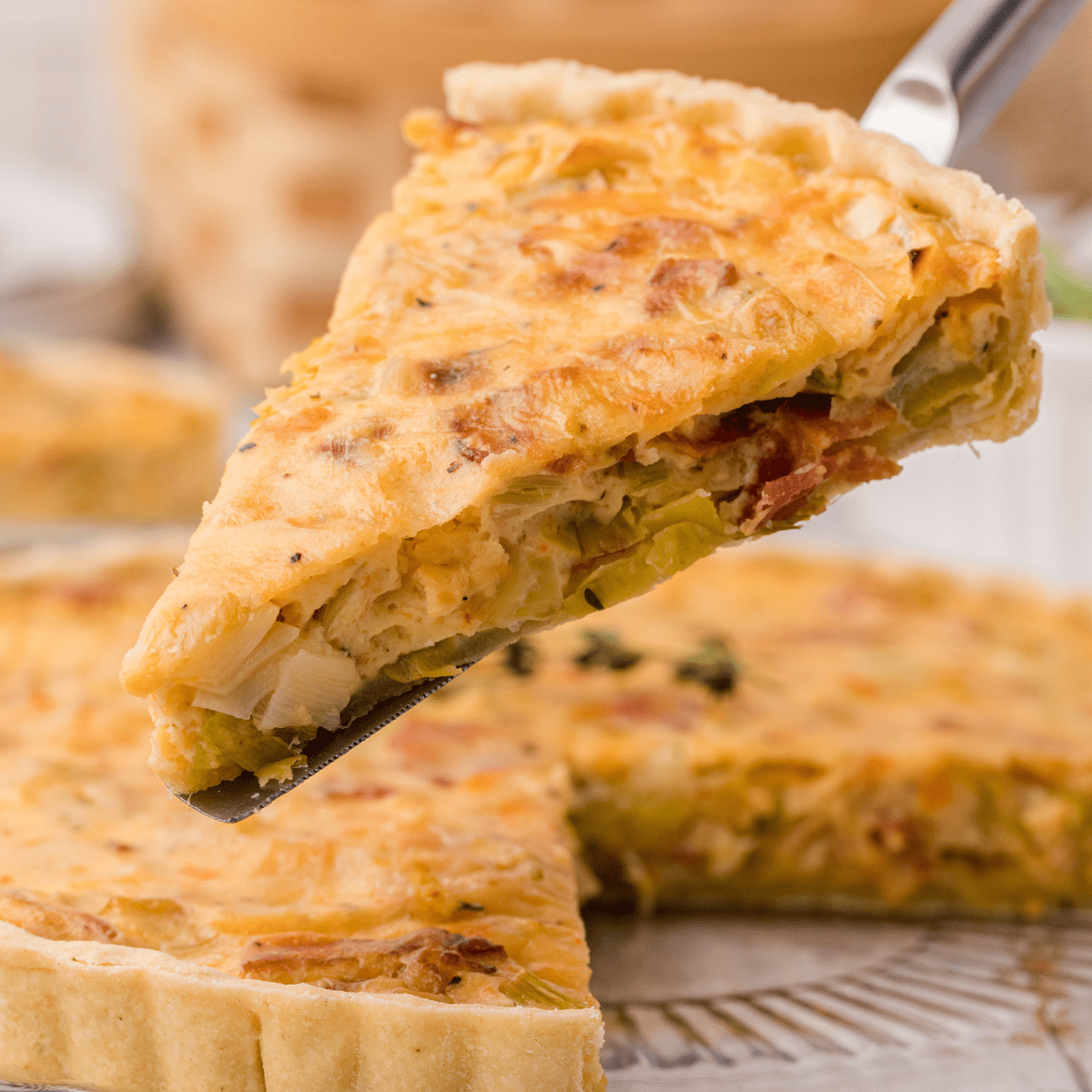 Not too long ago, I followed a link from a site that I love to a blog called Storm of Thoughts (no longer a live site). I'd never been there before, and I thought I'd have a look around. I loved it and subscribed so that I wouldn't miss any new posts.
My favorite post on Storm of Thoughts was for this Bacon & Leek Tart. Chrissy's pictures were gorgeous, and I knew this was just the kind of dish I'd love to cook and eat.
I decided to prepare the savory tart for Easter dinner. I'm glad I did.
It was my favorite dish of the whole meal. The flavor was sweet and savory at the same time. So good.
I made a few changes to Chrissy's original recipe. My version is below.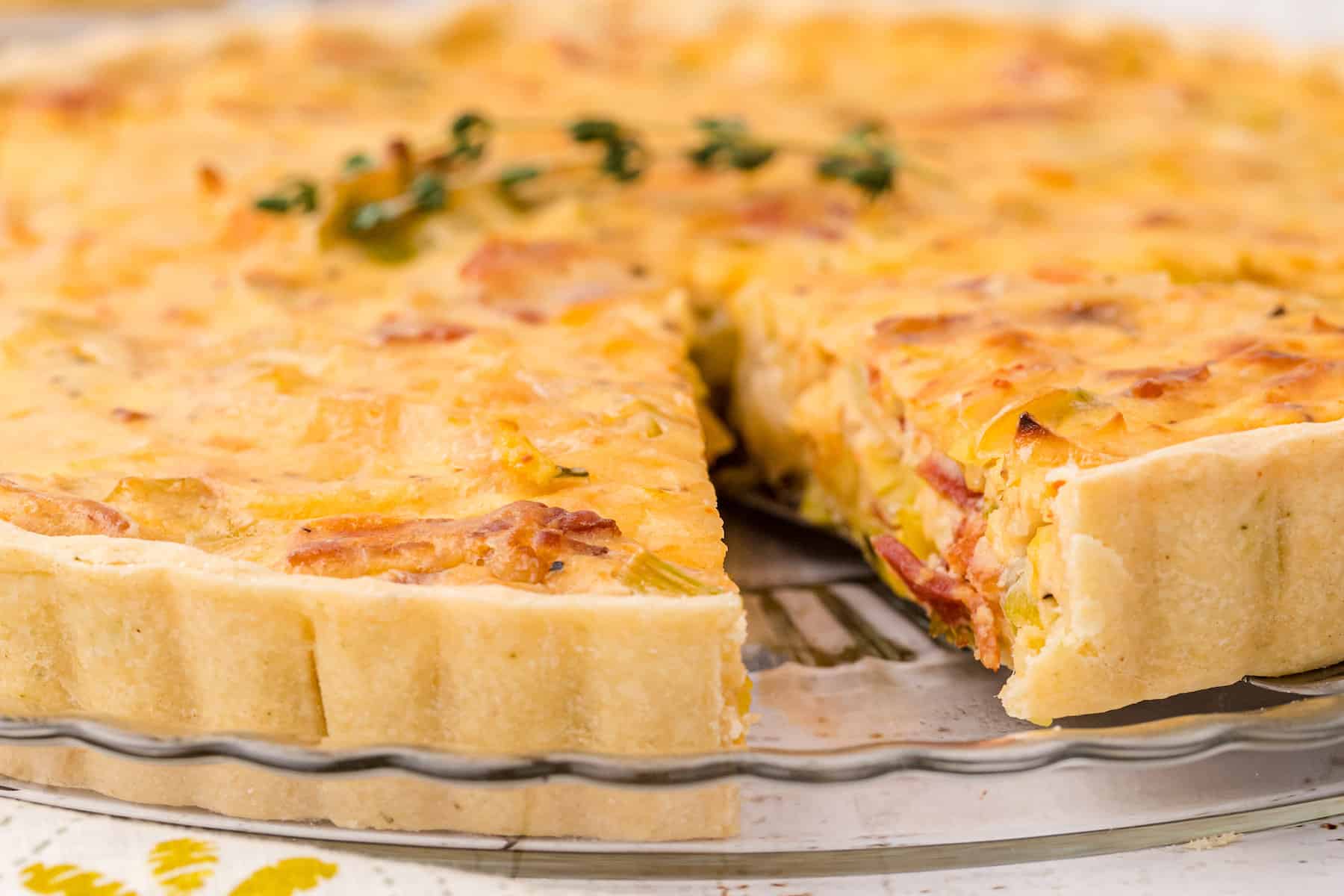 What you need to make the best bacon & leek tart
EQUIPMENT
INGREDIENTS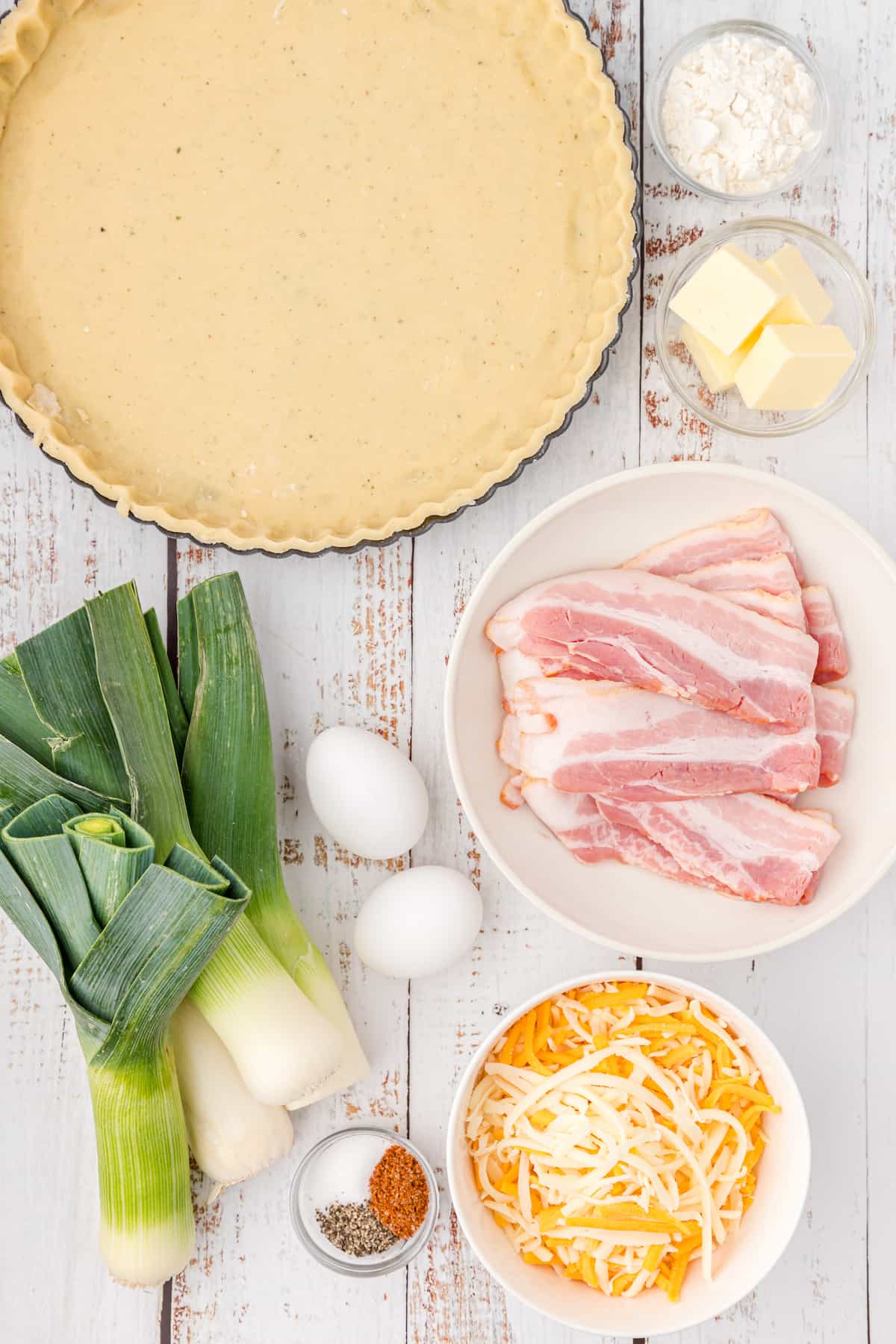 See printable recipe card at the bottom of the page for measurements and more information.
Prepared pie crust - I used pie dough from the dairy case of the grocery store.
Large leeks - You'll only use the white part and lower green stem.
Bacon - You'll fry the bacon before you add it to the tart. I suggest frying it in a skillet in the recipe below, but you can also bake it. To do that, place the strips of bacon on a sheet pan, preferably on top of a grate or rack, and bake at 400ºF for 15 minutes. It won't be crispy but it will be cooked enough to use in the recipe.
All purpose flour
Milk - I had some heavy cream that I wanted to use up so I ended up with about ¼ cup heavy cream and 1 ¾ cups of milk.
Salt & black pepper
Chili powder
Garlic powder
Large eggs
Shredded cheese shredded - I used half mozzarella and half 3 cheddar blend but you could use whatever you like.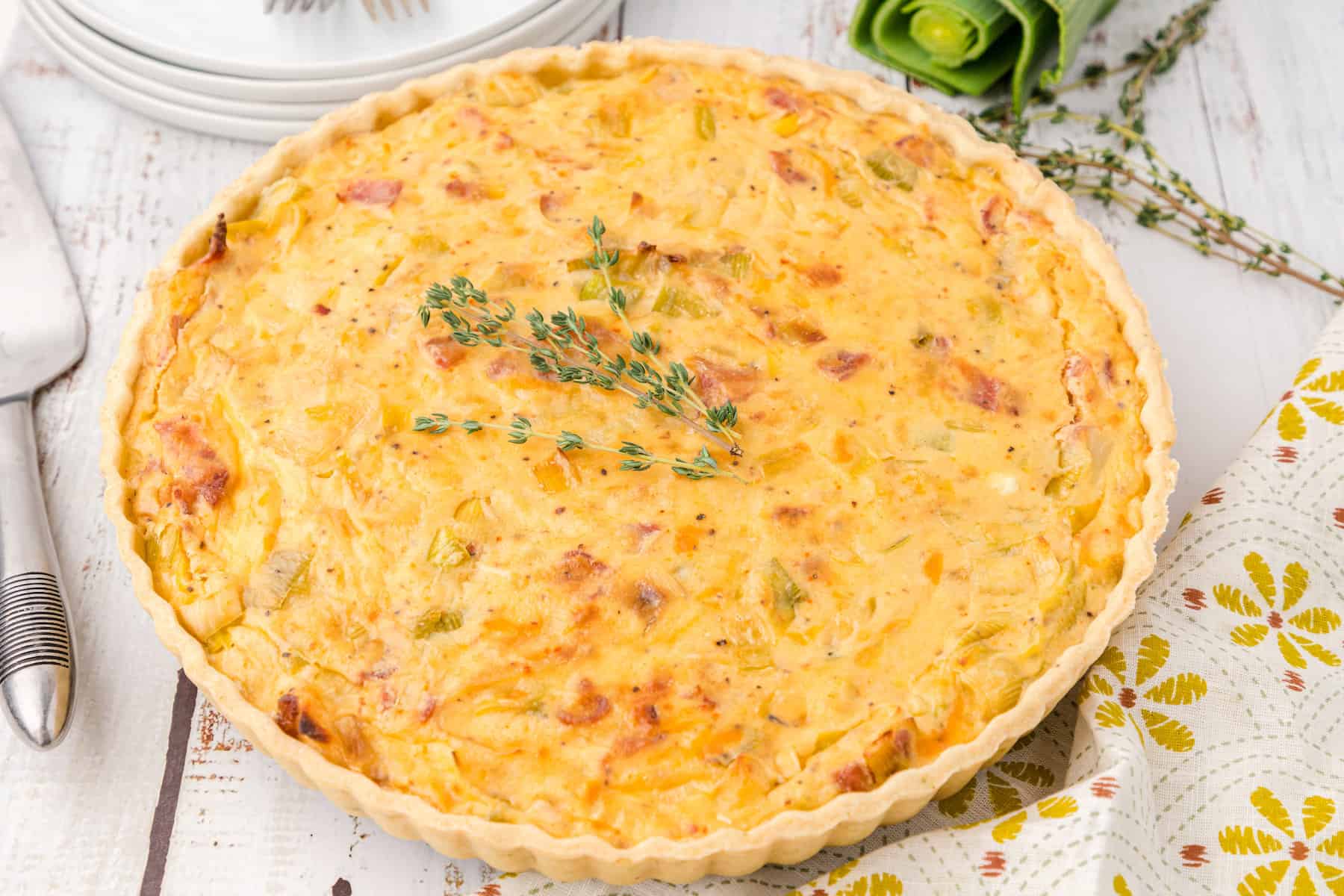 How to make the best onion tart
Preheat the oven to 350º.
Roll the pie crust out in a 10-inch tart pan or pie plate. Store in the fridge while preparing the filling.
Cut leeks in half with a sharp knife, a little above where they turn green. Remove the roots and save the top of the greens for another recipe. Slice into rounds about ½ inch thick.

Place in a bowl of cold water to clean and crisp while you remove the dirt from between the layers.

Cook the bacon, reserving 4 tablespoons of bacon grease. You can bake it (instructions above), but in this recipe, I prefer frying it in a large skillet. Drain, let cool, and break into small pieces.

Remove all but 1 tablespoon of bacon grease from the large skillet. Sauté the leeks in the hot grease over medium heat until they are tender. Remove the leeks from the pan.

Add 3 tablespoons of hot bacon grease (or alternately, 3 tablespoons of butter) to the skillet and quickly add flour, stirring continuously for one minute.

Slowly whisk in the milk, cooking for another 3 to 5 minutes, until the rue is thick and smooth.

Sprinkle with salt, pepper, garlic powder, and chili powder, adding more or less to taste.

Remove the skillet from the heat and add the beaten eggs and shredded cheese. Continue stirring until the eggs and cheese are incorporated into the rue.

Add leeks and bacon back to the skillet and stir to distribute evenly.

Pour the leek mixture into the pastry-lined pan.

Bake for 30 minutes or until puffed and golden. A knife inserted in the center should come out clean. Serve warm with a green salad.

Tips for working with leeks
Leeks are dirty! They are a type of onion, and they grow up through the dirt. Thus, the layers are almost always full of dirt.
When you cook with leeks, you'll want to slice them and swish the slices through a bowl of cold water to remove the dirt. It helps to separate the layers in the bowl of water to get the dirt out.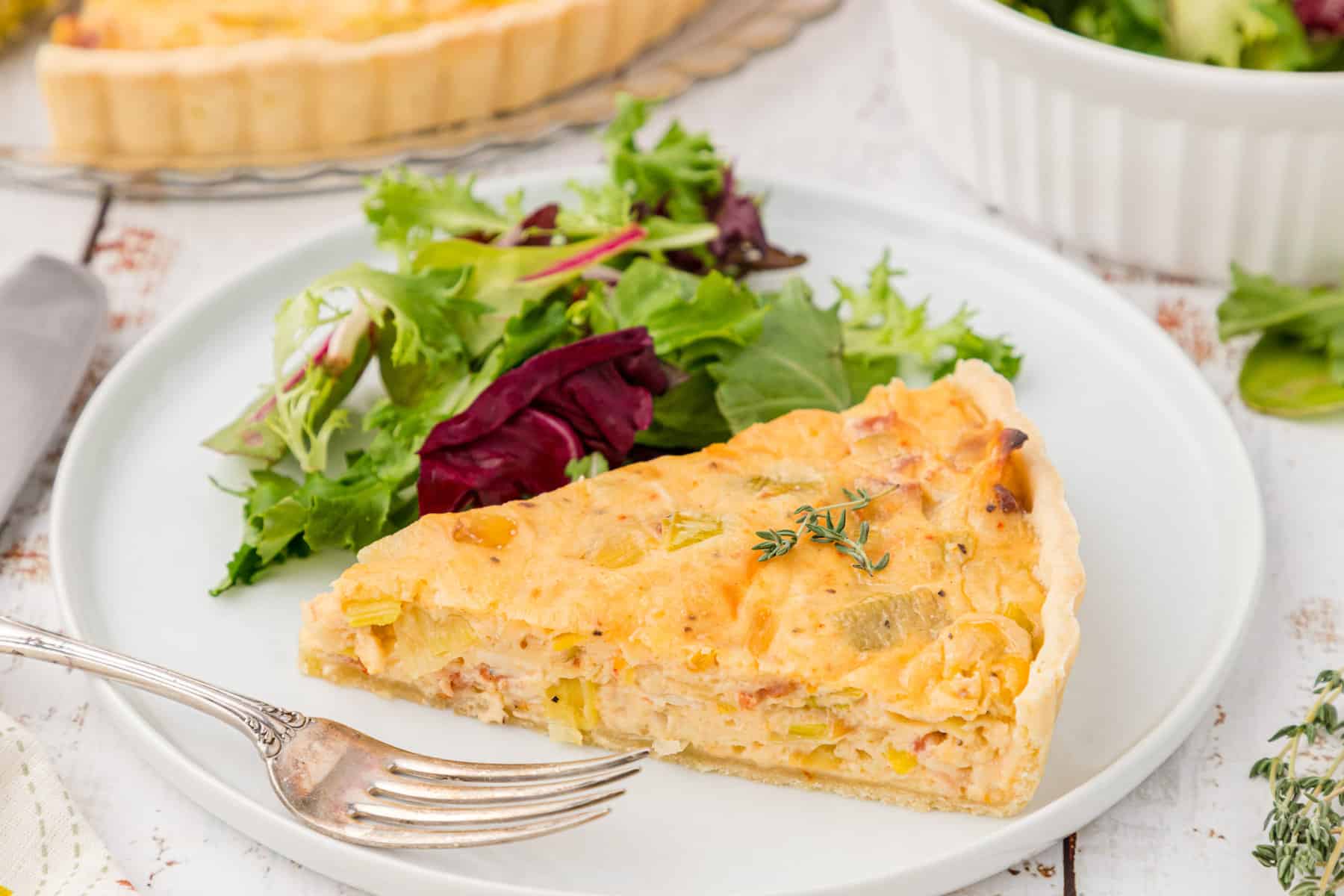 What to do with French leek tart
Store any leftovers in an airtight container in the fridge for up to 3 days. Reheat in the oven for 10-15 minutes at 300ºF.
Check out these other delicious brunch recipes
Recipe