Pancake Tacos are made from simple homemade pancakes filled with your favorite fruit, Greek yogurt, and chocolate drizzle. They're the ultimate fun breakfast idea for kids and adults.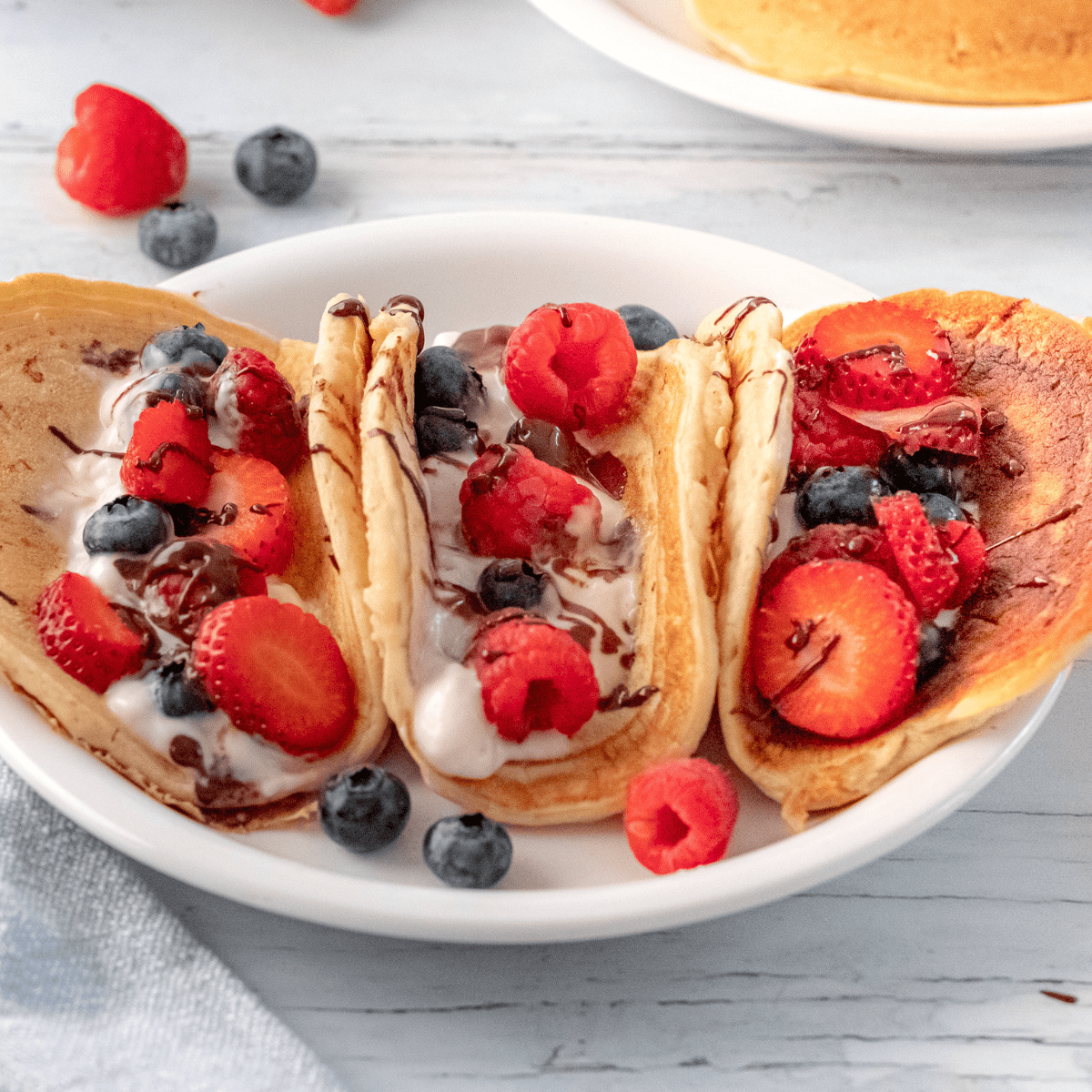 My kids are taco fiends. They would eat tacos every day of the week if I let them. (Who am I kidding? Sometimes, I let them.)
Anyway, I thought breakfast tacos would be fun, but my autistic kiddo hates eggs, so I decided that fruit and yogurt would be a better filling than eggs and sausage.
These pancake fruit tacos are so easy. All you have to do is whip up the pancake batter, cook a few pancakes, and then roll them up and eat them! It takes less than 15 minutes from start to finish - and they'll be gone in even less time than that!
My girls devoured these, maybe even quicker than normal tacos! Be warned! Make a double batch!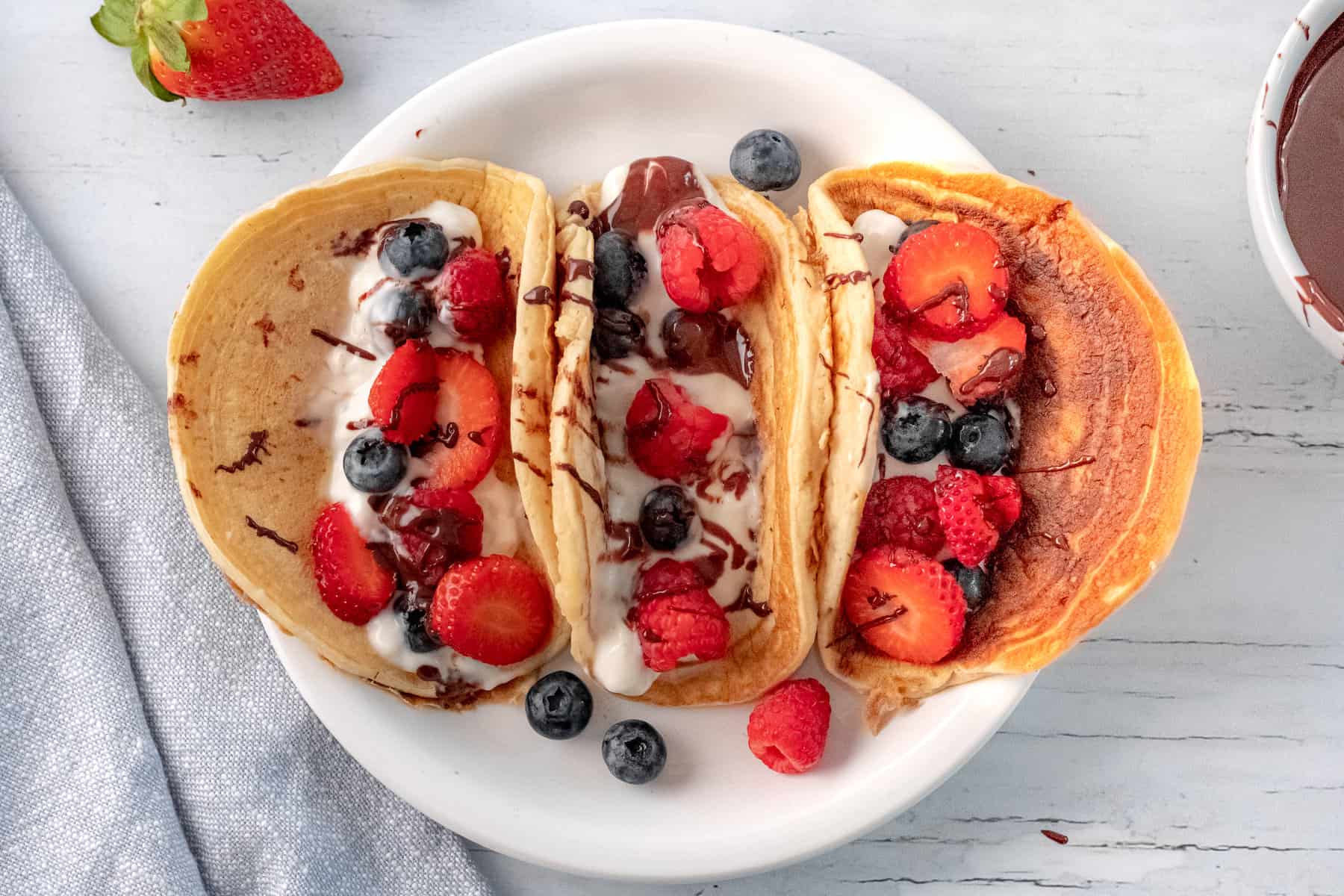 What you need to make pancake fruit tacos
Equipment
You'll need some standard kitchen equipment like mixing bowls, a whisk, and measuring cups and spoons. You'll also need a griddle or a large, flat-bottomed skillet.
Ingredients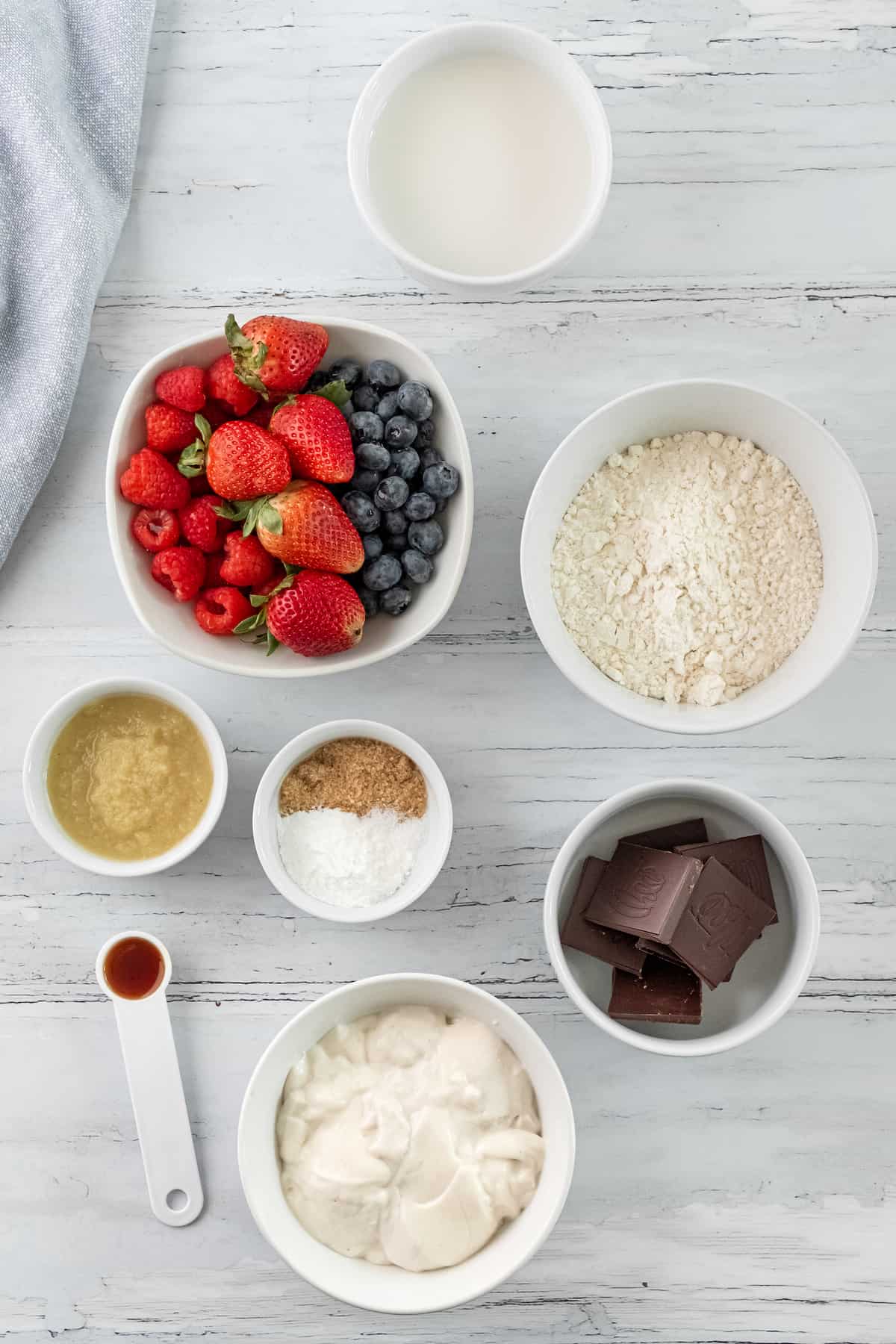 See printable recipe card at the bottom of the page for measurements.
For the pancakes
All-purpose flour
White sugar
Baking powder
Table salt
Whole milk - You can actually use any milk at all, whole milk, low or non-fat dairy milk, or plant-based milk. I prefer whole milk, but anything will be fine.
An egg or 2 tablespoons applesauce - This recipe will work just as well with an egg or with applesauce. The photos show applesauce, but most of the time, I do use an egg.
Vanilla bean paste or vanilla extract - I prefer vanilla bean extract because it's a thick paste with a rich vanilla flavor, being made from crushed up vanilla beans. You can also use vanilla extract, but your vanilla flavor won't be as noticeable.
Cooking spray - Just enough to keep the pancakes from sticking to the griddle.
For the fruit taco filling
Blueberries and raspberries - I used berries for my tacos, but you can use whatever fresh fruit you want. Bananas, peaches, kiwi, and blackberries are all nice. You can even use pears and apples if you cut them small and thin enough.
Actually, now that I'm thinking about it, you could use canned fruit too. It wouldn't have to be fresh fruit at all.
Strawberries - Slice these to make them easier to hold in the tacos.
Vanilla-flavor Greek yogurt - I like to use Greek yogurt because it's thicker and has more protein than regular yogurt, but you could use any yogurt at all: Greek or regular, plain or flavored. You could even use a fruit-flavored yogurt like strawberry or blueberry or an alternate flavor like toasted coconut (one of my favorites). The tacos are going to taste a lot like the yogurt, so make sure you use something you really like.
Semi-sweet chocolate chips - You can actually use any chocolate at all. Chocolate chips, a baking chocolate bar, a regular old Hershey bar... whatever you have will be fine. You're going to melt it and drizzle it over the tacos. Alternately, if you don't want to use chocolate, you could drizzle with some real maple syrup or even honey. In that case, skip the cream below.
Heavy cream - You need a tiny bit of liquid to make the chocolate nice and smooth when it melts. I would not buy a whole carton of heavy cream for this, though. Use a splash of whole milk or even low fat milk. It will work.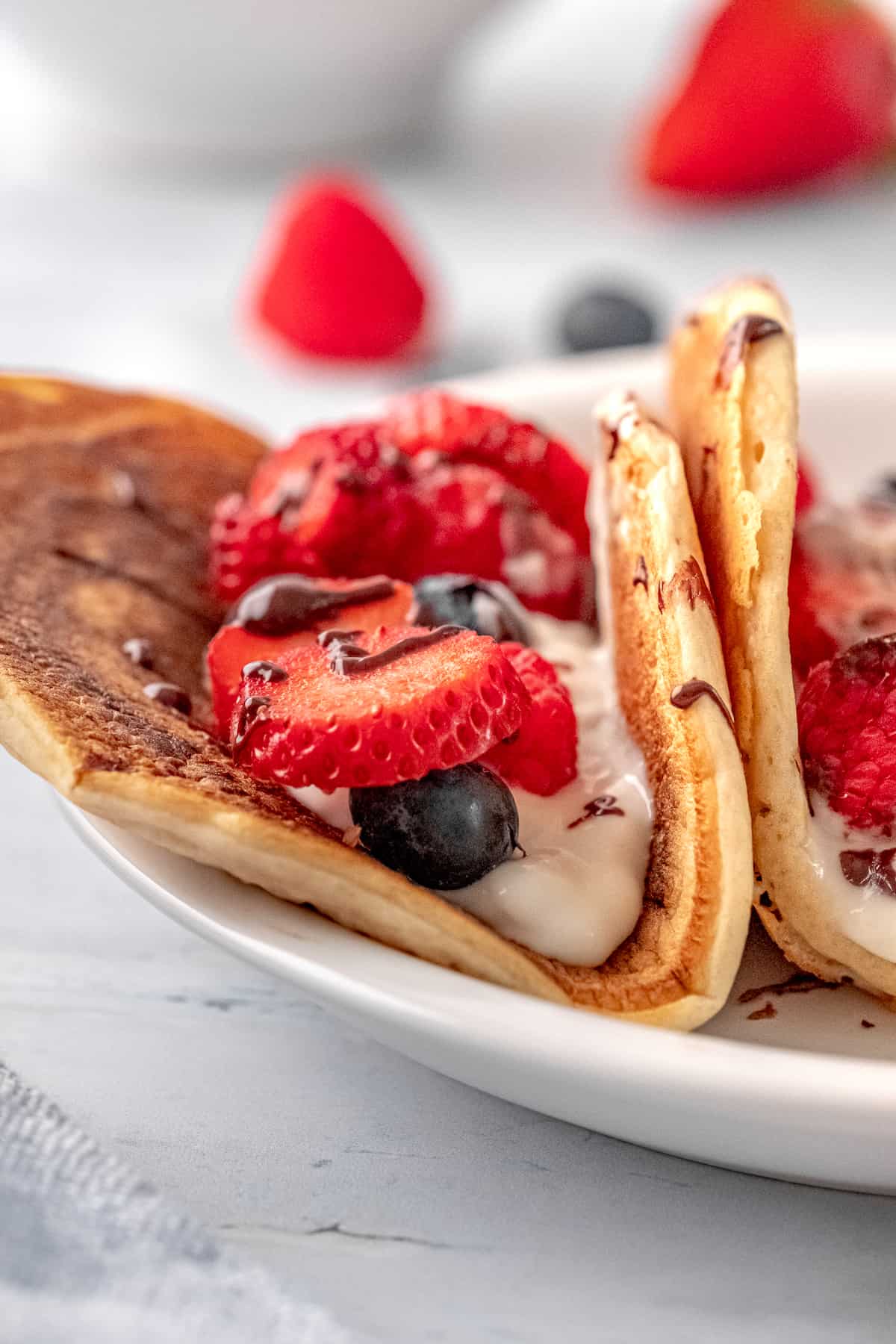 How to make pancake breakfast tacos with fruit and yogurt
For the pancakes
Preheat a griddle over medium heat, and preheat the oven to 250ºF.
Add flour, baking powder, and salt to a large mixing bowl. Whisk together.
Add sugar, milk, egg, and vanilla to a small mixing bowl. Whisk together.
Add the wet ingredients to the dry ingredients and mix well.

Spritz the griddle with cooking spray.
Use a ⅓-cup measure to pour a small amount of batter into the center of the griddle or large skillet. Cook for 30-60 seconds, until bubbles start to form on the edges of the pancake.

Flip the pancake and cook for an additional 30-60 seconds, until both sides are golden brown. You may need to cook each side for an additional 30-60 seconds, depending on the pan and the temperature.

Move the finished pancake to an oven-safe plate or baking sheet. Keep cooked pancakes in the oven until all pancakes have been cooked.
To assemble the fruit tacos
Pour the chocolate and cream into a small, microwave-safe bowl. Microwave for 20 seconds, then stir thoroughly. Microwave for another 20 seconds and stir. The mixture should be completely melted and liquid after 40 seconds, if you have stirred enough. See note below.
Use a large spoon to smear some Greek yogurt down the center of a pancake.

Top with the fruit of your choice and a drizzle of melted chocolate.

Roll into a taco shape and serve. You don't even need a knife and fork!

Can you use frozen pancakes or waffles for pancake tacos?
Sure. There's no reason why you can't. If you're short on time or simply prefer the flavor of frozen pancakes or waffles, go ahead and use them.
I would microwave them rather than putting them in the toaster. If you toast them, they may be brittle and break when you try to wrap them around your fruit taco filling.
Tips for the best pancake fruit tacos
If your pancake batter gets too thick, the pancakes will be too fluffy to roll up like tacos. If you notice this starting to happen, add a splash or two of milk and whisk it in.
If you let the pancake batter sit for 5-10 minutes after mixing it up, the pancakes will taste better.
You can enjoy pancake fruit tacos hot or cold.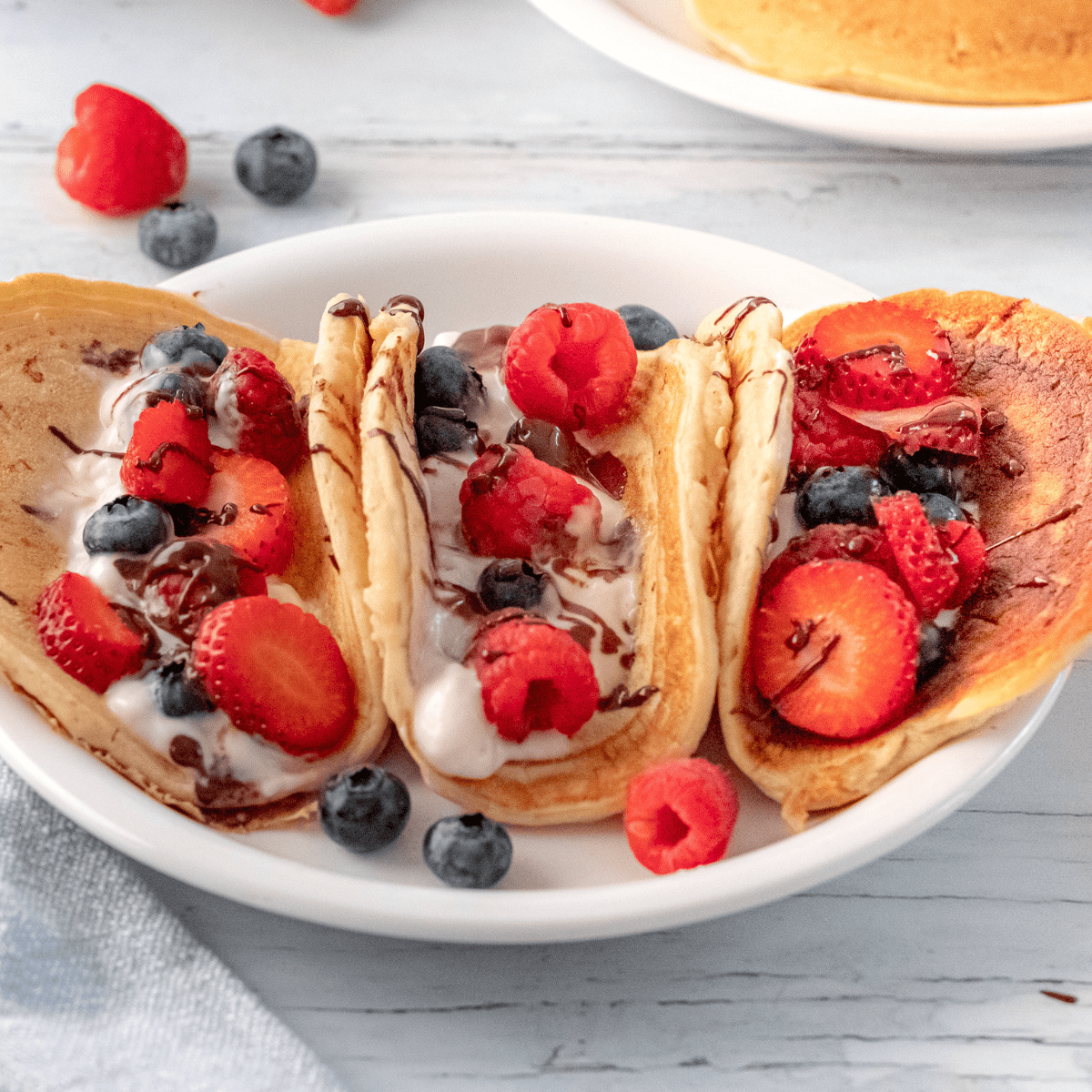 Variations
Pancake tacos are an awesomely versatile food!
Fill them with scrambled eggs and cheese, and add a dash of hot sauce.
Use cooked crumbled sausage just like you would ground beef. Top with cheese (and lettuce and tomatoes, if your kids will eat them).
As mentioned above, you can use any flavor of yogurt and any fruit. There are no limits!
Sprinkle your fruit with chopped nuts: pecans, almonds, walnuts, or even peanuts.
Sprinkle your fruit with mini chocolate chips, granola, or shredded coconut.
Use peanut butter or Nutella in place of (or in addition to) the yogurt. Strawberries and Nutella are a winning combination!
While you're at it, jam or jelly is also nice in place of (or in addition to) the yogurt.
If you're not concerned with having a healthy breakfast, use some marshmallow fluff under your fruit. (Fun is okay sometimes, too!).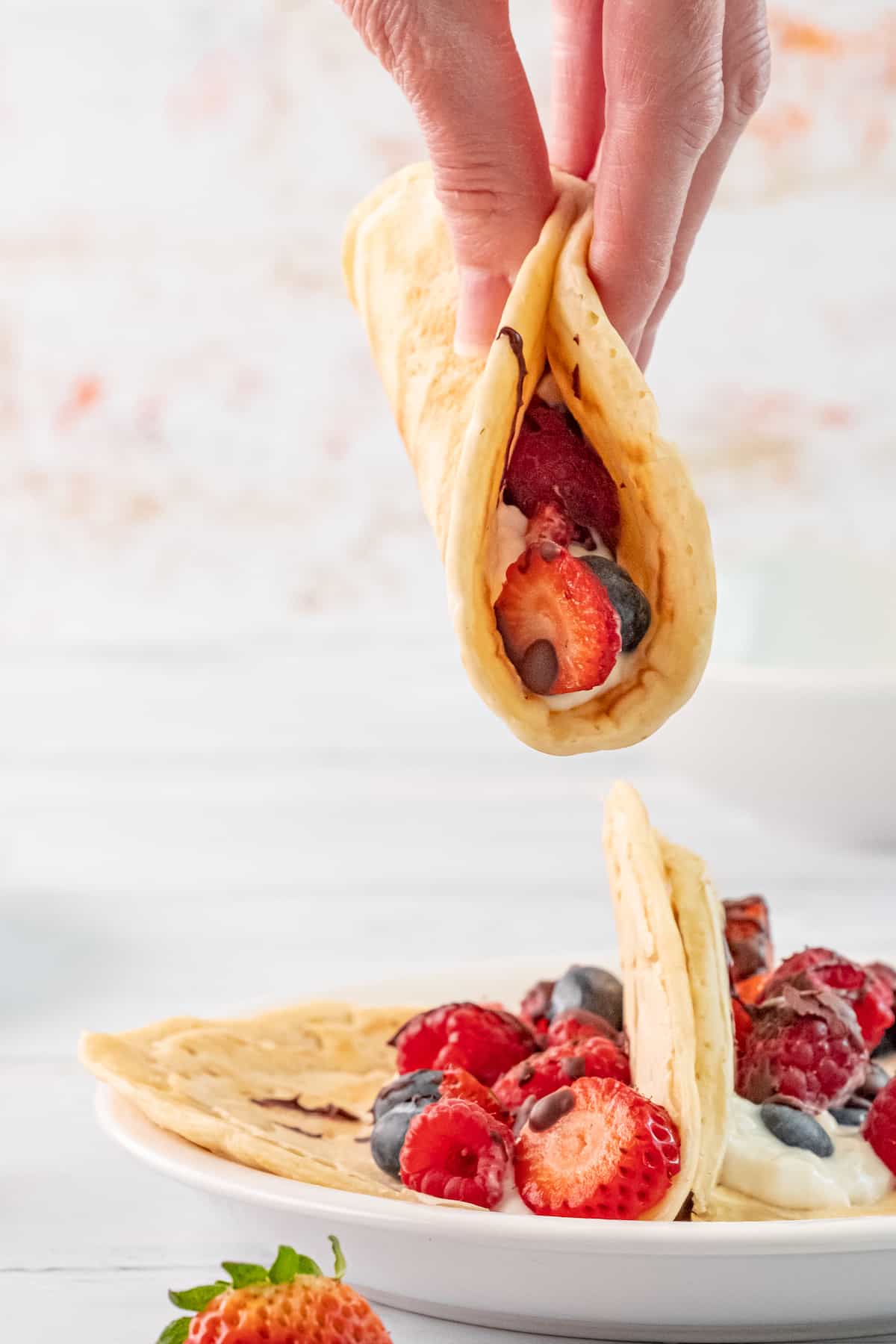 How to store pancake fruit tacos
Obviously, you don't want to assemble the tacos until you're ready to eat them. You can't really store an assembled taco. The pancake will get soggy and gross.
If you haven't already assembled the tacos, place the leftover pancakes in an airtight container with a piece of paper towel and store at room temperature for up to 2 days.
You can also freeze these pancakes. Place them on a baking sheet in the freezer for 4-6 hours, then drop the frozen pancakes into a plastic freezer bag for up to a month. Pop them in the microwave for 30 seconds, and they'll be ready to eat (or make into tacos).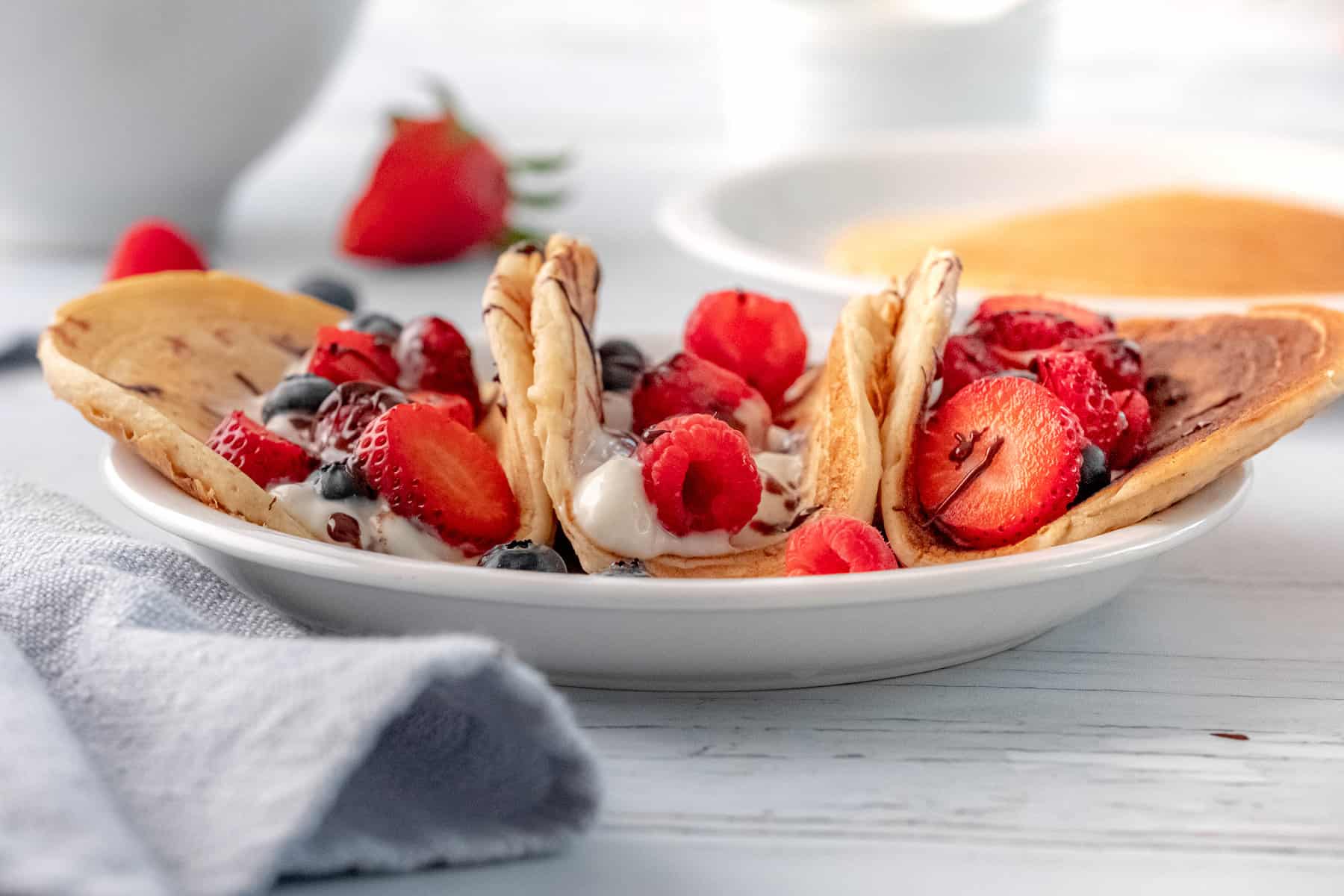 Serve pancakes tacos with these other breakfast recipes:
Or try these other pancakes recipes:
Recipe