Whether you call it a German pancake, a Dutch baby pancake, or a popover pancake, this quick 15 minute breakfast is easy to prepare with eggs, milk, flour, and vanilla and has light and slightly sweet flavors. Easy to customize with fruit or savory toppings.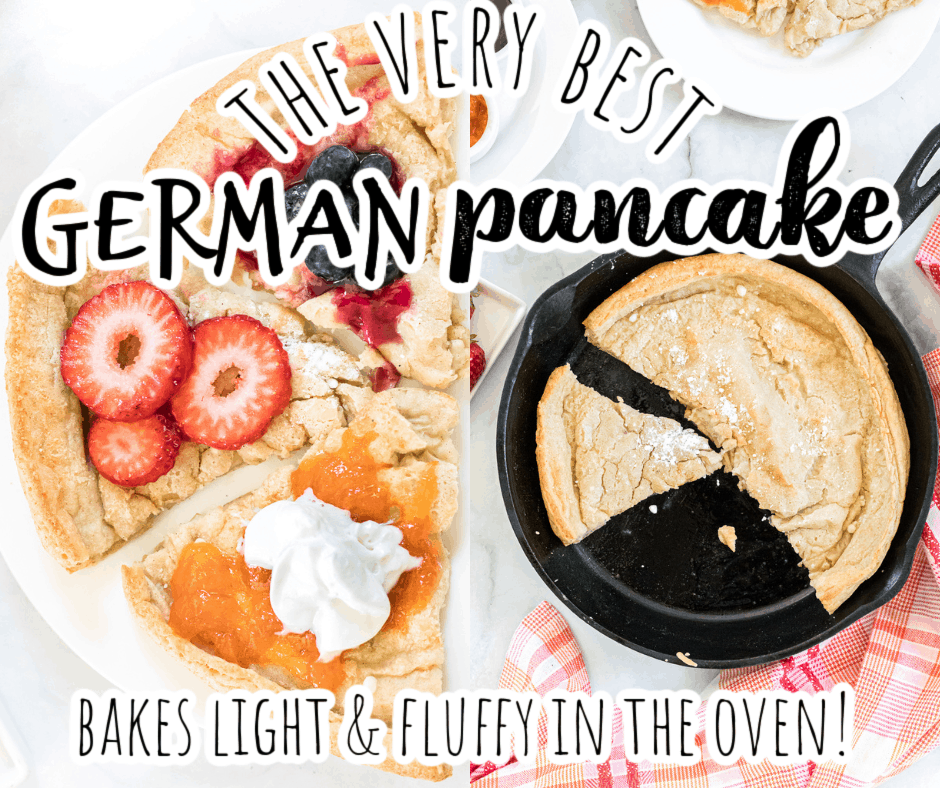 My daughter, Allie, takes a cooking class with Chef Ali Caldwell from San Diego every Saturday. She has learned all manner of cooking techniques (and I have learned quite a few as well!), and the food is always healthy and made from scratch. One of the recipes we learned from Chef Ali this spring was the German pancake or Dutch Baby.
Chef Ali told us to top our German pancakes with powdered sugar and a sprinkle of fresh lemon juice, and that is a delicious way to eat them, but we have made them several times since, and I prefer fruit toppings instead. I especially like a smear of cherry preserves or fresh berries on mine, and of course we always end with a dollop of real whipped cream.
You could eat German pancakes with the traditional American topping of butter and warm maple syrup, and that would also be delicious because they are just that good.
I have also seen German pancakes topped with savory, crepe style toppings, like scrambled eggs and chopped bacon smothered in cheese sauce, but I can't vouch for that because I've never tried it. If you intended to make yours savory, I would omit the sugar.
What are German pancakes?
German pancakes, also called Dutch babies or Hootenanny, are baked pancakes made from flour, butter, sugar, eggs, and milk, with a few other ingredients for a richer flavor. They are baked in a cast iron skillet in the oven, and they puff up like a popover while cooking but fall when they hit the cooler, room temperature air.
How to make German pancakes
Preheat oven to 425ºF and place a large 10 or 12 inch cast iron skillet inside to preheat as well.
In a mixing bowl or blender, combine eggs, milk, flour, salt, vanilla, and sugar. Whisk vigorously or blend until very well combined.

Very carefully remove the skillet from the oven (the handle is 425º, remember!) and add the butter, swirling around so it completely melts.

Whisk batter one more time. The popover will not rise if the batter is under-whisked; it is impossible to overwork this batter. Pour batter over the top of the melted butter in the pre-heated skillet.

Place the hot skillet in the pre-heated oven and bake for 15 or minutes or until puffy and deep golden color. Everyone I know has a different preference in terms of the color of the finished pancake. Some people (like my kids) like it very light, almost not even golden at all. Some people (like me) prefer it to be so golden that it's starting to brown. I want my kids to eat, so I take it out of the oven while it's still very light, but someday (someday!), I will cook it longer and eat it the way I like it.

Carefully remove the pancake from oven (the handle is still hot!) and sprinkle lightly with powdered sugar. The top begins to fall as soon as it's removed from heat so plan to serve immediately with your choice of topping. Some people use butter and warm maple syrup, but my kids and I prefer fruit such as a cherry preserves, fresh berries, sliced peaches, or fried cinnamon apples, and top the whole thing with real whipped cream.
How to serve German pancakes
These pancakes are delicious, but don't get me wrong - they are not a full meal. This is a very light and lovely pancake, and topped with fruit, it is a great complement to a protein. I recommend eggs, cooked your favorite way, and maybe a slice or two of bacon to go with the pancake.
Are German pancakes really German?
No, not really. The origin of German pancakes can be traced back to Seattle in the early 1900s.
There is a traditional German pancake that is made in Germany, but it is cooked on a griddle on the stovetop, and it is more like a cross between an American pancake and a French crepe (heavier and thicker than a crepe, but not as heavy and thick as an American pancake). It is nothing like the baked popover that we call a German pancake.
If German pancakes are not from Germany, are Dutch babies really Dutch?
Again, nope. Dutch babies get their name from the German word for German, deustch. It sounds like the English word Dutch, so when English-speaking Americans heard German immigrants say that something was deustch, they incorrectly assumed the word meant Dutch. Where I live, there is an entire culture called Pennsylvania Dutch - and it is 100% German.
So, Dutch babies are exactly the same thing as German pancakes, and they come from Seattle, Washington, not Germany or the Netherlands.
More Pancake Recipes
We love pancakes at my house, and we make a big variety of them. The first recipe below (apple pecan pancakes) is baked in the oven, similar to German pancakes, but it does not puff up like a popover. It has a texture similar to a traditional fluffy pancake cooked on a griddle. All the rest of the recipes below are more traditional, being cooked on a griddle on the stovetop.
Recipe