These Easter Bunny Pancakes are a quick and easy Easter breakfast for kids or adults, and super simple to make. Check out our quick tutorial including the best fluffy pancake recipe!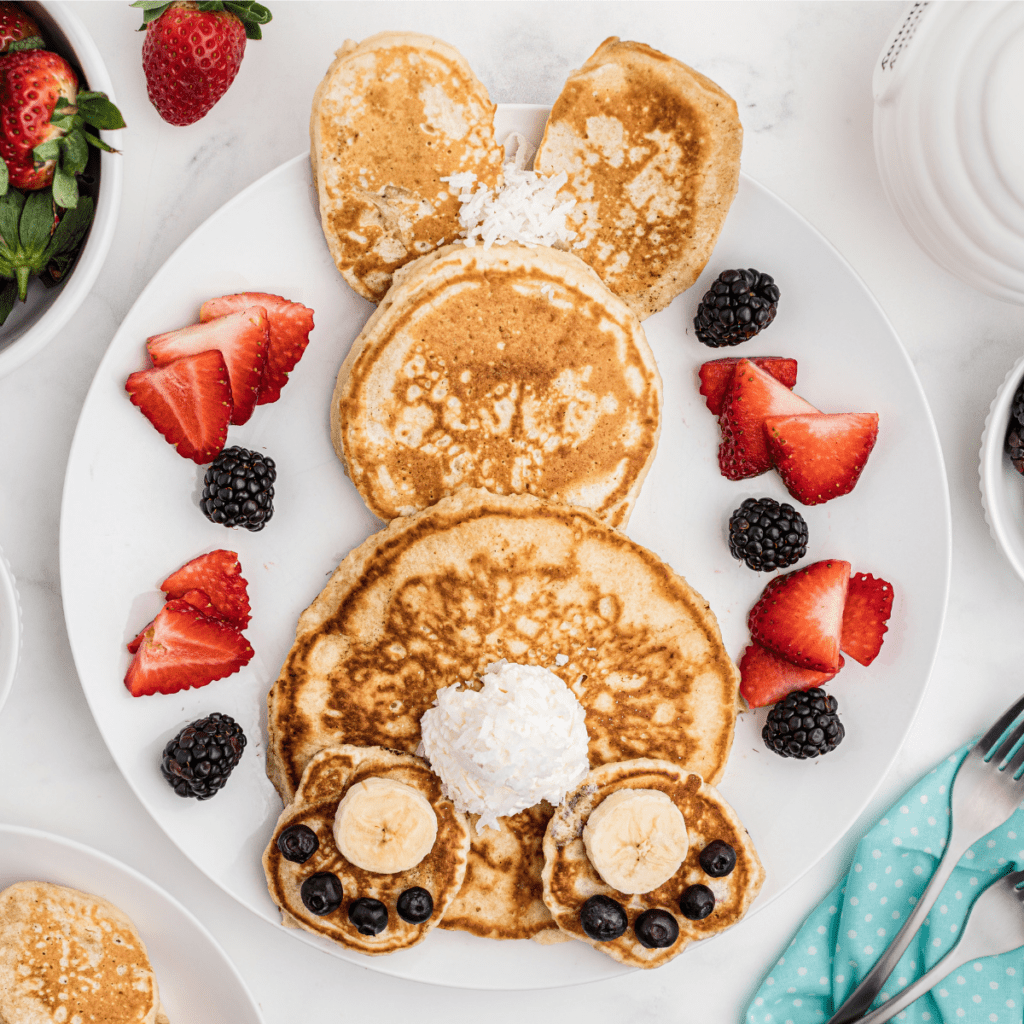 What you'll need to make Easter bunny pancakes
Equipment
You will need a large flat bottomed skillet or a griddle to cook your pancakes. Other than that, this recipe uses two mixing bowls, a whisk, and measuring cups and spoons.
I like to pour my pancake batter out onto the griddle using a small measuring cup, but you could also use a large spoon or one of these fancy pancake batter dispensers.
Ingredients
This is a basic (but delicious!) pancakes from scratch recipe. I like this recipe because the pancakes get sort of fluffy but not enormous like cake. I prefer my pancakes to be in the middle, between mile high and flat like paper. This recipe makes pancakes that are perfectly in the middle.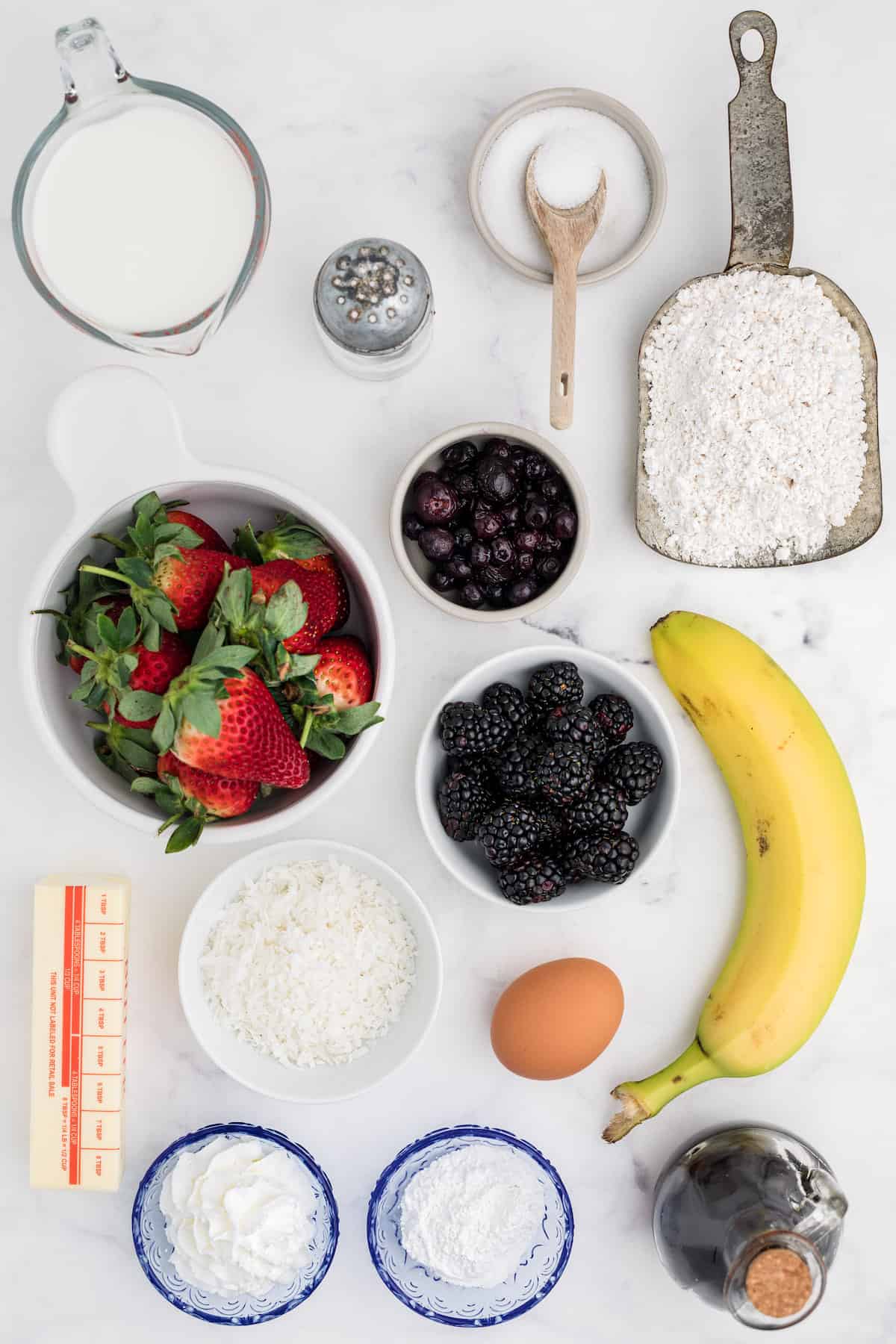 Egg
Whole milk
Melted butter, cooled to room temperature - If you use boiling hot butter, it will cook the egg in the batter, and you will have to start over.
Extra butter for cooking
Vanilla bean paste - If you've seen any of my other sweet recipes, you know that I have an unhealthy obsession with vanilla bean paste. It is a slightly sweet, thick and sticky substance that contains ground up vanilla beans. It has an amazing and potent vanilla flavor that makes sweet foods taste like the best possible version of themselves. It is slightly different from vanilla extract because vanilla extract comes from vanilla beans soaked in alcohol but then removed. The extract is the alcohol that's left behind with the essence of vanilla. Vanilla bean paste actually has the beans crushed up and mixed in. Anyway, it's up to you which one you use. You can use the paste or an equal amount of vanilla extract.
All purpose flour - Okay to use cup for cup gluten-free flour here.
Baking powder
Granulated white sugar
Table salt
Shredded sweetened coconut - This will make a tuft of hair on the bunny's head and also on the little bunny tail.
1 small banana - You'll only need a few slices from the banana.
8 blueberries - These are the bunny's toes, but if you don't like blueberries, you could use chocolate chips or even brown M&Ms or Reese's Pieces.
Whipped cream - This makes the bunny's tail. It would be easiest if you used whipped cream from a can.
Fruit for decorating & serving - No limits on the fruit. Use whatever you want.
Butter and maple syrup or honey - For serving.
How to make the best Easter bunny pancakes recipe
In a large bowl beat the egg, milk, melted butter (which has cooled), and vanilla bean paste.

In another medium bowl stir together the flour, baking powder, sugar, and salt.

Add the dry ingredients to the wet ingredients and whisk until just combined – the batter should be somewhat lumpy. Do not over mix or your pancakes will be tough.

Let the batter sit for 5 minutes. It will puff up slightly.

During this time, melt a little butter in a large skillet or on a large griddle over medium-high heat.

To make the bunny, first make the round pancake, which will be the large part of the bunny's body. Scoop the batter onto the hot griddle, pouring to make it a nice circle. You can shape it a little while still wet but it sets quickly so hurry. Cook the pancake until you see bubbles forming on the top (about 2 minutes). At this point, it should be set underneath and you can push the spatula underneath and flip the pancake over. Cook another minute or so and remove to a plate.

Repeat, making a smaller circle (head), two tiny circles (feet) and two long ear shapes.

Lay the pancakes out on a plate, ears first at the top of the plate, then the head slightly overlapping the base of the ears, then the body, and finally the feet.

Pipe (or spray) a dollop of whipped cream above the feet to make the bunny's little cotton tail. Sprinkle the cream with sweetened coconut. Place a little coconut on top of its head too, for a tuft of hair.

Place a banana slice on each foot, with blueberries underneath each slice. These will make the bunny's toes.
Decorate the remainder of the plate how you prefer with a few slices of strawberry and/or other sliced fruit, honey, or maple syrup and serve immediately.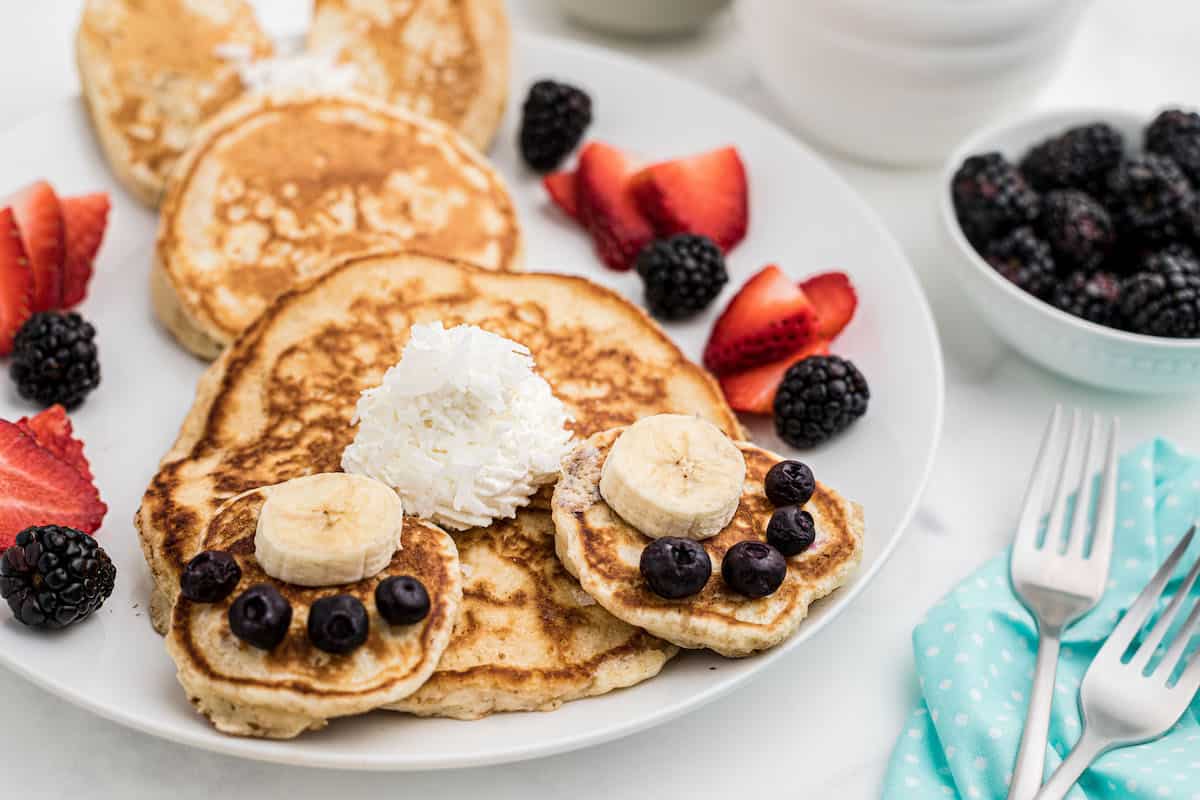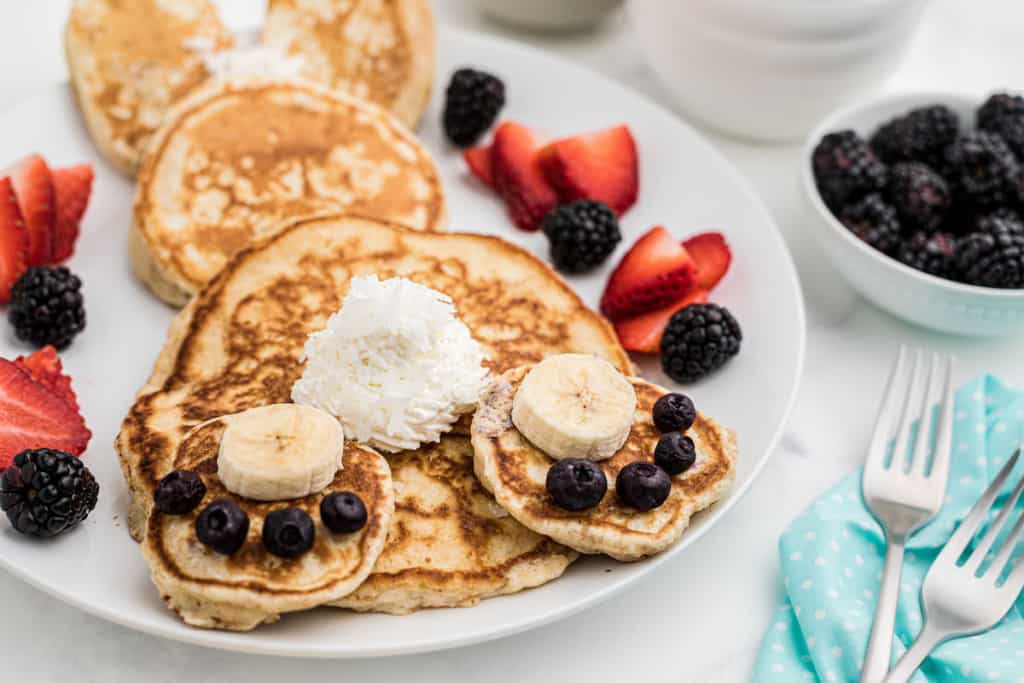 How many pancake bunnies does this make?
This recipe makes two very big bunnies. If you want to make bunnies for smaller children, you could probably get three or even four. You will need additional fruit for the extra bunnies.
How do you shape the pancakes?
It's actually pretty easy to do this by hand with the spoon or measuring cup that you're using to pour batter onto the griddle. When you've poured the desired amount of batter onto the griddle, just move it around on the skillet a little with the back of your spoon.
Is there a shortcut? How can you make bunny pancakes faster?
Sure. Instead of making my pancakes from scratch recipe, just use a prepared pancake mix.
How do you keep the first pancakes warm while you're cooking the rest?
Put the pancakes on an oven-safe plate or baking sheet and pop them into a 200ºF oven while you cook the rest.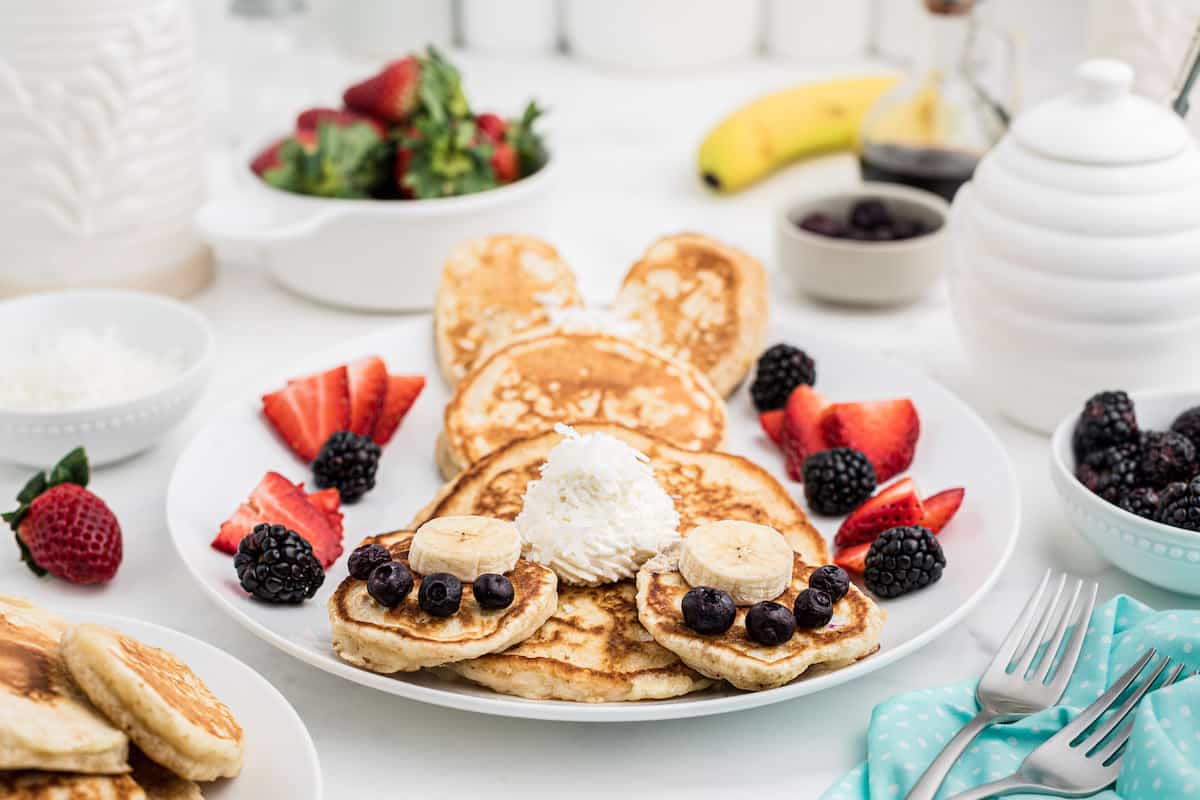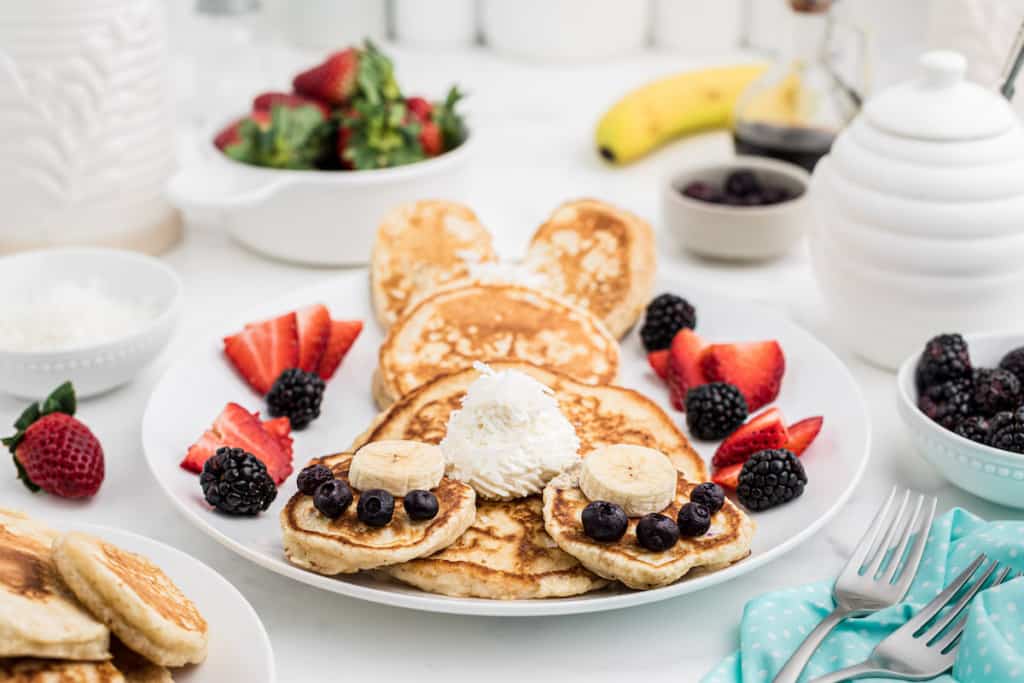 Tips for the best bunny pancakes
Make sure you let the pancake batter rest for 5-10 minutes. This will allow lots of bubbles to form - and bubbles will make your pancakes light, fluffy, and great for soaking up syrup!
Use a pancake batter dispenser or small measuring cup to pour the batter out on the griddle. If you go the measuring cup route, use a ⅓ cup for the head and each ear, ⅛ cup (2 tablespoons) for the feet, and ½ cup for the body. As stated above, this will make a very big bunny. If you want smaller bunnies, use smaller measuring cups.
You can use marshmallow for a tail instead of whipped cream.
Instead of honey or maple syrup, you could serve the pancakes with fruit preserves or jam.
Make sure the griddle is hot before you pour the first pancake. A drop of batter should sizzle a bit if dripped onto the hot griddle.
Anytime you make pancakes, you should not touch them until bubbles start forming at the edges. If you try to flip them too soon, they'll get all messed up and be ruined.
How do you store cooked pancakes?
If you haven't already drenched your pancakes in syrup or honey, place them in an airtight container with a piece of paper towel and store at room temperature for up to 2 days.
You can also freeze these pancakes. Place them on a baking sheet in the freezer for 4-6 hours, then drop the frozen pancakes into a plastic freezer bag for up to a month. Pop them in the microwave for 30 seconds, and they'll be ready to eat.
What kind of fruit can you use?
This recipe is super versatile, and you can use any fruit. I used blueberries for the feet but this could be chocolate chips if you'd rather something sweeter.
And you can use honey or maple syrup, or whatever you like to serve with your pancakes!
I think just the shape of the pancakes already has the bunny part taken care of, the other decorating stuff just gives a little extra. Get creative.
Try these other delicious breakfast recipes
Recipe