How to make the best 4 ingredient quick & easy cream cheese and cinnamon fruit dip. This healthy homemade recipe uses no added sugar or sweetener and no marshmallow fluff. Ingredients include lemon juice and sweetened condensed milk. Low carb, keto, and paleo. Awesome with apples or strawberries.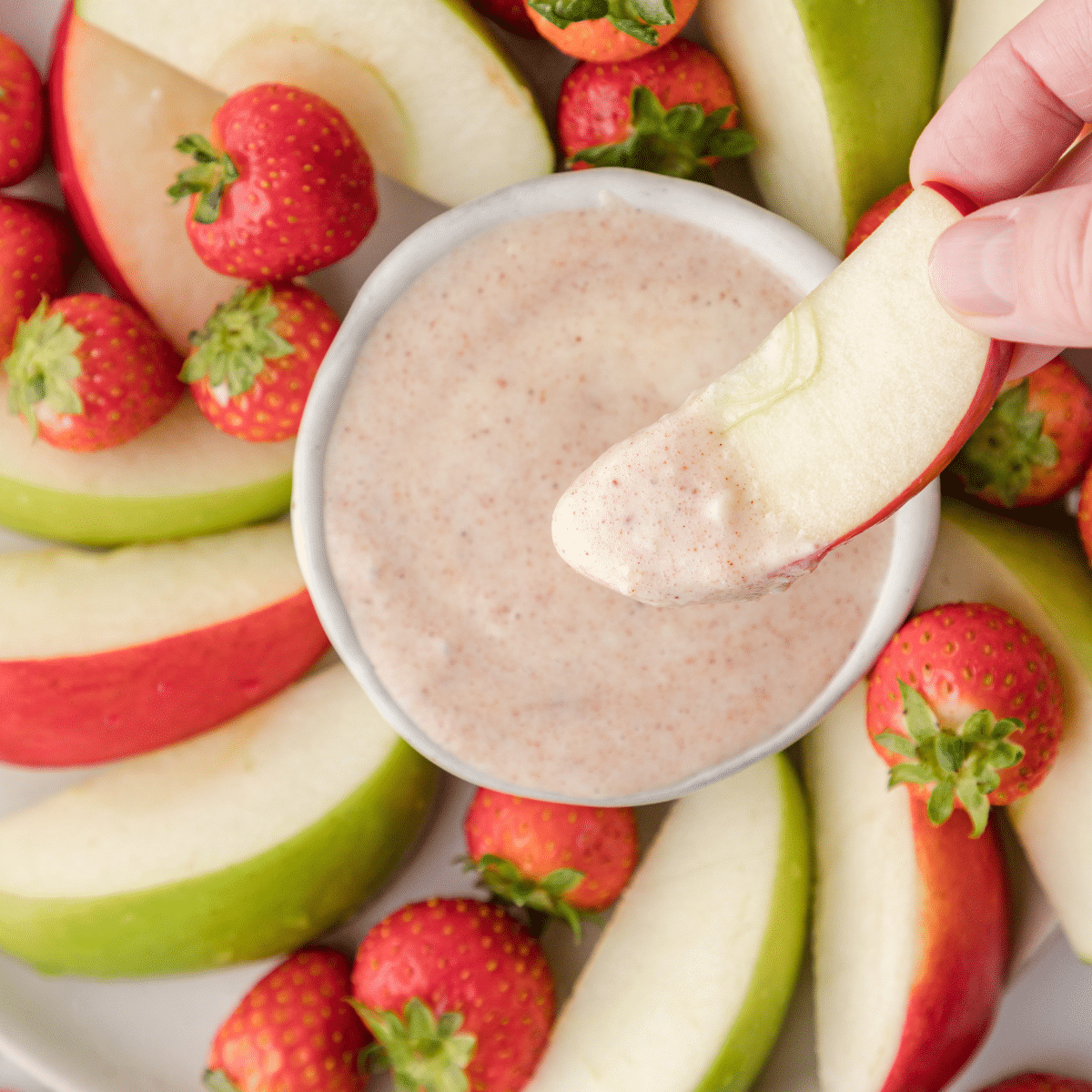 Last Sunday, it was our turn to bring the snacks for the small group meeting we attend at church.
The other group members had set the bar high - homemade guacamole (that was amazing); fresh fruit trays with pineapple, grapes, and bananas; tortilla pinwheels; and spinach and artichoke dip (also amazing).
We had planned to bring a fruit tray, but there were none available at Walmart. Bummer.
The only produce that looked nice was the apples. We bought 6 of them, 3 red and 3 green, and arranged pretty apple slices on a platter.
Something was missing. We needed some fruit dip.
I have a good fruit dip recipe that uses cream cheese and marshmallow creme, but it was 20 minutes before we had to leave, and we didn't have any marshmallow fluff. That wouldn't do.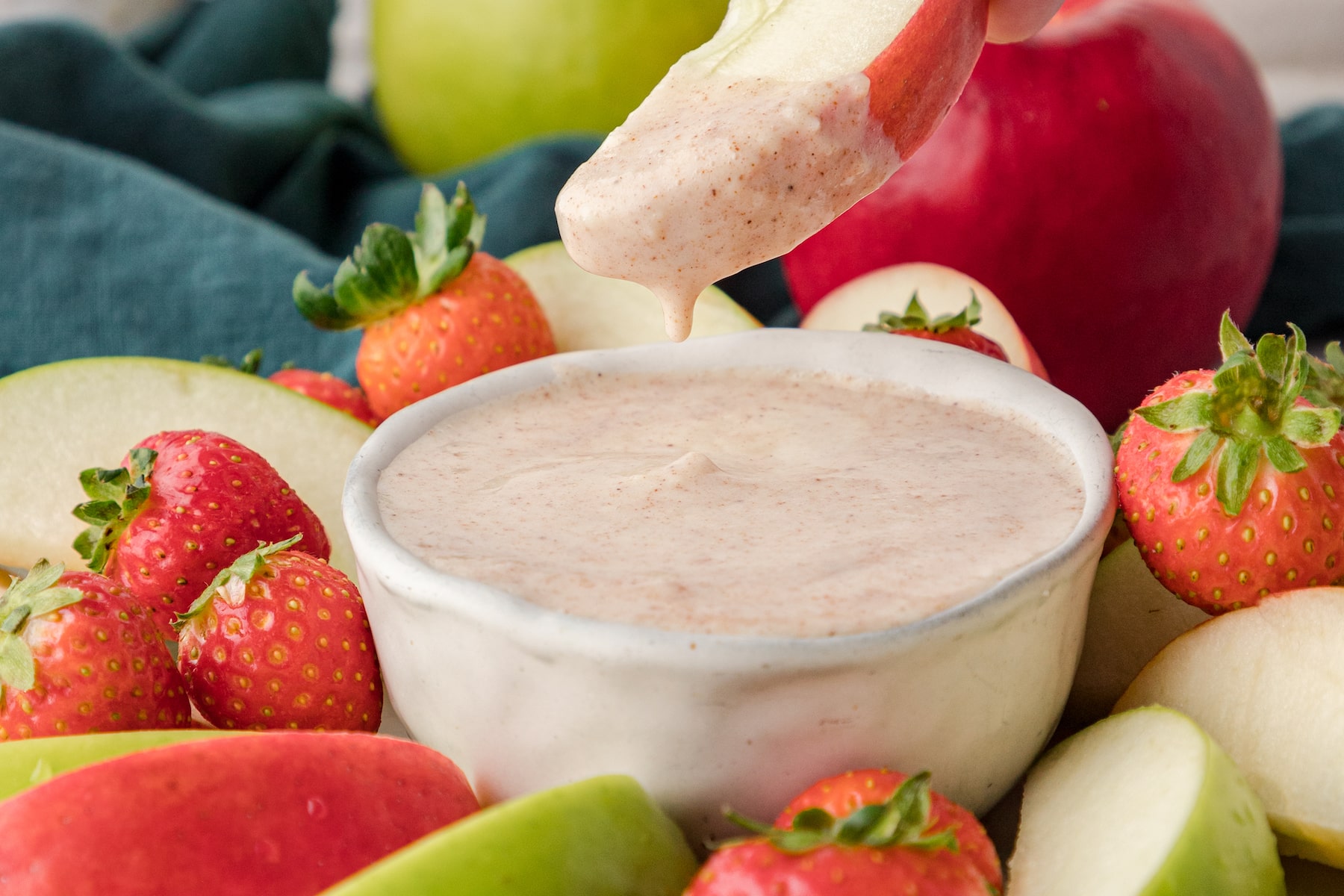 Fruit dip.
I started with cream cheese and cinnamon, but I needed something to thin it a bit. I tried a can of sweetened condensed milk. It tasted good and had the right texture, but was missing zing. I added a splash of lemon juice, and it was perfect.
The kids liked the fruit dip so much that they each ate a bowl full (of the leftovers, after small group was over), and they thought it was a real treat.
What you'll need to make this easy cream cheese fruit dip recipe
You'll find this recipe is much easier to make with an electric hand mixer but if you don't have one, you can use a whisk and it will be fine.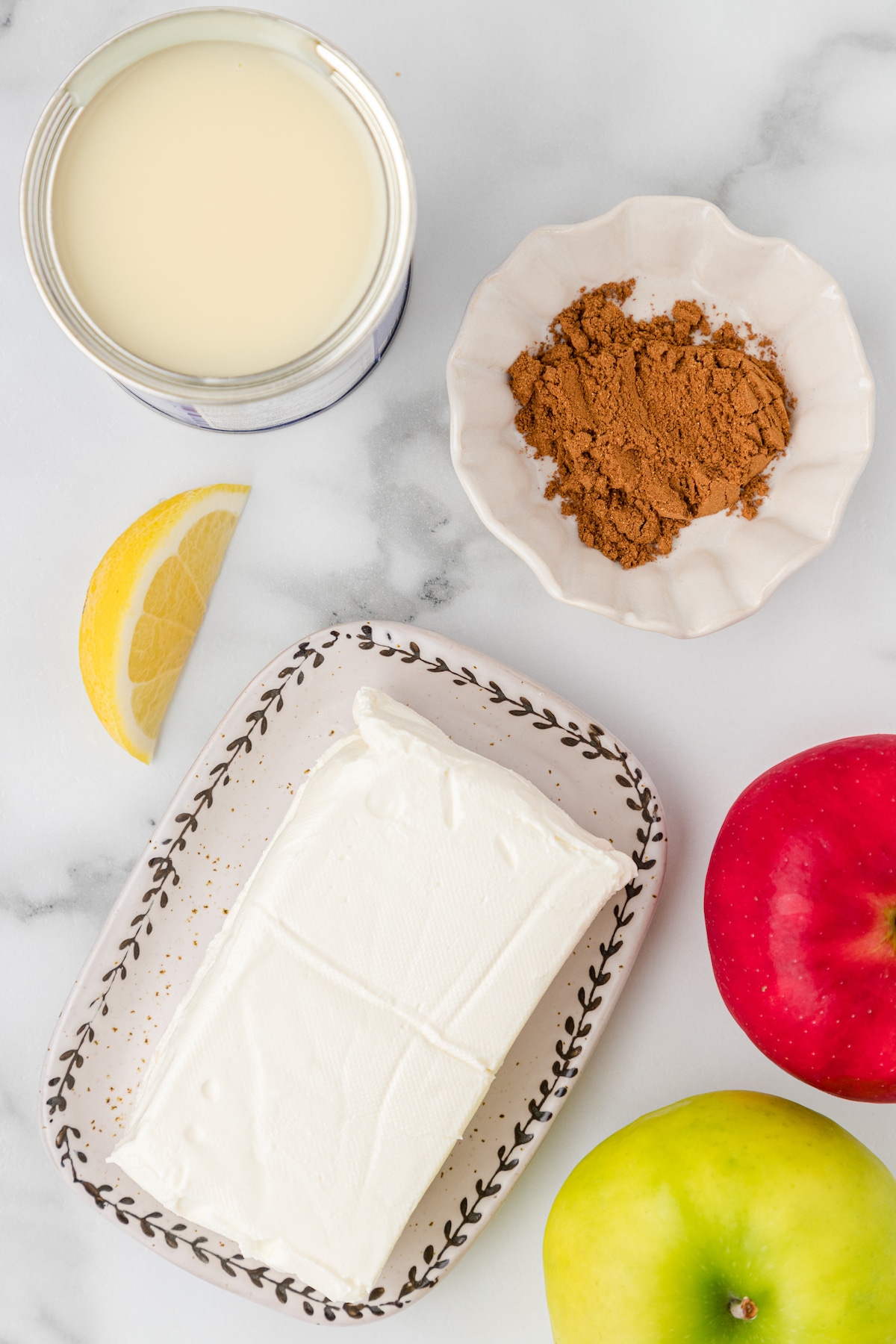 See printable recipe card at the bottom of the page for measurements and nutritional information.
How to make cream cheese fruit dip
Soften the cream cheese by microwaving it for 30 seconds at a time, until it is soft enough to work with but not melted.

In a small bowl, combine the cream cheese and sweetened condensed milk. This will come together easily using a whisk. An electric mixer would make it faster, but it isn't necessary. Beat the mixture until there are no more cream cheese lumps.

Add a splash of lemon juice, about a teaspoon, and continue to stir.
Once the mixture is well blended, add the cinnamon and whisk in.

Serve with fruit.

Cover and refrigerate until you're ready to serve.
What can I serve with this cream cheese fruit dip recipe?
I intended the cinnamon fruit dip to be served with apples and strawberries, as pictured. But you could serve it with your favorite fruit. Anything from pineapple to grapes to pears to peaches to banana slices to raspberries to blueberries to watermelon to cantaloupe to blackberries. You could use pretzel sticks to skewer the more slippery fruits and dip them with the pretzels as handles.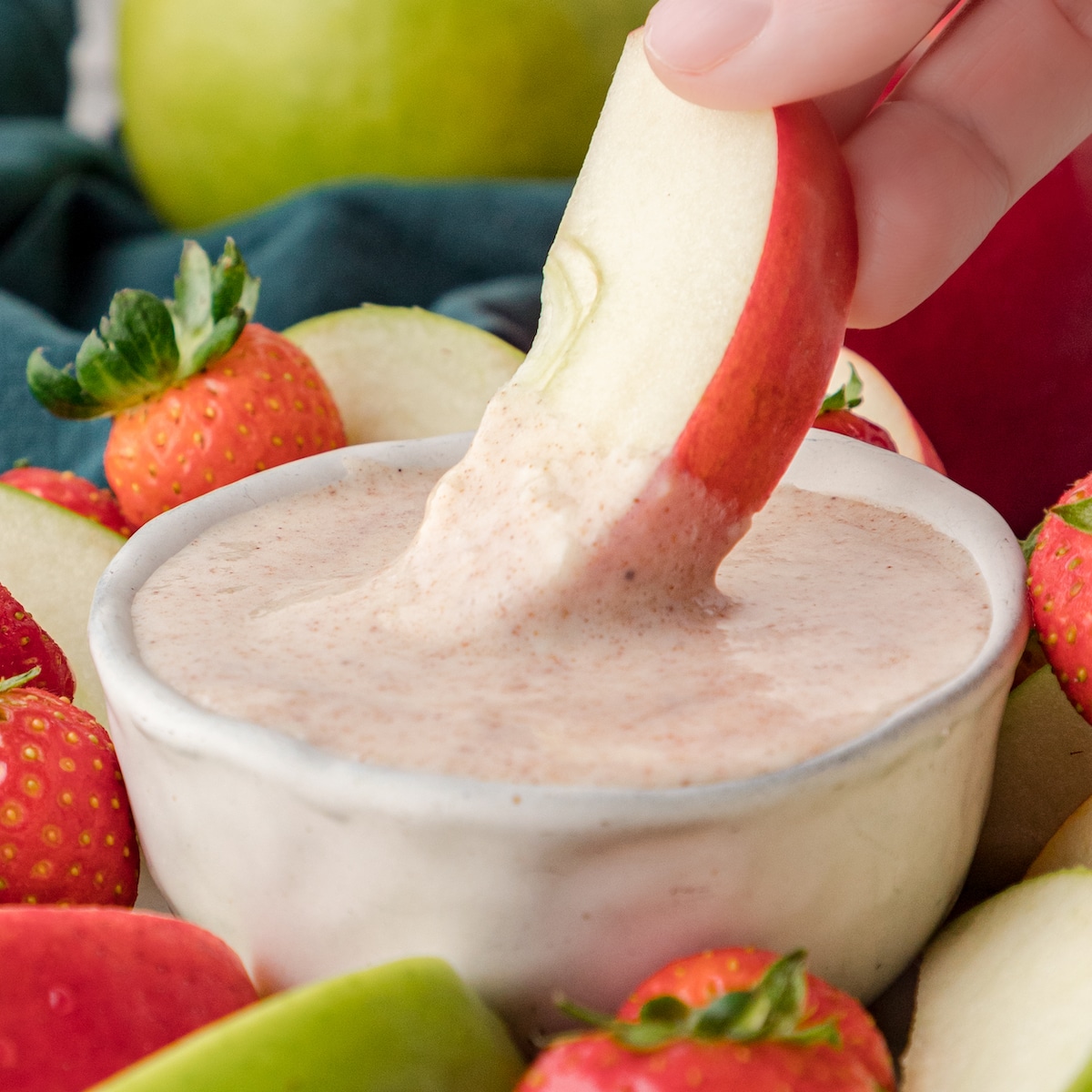 You could also dip graham crackers or cookies in this dip or use it to make little sandwiches with cookies or crackers. How cute would a little stack be if you put a dollop of dip on top of vanilla wafers, and then topped them with a couple of blueberries or a banana slice? Ooo, or a slice of pound cake with a smear of dip and a bunch of little pieces of fruit? I'm getting hungry thinking of more ideas!
Variations
This dip is perfect just as written, but if you're looking to change it up, try one of the following:
Sprinkle the dip with mini chocolate chips and stir a few in.
Increase the protein by mixing in a half cup of Greek yogurt. (You may have to adjust the lemon juice and cinnamon to account for the added creaminess.)
Stir in a couple teaspoons of lemon zest, orange zest, or lime zest.
Replace the cinnamon with cocoa powder.
Make it fluffy by stirring in a small container of Cool Whip. (You may have to adjust the lemon juice and cinnamon to account for the added creaminess.)
Stir in a tablespoon or two of jam or jelly.
Drizzle the completed dip with warmed peanut butter (or another nut butter of your choice).
Drizzle with honey.
Add teaspoon of vanilla extract, vanilla bean paste, almond extract, or orange extract.
Make it pumpkin spice by replacing the cinnamon with pumpkin pie spice and adding a scant ¼ cup of pure pumpkin puree.
Why is my fruit dip lumpy?
The cream cheese must be soft before beginning this recipe. If it's even a little bit cold, it will be lumpy and won't mix up nicely into an evenly smooth dip. It's best to let it sit out on the counter for an hour before starting. If you have to, you can microwave the cream cheese in 20 to 30 second intervals until it's evenly soft.
Can you double this cinnamon cream cheese fruit dip recipe?
Definitely! And you may want to because it's so good you'll want to eat it for a couple of days!
Can this easy fruit dip be made ahead?
Yes! You can make it up to 2 days ahead and store in the fridge in an airtight container until ready to serve.
What to do with leftover cream cheese fruit dip
This easy fruit dip recipe needs to be stored in the refrigerator. Pour it into an airtight container in the fridge and it will keep for up to a week.
Try these other awesome dips while you're here:
Recipe