Simple & easy healthy carrot soufflé recipe - This low carb souffle is sweet and gluten-free. Best side dish for Thanksgiving or Easter dinner.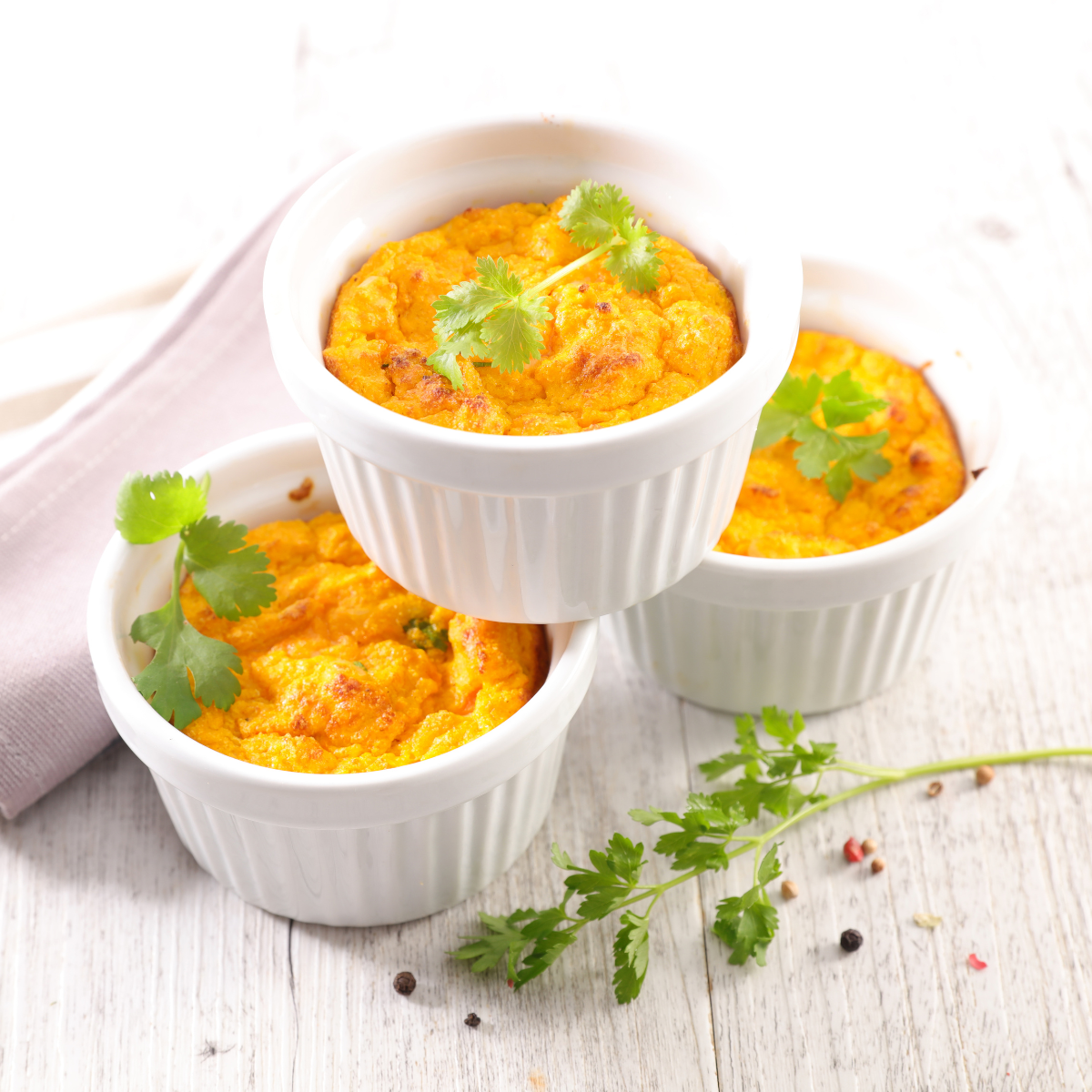 I used to be the Chief Managing Editor for FoodieMama.com. As such, I read each and every article that was published on the site. I edited them for grammatical problems and published them on our network.
I read a lot of neat articles, but one on a carrot soufflé recently caught my attention. The author, Ilena Ewen, wrote a column on raising foodie kids, and she presented the recipe for carrot soufflé as a way to encourage children to eat and love vegetables.
She's not into the hiding veggies to get them into bellies trickery that pops up from time to time, and this soufflé is clearly carrots with a few things added in.
Some of my Easter guests were dubious about trying the carrot soufflé, but it won them over.
It's so sweet that it could easily be served for dessert with a scoop of ice cream.
In fact, I halved the sugar in my version below because it was even a little too sweet for my taste. (I thought that was impossible, but apparently, it isn't.)
One more note: this recipe fills only a small pan. You would have to double it to fill a 9x9 baking dish.
I would recommend doubling it; it's that good. Everyone will want seconds.
How to make easy carrot soufflé
Preheat oven to 350º. Spritz a one quart casserole dish or soufflé dish with butter flavored cooking spray.
Cook the carrots using your preferred method. I microwaved mine. Add the melted butter and mash with a potato masher or fork until nearly smooth. I personally liked the texture the finished dish had when I left some chunks of slightly larger carrots, but then I also like lumpy mashed potatoes, so go with what you like.
Add 2 eggs, sugar, flour, baking powder, and vanilla. Mix well.
Separate the last egg, adding the yolk to the carrot mixture. Whip the white until it is fluffy and forms stiff peaks.
Carefully and gently fold the frothy whites into the carrot mixture. Spoon into the prepared casserole dish.
Bake for 40 minutes or until firm. Serve hot.
Try these other fruit and vegetable side dishes while you're here:
Recipe