Make your Easter celebration eggs-cellent with these cake balls decorated as Easter eggs! Easter egg cake pops are an adorable and delicious Easter dessert perfect for any spring gathering - and a great recipe for kids to make on their own! Cake balls are shaped into eggs, coated in white chocolate, and decorated with sprinkles. Includes easy step by step photo instructions.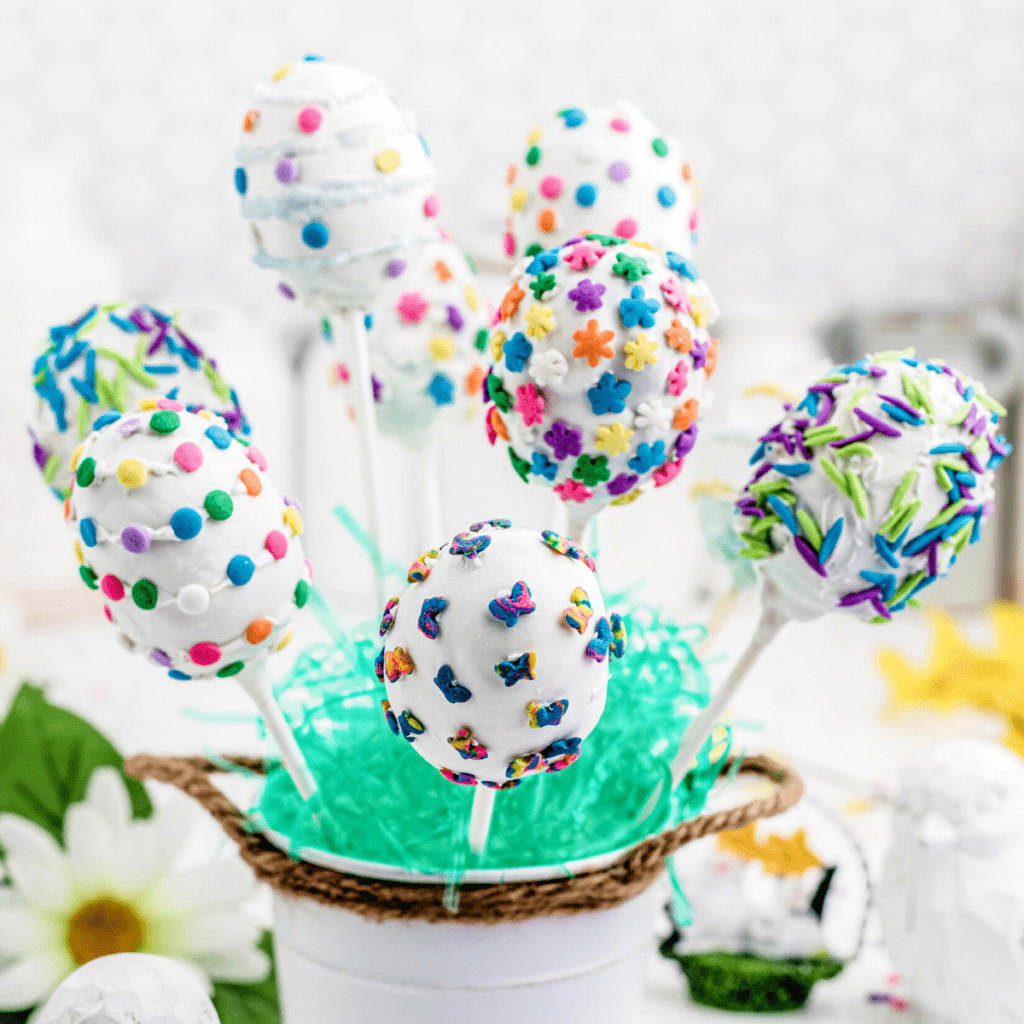 What you'll need to make Easter cake pops
Equipment
You'll need 2 large mixing bowls and a spatula to make the cake mixture that you'll shape into eggs.
You'll use a small scoop to make evenly sized balls for the eggs.
You'll need a baking sheet lined with parchment paper to lay the egg shapes on and plastic wrap to protect them in the freezer. (If you don't have parchment paper, you can use wax paper instead.)
You'll need a tall, narrow container such as a glass measuring cup to melt the chocolate or candy melts and then dip the cold cake pops in.
Finally, you'll need cake pop sticks or lollipop sticks and a cake pop stand to hold them up while the chocolate coating hardens. You could use a foam block for that part, but I'm always hesitant because I'm afraid the foam will flake off. Cake pop stands are cheap and there's no worry about any flakes.
Ingredients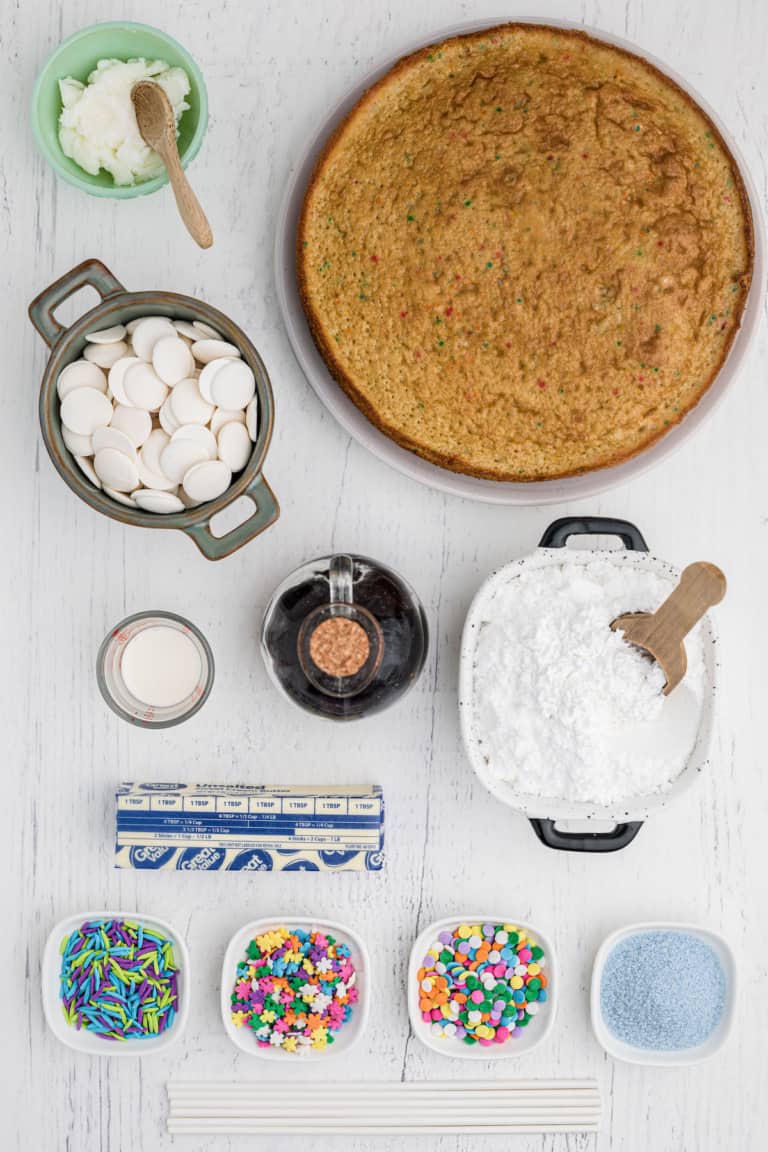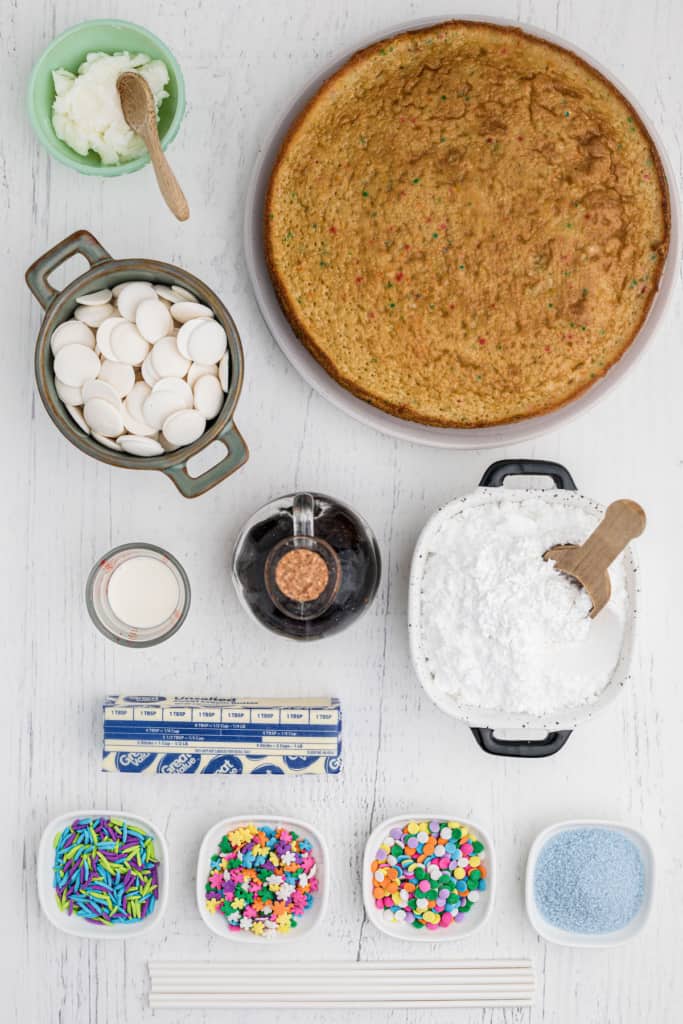 1 prepared confetti cake - You'll need an entire cake mix, so a baked and completely cooled 9x13 cake or two 9-inch rounds. I recommend using a box cake mix because it's simple and takes very little time. The cake must be completely cooled.
Unsalted butter - You're going to use this to make homemade frosting, so the butter needs to be room temperature.
Powdered sugar - This, together with the butter, is the base of the frosting. You're basically making homemade buttercream.
Heavy cream - This thins the frosting and makes it a little easier to work with.
Vanilla bean paste - I am in love with vanilla bean paste. It's a thick, glue-like liquid containing ground up vanilla beans. It has a dark but translucent appearance, and you can see the flecks of vanilla beans all throughout. I greatly prefer vanilla bean paste to vanilla extract because the extract has a noticeable alcohol taste (being made from soaking vanilla beans in alcohol), and the paste is all vanilla flavor. Also, the beans are removed from the extract prior to bottling, whereas they are ground up and part of the paste. I use vanilla bean paste in everything I make, but if you don't have it and don't want to get some, you can substitute an equal amount of vanilla extract.
Bright white candy melts - I used bright white candy melts, but you could as easily use white chocolate chips or colored candy melts.
Vegetable shortening - You may not need this, but I suggest adding it to your melted chocolate if you need to thin it a bit.
Several kinds of sprinkles - I used circles, butterflies, flowers, and jimmies in spring colors.
How to make the best Easter egg cake pops recipe
Cover a baking sheet with parchment paper and set aside.
Crumble the cake into fine crumbs into a large bowl. If you want to be extra fancy, feel free to mix in a couple handfuls of sprinkles at this point. I used a confetti cake, but some extra sprinkles are great, too!

In a second large mixing bowl, beat the butter, powdered sugar, heavy cream, and vanilla bean paste until smooth and creamy.

Spoon 2 tablespoons of the frosting into the crumbled cake, using your hands to really press it together. Try to form a ball with the cake mixture. If the crumbs are too dry, the ball won't hold its form. If that happens, add more frosting 1 tablespoon at a time until you get the desired moldable consistency.

Use a small cookie scoop to place two scoops into your hand. Squeeze them together to form a ball, then elongate it until it becomes an egg. Place the cake egg on the prepared baking sheet.

You should have enough cake mixture to make 12-14 eggs. After the last one is formed, wrap the whole baking sheet with plastic wrap and chill in the freezer for an hour.

While the cake pops are in the freezer, empty 12 ounces of candy melts into a 2-cup glass measuring cup (or something similar that is tall and narrow).

Heat candy melts in the microwave on 50% power for 30 seconds, then stir. Repeat, stirring thoroughly until they're all melted and the mixture is smooth.If you feel the chocolate mixture is to thick to coat the cake pops, add vegetable shortening 1 teaspoon at a time, stirring to incorporate completely.

Remove the chilled cake pops from the freezer. Dip one end of a cake pop stick 1 inch into the chocolate coating, then immediately insert in the bigger end of the first egg. Do this carefully and only insert the stick about half way into the egg. Return the egg back to the baking sheet and repeat with the remaining cake pops.

Take the first cake pop that you inserted the stick into and dip into the melted chocolate coating, straight down and back up again. Don't move around in there – if you have to, you can help the coating with a spoon.

Allow the excess coating to drip off, then turn the cake pop right side up and insert the stick into a cake pop stand or a styrofoam block to set completely. You can add the sprinkles now, while the coating is wet, and they will stick best without the additional step of "gluing" them on with extra coating.

Repeat with the remaining cake pops.
After all the cake pops have hardened, use the remaining coating to apply the sprinkles in your favorite patterns. See my photos for examples.

What is the coating on cake pops?
On these Easter Egg Cake Pops, I used "bright white" candy melts. The nice thing about candy melts is that they are designed to melt however if you prefer, you can use real chocolate or white chocolate chips instead. Just be aware that they don't melt as easily.
Why are cake pops so moist?
Cake pops are a treat because they're naturally more moist than a regular cake due to the frosting mixed in with the cake.
They can get too moist if you add too much frosting to the cake crumbs. That's why I suggest just starting with two tablespoons and then adding only one additional tablespoon at a time. Be careful not to add too much.
If your cake crumb mixture has too much frosting, it may not form balls the way you need it to. If that happens, you'll have to bake another cake to get more crumbs.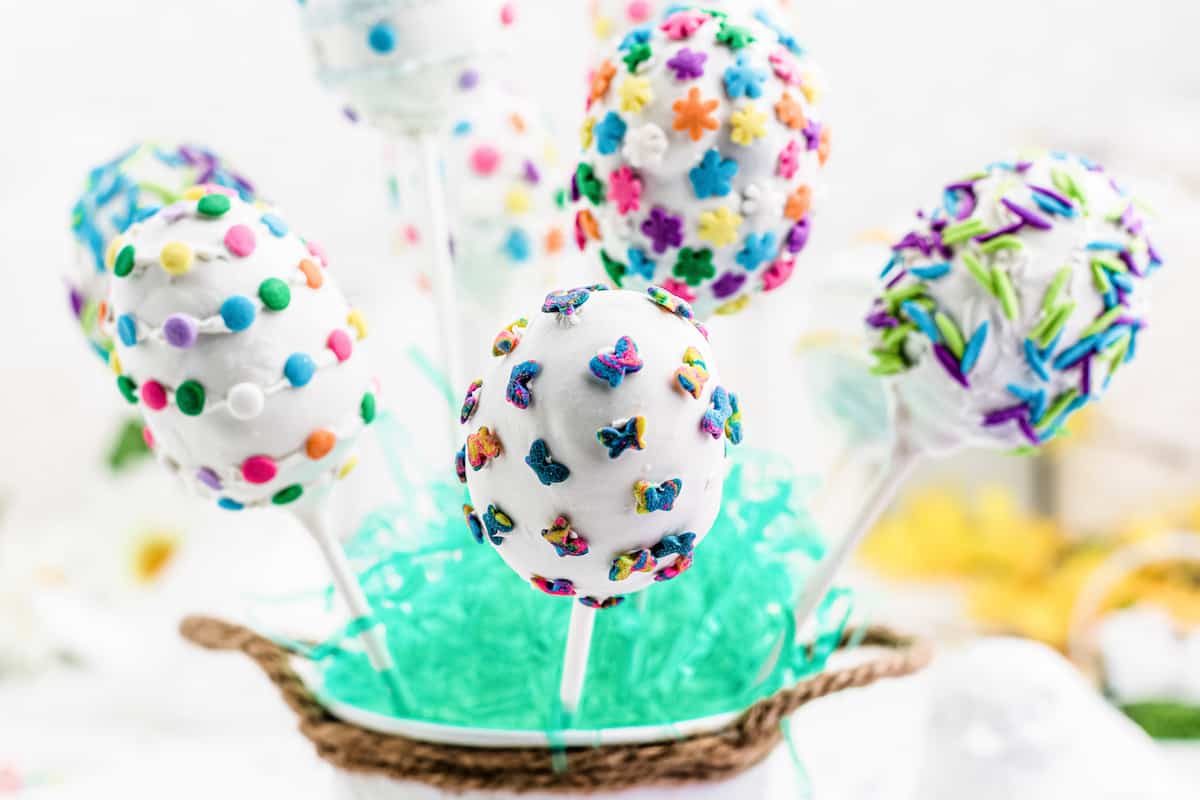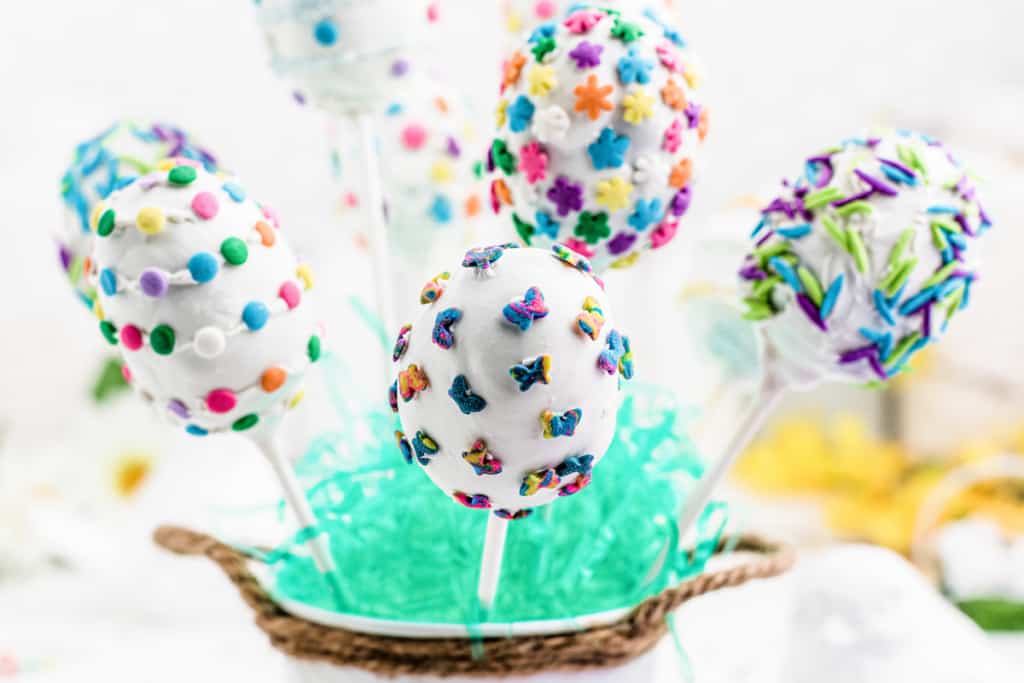 Can you make cake pops without sticks?
You sure can! If you want to go stick-less, simply make the bottoms of the eggs a tiny bit flat so that they will stand up on their own. Freeze as suggested in the recipe, then use a toothpick to dip the cake pop egg into the chocolate coating. Stand up on parchment or wax paper to let the coating harden.
Can you make cake pops with leftover cake?
You sure can! If the cake already has frosting on it, you may not need to add any additional frosting when you crumble it.
Crumble the frosted cake, mix well, and try to form it into a ball. If it won't hold its shape, add a tablespoon of frosting and mix. Continue adding frosting one tablespoon at a time until the cake mixture will hold its shape after being pressed into a ball.
Can you make cake pops with chocolate cake? Or chocolate frosting?
Of course you can. You can use whatever flavor of cake and frosting that you want.
If you use a white or yellow cake, you can use food dye to make the insides of your cake pops a fun color.
Can you place the pre-made cake pops into the refrigerator overnight before dipping?
Definitely. Formed cake pops can be stored in the fridge for a week before dipping. You can also store them in the freezer for up to a month. When you're ready to dip them, take them out and coat them while frozen. After they're coated, I'd recommend letting them sit out at room temperature over night to thaw inside before serving.
Tips for the best Easter cake pops
Use a box cake mix for the cake. It will taste great after you mix it with the frosting.
I love homemade buttercream, but if you're really short on time, you could use a can of grocery store frosting. It won't taste as good, but you'll have finished cake pops in less time.
Plan ahead. You will need plenty of time for the cake to bake and then cool, then for the cake pops to freeze, and then for the coating to harden.
If the cake and frosting mixture sticks to your hands, try wiping them with a damp towel. The cake won't stick to damp hands.
If you don't freeze the egg shaped cake balls, they will fall apart when you try to put the sticks in. Freezing is a critical step.
Candy melts set up pretty quickly. If you want to glue the sprinkles on as I have done, let all of the eggs harden, and then remelt the coating and use it. If you want to skip that step, you can add the sprinkles and decorate each egg as you go. You may end up needing to remelt the candy melts once or twice if you decorate as you go.
If you freeze the undecorated cake pops, go ahead and dip and decorate them frozen, but then make sure you let them thaw out at room temperature before you serve them. Frozen cake pops are not that nice to eat.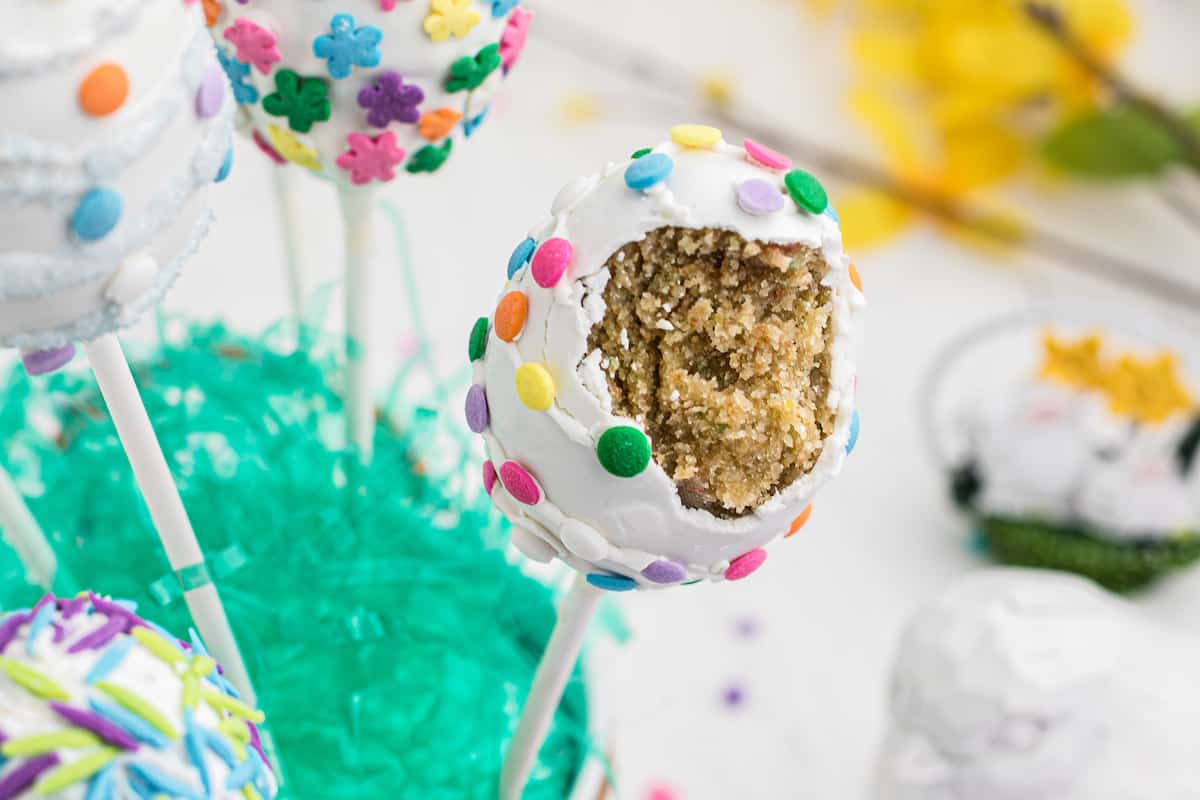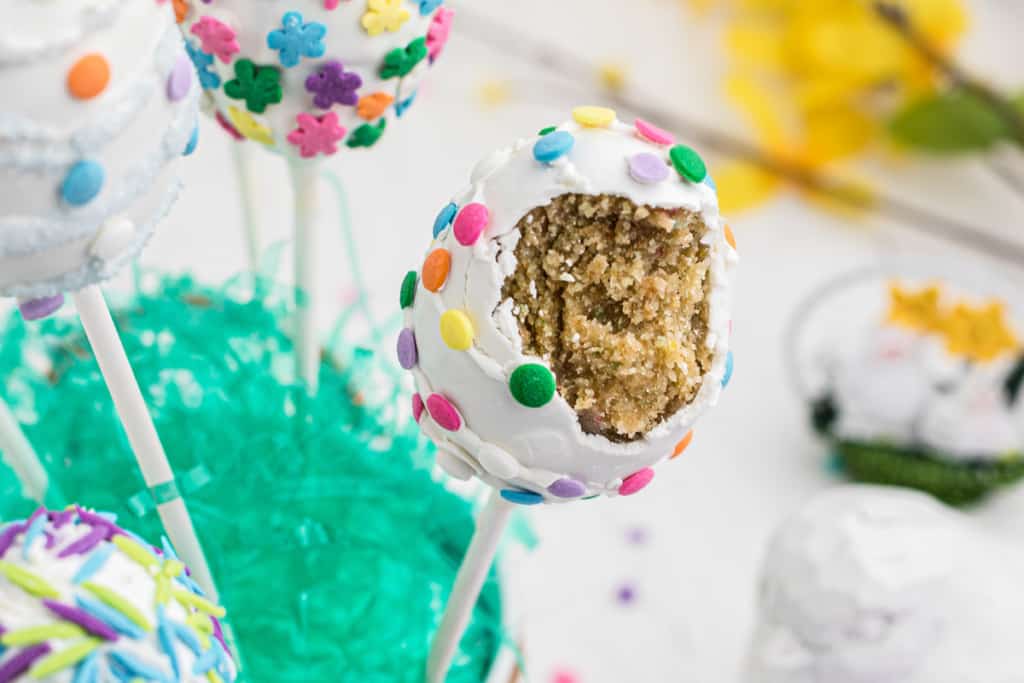 Do I have to use sprinkles to decorate my cake pops?
Not at all. You can decorate however you like.
If you don't like sprinkles, you could use colored candy melts and drizzle with white chocolate or add dots with white chocolate.
You could also use white candy melts as I describe and drizzle the eggs with a color.
How to store cake pops
Cake pops are awesome for Easter baskets because they don't need to be refrigerated!
These cake pops can be stored at room temperature in an airtight container for up to one week. I would not store them in the fridge as that will dry out the cake and make it taste stale.
Check out these other impressive Easter desserts
Recipe