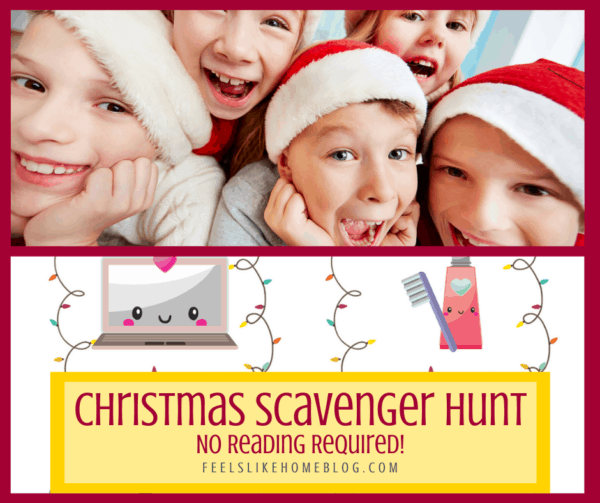 On Tuesday, I shared a bit about the process through which I have created I have created all manner of Easter scavenger hunts for my kids. I hated it at first, and it sill isn't easy, but I have gotten into a certain rhythm of creating these things to the delight of my minions.
Since the first one years ago, I have since made scavenger hunts every Easter, including religious and non-religious ones as well as a wordless hunt for my struggling reader and a more challenging one for my tween. My kids now expect these for Easter which is okay because their reactions are so totally satisfying to me. They squeal and giggle and run all over the house and yard. The joy radiates from their faces and brings me so much joy.
This is not an Easter basket scavenger hunt, obviously. Because, um, it's Christmas.
My younger daughter asked me both last year and this year to hide some of her Christmas presents and send her on a scavenger hunt to find them. I didn't want to do it because these things are a lot of work and because I was secretly afraid I'd lose some presents, but I secretly relented this year and made two of them, one with rhymes for my tween and this one with pictures for my struggling reader.
Listen, I know that a Christmas scavenger hunt adds a new layer of complexity to an already chaotic season. I get that.
But if you are looking for a really quick and easy way to re-introduce some magic and glee into your kids' Christmas, look no further. My instructions and printable make the whole thing take less than 15 minutes to prepare, and it will take your kids about that long to run all around the house to find the clues later on.
If you do a scavenger hunt once, I promise that you will be back here year after year looking for new ones because your kids - if they're anything like mine - will have priceless reactions. I am expecting squeals and giggles and delighted racing through the house while my husband and I sit on the couch and chuckle.
Click here to purchase the scavenger hunt!
Our 2019 Christmas Scavenger Hunt
I mentioned in my previous post that I'm not sure how I will use the scavenger hunt this year. I am writing a note on the back of a dollar store puzzle with an explanation of the girls' big gift this year - two nights at The Great Wolf Lodge in the Poconos. We have been there before, and they love it especially during the doldrums of winter.
The "gift" at the end of the scavenger hunt will be those puzzle pieces, and my two girls will have to work together to complete the puzzle and get their message.
The problem is that I don't know when to do the scavenger hunt. If we do it on Christmas Eve, they will get their big gift the day before the actual Christmas present extravaganza. If we do it on Christmas morning with all the other presents, when will they do it? Before the other presents? That might be tricky because those other gifts will be beckoning and right in plain sight. After the other presents? If someone has to go to the bathroom, or walk through the dining room, they will see clues they shouldn't see until later on. Plus, both the big kid and little kid scavenger hunts have clues in and around the Christmas tree and living room, so I don't think that will work at all.
I think I'm leaning towards Christmas Eve just for the sake of convenience. They will be getting plenty of other Christmas presents on Christmas morning and probably won't even notice or care that their big gift is already revealed.
Click here to purchase the scavenger hunt!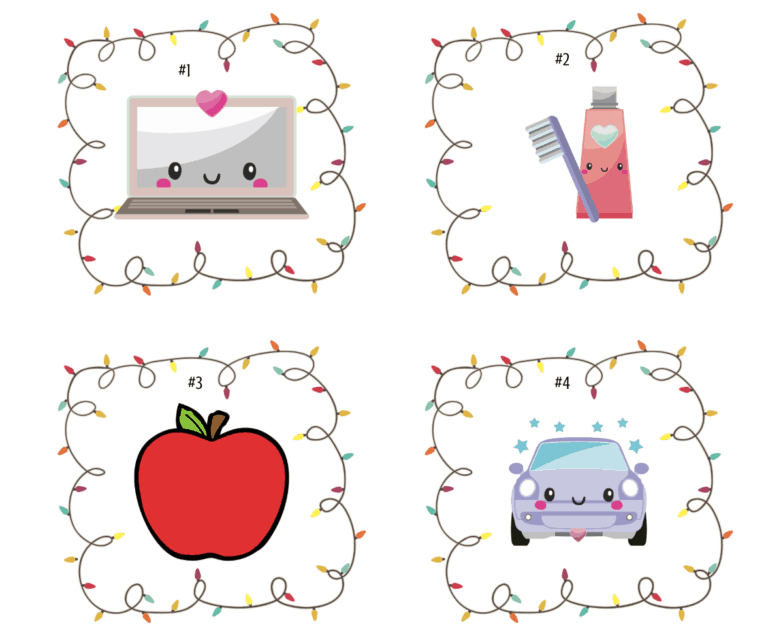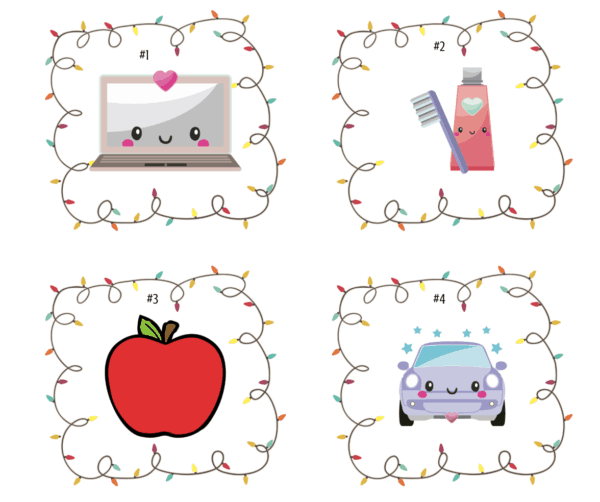 This scavenger hunt is made up of twelve clues, including the one that you give at the beginning, and I have included six extra blank cards in the PDF so that you can make up or replace any clues that don't work for your situation. You can draw pictures or use stickers or print out pictures from the internet to paste on the cards.
Also in the PDF is a list of what clue goes where, and the clues are numbered to make it easy for you.
Using the No Reading Necessary Christmas Scavenger Hunt for Toddlers & Kids
I've made this really easy for you.
Click the button above or below, enter your email address, and save the PDF.
Print pages 1, 2, and 4. Page 3 is the blank cards, so if you need blank cards, print that one, too. You're only going to use these clues one time and only for a few minutes, so there is no need to print on cardstock or laminate or anything like that. Just use whatever cheapo printer paper you have.
Cut the clues apart.
Decide how you'll give the kids the first clue. Will you leave it on the breakfast table? Wrap it in a box? Hide it in a book? Just hand it over? Totally up to you here.
Hide clues 2 through 12 in the places designated on the PDF.
Hide the gift in the mailbox or use one of the blank cards to specify a different location.
Sit back and watch. It's super fun.
I can't wait for Christmas for a number of reasons, but one of them is this scavenger hunt. I know for sure that my kids have no idea that it's coming, and they will be so excited to find their first clue. There will be much squealing and laughing and running around, and that will make this tired momma very happy.
If you have readers, you should check out the rhyming word-based Christmas scavenger hunt clues over in this post.