The holiday season just wouldn't be the same without a glass of decadent & smooth homemade non-alcoholic eggnog. Grab this classic, old-fashioned, creamy nonalcoholic homemade eggnog and impress your friends and family this year! Once you taste this homemade cooked eggnog recipe with no alcohol, you'll never buy eggnog from the store again!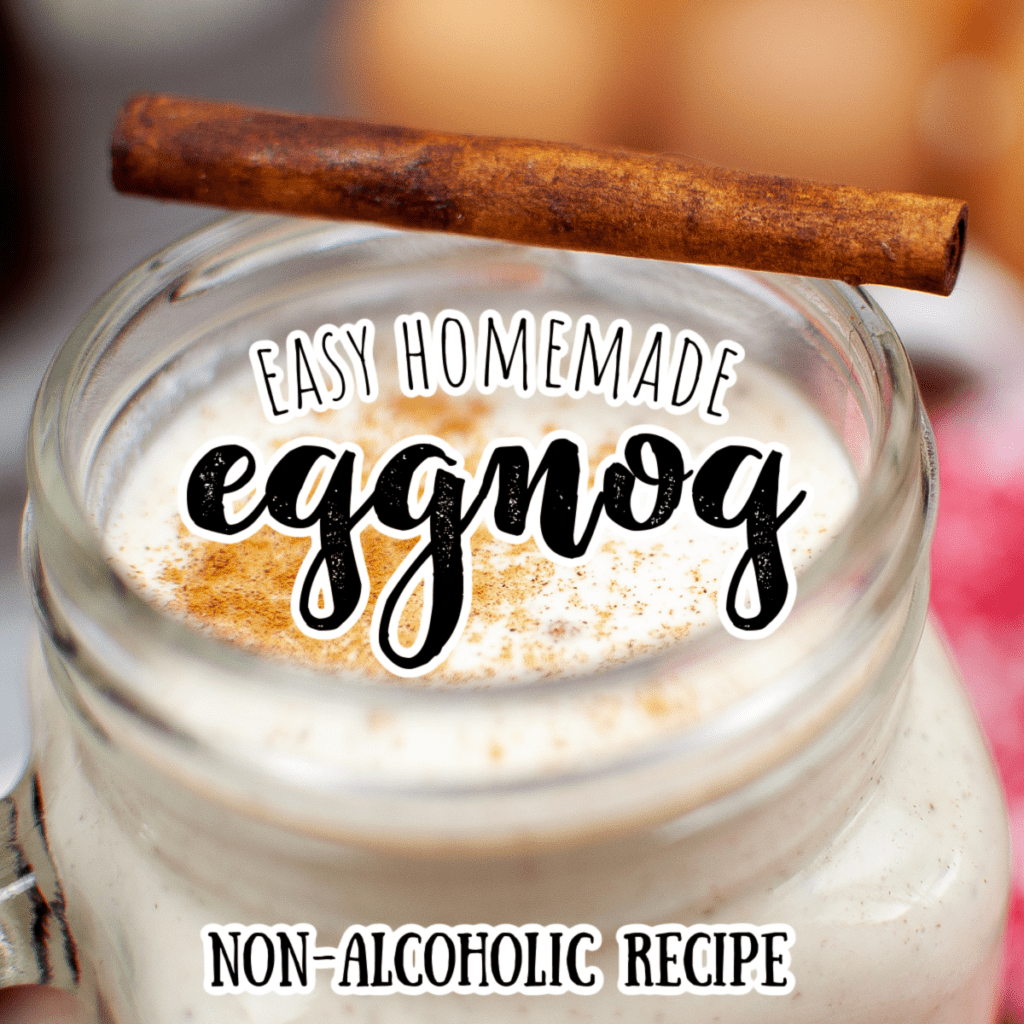 Eggnog is my all-time favorite drink. I rejoice when it appears on the grocery store shelves in November, and I gladly purchase it all through the holiday season.
However.
Eggnog is super expensive. I thought I could save some money if I learned to make it at home, so I did.
But! I discovered that the flavor of homemade eggnog is WAY better than the stuff I was buying in the store (and I thought that stuff was amazing!).
I was a bit hesitant to feed my kids raw eggs, so I came up with a homemade eggnog recipe that was cooked to reduce the likelihood of food-borne illness. I just couldn't with the raw eggs.
This classic eggnog recipe is creamy and thick and rich, and as I said above, I wanted to enjoy it with my kids, so I left out the alcohol. I have included a note below about how you can make a grown up version if you're into that.
What you'll need to make homemade eggnog without alcohol
Equipment
This recipe requires mostly standard kitchen equipment: a whisk, a saucepan, and measuring cups and spoons. However, it will also require a candy thermometer as you'll want to make sure that the eggnog reaches a high enough temperature to cook the eggs.
Ingredients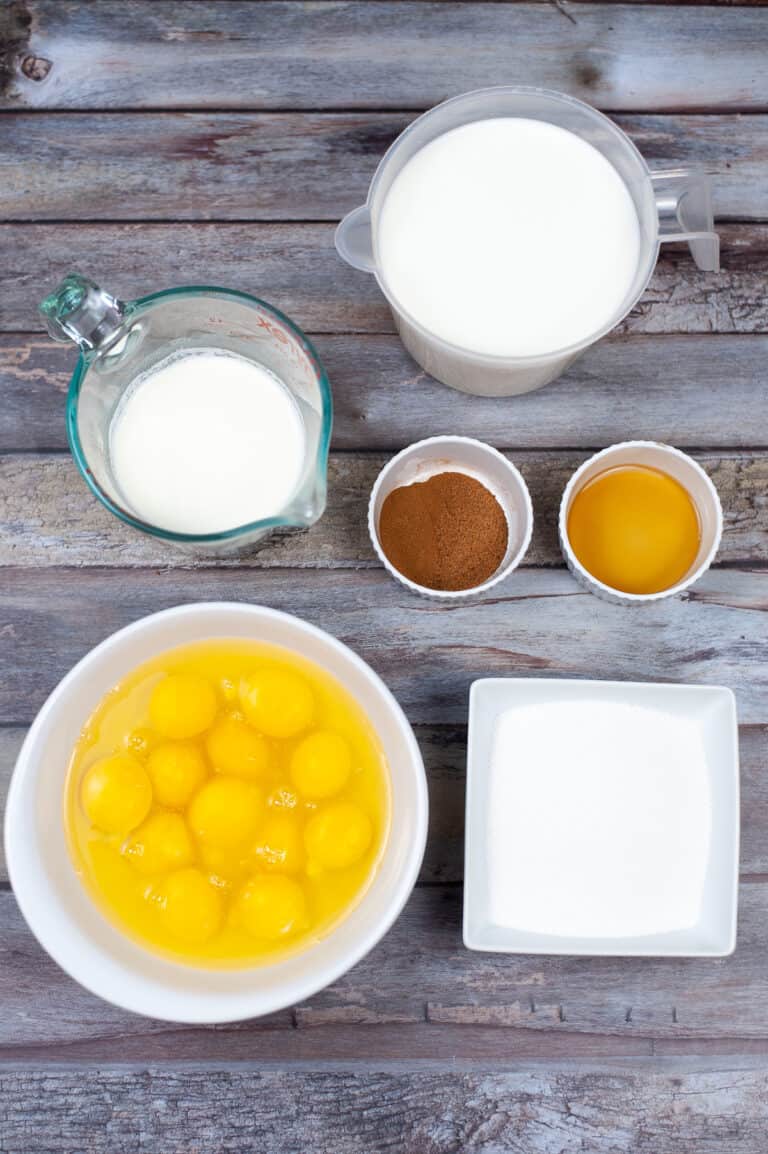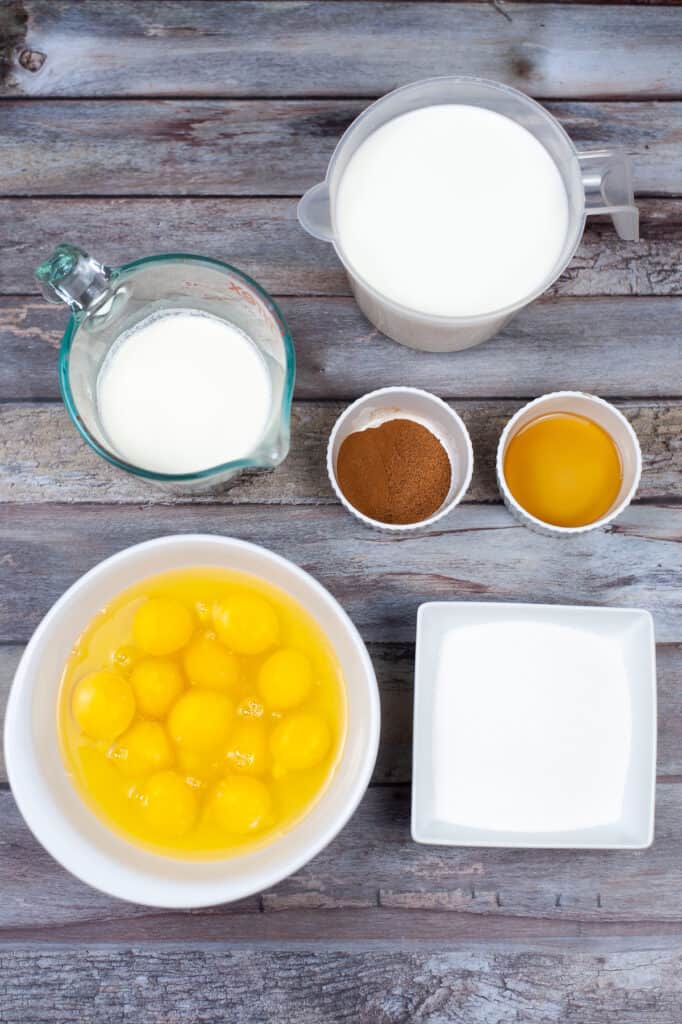 12 large eggs - Try this once with the whole eggs; I think you're going to like it. But if you want to make it thicker and richer, separate the eggs and use 6 whole eggs and 6 egg yolks.
1¼ cup sugar
4 cups whole milk - Don't skimp here. You need the fat in the whole milk.
1 teaspoon nutmeg
1 teaspoon cinnamon
2 teaspoons vanilla bean paste or an equal amount of vanilla extract - I have switched over from using vanilla extract to using vanilla paste almost exclusively.
Vanilla extract is an alcohol-based liquid with the consistency of water. To make it, vanilla beans are soaked in alcohol for a long time (many months). There are no actual vanilla beans in extract.
Vanilla paste on the other hand is a combination of highly concentrated vanilla extract, crushed up vanilla beans, and a binder (which can be either xanthum gum or corn syrup, read the label). It is the consistency of Elmer's glue. The reason I prefer vanilla paste is that, aside from having actual vanilla beans inside, the paste has a richer, more bold flavor, and it has no alcohol taste to taint the flavor if you are heavy handed with it (as I often am).
1 cup heavy cream - This is sometimes called heavy whipping cream.
1 pinch salt
1 dash cinnamon or nutmeg for serving
How to make eggnog without alcohol
INSTRUCTIONS
Combine eggs and sugar in a medium glass bowl and whisk until thoroughly combined.

Transfer mixture to a saucepan and stir in whole milk, ground cinnamon, and ground nutmeg. Heat egg mixture over medium-low heat while stirring constantly with a whisk to prevent the milk from scorching or the eggs from scrambling. As the mixture heats up, it will thicken slightly.

When mixture reaches 160 degrees on a candy thermometer, remove from heat and slowly whisk in the heavy whipping cream and vanilla extract.
Cool slightly before tasting. Add more sugar or spices, if desired, before transferring to an airtight container.
Mixture will continue to thicken as it cools.
Place in the refrigerate to chill for a minimum of 6 hours but preferably overnight.
Serve in mugs and garnish with whipped cream, cinnamon sticks, or a sprinkling of nutmeg or cinnamon.
Do you have to cook egg-nog?
No, traditional eggnog recipes are not cooked at all. They also typically use only the egg yolks and not the whites.
The eggnog you buy at the store is pasteurized to kill any bacteria that may make you sick.
The reason that I cook my eggnog is to make it safer; the CDC says that eggs cooked to 160ºF should be safe for consumption. (Although there is still a slight risk of salmonella, so use your best judgement and consume at your own risk.)
For an uncooked version of eggnog, simply whisk together the eggs sugar, nutmeg, and cinnamon in a medium bowl. In a large bowl, whisk together the milk, cream, vanilla bean paste, and salt. Pour the milk mixture into the egg mixture and whisk until well combined.
Can I thin this eggnog if it's too thick?
I personally love that this recipe has the consistency of melted ice cream, but you can thin it if you prefer. Simply add a spoonful or two of whole milk or heavy cream to thin the eggnog.
What kind of alcohol goes into eggnog?
If you wanted to make a grown up version of this eggnog, you could add 1 cup of dark rum, brandy, whiskey, bourbon.
What should I serve with eggnog?
I like eggnog with everything! There is never a bad time for it!
Eggnog, being a sweet drink, goes really nicely with desserts like Chocolate Cherry Cheesecake, Praline Pumpkin Pecan Pie, and Pecan Pie.
It's also really nice with sweet breakfast foods like Pumpkin Pie Pancakes, a German Pancake, or Baked Apple Pecan Pancakes.
How long does homemade eggnog last?
Store bought eggnog lasts a long time because it has been pasteurized and also because it typically contains preservatives.
Homemade eggnog doesn't last as long, but you can get a good idea of how long to keep it based on the expiration dates on your milk and cream. Whichever of those dates is the sooner is the one that you should go by.
If you're not sure about expiration dates, I wouldn't recommend keep homemade eggnog more than 3-4 days.
Recipe