How to make the best chicken salad pizza with ranch dressing - This simple and easy recipe makes a healthy and delicious meal with lettuce, tomato, onion, black olives, cucumbers, and cheese.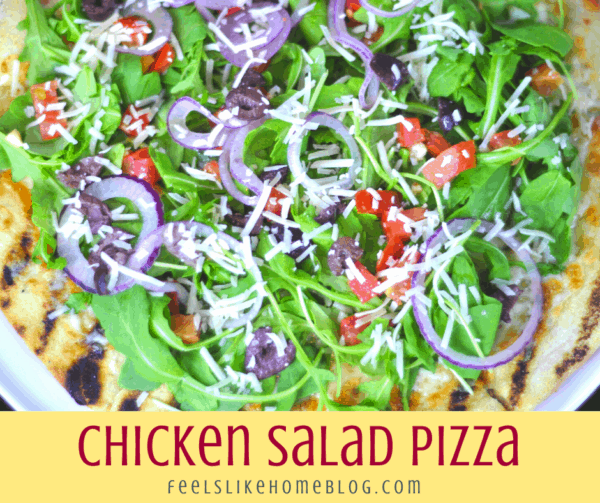 We eat a lot of homemade pizza. Weekly, sometimes more, Joe throws a few ingredients into my big stand mixer, and he whips up a pizza crust.
Joe's pizza crusts are amazing. They are thick and chewy on the inside, but the outside and edges get a crispy and a little crunchy. They brown perfectly in the oven or on the grill.
If you are thinking about making more homemade pizzas, check out this mega post of 24 pizza crust and topping recipes, where I guarantee you will find something that you will love.
I'm salivating even thinking about our homemade pizza.
Where this recipe came from
The one we had this week was especially tasty because it was not a typical pizza: lettuce, ranch dressing, and shredded chicken topped the fabulous crust this time.
Let me back up. Last week, we got a new couch. Behind the old couch, we found ten years' worth of garbage, dust, and assorted papers. One of the papers was a recipe for Chicken Caesar Salad Pizza from the Pampered Chef.
Finding the recipe was serendipity. We have a fridge full of fresh veggies (thanks to our CSA and our garden), and we were needing to use them up anyway.
Joe made chicken salad pizza the very next evening for dinner. The pizza was so good that we ate the whole thing. That very night. Joe ate the last piece that night, right before bed.
You know that we can't leave any recipe alone, so we made a few changes to the Pampered Chef recipe.
How to make a chicken salad pizza
Roll the pizza crust out to fit the pizza stone you'll use. Bake the crust according to the recipe or package instructions until it's golden brown.
Combine ranch dressing with garlic and half of the shredded cheese.
Spread the dressing mix over the baked crust, then top with lettuce, chicken, cucumber, black olives, tomatoes, onions, and remaining cheese.
Slice and serve immediately.
Recipe