When we have meatloaf at my house, I slather it with A1 sauce. A1 sauce is one of my favorite condiments in the whole world.
No one paid me or sent me any free stuff or in any other way contacted me to talk about A1 sauce. Just saying.
Anyway, I was very hesitant to try a meatloaf that did not play well with A1 sauce.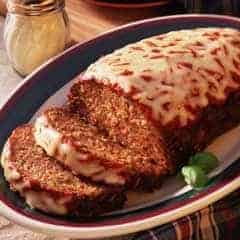 When I saw the recipe for Pizza Meatloaf in the Unilever Consumer Kitchens Twitter stream, I had to click over to the article. The photo in the Pizza Meatloaf recipe looked really good, and it was covered with cheese, so I suggested to Joe that we give it a try. It was really, really good, even if it didn't have A1 sauce in it - or smeared all over the top.
Recipe
Yum!