This Instant Pot sloppy joes recipe is sweet and spicy as well as quick and easy to prepare. Perfect for weeknight meals, the recipe includes a tasty and sugar-free homemade BBQ sauce.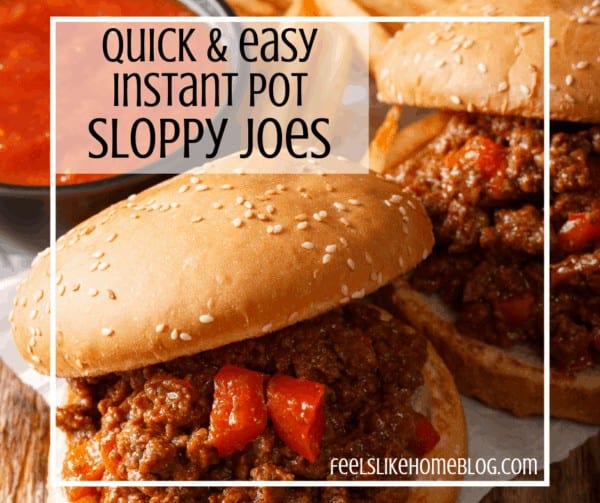 People where I live, in south-central Pennsylvania, call this recipe Hamburger BBQ, but I grew up calling it Sloppy Joes. Incidentally, my mom also made what she called Sloppy Jims, which were similar but used a white sauce. I hated those especially.
When I was a kid, my mom made Sloppy Joes all the time. I guess they must have been one of her favorites.
I didn't like Sloppy Joes back then, but I have grown to love these messy sandwiches.
I especially like the sauce on the ground beef, but it can be a huge sugar bomb if you aren't careful. I suspect that my mom probably used brown sugar in hers. I don't eat sugar now, since my bariatric surgery, so brown sugar is obviously not an option for me.
The recipe below uses artificial sweetener instead of sugar. If you prefer to use sugar, feel free. You can substitute the sweetener in this recipe with an equal amount of white or brown sugar, and it will turn out nicely. As written, it really doesn't use that much anyway.
The recipe below suggests serving your Instant Pot Sloppy Joes in a lettuce leaf for the ultimate low carb "sandwich." I'm not sure how I feel about that; I think it might be weird. I love the filling, but when we made this recipe, I ate mine plain, on a plate topped with a slice of sharp cheddar cheese and alongside some roasted cauliflower.
I've been trying to brainstorm how I would like to eat these and stay on my low carb diet, and I haven't come up with anything. I guess I'll probably try the lettuce option and see how I like it.
One thing I did think of is to fill an acorn squash with the sloppy joes filling. We used to do that with turkey black bean sloppy joes, and it was always tasty that way. Since we're heading into fall, it would be a perfect time to try acorn squash bowls anyway.
If you're not carb-conscious, you could definitely use a roll. That's what my family does. I think these sloppy joes would also be delicious on top of a baked potato or even with rice. Joe likes to eat everything with rice.
Recipe