The best egg and olive salad recipe is delicious and so simple and easy! The classic salad is awesome on a sandwich, and the salad is keto and low carb if you use a lettuce wrap. Great for one, two, or a crowd. Traditional creamy salad with no onion or celery.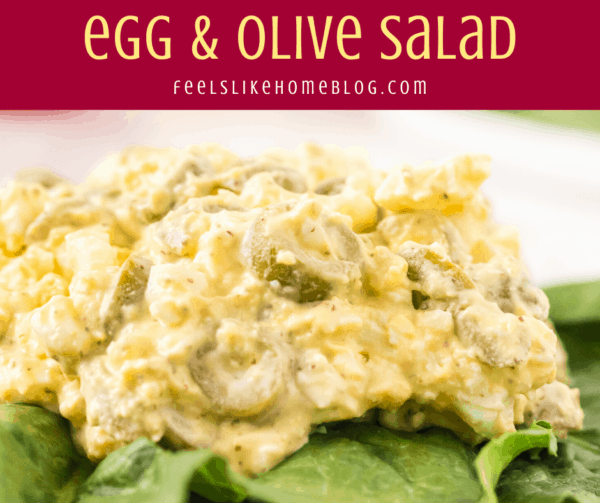 One of our go-to meals for Sunday lunch is egg and olive salad. We hard cook the eggs the night before and assemble the salad right when we get home from church. You could also prepare the salad the night before for an even quicker and easier meal in the mayhem that follows Sunday service.
The kids eat theirs on crackers, and Joe eats his on a sandwich. He likes his sandwich with lettuce and tomato, which I included in the recipe below. Some people like to eat their egg salad plain on bread or toast though, so use your best judgement.
For a low carb meal, wrap a heaping spoonful of egg and olive salad in a bibb lettuce leaf. It is as quick and easy as a sandwich and tastes just as good. I used to eat mine on crackers but have switched over to lettuce to reduce the carbs and calories.
Also, we use Miracle Whip Light which has fewer calories but the same taste as regular Miracle Whip. You won't notice a difference.
My favorite part of egg and olive salad is having lots and lots of olives inside. They have to be green, and they have to be stuffed with pimentos. It is SO good this way because the olives lend a little saltiness to the finished salad.
How to make the best egg and olive salad
Hard-cook eggs according to these instructions or use an Instant Pot. Full disclosure: we used to use the instructions I linked before we had an Instant Pot. The IP makes hard cooked eggs so simple and so easy and so easy to peel that we have switched over and use the Instant Pot exclusively.

Mix the olives, Miracle Whip, and mustard with the eggs.

Assemble the sandwiches or lettuce wraps using a heaping spoonful of egg salad, a slice of tomato, a lettuce leaf, and a slice of cheddar cheese.