How to make the best homemade breakfast burritos - This simple and easy recipe makes a healthy make ahead meal for quick meal prep.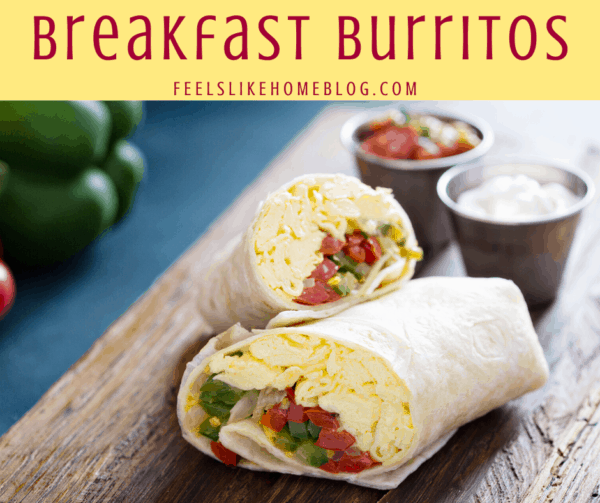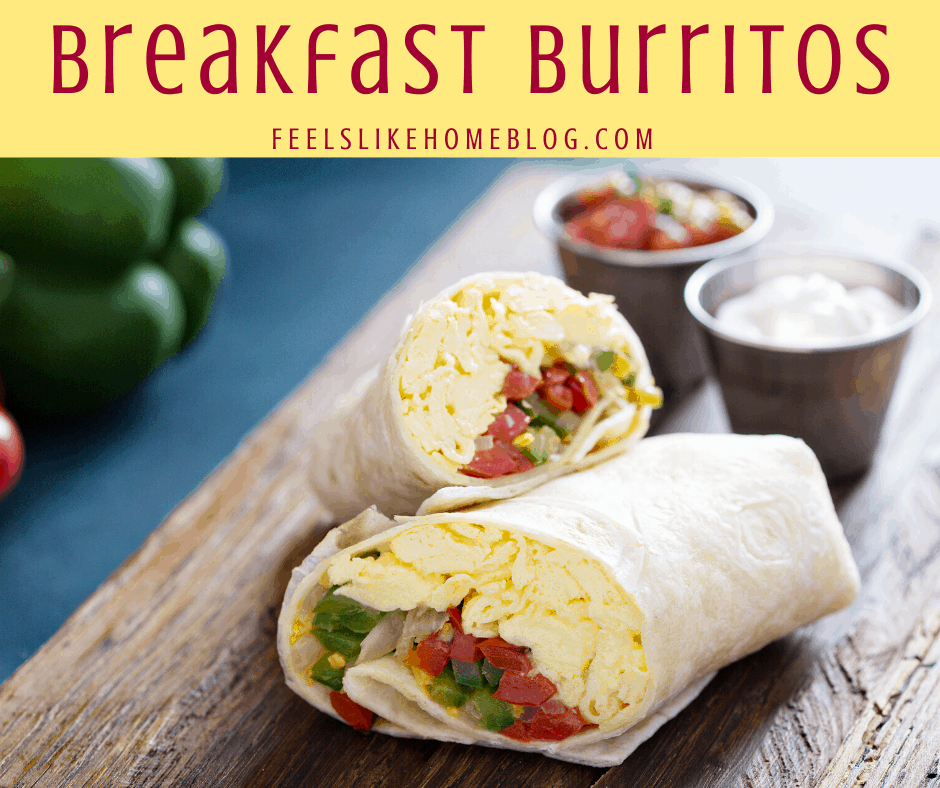 My dad has taken us out for breakfast on the weekends for as long as I can remember.
When I was small, we went to the donut shop in a nearby town. As we became teenagers, we went to the dirty truck stop down the road.
As much as I complained about the dirty silverware, I really treasure some of the times I spent sitting next him at the breakfast counter at that truck stop. When I was a new teacher, we had breakfast at that counter before I'd go to the school. We had morning there on the morning of September 11, 2001, when his parts hadn't arrived and he hadn't gone to the World Trade Center in New York.
Even after I was married and had a family of my own, I still looked forward to breakfast with my dad. Joe, Grace, and I went every weekday morning for years, and Allie joined us when she came along.
Sometimes, our breakfasts at home were lackluster compared to those restaurant meals.
The recipe below was not one of those lackluster breakfasts. In fact, I would have been happy to stay home both weekend mornings if Joe would've made these burritos two mornings in a row.
They were so good that I ate one for lunch, too.
Cooking Tip - I think the garlic and pesto tortilla made these burritos. I bought them in the bakery of my local big box grocery store.
How to Make the Best Homemade Breakfast Burritos
Heat olive oil in a medium skillet over medium heat. Sauté onion, ham, garlic, and green chiles until the onion is soft and translucent.
Whisk the eggs with the spices. Add to the skillet. As the eggs begin to set, use a spatula to scramble them. Continue to cook until the eggs are set and beginning to brown.
Place one tortilla on a microwave safe plate. Cover with a damp paper towel and microwave for 20 seconds. This will make the tortilla pliable.
Spoon about ¾ cup of the egg mixture into the center of the warm tortilla.
Heat salsa in the microwave for 30 seconds. Spread about 2 tablespoons of salsa on top of the egg mixture on the tortilla. Sprinkle with ¼ cup of shredded cheese.
Tuck in the ends and wrap up burrito. Serve hot or place in refrigerator for a make ahead meal.
Recipe