The best easy homemade strawberry cheesecake ice cream is made from scratch in an ice cream maker. This no egg recipe is made with real cheesecake bits for the best fruity, tangy, sweet flavors.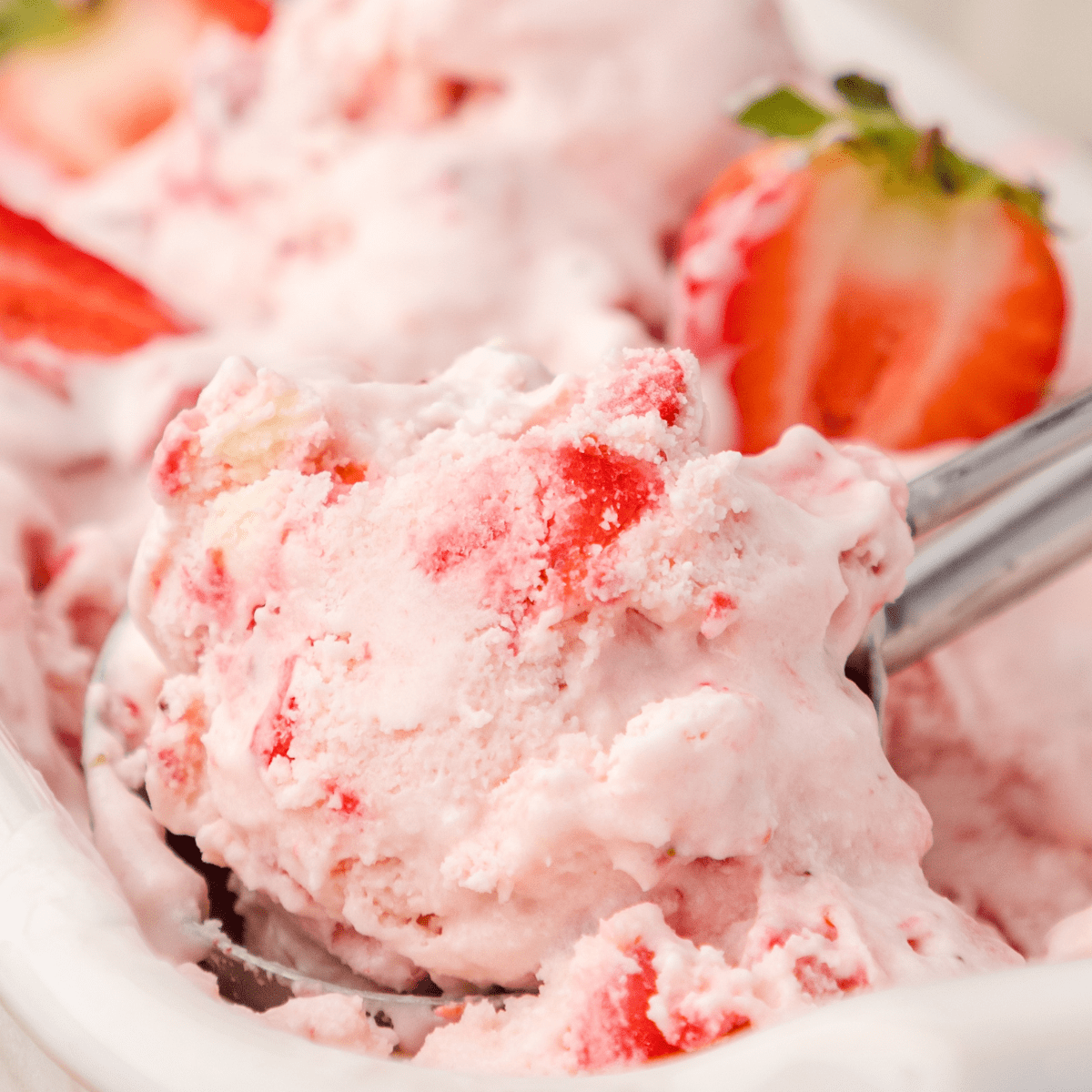 My kids love ice cream. What kids don't?
We got a new ice cream machine a month or so ago. It was an impulse buy that we really didn't need, but I got a good deal, and... well, you know how it goes. So I was thinking about what kind of ice cream I wanted to make, and I decided to make strawberry because it was (at the time) strawberry season in central Pennsylvania.
I started with my base vanilla ice cream recipe and doctored it with strawberries and cheesecake pieces, and the result is what you see below. It was maybe the best ice cream I've ever eaten. Soooooo good. My kids agreed.
Strawberry cheesecake ice cream is going to be in our regular rotation, for sure.
Why this is the best strawberry cheesecake ice cream
This is Philadelphia-style ice cream, which means it has no eggs in it. That means it doesn't need to be cooked; it can be mixed up and churned - couldn't be easier!
The fresh strawberries are mixed with sugar and rest for an hour, bringing out the natural sweetness of the berries, perfectly complementing the tart tanginess of the cheesecake.
Strawberry is the third favorite ice cream flavor in the US, behind only vanilla and chocolate! And there are a lot of strawberries in this ice cream - every single bite is going to have a burst of sweet berry flavor!
Store bought ice cream doesn't taste as good as homemade, and it contains a lot of chemicals and preservatives. Homemade ice cream has neither.
This ice cream is inexpensive. A pint of Ben & Jerry's costs upwards of $7. This recipe makes more than twice as much for around the same cost. And you can't beat the flavor of fresh strawberries!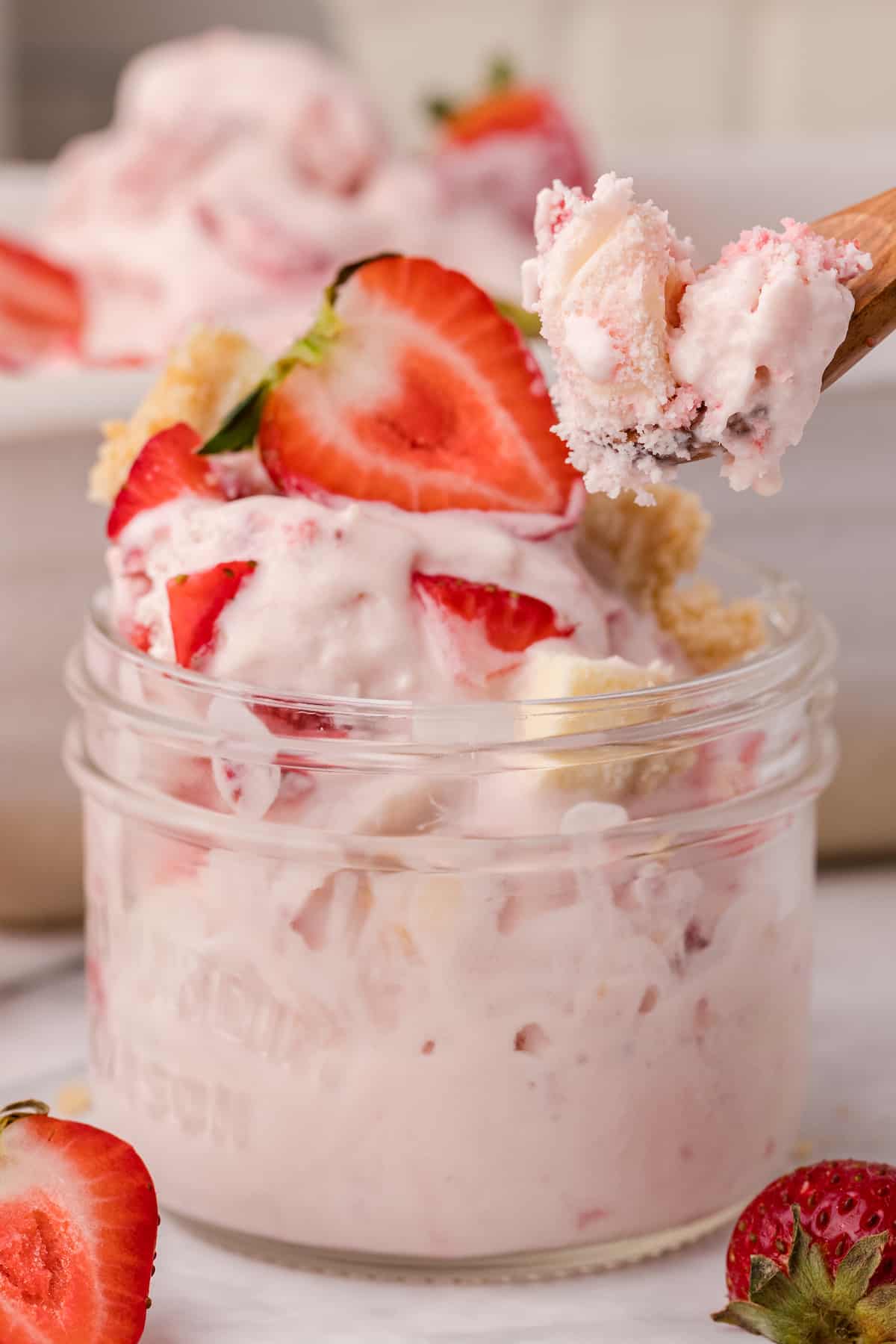 What you'll need to make strawberry cheesecake ice cream
Equipment
This is an ice cream recipe that requires an ice cream machine to blend, swirl, and churn the ice cream. I'm sure you could make it using no-churn instructions (see the links section below, right above the recipe card, for no-churn ice cream instructions), but the recipe below requires churning. Ice cream machines turn out soft serve consistency ice cream, so if you prefer yours a little harder, you'll also need an ice cream pan or loaf pan covered tightly with plastic wrap in order to freeze the ice cream.
You'll also need a knife to cut the strawberries and cheesecake, measuring cups and spoons, a strainer, and a mixing bowl.
Ingredients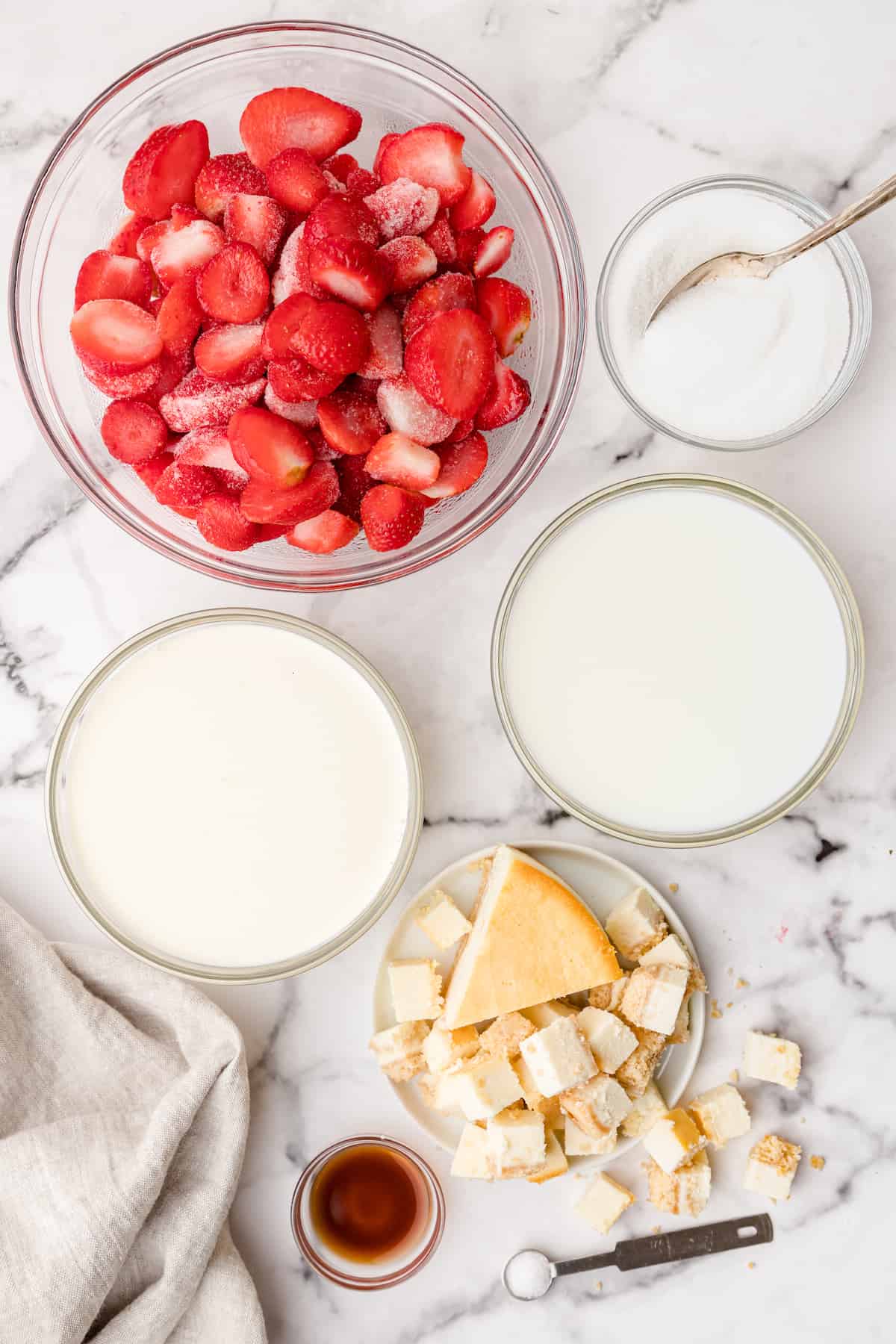 See printable recipe card at the bottom of the page for measurements.
Fresh or frozen strawberries - I prefer the flavor of fresh berries, but you can use frozen. If you do, make sure you thaw and drain them before adding the sugar in step one. I'd go as far as patting the thawed berries dry before getting started. Otherwise, your ice cream may be watery. (Moral of the story - fresh berries aren't mandatory but are way easier and taste way better.)
White sugar - Some of this sugar will be used to remove the liquid from the strawberries, and some is actually put into the milk mixture.
Heavy cream - You can't make ice cream without heavy cream. This is sometimes called heavy whipping cream, depending on where you live.
Whole milk - Heavy cream and whole milk make the ice cream base. You need the fat in whole milk in order for the ice cream to freeze properly and achieve the right consistency. Don't use low-fat or plant-based milk.
Vanilla bean paste - Vanilla bean paste is a thick, sticky liquid that contains crushed up vanilla beans. You can use it interchangeably with vanilla extract. I prefer the paste because it doesn't have as much alcohol in it, so there is no bitter taste. Plus, it has more actual vanilla in it which makes the vanilla flavor stronger in the finished ice cream. But you can absolutely use vanilla extract and get good results.
Table salt - This offsets the sweet flavor of the ice cream. Don't leave it out.
Frozen cheesecake - Most frozen cheesecake has a graham cracker crust which is a nice addition to this recipe. You'll need to dice it so that most bites of ice cream contain a small piece of cheese cake. If you can't get frozen cheesecake, you could use graham crackers or shortbread cookies for a crunchy texture, but then it wouldn't be strawberry cheesecake ice cream anymore.
How to make the best strawberry cheesecake ice cream recipe
Chop the strawberries, then add to a bowl with and ½ cup of the sugar. Cover and refrigerate for 1 hour.

Combine the remaining ingredients (except cheesecake) in a bowl and whisk until the sugar is dissolved. Keep in refrigerator until ready to use.

Pour the strawberries into a small colander sitting inside a bowl and strain out the resulting syrup, using a large spoon or spatula to press out as much liquid as possible (save the strawberry sauce for another use).

Add the sweet strawberries and cheesecake to the cream mixture and stir to combine.

Remove the Ice Cream Maker bowl from the freezer and assemble. Once the paddle starts rotating, pour the ice cream mixture into the bowl.

Check the doneness after 30-35 minutes.

The mixture should have a thick, soft-serve consistency.

Place in freezer for 2 hours to firm up, but any longer than that will make the ice cream rock hard and very difficult to scoop.

Sprinkle with fresh diced strawberries and graham cracker crumbs and serve with a dollop of whipped cream.

Tips for the best strawberry cheesecake ice cream
Ingredients matter. Buy the very best you can afford, especially the vanilla. (That's why I use vanilla bean paste!) Cream and milk are standard, but the berries you choose matter too. Go for ripe juicy ones, and stay away from any that aren't nice and red. And I know I said you could use frozen strawberries, but this recipe is way better if you use fresh ones.
Make sure all your ingredients are cold cold cold. As cold as possible. And make sure you keep the ice cream base mixture in the fridge while the berries rest with the sugar. The colder, the better, or else the ice cream machine won't work as well.
Fat content matters. If you use low fat milk, your ice cream will get ice crystals in it, and it will not have a smooth, creamy consistency. You need to use heavy cream and whole milk to avoid crystals.
Sugar matters too. If you cut the amount of sugar, your ice cream will not have a creamy consistency. Ice cream has to have a lot of sugar to set up properly. And do stick with white sugar which blends best with the cream and milk.
Make sure the berries and the cheesecake are diced fine. The pieces should be about the same size as a pea.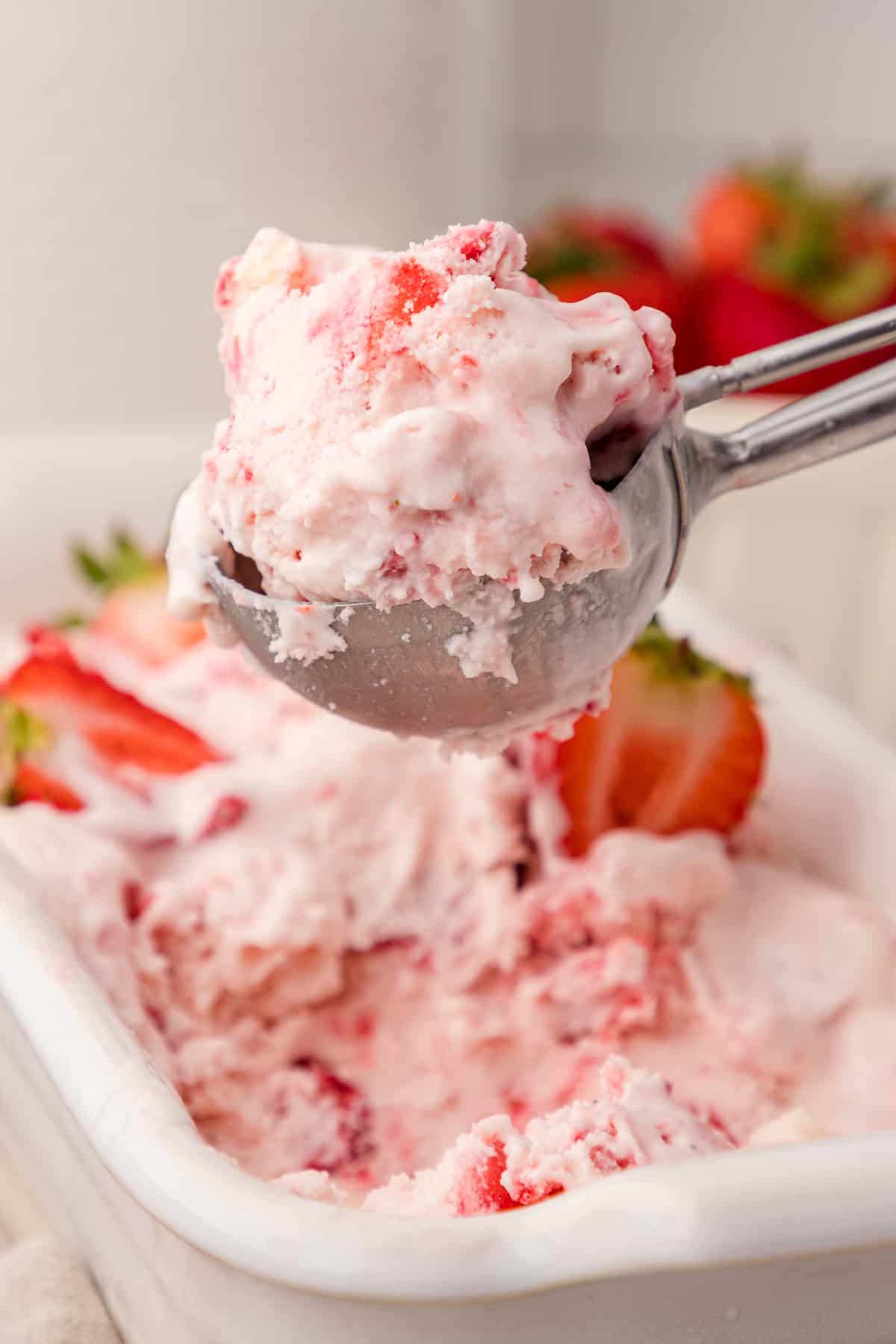 How do you use a (insert manufacturer here) ice cream maker?
Every ice cream maker is slightly different, so you will need to follow your manufactures instructions. That said, most machines require several common steps, regardless of brand:
You need to freeze the bowl of the machine for at least 24 hours before adding ingredients. It should usually be placed in the freezer open side up and not on its side or upside down.
Typically, the paddle needs to be moving before you pour the ice cream mixture into the bowl. If it's not moving, the ice cream is going to immediately freeze onto the bowl, and the paddle won't be able to move.
Ice cream machines make soft serve consistency ice cream. If you want harder ice cream, you're going to need to put it in the freezer for an hour or two to harden.
Why don't you cook this ice cream recipe?
This ice cream recipe doesn't contain eggs, so there's no need to boil or even simmer the cream and milk mixture. You can skip all the cooking and just mix and freeze the ice cream.
Ice cream made with eggs has a thicker, slightly richer custard-like flavor. Ice cream made without eggs is still sweet and creamy, but it tastes more like cream than custard. They're both delicious, just different.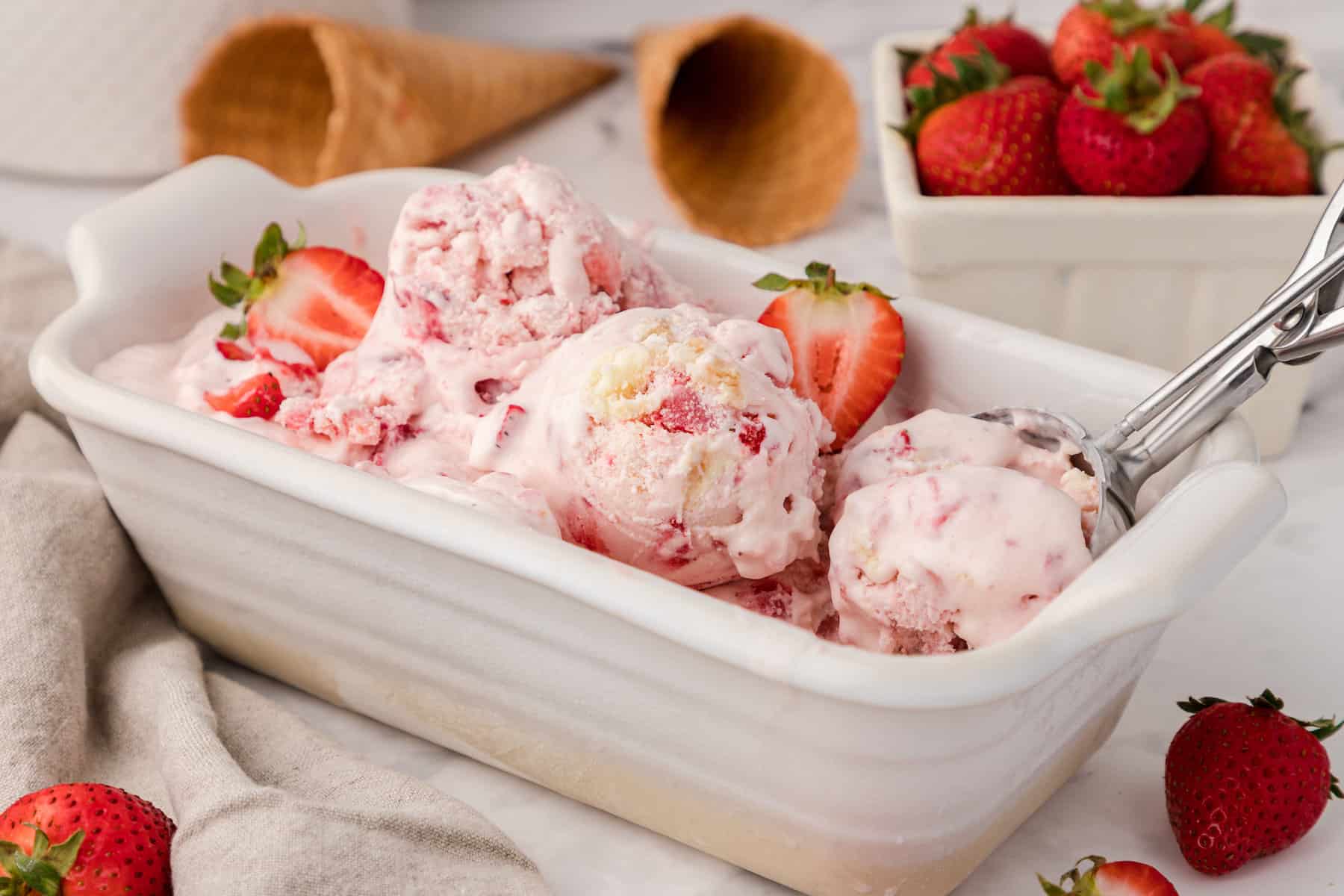 Variations
I love the chunks of fresh strawberries in this ice cream. But, if you prefer, you can throw your strawberries in the blender or food processor, making a paste or even a syrup, and add that to the ice cream base. Doing this will give you more of an evenly consistent strawberry flavor, whereas my instructions give you more of a strawberries and cream flavor.
You can make this cheesecake ice cream with blueberries or raspberries, just replace the strawberries in step one. You may need to cut the blueberries in half in order for the sugar to work its syrupy magic; I've never used blueberries so I'm not 100% sure.
But you could also use a different fruit, like peaches, mangoes, or cherries (also cut in half).
As mentioned above, if you can't get frozen cheesecake, you could use graham cracker crumbs or even crushed shortbread cookies for a little crunch in your fruity ice cream.
If you want to add some chocolate (why not?!), you can add a swirl of hot fudge sauce right before pouring the mixture into the ice cream machine. But don't go crazy. There are already a lot of ingredients added to the ice cream, and if you go overboard, the ice cream won't set up right.
If you don't have an ice cream machine, you can still make strawberry cheesecake ice cream. Simply make the sugary strawberries as directed, then press out the syrup, then follow these no churn cheesecake ice cream instructions and add the berries in the last step. It'll be different than the recipe above, but it will still be awesome.
Storing leftover strawberry cheesecake ice cream
You're going to want to keep your ice cream in an airtight container in the freezer. If you let it freeze for longer than two hours, it will be rock hard and nearly impossible to scoop. If it gets that hard, you'll have to let it sit out on the counter for 10-15 minutes before attempting to scoop.
This ice cream never lasts for more than a day or two at my house, but if you keep it tightly covered, it should last for a couple of weeks. If you leave it open and uncovered, it will be freezer burnt and inedible in less than 24 hours.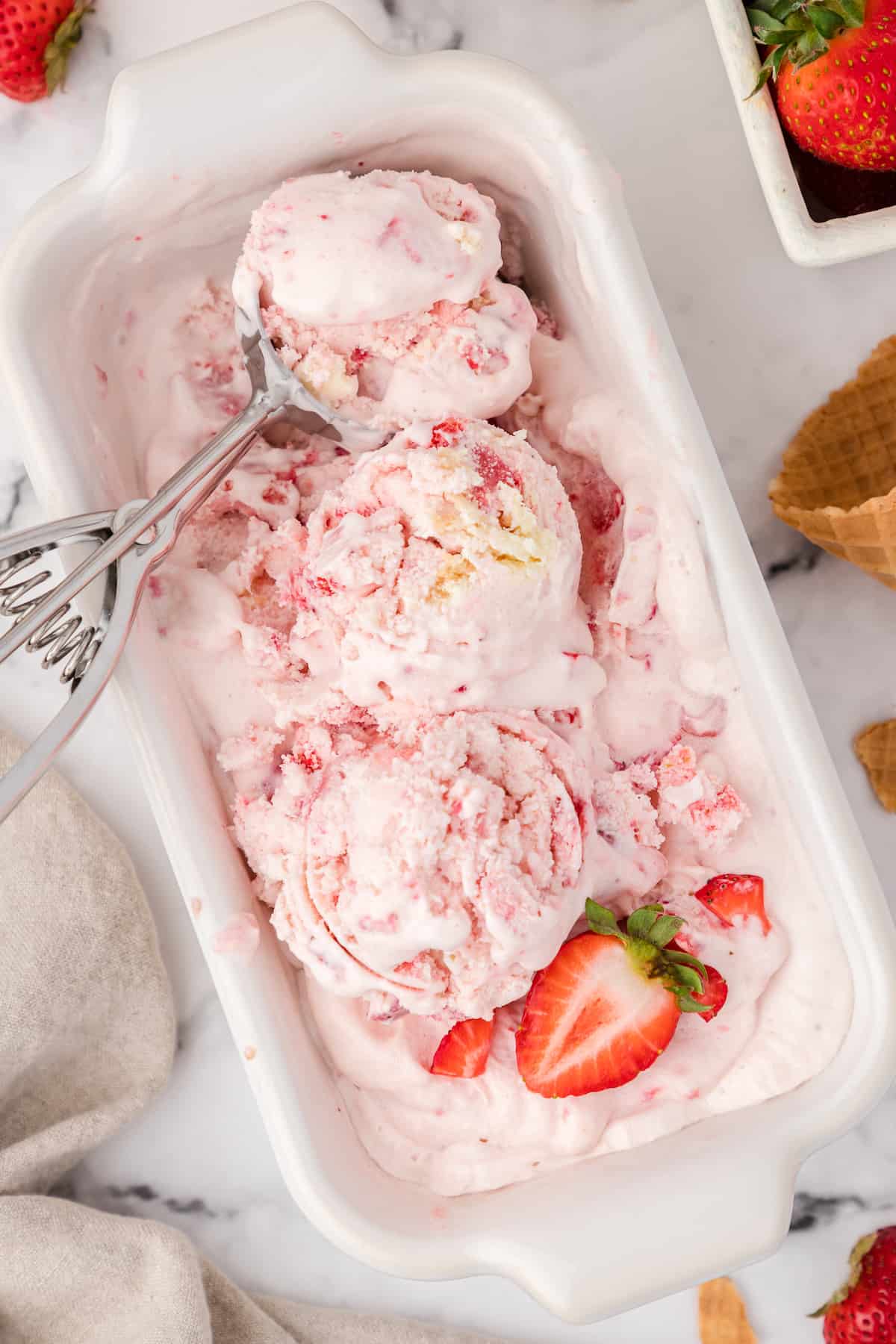 Why do I have to let homemade ice cream soften before scooping?
And:
Why is homemade ice cream so hard?
It's because commercial ice cream contains preservatives to keep it soft. There's nothing weird in your ice cream (yay!) so it's going to be hard as a rock when frozen solid. It's an easy fix. Just let it sit on the counter for 10 minutes before scooping. Check it every couple of minutes and scoop when it's soft enough to do so.
Check out these other homemade ice cream recipes:
Recipe