This traditional spaghetti sauce from scratch recipe is so simple and easy that you will never want another! It has been passed down through the generations in my family, and it is a real winner with great results every single time. We've always made it using fresh tomatoes, but you can also use canned tomatoes.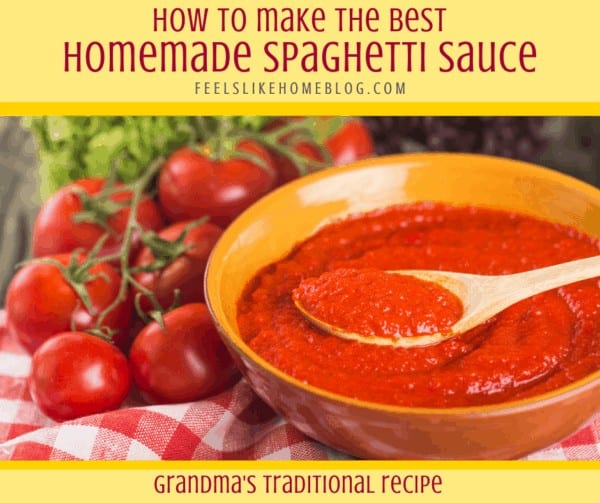 When I was a little girl, we were poor and lived way out in the boonies. My mom, Granny, and Old Grandma all grew large gardens. They all shopped at nearby farms to enable them to put up large quantities of fruits and vegetables by canning and freezing for the winter.
When my husband and I were newly married, we grew a garden that never produced much, so we always ended up buying a glut of tomatoes every summer. We would go for the ugly ones that had been set to the side by the farm market because they were significantly cheaper than the perfect ones, and we would usually bring home a whole peck which is 8 quarts. Joe would spend a full day blanching, peeling, blending, and simmering homemade spaghetti sauce using my old family recipe. A full batch or maybe two would last us through the whole winter, just like it did for my mom, my grandma, and my granny.
My mom, Old Grandma, and Gran have shared lots of recipes with me over the years for everything from homemade apple butter to pickled beets to this spaghetti sauce. In fact, this was the only spaghetti sauce I ever ate until I was well into elementary school. It started with Granny, who is my father's mother, but my mom and her mother liked the flavor so much that they switched from their recipe to hers.
Old Grandma and her cooking were sort of famous in the small town near our home. She had cooked in many restaurants there over the previous thirty years, and everyone in the restaurant business knew her personally or at least knew of her.
My mom and dad had taken me to the restaurant for a rare lunch before some doctor's appointment, and I ordered vegetable soup as it was one of my most favorite foods.
When the vegetable soup arrived, I took one sip and loudly announced that it was NOT as good as Old Grandma's soup and I refused to eat it. My parents were understandably embarrassed by proud too. Old Grandma is and always has been an excellent cook, and her vegetable soup is famous throughout the town and beyond.
All this to say that it was a huge deal that Old Grandma abandoned her old family recipe in favor of Granny's recipe. She doesn't make it anymore, being that she's turning 92 in a couple of months, but she made this spaghetti sauce from scratch for all the years of my childhood.
I've given this recipe to various friends over the years, and they've all loved it too, so I feel confident in saying this is the last spaghetti sauce recipe you'll ever need. Try it!
What makes this the best spaghetti sauce?
Let me first say that this is not a quick and easy recipe. There is no way to shortcut spaghetti sauce and get something that is thick and rich and absolutely delicious.
Well, unless you buy it in a jar, but that stuff can't hold a candle to the recipe below.
What you'll need to make the best classic spaghetti sauce from scratch
Equipment
To make this recipe, you'll need a blender to puree the tomatoes.
You'll also need a very large stock pot or dutch oven (at least 8 quarts but preferably bigger), and typical kitchen utensils like measuring cups and spoons, a sharp knife and cutting board, and a spatula or wooden spoon.
Because this recipe makes 3 quarts of spaghetti sauce (that's a lot!), you will need a way to preserve some of it. If you are making several batches at once, you could can it using canning jars and a pressure canner, but most people don't do that. Most people store it in plastic freezer bags in the freezer, and it will keep for up to 6 months or even longer in there.
Ingredients
4 quarts of medium-sized tomatoes (plum tomatoes taste the best), peeled - If you're using canned tomatoes, you'll need 128 fluid ounces. You can buy whole tomatoes if you want and put them in the blender, but you can also start out with crushed tomatoes.
5 sweet onions, chopped coarsely, divided
1 ½ stalks celery, chopped coarsely - I personally hate celery and wouldn't touch it raw or even cooked in most foods. However, you need celery in this spaghetti sauce and you should never leave it out.
½ green pepper, chopped coarsely - See above. I hate green peppers, but the recipe needs them, so don't leave them out.
6 cloves garlic
½ tablespoon oregano - This may not seem like enough, but it is. Don't go overboard. Same with the rest of the spices and herbs below. Don't go overboard.
2 bay leaves
2 ½ teaspoons basil
½ tablespoon Italian seasoning
⅛ teaspoon crushed red pepper flakes
¼ cup sugar - A lot of people want to make their spaghetti sauce without sugar, and you certainly can do that if you must, but this is a very small amount of sugar for 3 quarts of finished sauce. If you consider a serving of sauce to be a half cup (and that's a very large serving), there are 24 servings of sauce in this recipe. ¼ cup of sugar divided into 24 servings is less than ½ teaspoon of sugar per serving.
1 tablespoon salt
9 ounces tomato paste - This thickens the sauce.
16 ounces mushrooms, sliced - As with the other vegetables, this is important to flavor of the finished sauce. If you don't like mushrooms, add them in the beginning and puree them so that you can't see the chunks. But don't leave them out.
What tomatoes are best for making spaghetti sauce from scratch?
It is tempting to buy the biggest tomatoes you can find because it means less peeling and less mess. However, the largest tomatoes do not have the best flavor.
For the best spaghetti sauce, you should use medium size plum tomatoes. You may be able to find plum tomatoes labeled San Marzano, and this is general a really nice variety that is low acid and more sweet.
Why do you have to peel the tomatoes if you're putting them in the blender?
You just do, that's why.
No, seriously, if you don't peel the tomatoes, you will have chunks of tomato skins in your spaghetti sauce, and those aren't pleasant. It would be like having chunks of apple peel in your apple pie. It doesn't change the flavor, but it does change the texture, and not in a good way.
Okay, so how do you peel tomatoes for homemade tomato sauce?
Do not attempt to peel tomatoes with a potato peeler. It will be messy and juicy and disgusting and ineffective.
The best way to peel a tomato is to blanch them, but the easiest way isto roast them. Let. meexplain:
To peel tomatoes using the blanching method
Start with a very large pot, and fill it ⅔ with hot water. Bring the water to a boil.
While the water is heating, rinse the tomatoes. Use a corer or paring knife to remove the stems and cores, then use a sharp knife to cut a big X in the bottom of each fruit. (Yes, tomatoes are fruits and not vegetables.)
Prepare an ice bath by filling a large bowl halfway with ice and then add water to about ⅔ full.
Once the water is at a rolling boil, drop the tomatoes in, one at a time, using a slotted spoon. Boil each tomato for 30 to 60 seconds, or until the X at the bottom starts to look loose. You don't want to cook the tomatoes, just loosen the skins.
As soon as the skin begins to loosen, remove the tomato from the pot and drop it into the ice bath. You can leave it in the ice water for a few minutes or until the ice bath is filled up.
Next, remove the tomatoes from the ice water one at a time. Using your sharp knife, lift the skin at the X on the bottom. It should just slide off. If it doesn't, put it back into the boiling water for another 30 seconds and then back into the ice water.
It is important during this process to keep the ice bowl full of ice and the boiling water at a rolling boil. There should be lots of big bubbles that are constantly popping.
To peel tomatoes using the roasting method
Preheat the oven to 425ºF. Lightly oil a baking sheet or spray it thoroughly with cooking spray.
Rinse and core the tomatoes as above, but instead of cutting an X in the skins, cut the whole tomatoes in half from top to bottom.
Place tomatoes, cut side down, on the prepared baking sheet. Bake 30-35 minutes or until the skins are split and turning deep brown.
Let the tomatoes cool to near room temperature, and the skins should just lift off with your fingers.
How to Make Grandma's Traditional Homemade Tomato Sauce from Scratch
Blend tomatoes, celery, green peppers, garlic, and half of onions in a blender to desired level of chunkiness. We like ours pretty smooth and so blend it for a good long while on the chop setting.
Transfer blended vegetables to a very large pot (at least 8 quarts). Stir in spices, tomato paste, mushrooms, and remaining onions. Bring to a boil, then reduce heat and simmer for 3 hours or until desired consistency is reached.
Remove bay leaves.
Preserve as desired. You can store in the freezer, can, or use immediately. Makes approximately 3 quarts of sauce.
What's the difference between homemade marinara sauce, tomato sauce, and spaghetti sauce?
First, tomato sauce is made from cooked crushed tomatoes. It may have salt, but that's generally all there is to it.
Marinara sauce is a very simple tomato sauce, made with garlic, spices, herbs, and red pepper flakes and cooked for about an hour. It's thinner than spaghetti sauce and may be chunky or smooth.
Pizza sauce is a bit thicker and smoother than traditional marinara (no chunks), may contain balsamic vinegar, and is heavy on the Italian spices. But otherwise, it's pretty similar to marinara.
Spaghetti sauce or pasta sauce is generally the most involved and most complex of the tomato sauces. It's simmered for several hours which makes it thick and rich. Spaghetti sauce, like the recipe here, includes vegetables besides tomatoes and sometimes even meat like ground beef, veal, or bacon, or beef stock. It may even be made with a roux which is a thick sauce made from butter and flour that's been boiled, and then the tomatoes and meat are added to that.
Having said all that, often marinara and spaghetti sauce are used interchangeable in the grocery store, so it's sometimes hard to tell what you're getting. Commercially made pizza sauce and tomato sauce are fairly standard and are different from the other two.
Can I add meat to my spaghetti sauce?
Yes, you can. My Granny's original recipe did not call for meat, but you can add it if you want to. All you have to do is completely cook and drain ground beef, ground pork, or bacon and add the meat to the sauce during the simmering stage.
Note: I would not add meat if I was planning to freeze or can the sauce. I would add the meat just before serving in those cases.
Can I make spaghetti sauce in the slow cooker or Crock Pot?
Yes, you sure can. Instead of simmering the spaghetti sauce on the stove, you can bring it to a boil on the stove then dump it all into the CrockPot and let it simmer on the high setting for 4-5 hours. Easy peasy.
How to store this spaghetti sauce
As stated in the recipe, there are two main ways to store this tomato sauce once you've done all the simmering: freezing and canning.
To freeze the sauce, let it cool to room temperature and ladle the sauce into gallon-sized freezer bags. Lay the bags flat in the freezer until they are frozen solid, and then stand them up and organize your freezer however you want. They can stay in the freezer up to about 6 months.
When you can spaghetti sauce, you ladle it into hot canning jars while the sauce itself is still very hot. Then you put clean lids and rings on the jars, place the jars into a big pot of boiling water, and boil them for about 35 minutes. It's not a hard process, but it requires some specific equipment and knowledge. Here's a better and more thorough explanation of how to can spaghetti sauce, including food safety and botulism concerns.
Check out these other popular recipes while you're here:
Recipe