Tossed in a basil pesto and packed with colorful spring and summer vegetables, this vegetarian pesto pasta primavera is a quick and easy way to use up fresh produce!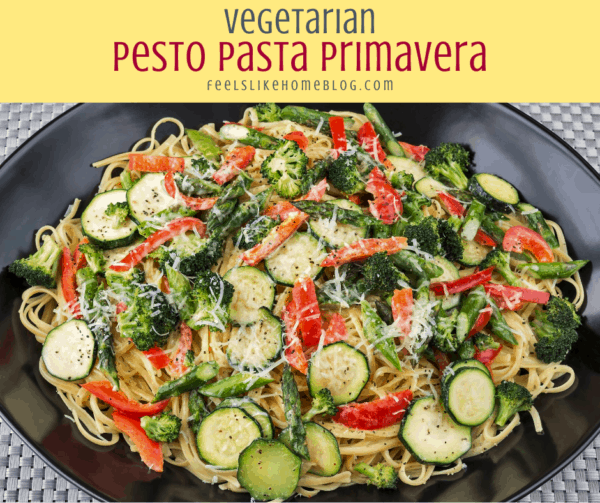 I prefer to use fresh and homemade ingredients. They taste better, they're healthier, and they're free from nasty preservatives.
Except most of the time sometimes, I don't have the time to make all of the parts from scratch before I make dinner. I would like to, but it's not realistic.
For that reason, I keep some pre-made, commercial products in the pantry to use in a pinch.
Yesterday was one of those in a pinch days. I had a doctor's appointment (still treating my back injury from the car crash on May 1), so we didn't get home until almost 6 pm. Joe was working overtime, so he wasn't home, either.
Grace and I made dinner, but we got a very late start. For these occasions, our pantry holds an assortment of commercial pasta, our homemade spaghetti sauce (in sealed jars), and commercial sauces (alfredo, cheese, and a refrigerated pesto).
Because we used a box of pasta and the refrigerated pesto, we threw this primavera together in under a half hour. It would have been less if Grace hadn't tossed the snow peas so vigorously, but she got a little carried away with the washing. We had to collect them from all over the kitchen floor.
How to make quick & easy vegetarian pesto pasta primavera
Prepare pasta according to package directions, subtracting 2 minutes from the cooking time.
Heat olive oil in a large skillet over medium heat. Add the peas and onions and let them cook for a few minutes. Add in the squash and cook until the veggies are just beginning to soften.
When draining the pasta, try to leave a cup or so of the cooking liquid in the pan. Return the pasta to the pan and return it to the stove over medium heat. Add a tablespoon or two of olive oil and stir the pasta to distribute it throughout.
Transfer the cooked veggies to the pasta pot. Add the spring onions and garlic scapes and stir through.
Add pesto a few heaping tablespoons at a time until your desired pesto-iness is achieved. Everyone's tastes are different. I used about a cup all together.
Just before serving, sprinkle each serving with 1 ounce of feta cheese.
Garlic scapes are only available for a couple of weeks in the late spring to early summer, and typically only in the northern US and southern Canada. This is because they grow from hard-neck garlic which does not grow in warmer climates. (Not sure about other parts of the world.) Garlic scapes are typically available only in farmer's markets; I've never seen them in a grocery store. If you've never used garlic scapes before, head over to this page for some tips and more delicious recipes.
If you can't find garlic scapes, feel free to use 2 to 3 cloves of garlic and press them into the skillet when you add the onions.
Here are a few more vegetarian meals you might like:
Recipe