This is a mandoline.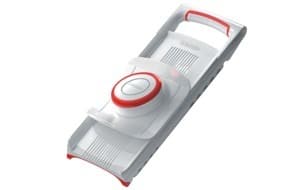 Pin
This is a mandolin.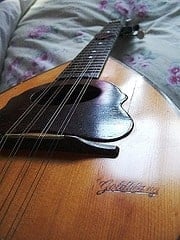 Pin
Today, we're talking about the former.
I have an inexpensive mandoline, and I use it all the time. It's another one of those tools that spends most of its time in the dishwasher, waiting to be cleaned.
There are mandolines on the market for upwards of $200. You don't need a fancy one, just one with a thick blade and a thin blade. A grating blade is nice, too.
The idea of a mandoline is that it makes slicing firm foods easier and faster. I can slice a whole zucchini or onion in about ten seconds.
Another benefit of a mandoline is that the slices are all perfect and uniform, and they cook evenly.
Mommy's Martini asked what she could do with her mandoline beyond potatoes au gratin and cucumber salad.
Get your own mandoline here.
10 Recipes to Make with a Mandoline
Onion rings. How many times do you need thin slices of onion? Hamburgers, deli sandwiches, onion soup, batter-dipped onion rings, onions for salad. Onions are so much easier to slice using a mandolin.
Tomato slices. Whether you're using the tomatoes to top a burger or sandwich, toss into a salad, layer in lasagna, or top a margherita pizza, a mandoline will give you perfectly even slices.
Vegetable slices. Whether you want to thin slices of zucchini or eggplant for vegetable lasagna, slices of cucumber for vegetarian sandwiches, or slices of radish or red pepper for a salad, a mandoline is the best way to get them evenly thin.
Fruit slices. As with the veggies above, if you want thin slices of apples or pears for sandwiches or even just for something different in fruit salad, a mandoline is the way to go.
Carrot slices. I hate to slice carrots without a mandoline. Even though my knives are very sharp, it's tough to slice through the whole carrot and even tougher to get the slices even. A mandoline makes quick work of carrots whether you want to cut them into rounds, ovals, or long, thin slices.
Shred cabbage. Shredded cabbage is perfect for homemade sauerkraut or coleslaw. Shredded lettuce is essential for tacos.
Grated vegetables. Our mandoline has a grating blade, and we use it for grating carrots for carrot pancakes, cucumbers for tzatziki sauce, and zucchini for zucchini bake.
Potato chips. You need the thinnest slices of potato for chips, and a mandoline is perfect. You can use beets, sweet potatoes, even turnips in basically the same way.
Citrus garnish. If you need perfect slices of orange, lemon, or lime to put in a pitcher of water or on top of a cake, the mandoline is the best way to cut them. I had water with thin slices of cucumber in a spa this past spring, and that was divine, too.
Cheese. A mandoline isn't just for fruits and vegetables. You can use it to slice or grate any firm cheese. Incidentally, I've also used mine for chocolate.
Please be extra careful when using a mandoline. The blades are very, very sharp, and can easily slice the tip of a finger or knuckle cleanly off. I've done that a time or two, and it hurts worse than the worst paper cut and bleeds profusely. Be careful, and use always use finger guard or food holder.
Storage can be tricky for this super sharp kitchen tool. Ours hangs at the very top of a peg board in our kitchen, almost out of my reach. We don't want Grace to ever accidentally cut herself on it.
Be careful, and always use the finger guard or food holder.
Get your own mandoline here.
What do you use your mandoline for?
Have you seen the rest of the series?