This is the best simple, quick, & easy baked falafel recipe! It comes together in a few minutes using canned or dried chickpeas and is sure to delight any crowd! Homemade, healthy, gluten-free, authentic dinner or snack.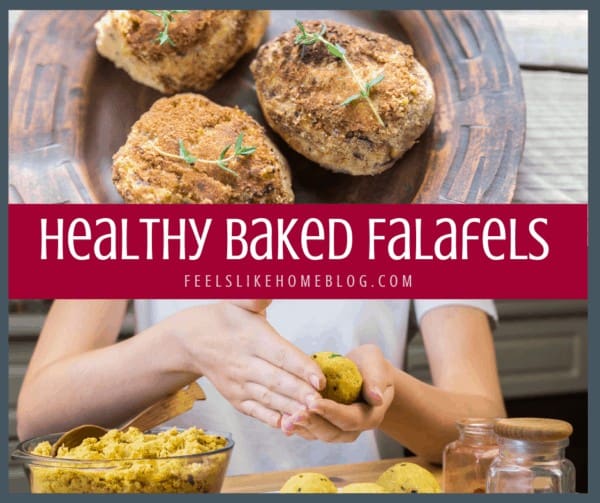 I love this falafel recipe. We've been making them for over ten years. Our kids won't eat them, but they are great for a date night. We also make them sometimes and bake some chicken nuggets for the kids.
Joe and I had the most fabulous supper tonight. I know, Dear Reader, I say that all the time, but it's true this time. Really. It was amazing.
A few months ago, I found a recipe for Crockpot Falafels on A Year of Crockpotting. Joe and I tried them, but we made them on the stovetop and fried them in oil. They weren't so great.
I wanted to make them again, and I decided to bake them instead of frying them on the stovetop. (The crockpot wasn't an option since it was 4 in the afternoon when I made my brilliant decision.)
I combined a few recipes that I found online, made Joe run to the grocery store for a cucumber and some eggs, and set to work. The results were divine.
We really debated about what to have alongside the falafels since we didn't want to make sandwiches out of them. We ended up having a beautiful little salad of spring mix, crumbled feta cheese, black olives, and Chef Tim's Sweet Balsamic Vinaigrette dressing. The salad alone was amazing and wonderful, and with the falafels, it was a Mediterranean meal for the gods.
A side note - Falafels are the most inexpensive entree I can imagine. We paid 88 cents for the bag of chick peas, and it yields about 28 falafels. Even with all of the other ingredients, they cost just a few cents a piece.
How to Make Healthy Baked Falafel
Prepare the aromatics. Heat 2 tablespoons of olive oil or butter in a medium skillet. Sauté the onions and garlic until they are crisp tender.
Add the ingredients to the blender. Combine half of the onions and garlic, most of the chickpeas, parsley, eggs, salt and pepper, cumin, coriander, cayenne, baking powder, lemon juice, and 2 tablespoons of olive oil in your blender, reserving about half of the onion mixture and a few handfuls of chick peas in a small bowl.
Liquify the ingredients. Pulse the ingredients in the blender until the mixture is smooth. You may need to add water to thin the mixture enough that your blender can process it, but add only a little water at a time. If you add too much water, you'll ruin your chick pea mixture.
Add some texture to the batter. Once the mixture is smooth and well blended, remove most of it from the blender. Add in the reserved onions, garlic, and chick peas and pulse until just barely chopped. Add to the smooth mixture. This will give the batter a nice texture.
Prepare the batter for baking. Add breadcrumbs to the batter ¼ cup at a time, until the batter is thick enough to hold its shape when formed into a ball. Don't add more breadcrumbs that are necessary to get the right consistency.
Bake the falafel. Using a medium cookie scoop, form golfball-sized mounds of dough in a shallow baking dish. Bake at 350 for about 20 minutes, or until deep golden brown.
When you make these falafels, you absolutely must make the tzatziki sauce that goes with them. Having them without is like eating plain dry spaghetti noodles. Maybe you like dry spaghetti noodles, but I promise that they're better with sauce. These are just like that.
This meatless meal pairs really nicely with these vegetarian side dishes:
Recipe