Instant Pot Lemon Chicken with garlic and honey is so good! This recipe is simple and easy to make in the pressure cooker and perfect for busy weeknights. The chicken cooks up tender and juicy in a sweet lemon garlic sauce.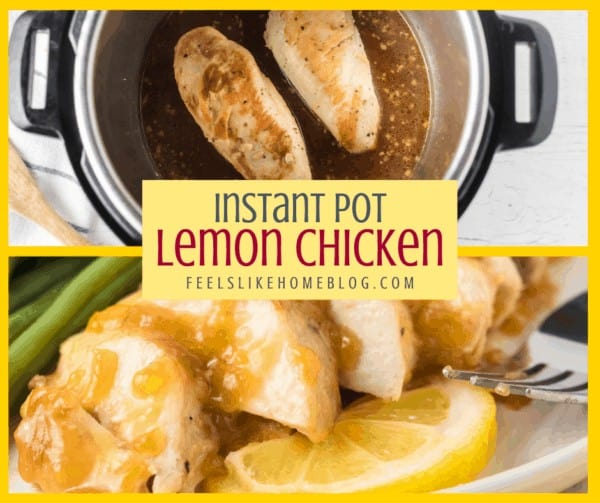 Let me be honest with you a second. I don't generally like lemon chicken, so when Joe told me that's what he was making for dinner, I deflated a bit inside.
See, we have a very longstanding arrangement that he doesn't ask me what he should make for dinner. I don't like having to make those decisions, and since he does 90% of our meal preparation, he just chooses something and goes with it. If there is something I'm hungry for, I will tell him (and he always makes that thing), but most of the time, it's his call.
So I guess he had been hungry for something different and fresh, and so he found or made up a recipe for lemon chicken.
Like I said, lemon chicken is not my favorite, but I kept my big mouth shut.
He made his lemon chicken in the Instant Pot because that's the quickest and easiest way to get supper on the table on weeknights after work, and he served it to us all with some veggies on the side.
Guess what.
I liked the lemon chicken. It's not really sweet at all. It is tangy and fresh, just as he intended. The soy sauce in the sauce adds a saltiness and savory element to the dish that balances out the honey and lemon and makes the finished chicken pleasing and delicious.
How to Make Instant Pot Lemon Chicken
Press the sauté button on the IP and click the adjust button to select sauté more function.
Pat the chicken dry and season with salt and pepper on both sides.

Pour 1 tablespoon of peanut oil into the Instant Pot. Place the chicken in the pot and brown for 4 minutes. Flip and brown the other side for 2 minutes.


Add minced garlic and sauté another 30 seconds.

Add a dash of wine and deglaze the pan by scrubbing the yummy brown bits off the bottom with a wooden spoon.

Add the chicken broth, honey, soy sauce, juice of half of the lemon, and a pinch of rosemary to the pot.



Cook on high pressure for 5 minutes, then use the natural release for 10 minutes, followed by a quick release.

Remove the chicken from the pot.

Whisk the cornstarch and water together and add to the juices in the pot. Use the sauté function to boil the liquid for 2-3 minutes or until it is thickened.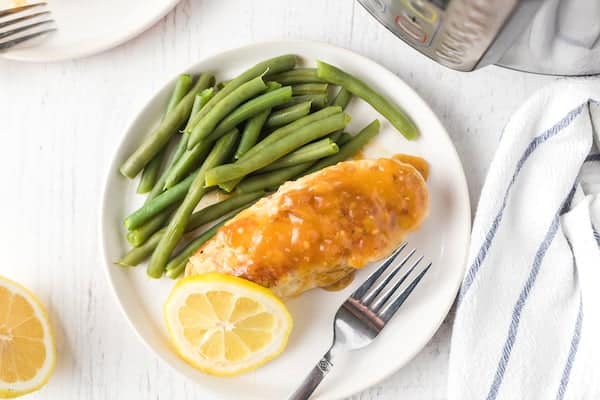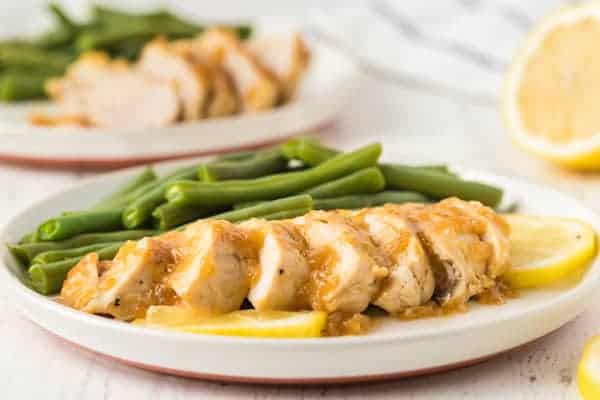 While you're here, you should check out these other quick & easy Instant Pot recipes:
Recipe