This easy cheesy Zucchini Bake is made with Bisquick and lots of cheddar cheese! This tasty zucchini casserole is always a hit as a summer side dish or a light meatless dinner. Only 10 minutes prep and simple pantry ingredients.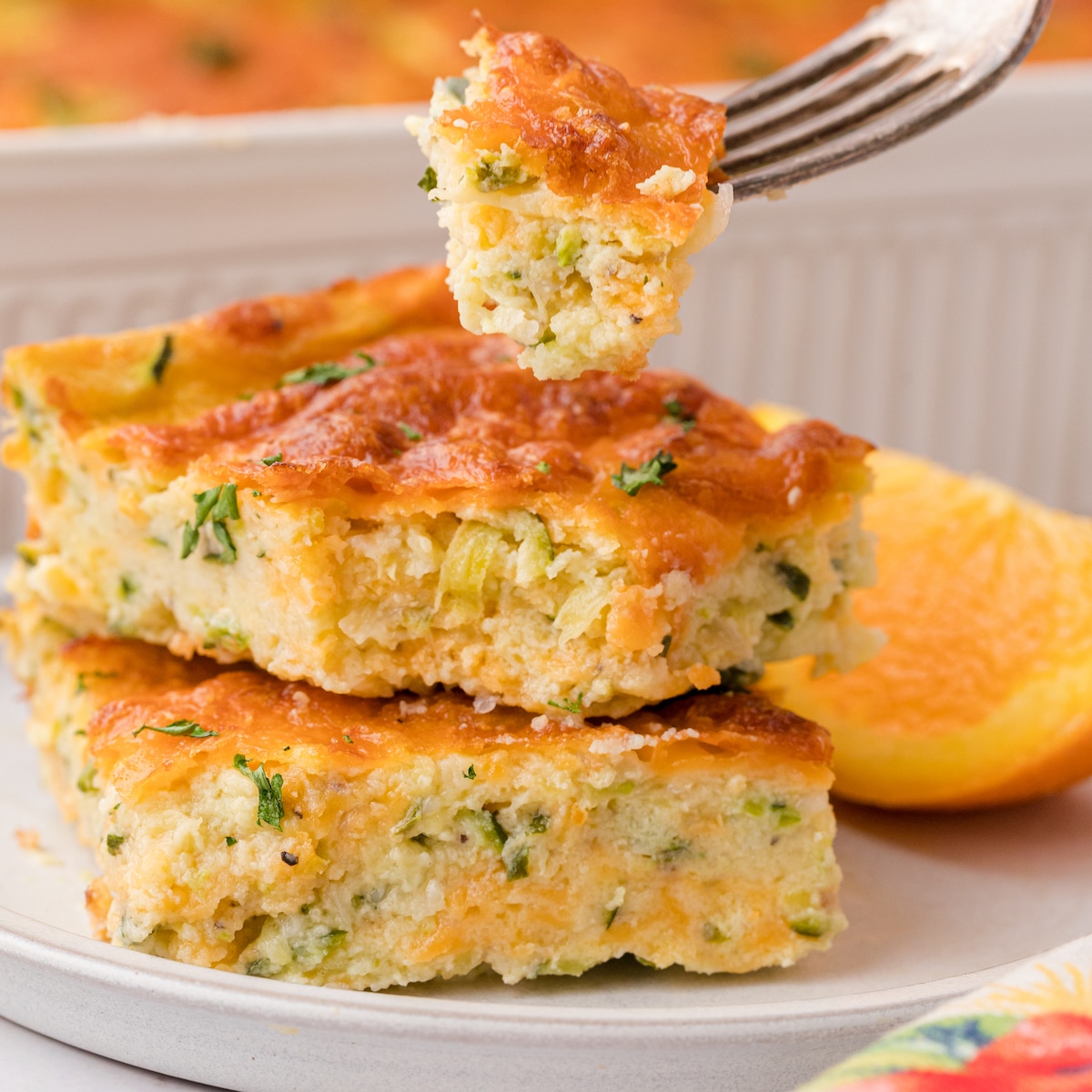 I received the recipe for Zucchini Bake from my mother-in-law. Joe remembered it fondly from his childhood, and I love zucchini.
The original recipe called for an entire cup of oil. I tweaked the recipe a little the first time I made it, and I continue to tweak it, each time reducing the amount of oil to see how much I can take out without compromising the finished product.
Why this is the best zucchini bake recipe
It's made with fresh simple ingredients that you probably already have and a couple of steps before popping it into the oven.
It's easy to make gluten-free by simply substituting a cup-for-cup gluten-free baking mix for the Bisquick. (Note that you can't just sub almond flour or coconut flour; it needs to be a complete baking mix such as Pamela's which is what I always used.)
This is basically a cheesy, egg-based casserole with shredded veggies hidden inside. You can eat it as a side dish or even a hearty meatless meal.
What you'll need to make the best zucchini casserole recipe
EQUIPMENT
This is a super simple recipe. You're not going to need a bunch of bowls or tools. You will need one large mixing bowl, a grater or mandoline with a grating blade, and a nice, deep 9x13 pan. Also a spatula or wooden spoon and couple of measuring cups. But really, that's it!
INGREDIENTS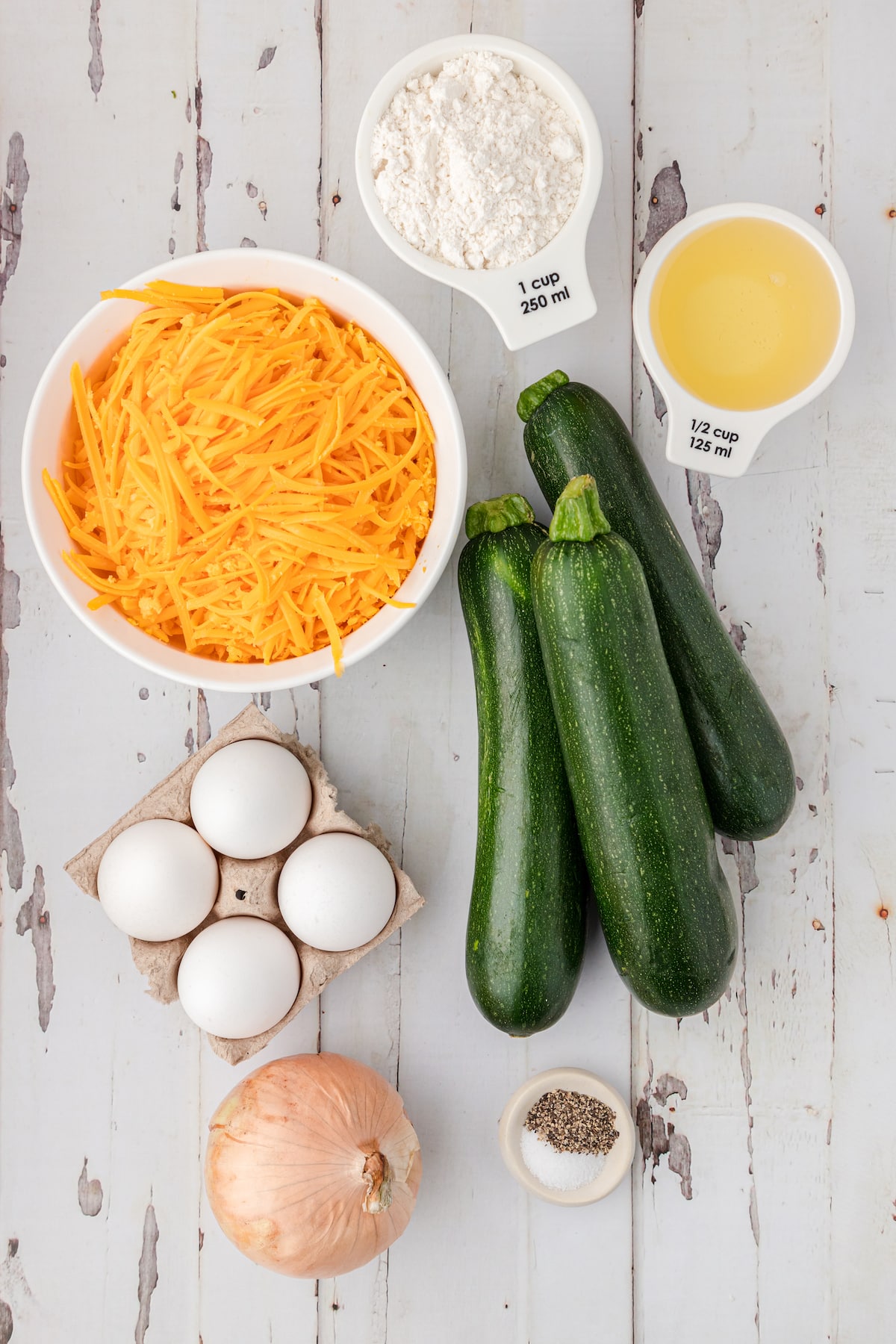 See printable recipe card at the bottom of the page for measurements and nutritional information.
Shredded fresh zucchini - This is the star of the show. I've seen this recipe made with sliced zucchini coins, but I prefer to make it with shredded zucchini as this results in the most uniform consistency. (If you use coins, you'll have to cook it longer for them to get tender. The tiny shredded pieces of zucchini cook quicker than larger ones will.) Also, you an use a combination of green zucchini and yellow squash if you want.
Bisquick - You need this to make the casserole set properly. Bisquick is a mixture of several ingredients including flour and baking soda. If you need to make your own, you can find homemade Bisquick recipes on Pinterest or Google. (Sorry, I don't have one.)
Shredded cheddar cheese - I love the flavor of sharp cheddar cheese, but if you prefer, you can use another type such as mozzarella cheese, monterey jack, or even gouda. And if you want to get really fancy, sprinkle the whole thing with some freshly grated Parmesan cheese. (The slivers, not the powdery stuff in the can!)
Shredded onion - This adds a nice sweetness to the casserole, but it is really necessary to shred it before adding it to the batter. You don't want to throw slices of onion into your smooth zucchini casserole.
Cooking oil - I have played around with the amount of oil in the recipe, and I think I have it as low as it can reasonably go without the casserole becoming dry. I prefer to use olive oil, but you can use canola oil, vegetable oil, or any oil of your choice. You could even use an equal amount of melted butter if you didn't want to use oil.
Beaten eggs - These are the binder that holds all the other ingredients together.
Salt & pepper - Season the zucchini batter to taste.
How to make cheesy zucchini bake with Bisquick
Preheat oven to 350ºF.
Spread the shredded zucchini on a couple of paper towels. Roll the towels up and gently squeeze the shredded zucchini over the sink. You don't want to squish it, but you do what to remove any excess moisture that's hiding in the flesh. When you roll it up and gently ring it out, you will be surprised at how much water flows right out.
Mix the pressed zucchini together all the other ingredients except 1 cup of the cheddar cheese.

Pour zucchini mixture into a greased 9x13 baking dish.

Sprinkle with remaining cheese.

Bake at 350ºF for 55-60 minutes, until golden brown and a cake tester comes out clean. If the top gets too brown before the inside is set, cover with aluminum foil to prevent over browning.

Sprinkle with some fresh parsley or green onions and serve with a dollop of homemade chili sauce or salsa, if desired.

Cheesy Zucchini Bake Variations
You can add a half pound of crumbled bacon to the zucchini batter for a heartier casserole.
You can add a teaspoon of crushed red pepper flakes to kick up the spice a bit.
If you want some crunch on the top, sprinkle with panko or plain (or even Italian) breadcrumbs right before you stick it in the oven.
How to store leftover cheesy zucchini casserole
Leftovers of this casserole store really well. Cut it into squares and place into an airtight container or zippered plastic bag. Keep in the fridge for up to 5 days. Reheat in the microwave for a minute or two or in a 250ºF oven for 10-15 minutes.
This recipe doesn't freeze well because of the high moisture content of the zucchini.
More delicious zucchini recipes
Recipe