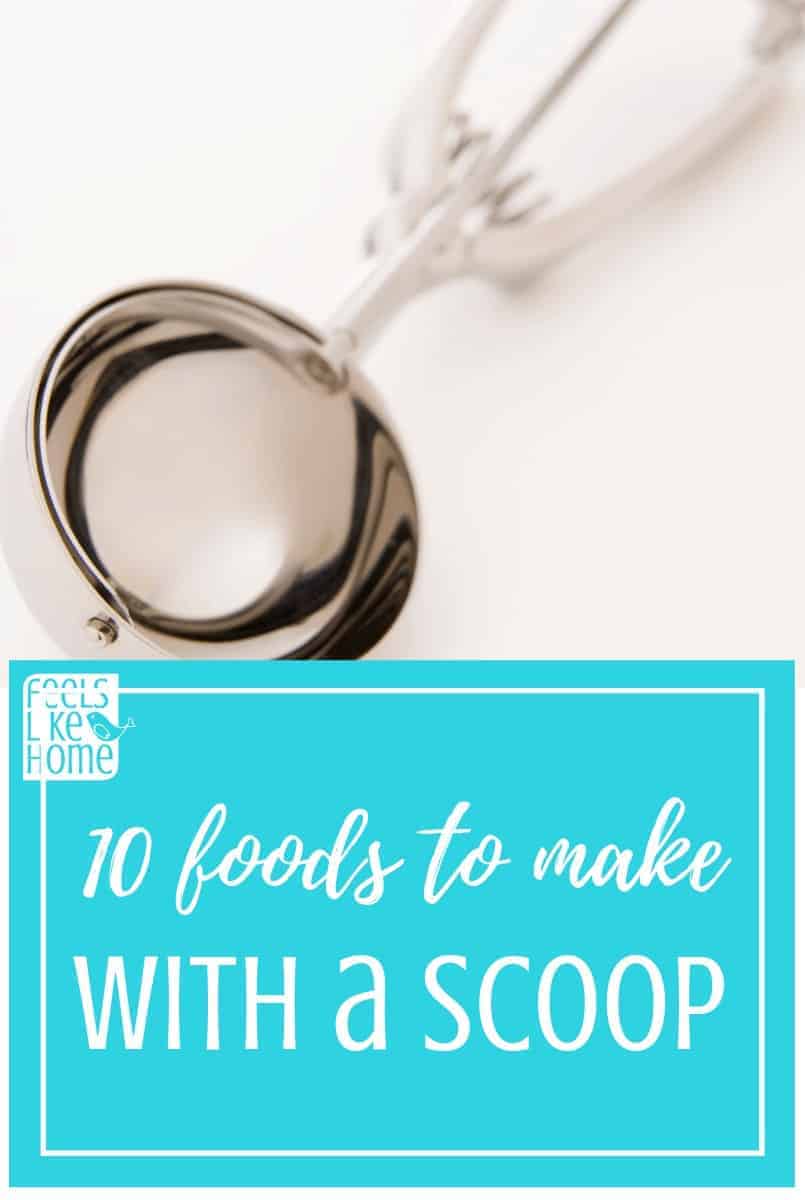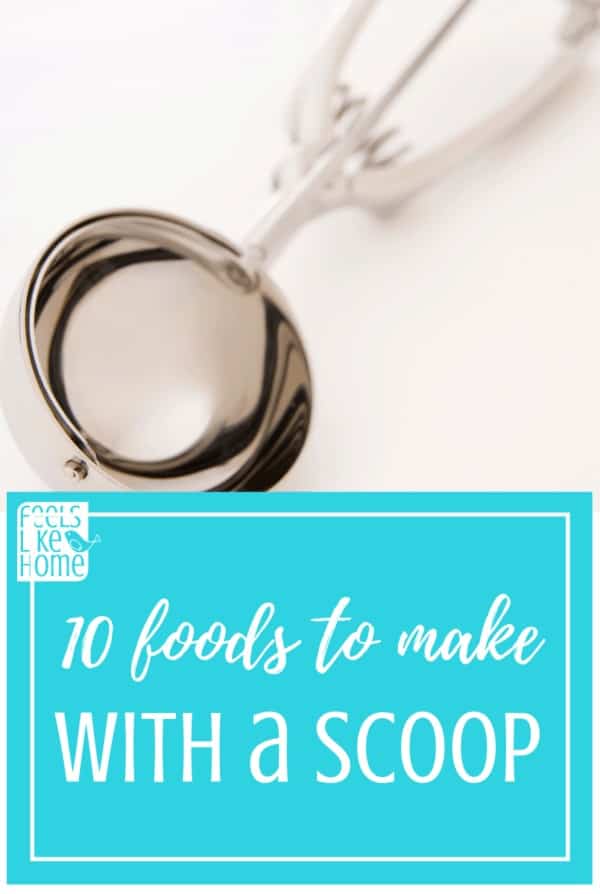 Pin
I have a confession to make.
I love this series. I've really enjoyed brainstorming and sharing my ideas for all kinds of goofy kitchen gadgets. It's fun for me.
So far, we've tackled the bundt pan, muffin pan, and cookie cutters (for foods and for crafts). Up this week, the scoop.
My friend, Casey, asked me to tackle the scoop. She said that she uses hers for ice cream, but thinks there should be more she can do with it. There is!
If you haven't used your scoop to make ice cream balls, you're missing out. It makes the perfect scoop for in a banana split or on top of pie.
10 Things to Make with a Scoop
Assemble sandwiches. Whether you're making chicken salad sandwiches or ice cream sandwiches, a large scoop will give you just the right amount of filling. Smash it a little, and add the top of the sandwich. The same idea applies for homemade ravioli, enchiladas, stuffed zucchini or peppers, and pot stickers.
Form cookies. This works whether you're making no bake cookies or ones that need to be cooked. All of the cookies will be perfect circles if they start out as nice balls, and since they're all the same size, they'll all be finished cooking at the same time.
Fill muffin tins. Whether you're making muffins, cupcakes, or eggs in your muffin tin, a scoop will give you the same amount of batter in each cup. No one will fight over whose cupcake is bigger!
Make pancakes. It's nice to not worry about the size of each pancake. If you use the same scoop for each pancake, the finished products will all be exactly the same size. Or, if you use a smaller scoop and a larger scoop, you can easily make a Mickey Mouse pancake.
Make easy truffles. Start with a simple chocolate ganache. I use 6-8 ounces of semi-sweet chocolate chips, 3 tablespoons of butter (cut into small cubes), and ½ cup of heavy cream. Mix that together and microwave in 30-second increments until you're able to stir it into a smooth, creamy liquid. Then let it cool, just enough that it will hold its shape. Use a scoop to form balls of chocolate, and then roll them in powdered sugar, colored sugar, chopped nuts, sprinkles, cocoa powder, or whatever you want.
Brownie lollipops. This is a fun recipes where you start with a slightly cooled pan of brownies. They need to be warm enough to work with, but not so hot that they fall apart. Using a small scoop, form brownie balls (avoid the hard edges; eat those instead). Insert a stick into each one, and then dip it into melted chocolate. Finish the lollipops off with a sprinkle of powdered sugar, colored sugar, sprinkles, or other garnish.
The Pioneer Woman and Bakerella both make cake ball recipes that are similar.
Dessert balls. What little athlete wouldn't like a baseball made from Rice Krispies? Or a soccer ball made from a brownie and decorated with frosting? Or even a basketball made from cantaloupe? Use a scoop to make the balls.
Meatballs. If I'm honest, I would have to admit that I've never actually made meatballs. But if I were going to, I'd use a scoop to form them into perfect balls. You can also use a scoop to form crab cakes (press the balls down a bit) and hamburgers (press them down a lot).
Form dumplings. When I was little, my mom made dumplings to go with stews. They're basically balls of dough dropped into hot broth towards the end of cooking. Paula Deen has a good-looking recipe for Chicken and Dumplings.
Fill your decorator. I use my smallest scoop to fill my decorator with frosting for making cakes and egg yolks for filling deviled eggs. I use a larger scoop to fill my cookie press. I use a scoop because the spring makes the sticky stuff pop right out into the decorator or press easily, and I don't have to dirty a bunch of spoons.
What do you use your scoops for?