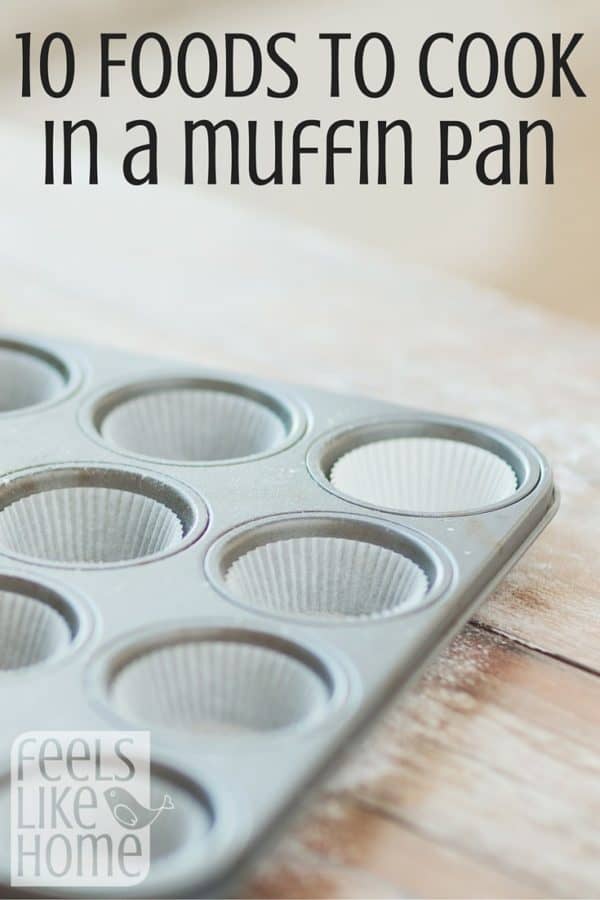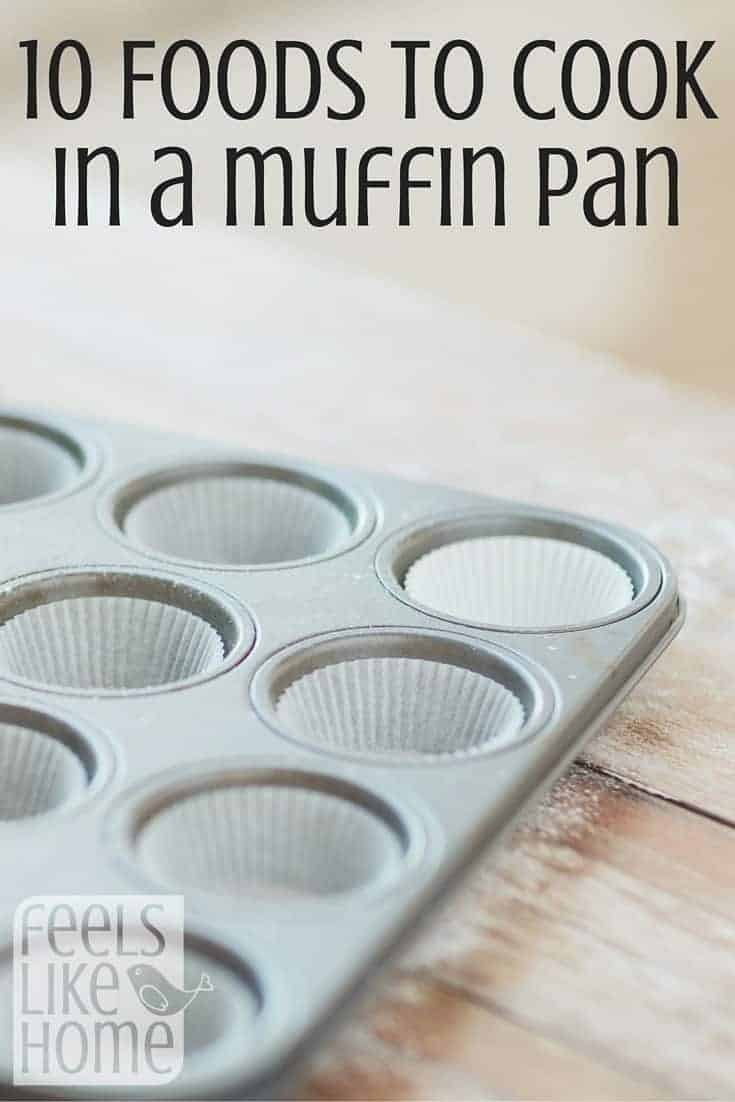 Of course, you can make muffins and cupcakes in a muffin tin (FYI: any quick bread or cake recipe, even a boxed mix, will make great muffins or cupcakes), and muffin tins can be used to serve food children.
But what else can you use them for?
A few of these things are the same as my creative uses for a bundt pan.
Why?
Because the meal itself is that versatile, and can adapt to almost any container.
As with the bundt pan, make sure you grease, wipe with melted butter, or spritz the muffin cups with non-stick cooking spray before you add any ingredients. Otherwise, you might end up with half of your dish stuck to the muffin pan.
10 Foods to Make in a Muffin Pan
Single serving meatloaves. You can use a recipe specifically designed for a muffin pan, like Kraft's Marvelous Mini Meatloaves. Or use your favorite meatloaf recipe. If you do that, make sure to cut the cooking time way back, as much as half. Otherwise, your mini meatloaves will burn. I like muffin meatloaves because the serving size is predetermined. There's no cutting, unless you're feeding small people.
Muffin-sized frittatas or omelets. This link is from the American Egg Board, featuring a veggie frittata with peppers, onions, and zucchini, but you could vary the ingredients according to your liking. There's no reason that you couldn't make a ham and cheese frittata or even a plain cheese frittata. A muffin-sized frittata is perfectly hand-sized, and easy to eat on the run, by the way.
Eggs-tra special breakfast cups. This is so easy! Put 3 frozen tater tots in each muffin cup. Top with diced ham and shredded cheese. Last, beat 12 eggs (adding spices, salsa, or other seasonings as you prefer), and divide the egg mixture among the cups. Bake at 350 or until the eggs are firm. Top with salsa, ketchup, A1 sauce, or chili sauce. Or don't top them at all and eat on the run.
Corn mini pies. To make corn mini pies, you whip up a filling of cream cheese and corn, and then stuff it inside an uncooked Grand's biscuit. Imagine the possibilities - how about a filling of spaghetti sauce and pepperoni? That would make mini strombolis. Or a filling of diced ham and shredded cheese? Or taco meat? Or diced apples, brown sugar, and butter (or your favorite pie filling)? Again, the possibilities are endless, and the results are oh, so tasty.
Freeze 1-cup quantities of homemade chicken or turkey stock. Once they're frozen, you can pop them out and place in a gallon-sized zip top bag for easier long term storage.
Mandarin orange upside down cakes. Yum! This is a simple recipe. Basically, you combine ¼ cup of melted butter with ½ cup of brown sugar. Divide the mixture between all 12 muffin cups. Then, place one maraschino cherry and 4 mandarin orange slices (patted dry) in each muffin cup. Combine a yellow cake mix with the juice from a jar of mandarin oranges and one egg. Divide the cake batter between the muffin cups. Bake at 350 for 25 to 30 minutes, then immediately turn onto a heat-safe platter. Based on an old recipe from The Pampered Chef. You could make any upside-down cake the same way. Instead of oranges, use pineapple chunks or rings. Or toss pecans or walnuts in the butter-sugar mixture and omit the fruit.
Taco muffins. I think these are so unique, and they are so tasty! We top ours with salsa, cheese, and sour cream.
Individual au gratin potatoes. Slice potatoes very thin. Layer 3 slices of potato, a sprinkle of shredded cheddar cheese, and a sprinkle of sliced green onions. Repeat 5 times or until muffin cup is full. Pour 2 tablespoons of heavy cream over the top. Fill all muffin cups in the same manner, cover with foil, and bake at 375 for 20 minutes. Remove the foil and bake an additional 20 minutes. Based on a recipe from The Next Food Network Star. As is the case with most of the above recipes, you can vary the ingredients by changing the type of cheese, adding ham or bacon, or even adding other veggies.
Cinnamon pull apart muffins. Start with two 11-ounce packages of dinner rolls. Separate the rolls and cut each into six pieces. Roll half of the pieces in two tablespoons of melted butter, then toss with a mixture of ⅓ cup sugar, ¼ cup chopped pecans, and 1 ½ teaspoons cinnamon. Fill 6 of the muffin cups and repeat with the rest of the pieces, another two tablespoons of melted butter, and another mixture of ⅓ cup sugar, ¼ cup chopped pecans, and 1 ½ teaspoons cinnamon. Divide between the rest of the muffin cups.  Combine the leftover sugar mixture from both batches with 1 tablespoon of flour and 2 tablespoons of melted butter. Stir to make a crumb topping; spoon topping over each muffin. Bake at 375 for 20 minutes, or until muffins are golden brown. Let stand for 5 to 10 minutes, then remove from muffin pan. Based on an old recipe from The Pampered Chef.
Twice baked potatoes. Start with 6 baked potatoes, cooled enough that you can handle them. Cut each potato in half across the middle (so that you have short, chubby halves rather than long thinner ones). Scoop out most of the potato, leaving a sturdy shell behind. Place one shell into each muffin cup. In a large bowl, mash the scooped out potato. Add ½ cup sour cream, ½ cup milk, 3 chopped green onions, ½ cup shredded cheddar cheese, and ¼ teaspoon each of salt and pepper. Scoop the potato mixture back into the potato cups, and bake at 400 degrees for 25 minutes or until golden brown. Garnish with more green onions, crumbled bacon, and more cheddar cheese. Serve with a dollop of sour cream.
Bonus - BBQ muffin cups. These stuffed muffins contain cheese and BBQ ground beef. So amazingly tasty!
I could probably give you another 10 suggestions if I'd allowed myself to include quick bread and traditional sweet muffin recipes. There are tons of those available on the internet and in cookbooks.
Become an Instant Pot Pro!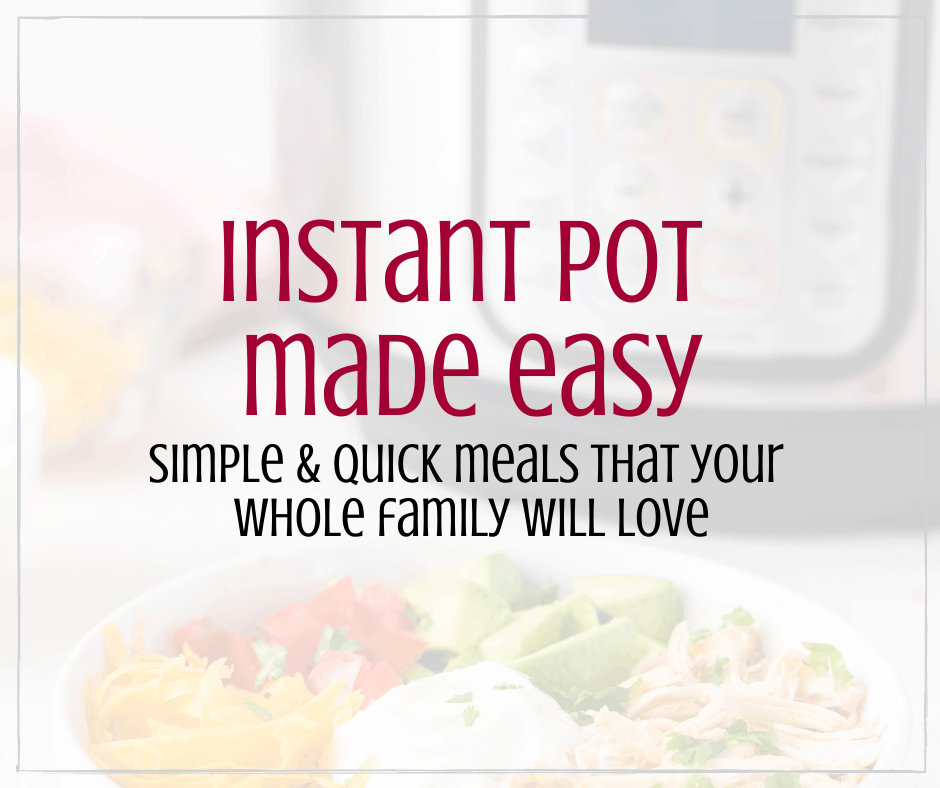 Get my favorite Instant Pot recipes in my free cookbook, Instant Pot Made Easy! Click the button below to receive the book. If for some reason, the button doesn't work for you, leave a comment below, and I'll email it to you.