This is the best double chocolate chocolate chip cookie recipe that makes simple chewy cookies! The dough makes thick, bakery style cookies with pecans inside, but they can be adjusted to any nuts!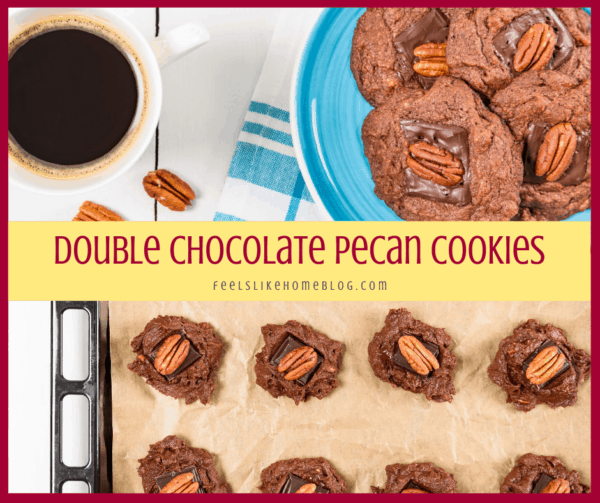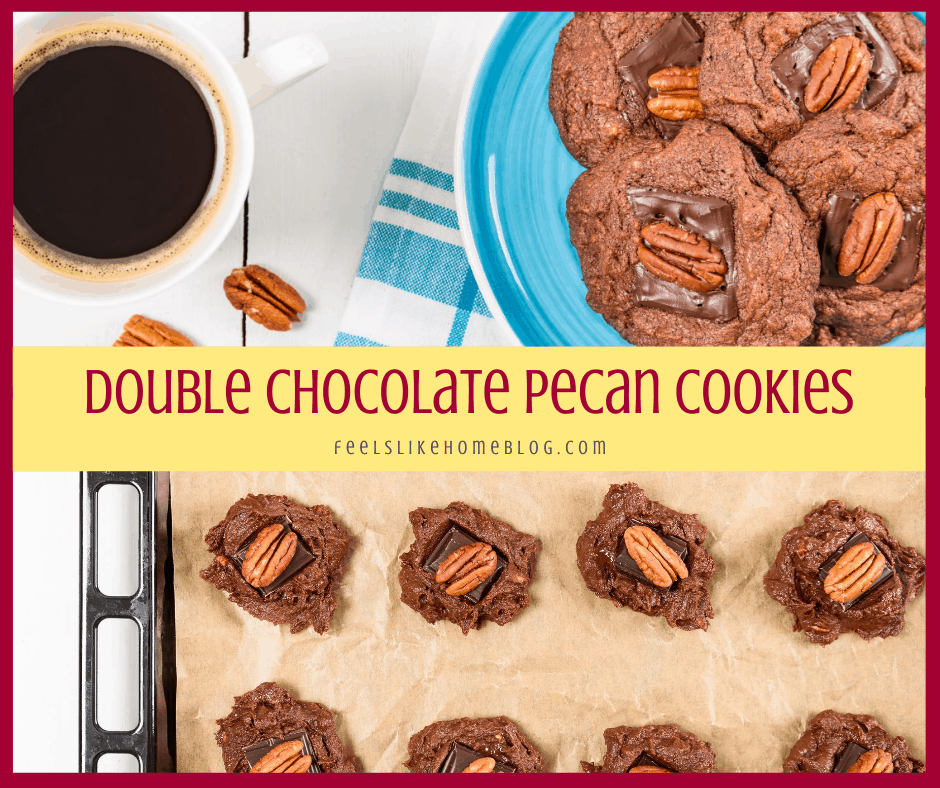 My earliest Christmas memory involves chocolate and cherries and raisins and peanuts.
It was warm outside, so I think it was October or early November. My sisters, my mom, and I were helping my Grandma to make Christmas candy.
Or, more accurately, my mom was helping, and we were eating.
My recollection of the day is hazy, more suggestion than lucid memory. I don't exactly recall any of the details, aside from sitting in my Grandpa's chair, sampling the goods til I had a belly ache.
I find it strange that my mom and Grandma made candy so early in the fall. I'm not sure if I'm remembering poorly or if there was some reason that they needed a head start.
There is one thing I remember very clearly, however. I remember that my mom and my Grandma worked hard to make treats for others. I remember that they loved the work, and I remember that I loved sampling them. I remember being scolded for sampling too many.
While I certainly don't want all of Grace's holiday memories to focus on food, I want her portfolio of Christmases past to include a few afternoons spent making goodies for our friends.
Fun. Mixing. Flour and cocoa all over the place.
Love. Generosity. Sharing our blessings.
And I hope Grace forgets that she wasn't all that helpful.
What's your best recipe for Christmas goodies? I need some new ones, and I'd love to use yours.
I don't love the recipes I have, aside from this one. Instead, I substituted pecans (my favorite nut) for the candy corn and came up with this delectable version that's perfect for Thanksgiving or Christmas parties!
Double Chocolate Pecan Cookies
In a stand mixer, cream the butter, brown sugar, and white sugar together until light and fluffy. Add the vanilla extracts.

Add eggs one at a time, and beat until well incorporated.
Whisk together the cocoa, flour, baking soda, and salt. Sift.

Try to keep your helper from throwing the sweet smelling flour mixture around the kitchen. That can get messy.

Add sifted ingredients to the mixing bowl.

Use a wooden spoon to fold the dry ingredients in until they're just combined. For the longest time, it will feel like you're just moving around the sifted ingredients. Suddenly, it will feel like you're trying to stir cement.
Stir in the chocolate chips and the pecans. Mix just enough to distribute. Don't overwork the dough!

Cover the dough with plastic wrap and refrigerate for an hour or so.
Preheat the oven to 350 and line a cookie sheet with parchment paper.
Dip a small scoop into water (to prevent sticking) and drop dough onto a cookie sheet about 1 ½ inches apart. Flatten the balls slightly, and top each with a square of chocolate and a whole pecan.
Bake for 15 to 20 minutes or until the edges begin to brown.
Allow the cookies to cool on the cookie sheet. I don't know why, but that helps them to be moist and gooey.
You'll want to check out these other delicious recipes while you're here:
Recipe