How to make sweet teriyaki sauce - This easy homemade teriyaki sauce recipe is made from simple pantry ingredients. The sauce is thick and bold and works well as a marinade or as a sauce served with your favorite meats or vegetables.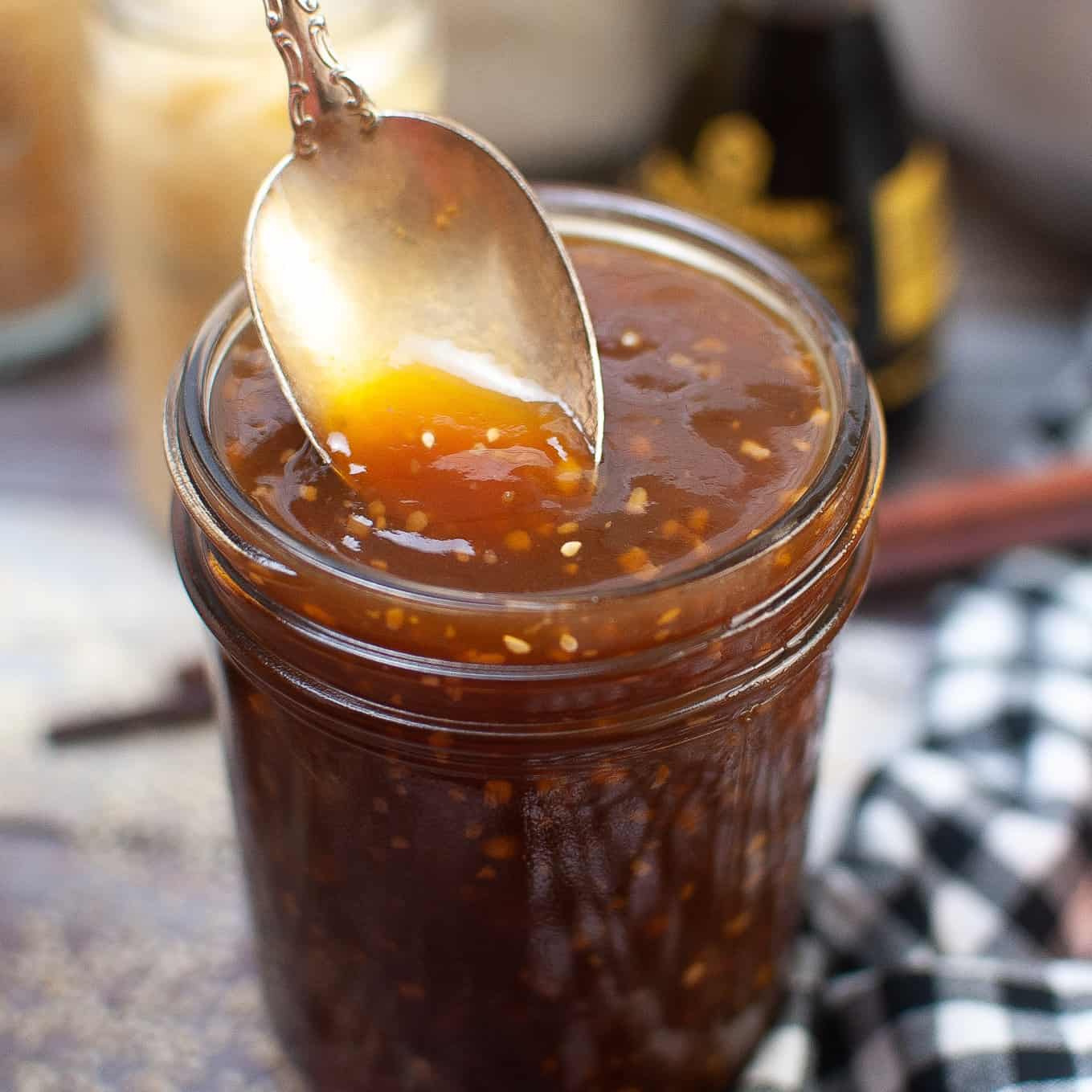 There are some condiments that I don't want to make at home (looking at you mayonnaise), but there are also lots of them that you can make at home really easily. The homemade versions taste better, and I can control the ingredients and adjust the flavor to our palates.
At my house, we make salad dressings (traditional ranch, cilantro lime ranch, mimosa vinaigrette, and creamy lemon dijon), enchilada sauce, piña colada sauce for coconut shrimp, cajun remoulade sauce, tzatziki sauce, basic stir fry sauce, and peanut stir fry sauce. And don't get me started on the flavored mayos (horseradish aioli, lemon mayo aioli, and honey sriracha aioli)!
Anyway, another really simple and easy sauce you can make at home is sweet teriyaki sauce. When you make it at home, you get a better, higher quality sauce with no nasty chemicals or preservatives. It tastes much better!
What is teriyaki sauce?
In Japan, teriyaki isn't actually the name of the sauce, but rather the name of the cooking method that uses the sauce as a marinade or glaze for meat.
Traditional teriyaki sauce is a savory/sweet/salty condiment made from soy sauce, sugar, and mirin or sake. This particular recipe for teriyaki sauce (without rice wine vinegar, mirin, or sake) makes a very thick sauce which makes it great for a glaze or as a dipping sauce for chicken tenders, veggies, or even French fries!
What you'll need to make sweet teriyaki sauce
EQUIPMENT
In addition to a small saucepan and a garlic press, you'll need measuring cups and spoons and a whisk or fork.
Teriyaki Sauce Ingredients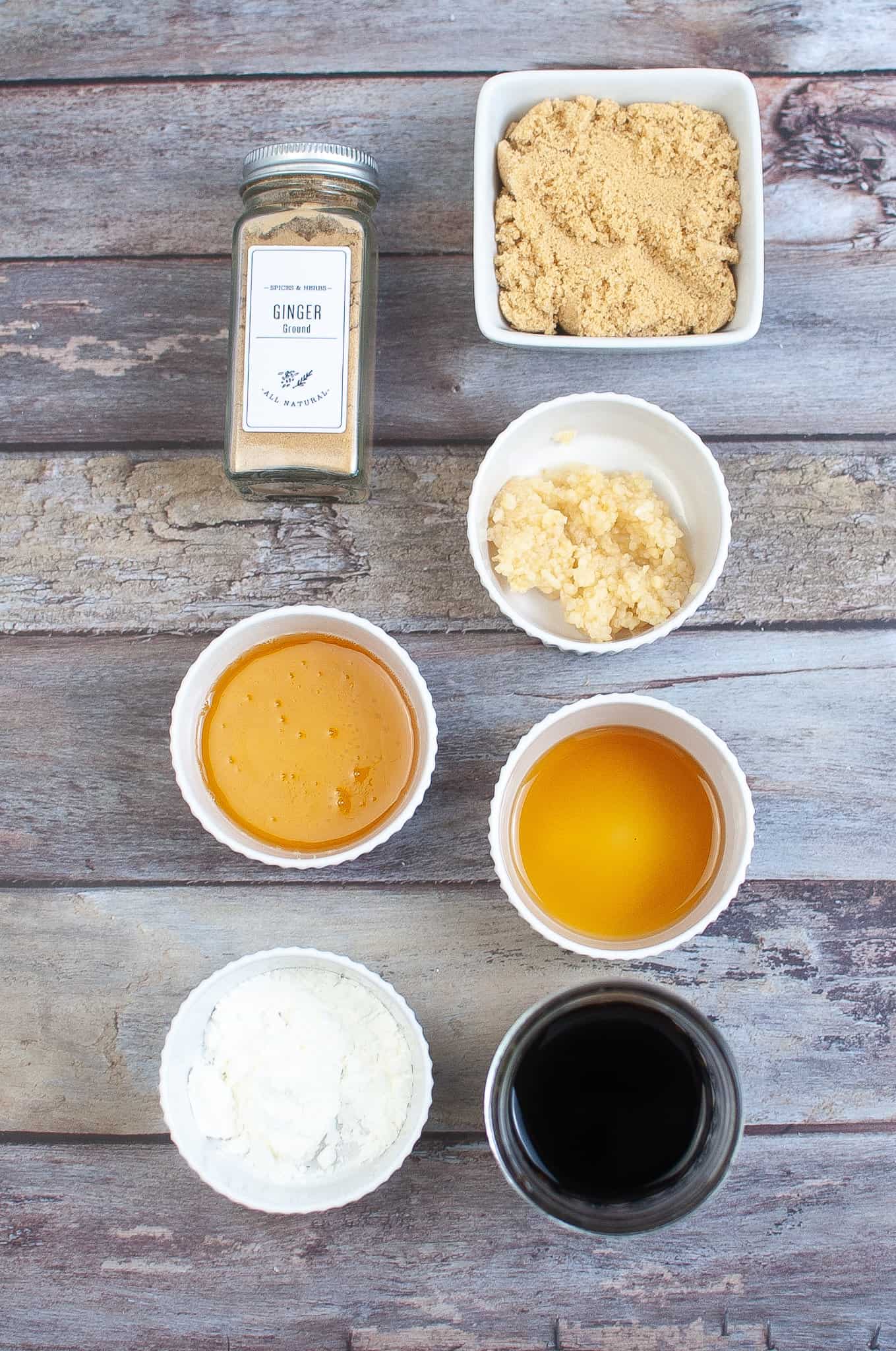 *See printable recipe card at the bottom of the page for measurements and instructions.
Soy sauce - I always use gluten-free low sodium soy sauce. (Soy sauce usually contains gluten, so if you are gluten free, make sure to read the label.)
Water
Brown sugar - I use light brown sugar. If you wanted to avoid sugar, you could probably increase the amount of honey, but I think the combination makes a really nice teriyaki. It wouldn't taste as good without both.
Fresh garlic - I always press my fresh garlic with a garlic press which smashes the garlic into fine pieces, almost like a paste. If you don't have a garlic press, you can finely mince the garlic with a very sharp knife. You want the pieces to be as small as possible. You could probably use garlic powder if you really had to, but I think the finished sauce will be a little lacking.
Ground ginger - I suggest using ground, dried ginger in the recipe below because it's easy and what most people have available in their pantries, but the teriyaki sauce will taste much better if you use fresh ginger. You'll need about 3 tablespoons of freshly grated ginger to substitute for the 2 teaspoons dried.
Honey - If you measure the sesame oil before measuring the honey, the honey won't stick to the measuring spoon and will be easier to pour out into the saucepan. If your finished teriyaki is too sweet, next time reduce the honey by half.
Sesame oil - Sesame oil is pungent. A little goes a long way.
Cornstarch - You'll use this at the very end, whisked together with a small amount of cold water, to make a slurry that will thicken your teriyaki sauce. If your sauce is too thin, simply whisk up another batch of the slurry and continue whisking it into the sauce until it reaches your desired thickness.
How to make homemade sweet teriyaki sauce
This recipe is so easy, it's almost not a recipe at all. Just whisk it together, bring it to a boil, and you're almost finished!
Add all ingredients minus cornstarch and 2 tablespoons of cold water to a small saucepan. Heat over medium-high heat.

Bring sauce to a boil and simmer for five minutes, then remove from heat.

Whisk cornstarch with 2 tablespoons of cold water to make a slurry.
Stir cornstarch slurry into the sauce and whisk to thicken.
Use right away or let sauce cool and pour into an airtight jar to keep in the refrigerator.
How to use homemade teriyaki sauce
This sauce works really well as a:
Glaze on air fryer chicken thighs - check out this recipe! It's amazing and so easy!
Glaze on grilled chicken breasts or thighs
Glaze on grilled shrimp
Glaze on salmon
Sauce on chicken wings
Brush-on sauce for any meat or burgers during grilling
Stir fry sauce
Marinade for chicken, turkey, fish, or shrimp
Mixed up with rice noodles (or, let's be real... any noodles)
Mixed up with broccoli and bite-sized pieces of chicken, and served over rice or cauliflower rice
Is teriyaki sauce the same as soy sauce?
No! Soy sauce is an ingredient in teriyaki sauce, but they are definitely not the same. Soy sauce is thin like water and very very very salty. Teriyaki sauce is thick, syrupy, and sweet. You cannot use them interchangeably.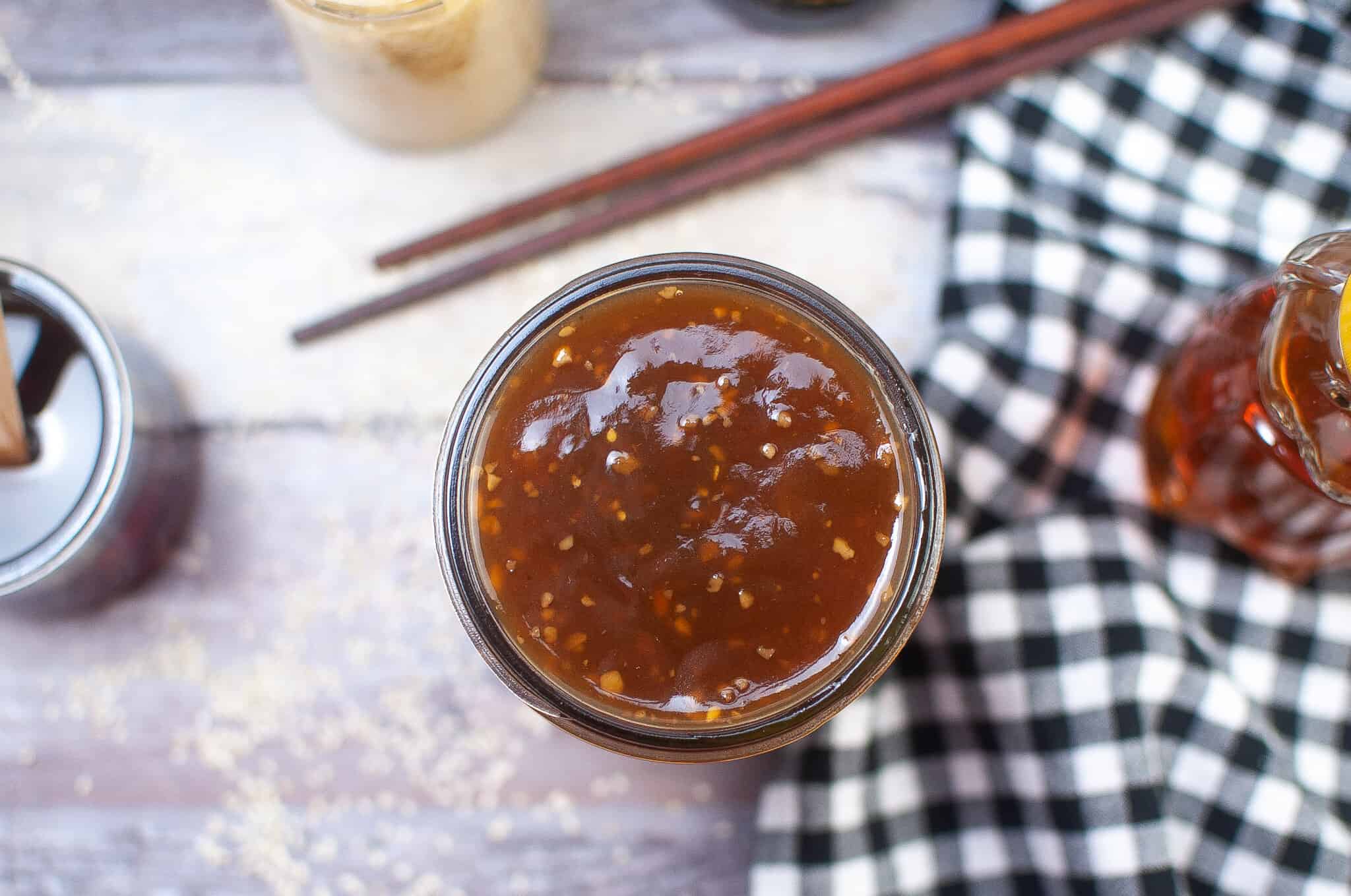 Can I double this recipe?
Yes. This recipe, as written, makes enough teriyaki sauce for one average-sized meal. If you want to make more, there is a little button to the right of the ingredients that says "1x" "2x" "3x" - all you need to do is to click on the 2x and that will double the ingredients for you. You may need to cook the sauce a little longer to get the right thickness if you double the ingredients.
How to thicken teriyaki sauce
Your sauce will naturally thicken as it cools. However, I prefer my teriyaki sauce to be thick, almost like honey, so I add a cornstarch slurry right after removing it from the heat. To do that, mix 2 tablespoons of cornstarch into 2 tablespoons of water until well blended, then whisk the whole mixture into the hot teriyaki. Let it cool, and see how you like the thickness.
If you want it to be even thicker, you can reheat the sauce and repeat the cornstarch process.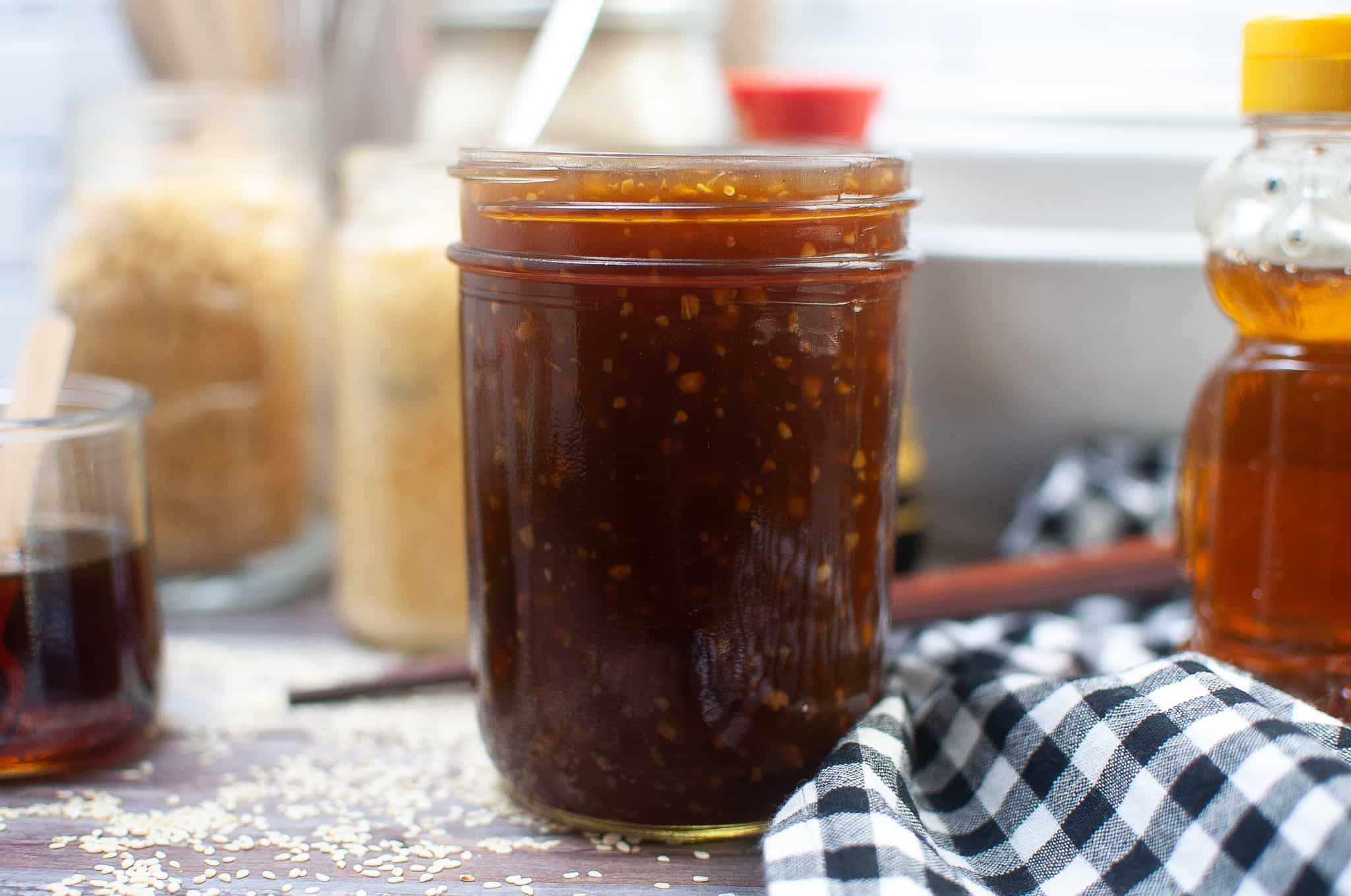 What's the difference between teriyaki sauce and teriyaki marinade?
The only difference is cornstarch. Typically, marinades are thinner so that they can squish around more easily and coat the meat. If you want to use your teriyaki sauce for marinating, skip the cornstarch step and use it right off the stove.
If you've already thickened your teriyaki sauce, you can whisk in a tablespoon of water to thin it back to a marinade consistency. Or just use it thick. It will still taste great.
How to store sweet teriyaki sauce
Remember what I said above about no preservatives? Because this recipe doesn't have any preservatives, it isn't going to last forever like the stuff you buy in the grocery store. Keep it in an airtight container (such as a mason jar) in the fridge, and use it within two weeks.
Try these other Asian recipes
Recipe