This Cheesy Skillet Corn with Bacon recipe is a thick, creamy, and cheesy corn casserole recipe topped with crispy bacon that will just melt in your mouth. Made with frozen or canned corn, heavy cream, butter, bacon, green chilies, scallions, and plenty of cheese. This is an amazing savory side dish but also makes a spectacular dip!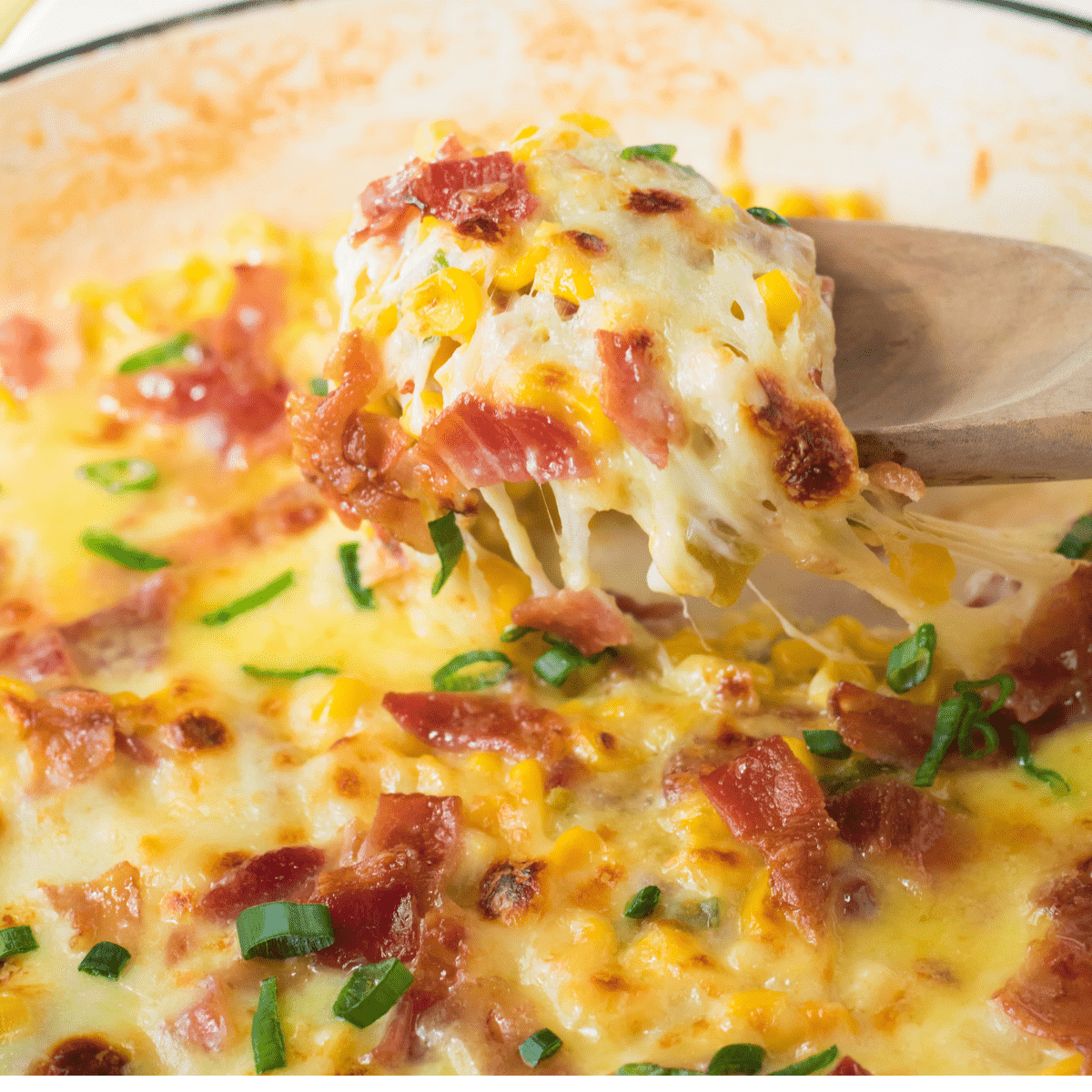 Why you'll love this cheesy skillet corn
This recipe is an awesomely delicious vegetable side dish, but its gooey cheesiness is perfect as a dip with tortilla chips or those cool little scoop ones.
Cheesy skillet corn is so easy. Once you've cooked and crumbled the bacon, it takes just a few minutes to throw together.
This sauce in this recipe is super versatile. You can use frozen or canned corn or even fresh corn cut off the cob. You can use mozzarella as directed or pepperjack, monterey jack, swiss, cheddar, or some combination of above. And whatever you do, the flavor will be delicious!
Cheesy skillet corn pairs really nicely with ham, pork, or burgers, as well as fried chicken. But seriously, I've never paired with anything that didn't it complement!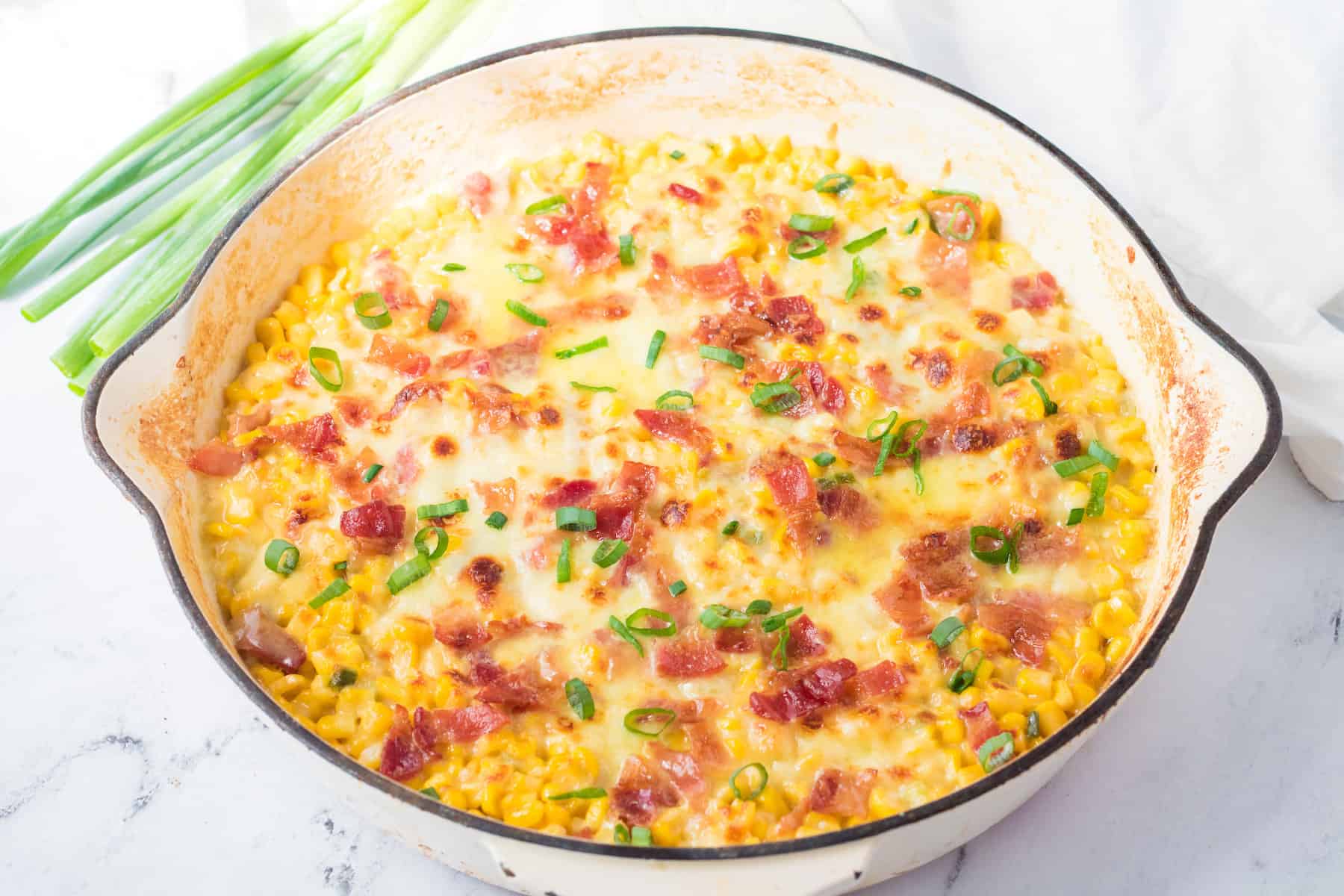 What you'll need to make cheesy skillet corn
EQUIPMENT
Large cast iron skillet - You'll need a broiler-safe skillet to make this recipe, as it goes under the broiler for a few minutes to melt and toast the cheese.
INGREDIENTS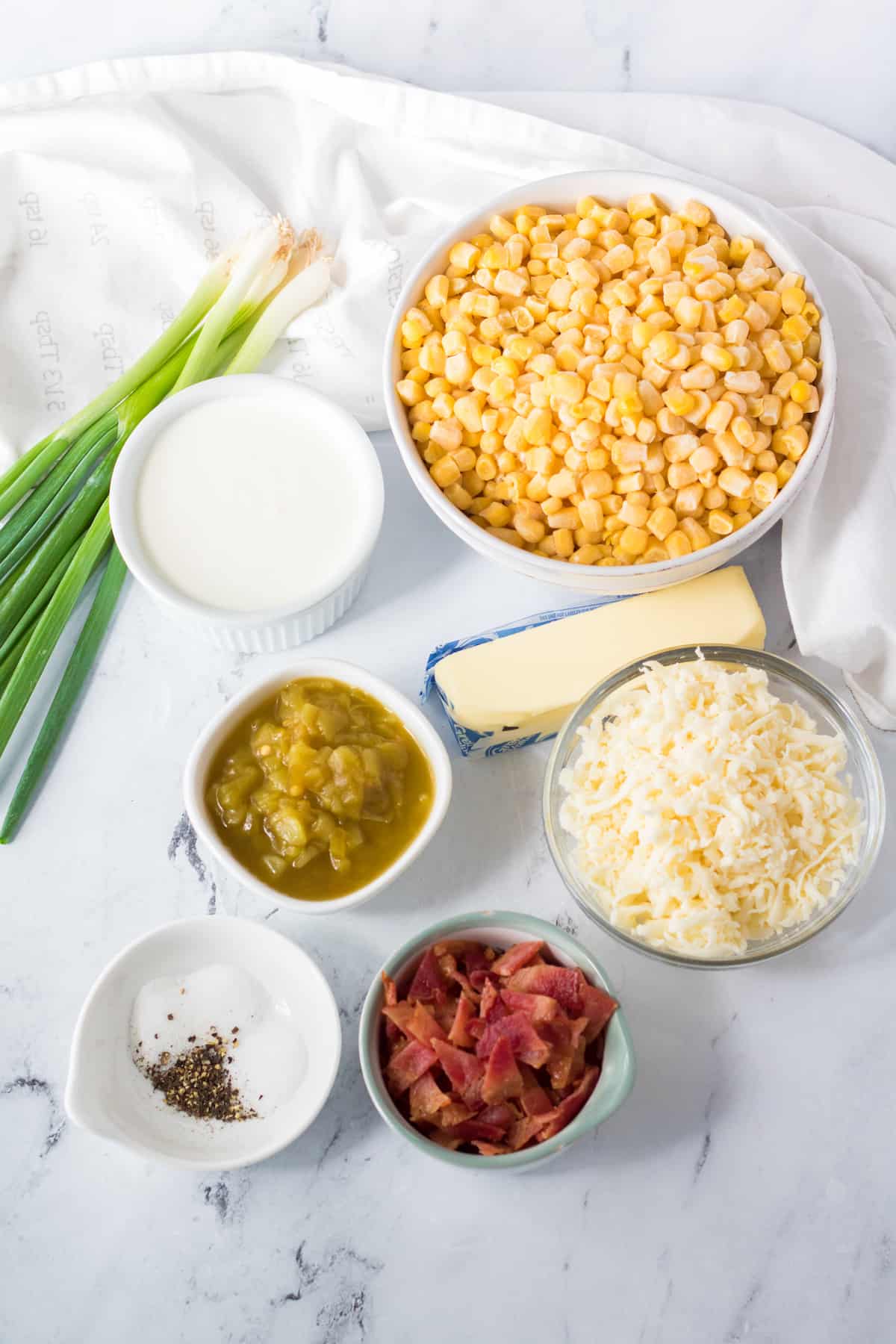 See printable recipe card at the bottom of the page for measurements and more information.
Fresh, frozen, or canned corn kernels - I personally prefer frozen or fresh, but you can use whatever you have. If you use canned, you probably won't want to add any salt later on in the recipe.
Butter - Use real butter, not margarine.
Sugar - You use just a tiny bit of sugar to bring out the natural sweetness of the corn. If you leave it out, you'll miss it.
Salt & pepper - You'll just sprinkle a bit of these, to taste. If you're shy about adding them in the beginning, you could taste the sauce and add them just before broiling.
Heavy cream - This gives the sauce a wonderfully rich sweetness.
Scallions or green onions - You'll snip or chop these. I only use the green parts for this recipe but if you want, you can also use the white parts. You could substitute fresh cilantro if you wanted to.
Diced green chili peppers - These give the corn casserole a surprising sweetness. If you prefer more heat, you can use jalapeños instead. If you prefer less heat, you can use minced red or green bell pepper. I would recommend sautéing them first if you use fresh so that they're nice and soft.
Crumbled cooked bacon - You'll need to cook, dry, and crumble the bacon before adding it to the recipe.
Shredded mozzarella cheese - As mentioned above, you can use any shredded cheese. Monterey jack, pepper jack, colby jack, Gruyere, Swiss, cheddar, whatever. They'll all be delicious.
How to make cheesy skillet corn
Add the corn and butter to a large broiler-safe skillet. Cook over medium heat until the corn is thawed and butter is melted.

Add in the green chilies, sugar, and salt and pepper to taste, and stir.

Add the heavy cream, scallions, and bacon. Cook over medium-high heat for about 8 minutes or until thickened.

Add 12 ounces of the shredded cheese. Stir until the cheese is melted.

Add the remaining cheese to the top of the corn and place the whole pan under the broiler for 5 minutes or until the cheese is melty and slightly browned.

Garnish with more chopped green onions and serve hot.

Skillet corn variations
I prefer to make this recipe with frozen corn, but you can just as easily use fresh or canned corn.
If you want to kick up the flavor a bit, you could use bacon grease to cook the corn instead of butter.
You can add some cayenne pepper or chili powder with the salt and pepper.
If you prefer more heat, you can use jalapeños instead of the green chilies. If you prefer less heat, you can use minced red or green bell pepper. I would recommend sautéing fresh peppers first in bacon grease or butter so that they're nice and soft.
If you love caramelized onions as much as I do, you may like to caramelize some minced sweet onion and throw that in with the corn.
You can add a couple cloves of fresh garlic with the green chilies. Simply press them with a garlic press or mince them tiny with a sharp knife.
I love this with mozzarella, but switch it up to your favorite cheese. Pepperjack would be amazing in this recipe.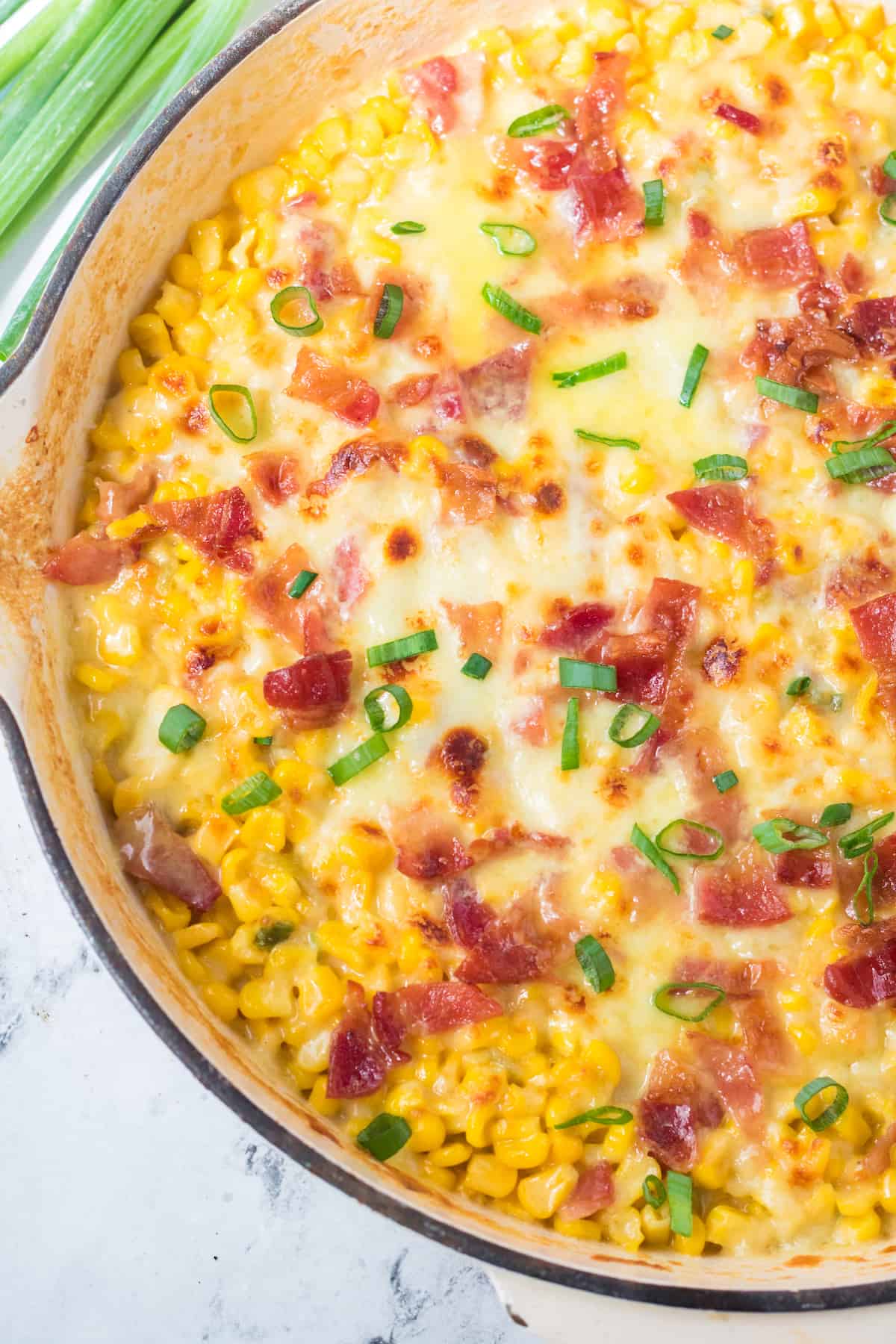 What to do with leftover skillet corn
Store leftovers in an airtight container in the fridge for up to 3 days.
Check out these other delicious recipes:
Recipe