Learn how to make my quick and easy individual pizza in a mug in just 2 minutes in the microwave. We add pepperoni and cheese but you can add any toppings you'd like. Kids can make this recipe without help - it's that simple!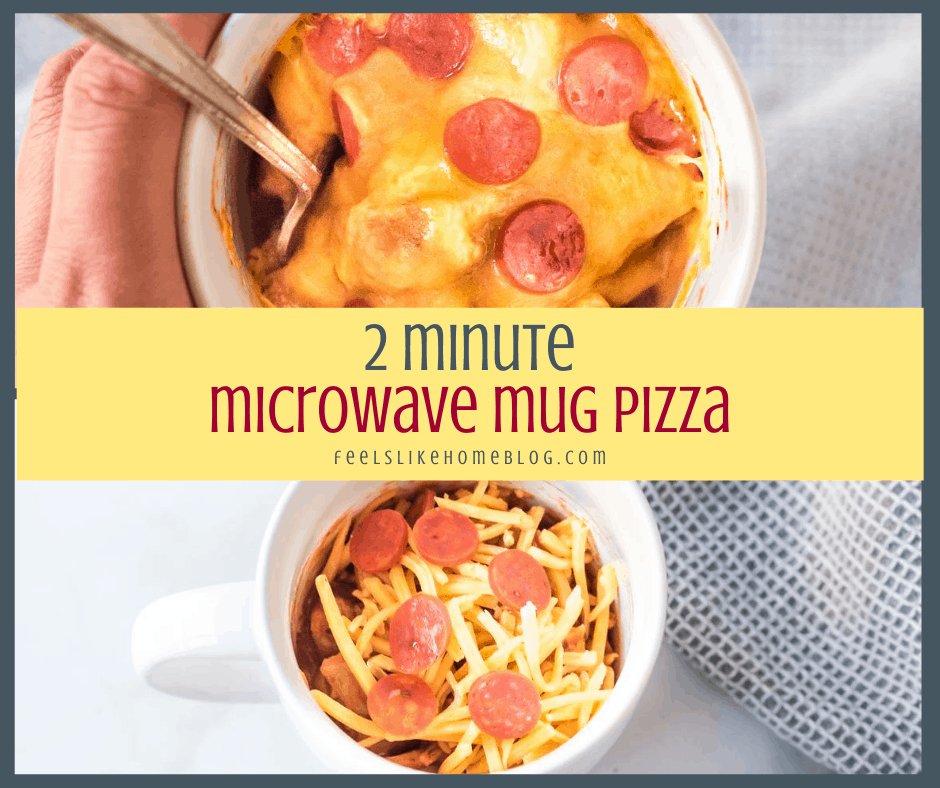 I have worked from home for over nine years, ever since my younger daughter was six months old. It was rocky at first as my family adjusted to my being home but being unavailable, but over the years, we developed a routine.
For the first four years, I worked in the evenings after Joe got home from work. Our kids were little then, and I liked to spend my days playing and running around with the girls rather than working.
I know that working at night is not an option for a lot of parents right now, even though their kids are small, and I take my hat off to those people. I know it is so very hard. If that is you, just know that you are doing a great job it all!
Anyway, for the last five or so years, I have worked full time in the daytime. It was a big adjustment for all of us as I had to do what I had to do on the computer, and the kids had to do a lot of things for themselves.
Now, we have a good routine. My kids, who are picky eaters, know that they are responsible for their own breakfasts and, if they are able, they should get their own lunches too. Allie, who is 9, still asks me to help her, but even she is working on making her own food.
The yummiest mug pizza came from Allie's need to cook for herself. When I say for herself, I really mean that she comes back to my home office, asks me to make the pizza for her, then when I say no, asks me to "help" her which really means to stand next to her and remind her of the steps required. I don't know why she wants me to help except that it's her way of getting attention from me at a time when she otherwise wouldn't.
So pizza. This microwave pizza is made in a mug, and it is the easiest pizza you will ever make.
Is this exactly like a pizza with a crust?
No, of course it is not. It is made with bread and pizza sauce, so the flavors are all there, but it is not a traditional pizza with sauce and toppings on top of a crust.
Even though it's different from a normal pizza, give it a try. It is good and fills the craving for cheesy pizza goodness.
What you'll need to make a pizza in a mug
You need a microwavable mug, about 16 ounces. Did I even have to say that? Yes, yes I did, and here's why. Some fancy mugs have metal in the glaze and get VERY VERY VERY HOT in the microwave. You don't want to turn your 9-year-old loose with a cup that gets scalding when heated. Go with a plain old, cheap #1 MOM mug or some such. Plain and easy.
INGREDIENTS
See printable recipe card at the bottom of the page for measurements and nutritional information.
Bread - We are not messing around making a pizza crust with flour and baking powder or baking soda and other from scratch nonsense. This is an easy recipe that kids can make, so we're starting out with a slice of bread.
Large egg
Italian seasoning - If you don't have Italian seasoning, you can sprinkle some dried herbs like oregano, basil, and thyme.
Pizza sauce - Pizza sauce has pizza spices in it, which makes this recipe taste good. If all you have is marinara sauce, go ahead and use that but throw in some extra Italian seasoning.
Shredded cheddar cheese - We are a cheddar family. You can also use mozzarella cheese. In fact, that would make your pizza in a mug more authentically pizza tasting. Actually, any melty gooey cheese will work in this recipe.
Pizza toppings of your choice like pepperoni, mushrooms, or onions - We like mini pepperoni slices, crumbled cooked sausage, and chopped bacon, but any toppings are good.
How to make a microwave mug pizza recipe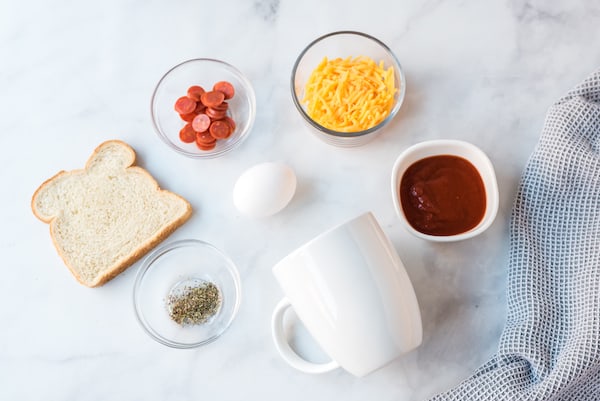 Tear one slice of bread into bite sized pieces and add it to your microwave-safe mug.

Whisk the egg in a small bowl. Pour over the bread in the mug.


Add pizza sauce, Italian seasoning, cheese, and toppings to the mug. Sprinkle a pinch of salt, if you want. Stir to mix well.



Microwave for 2-3 minutes, until egg is set. The mug will be very hot so be careful removing it from the microwave.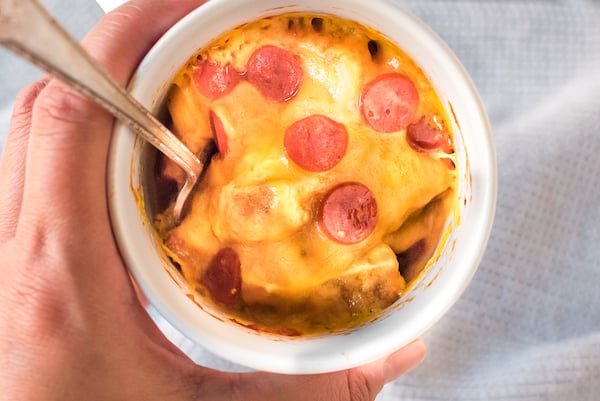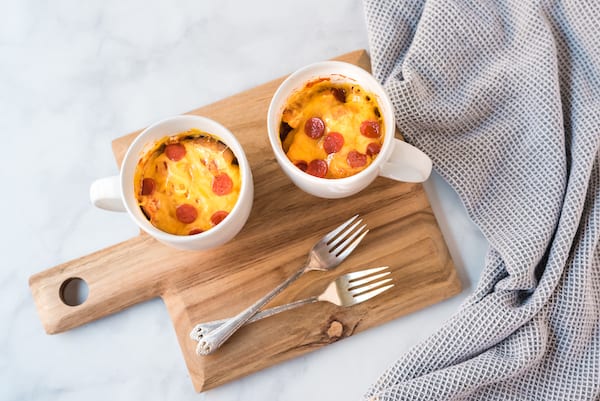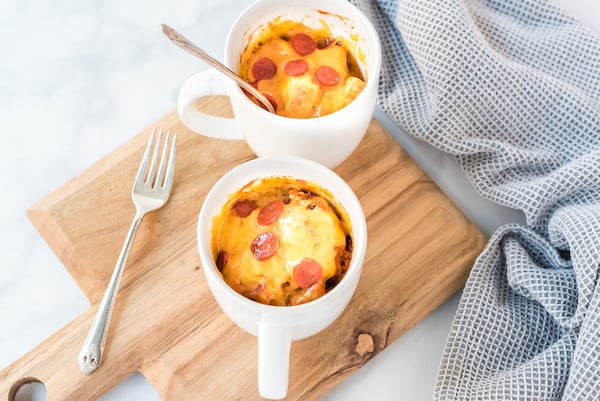 Can you double the pizza in a mug recipe?
No. We have tried to add 2 slices of bread and 2 eggs to a single large mug, and it doesn't turn out very well. It is too hard to get everything mixed up to make a tasty pizza. Stick to one piece of bread and one egg per mug.
If you like pizza in a mug, you should check out brownie in a mug!
Here are some other yummy pizza recipes you might enjoy:
Recipe
Become an Instant Pot Pro!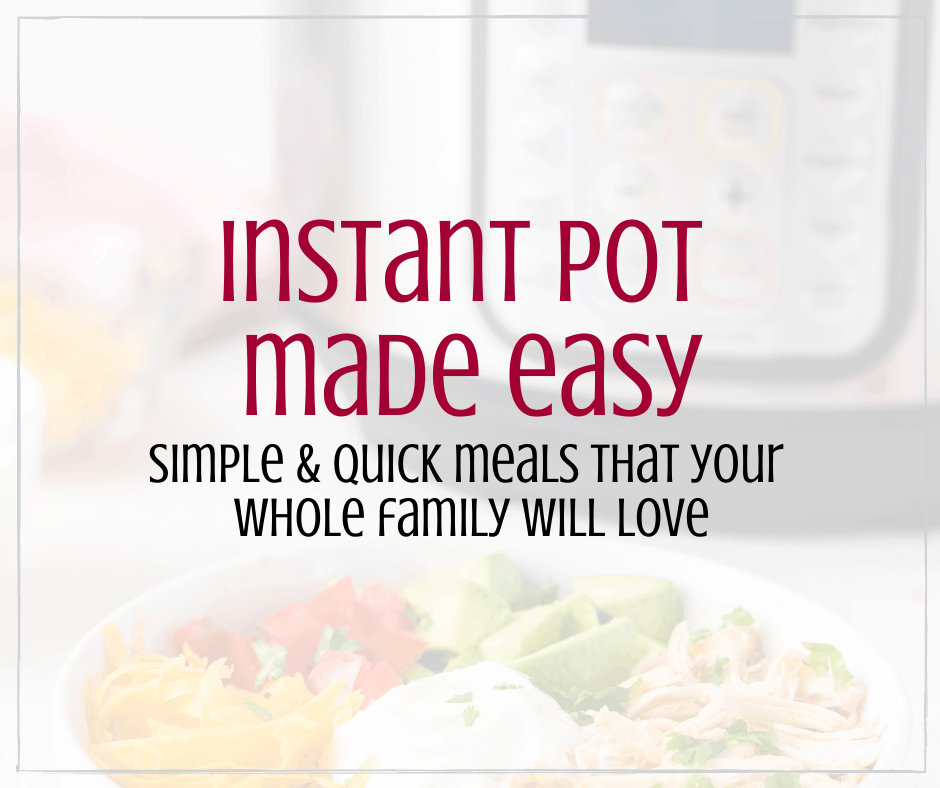 Get my favorite Instant Pot recipes in my free cookbook, Instant Pot Made Easy! Click the button below to receive the book. If for some reason, the button doesn't work for you, leave a comment below, and I'll email it to you.